Choosing a drum set for your child can be difficult. And chances are you're not a drummer yourself and you've never cared much about hoops, loops or shell sizes. So it's easy to spend hours on research and still end up not knowing what age a junior drum set is for. Or which aspects you should focus on. Or which model really is the best drum set for kids.
But as you'll have guessed by now: this is exactly what I'm going to tell you. Age, important aspects, and my personal best drum set for kids as well as two other useful junior drum sets – it's all in this review.
And I know these recommendations "work", because I've tested them with dozens of my students and their parents.
One word of caution: if you're already dreading the noise your child is going to cause with a drum kit, check out my electronic drum set recommendations. They are much quieter – and not necessarily more expensive.
Who Are Junior Drum Sets For?
No, this is not about age! After all, a 6 year old child could be any size, and size is the only thing that matters. It's about whether your child can comfortably reach the bass drum pedal and the cymbal (highest and lowest points of the drum set) while sitting on the drum throne.
And this will work if he/she is between 2½ft and 5ft. Shorter will result in stretching (but he/she will at least be growing into the set). Taller is a no-go, because it results in unhealthy squatting and will obviously get worse in time.
So if your child is tallter than 5ft or quickly approaching that mark, I recommend you consider going for a full size beginner drum set in the first place.

Some Drum Sets for Kids Are Useless
I want you to buy a drum set for your child that's actually useful, so I've skipped over any junior drum kits that looks like this: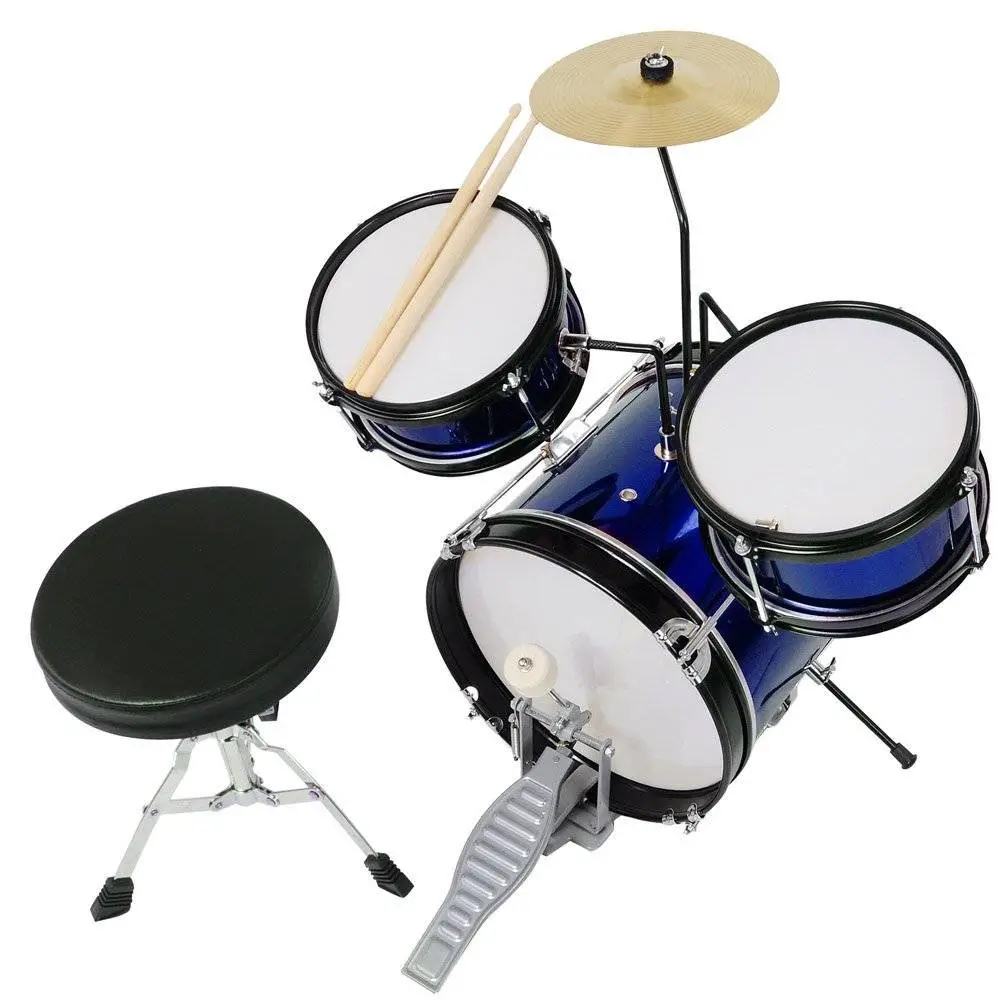 Yes, this kit is dirt cheap and that may be tempting. But note the difference to a regular adult drum set (it's not about the polish on the cymbals):
The above junior drum set is missing many parts, so your child would not be able to internalize many motions essential to drumming. In effect your child would miss out on the opportunity to playfully pick up the right motions from the very beginning.
And all drum sets I've reviewed here do provide this opportunity, because they are set up like the above standard adult drum set. You'll see in a second…
The Ludwig Junior Drum Set
A useful junior drum kit by a widely recognized drum brand
Everything included to start playing (pedal, stool and sticks)
Decent sounding drums
Durable hardware
Low-quality cymbals
Over priced compared to Gammon or Mendini junior kits
Only for children up to 5ft
I can't say that the Ludwig junior kit sounds any better or worse than the Gammon or Mendini (below). Simply because it's tuning that will make or break your drum set sound. If you get the tuning right, the set can sound as nice as this (jump to 0:53):
Yet, the cymbals do sound pretty bad. That can't be denied, but it's the case with any junior drum set. And from my experience: none of my students care, so your child probably won't either. They want to have fun rather than good sound.
So compared to the Gammon and Mendini junior kit, the Ludwig does better in terms of:
The Ludwig does worse when you look at:
the price – compared to the Mendini and Gammon kids drum sets, I think it's not unfair to call the Ludwig kit overpriced.
If you want more details, you can read my in-depth review of the Ludwig junior drum set.
My verdict: decent quality junior drum kit, but nothing there that justifies the 130$+ difference to the Gammon and Mendini sets.
The Gammon Percussion Junior Drum Set
Everything included to start playing (pedal, stool and sticks)
Decent drum sound
Available in 4 color options (pink among them)
Low-quality cymbals
Only for children up to 5ft
Gammon, like Mendini, is a brand virtually unknown to most drummers. But that's why their drum sets come at such good prices – and not at the expense of quality either.
You'll know by now that your tuning is responsible for the sound of a set. Still, here is an example of an average-tuned Gammon junior set for you to judge:
Decent drum sound with fairly bad cymbals, I'd say. That's normal for the price and, again, from my experience children don't care as much about sound.
They do care however whether the set comes apart after some time or not, and the Gammon hardware is slightly lower quality than the Ludwig's.
For details and current deals, check out my full-length Gammon drum set review.
What's nice for girls with the Gammon kids drum set: there's a pink color option that's a hit with my young female students.
My verdict: Strongly recommended as a starter kit for little drum beginners.
The Mendini Junior – My Best Drum Set for Kids 2018
Cheapest useful junior drum set on the market
Everything included to start playing (pedal, stool and sticks)
Decent drum sound
Available in 6 color options
Low-quality cymbals
Only for children up to 5ft
The Mendini junior drum set is the cheapest drum set for kids that's actually useful (for the setup reason above). Why?
Let's see…
Sound is, again, very much up to your tuning, but if you get it only halfway right, the Mendini will sound even better than this okay-tuned instance of it:
As you might hear, the sound potential is very similar to that of the Gammon set. And the same goes for price and hardware durability.
The only thing that sets the two drum sets apart is that the Mendini kit comes in 6 color options. That's not a huge difference, but from my experience color does influence a child's motivation to practice.
If you want to take an in-depth look at this kit, see my Mendini junior drum set review.
My verdict: my best drum set for kids in 2018.
Current Mendini Deals
The Mendini Junior kit is currently 19% off on Amazon. Check out the deal as long as it lasts (spotted 06/20/2017).
The Ludwig Pocket Kit
Comes with an all-in-one hardware package
Designed for 4-10 year old drummers but can be used by adults too
Affordable kit with all accessories included
Comes with free introduction and setup guide
Heads are quite hard to make sound good out of the box
Cymbals could use an upgrade
You want a good, and I mean a really good drum set for you and your kid? Avoid disappointments from the conventional by upgrading to the inexpensive Ludwig pocket kit. It is able to deliver way more than it is worth.
Whether you are a hard rock fan, hip/hop head, or pop fanatic, I recommend this kit to help you roll things out just like you have it all in mind. And of course, is easy and fun to play!
The Ludwig pocket kit is a thoughtful pick for those who don't just want to just to practice but also incorporate career growth skills in drumming and music.
Questlove has made this rare design available for the next generation of upcoming artists and thanks to this Ludwig pocket kit review, going about your drumming expertise shouldn't be a huddle anymore.
Making a Junior Drum Set Sound Fabulous
How does that work? Short answer: through buying new heads or new cymbals. And ideally both. But…
…I said this won't be important to the absolute beginner and I stand by it. Still, changing heads or cymbals might become important once your child gets really good and still hasn't outgrown his/her junior drum set. When that's the case, you'll know where to look.
Alternatives
Again, if your child is taller than 5ft or will soon be taller than that, I recommend you better look for an adult drum kit for beginners.
If by contrast, you're looking for a drum set that you can take with your on the road and / or that is much quieter than acoustic kit – check out my electronic drum pad review.
Your Thoughts?
Finally, I'd love to hear about your personal best drum set for kids – or any issues, questions you have concerning this. Let me know in the comments. I'll respond 100% of the time.
PS
If this best drum set for kids review was helpful and if you decide to buy one of those drum sets for your child, please consider going through one of the links or buttons on this page. This won't cost you a cent more but I'd receive a commission and you'd have rewarded me for putting a lot of care and effort into these reviews. Please note that I have no incentive to make any particular product better than I really experienced it to be, because I'd receive a commission on any of the products on this website. You can read more about my reviewing ethics in my affiliate disclosure.