So you're looking for a junior starter drum kit? But you've never cared much about hoops, loops, kick drum, floor tom, drum heads, hi hats, drum shells, or shell sizes? In that case, I'd love to help you out with this best drum set for kids reviews.
Information about suitable age reange, important aspects, and my personal best starter drum set for kids as well as other complete junior drum sets – it's all in here.
And I know these recommendations "work", because I've tested them with dozens of my students and their parents.
These are top sellers that all have excellent customer ratings. Plus, these junior starter drum all come with their own kick pedal, drum thrones and drum sticks, and will be ready to use out of the box. So your child can start playing drums right away!
One word of caution though: if you're already dreading the noise your child is going to cause with a drum kit, check out my electronic drum set recommendations.
They are much quieter than acoustic drum sets – and not necessarily more expensive. If, on the other hand, you only want to see the cheapest drum kit options for kids, go here.
Best Kids & Junior Drum Set of 2018
1. Ludwig Junior Drum Set
A complete junior drum set by a widely recognized drum brand
This set includes everything needed to start playing (drum heads, cymbals pedal, adjustable throne, and drum sticks)
Decent sounding drums for a junior drum set
Durable hardware
Available in several colors, including wine red.
Low-quality cymbals and hi hat
Over priced compared to Gammon or Mendini junior kits
I can't say that the Ludwig junior kit sounds any better or worse than the Gammon or Mendini (below). Simply because it's tuning that will make or break your drum set sound. If you get the tuning right, using the drum key, the set can sound as nice as this (jump to 0:53):
Yet, the cymbals and hi hats do sound pretty bad. That can't be denied, but it's the case with any junior drum set. And from my experience: none of my students care, so your child probably won't either. They want to have fun and learn rather than sound good. And this kit definitely sounds better than a toy trying to be a musical instrument.
So compared to the Gammon and Mendini junior kit, the Ludwig does better in terms of:
The Ludwig does worse when you look at:
the price – compared to the Mendini and Gammon kids drum sets, I think it's not unfair to call the Ludwig kit overpriced.
For all the pros and cons of this kit, read my in-depth review of the Ludwig junior drum set.
My verdict: decent quality junior drum kit, but nothing there that justifies the 130$+ difference to the Gammon and Mendini sets.
2. Gammon Percussion Junior Drum Set – Best on a Budget (too)
This set includes everything needed to start playing (cymbals, foot pedals, adjustable throne, and drum sticks)
Good sound for a kids drum set
Available in 4 color options (pink among them)
Gammon junior, like Mendini, is a brand virtually unknown to most drummers. But that's why their starter drum kit come at such good prices – but not at the expense of quality.
You'll know by now that your tuning is responsible for the sound of a set. Still, here is an example of an average-tuned Gammon junior set for you to judge:
This 5piece junior drum set has decent drum sound with fairly bad cymbals, I'd say. That's normal for the price and, again, from my experience children don't care as much about sound, they just want to be playing drums.
They do care however whether the set comes apart after some time or not, and the Gammon hardware is slightly lower quality than the Ludwig's.
For details and current deals, check out my full-length Gammon drum set review.
What's nice for girls with the Gammon kids drum set: there's a pink color option that's a hit with my young female students.
My verdict: Strongly recommended as a complete real deal musical instrument for little drummers.
3. Mendini Junior 5piece Complete Kit- Best on a Budget
Cheapest complete drum junior sized set on the market
This set includes everything needed to start playing (drum heads, cymbals pedal, adjustable throne, and drum sticks)
Surprisingly good sound for a junior kids set
Available in 6 color options: black, blue, green, bright red, silver, and wine red
Low-quality cymbals and hihat
The Mendini by Cecilio junior drum set is the cheapest drum set for kids that's actually useful (for the setup reason above). Why?
Let's see…
Sound is, again, very much up to your tuning, but even if you get it only halfway right with the drum key, the Mendini will sound even better than this okay-tuned instance of it:
As you might hear, the sound potential is very similar to that of the Gammon Junior 5 piece complete set. And the same goes for price and hardware durability.
The only thing that sets the two drum sets apart is that the Mendini kit comes in 6 color options. That's not a huge difference, but from my experience, color can influence a child's motivation to practice.
My verdict: The Mendini 5piece junior kit is my best drum set for those on a budget. Before you buy, check out my Mendini by Cecilio junior drum set review.
4. Questlove Pocket Kit – My Best Drum Set for Kids 2018
All the necessary components are included to start drumming immediately
Sound of the drums are exceptional for the price
Video instructions and playing tips are included
Could be used as a small, portable drum kit by a working player with minor adjustments
Excellent value at a low price tag
Drum heads will require upgrading for optimal sound
Cymbals are low quality and may need replacement as you advance
The Questlove Pocket kit by Ludwig is targeted towards the beginning drummer who needs a complete drumkit that is durable, sounds good and can be used right away. The suggested user for this kit is 4-10 years of age but the Questlove Pocket Kit could actually be played as a cocktail kit (i.e. a portable drum set) by a gigging drummer in a pinch. That says a lot about what can be accomplished with this little drum kit.
With the Ludwig Questlove Pocket kit, drummer legend Ahmir Khalib "Questlove" Thompson aimed to create a drum set that would provide a full-scale playing experience for young drummers and the Questlove hits a bullseye with a quality-to-price ratio that fits just about any budget.
The hardwood drum shells are durable and sound surprisingly good for a kit at this price point. (Check out the video provided below and judge for yourself.) And with some tuning experimentation along with some drum head upgrades, the Questlove Pocket Kit will sound exceptionally good. (For the drum head upgrades, see the "Making a Junior Drum Set Sound Fabulous" section below.)
See It In Action:
5. GP Percussion GP55BK
Kit comes complete with all pieces required to get started immediately
Available in 2 different colour finishes
Cymbals are low quality
Drum heads are entry-level and could be upgraded
Setup instructions lack detail to get the kit assembled in reasonable time
The GP Percussion GP55BK is an entry level starter drum kit that is geared towards beginning drummers from the ages of 4-8 years. This is a drum kit from a company who's badge also appears on percussion products such as bongos, timbales, snare drums, shakers, drum stands and pedals. GP Percussion GP55BK drums are fashioned from real wood with tunable drum heads and can be made to sound surprisingly good.
It comes as a complete set of drums with hardware, cymbals, stands as well as a drum throne so that you have everything you need to immediately begin working on your drumming chops.
This kit is made for a youngster aged 4-8, who is expressing an interest in playing the drums or already demonstrating a talent for playing. And the GP kit is a durable enough to take a beating while a young drummer grows in age and accomplishment.
In my estimation, the GP Percussion GP55BK rates at about the same level as the Mendini Junior and the Gammon Junior drum kits in terms of overall quality. The price of the GP Percussion junior kit (currently!) is slightly higher, though.
See It In Action:
---
What to Look for in the Best Junior Drum Set
I've craved writing this section for a long time – for there are so many junior drum kits out there being sold as a musical instrument that in truth are only toys not really playable.
So in this section you'll learn
to distinguish those toys from the real deal
how to make a kids drum set sound fabulous
who a junior drum kit is for
and much more
Who Are Junior Drum Sets For?
No, this is not about age! After all, a 6 year old child could be any size, and size is the thing that actually matters. It's about whether your child can comfortably reach the bass drum pedal and the cymbal (highest and lowest points of the drum set) while sitting on the drum throne.
These junior drum sets will work best if he / she is between 2.5 ft and 5 ft. Shorter will result in stretching (but he/she will at least be growing into the set). Taller is a no-go, because it will result in unhealthy squatting and will obviously get worse in time.
So, if your child is taller than 5 ft or quickly approaching that mark, I recommend you consider going for a full size beginner drum set in the first place. You can check out this article for my best full size beginner drum sets
Some Drum Sets for Kids Are Useless
I want you to buy a drum set for your child that's actually useful, so I've skipped over any junior drum kits that looks like this: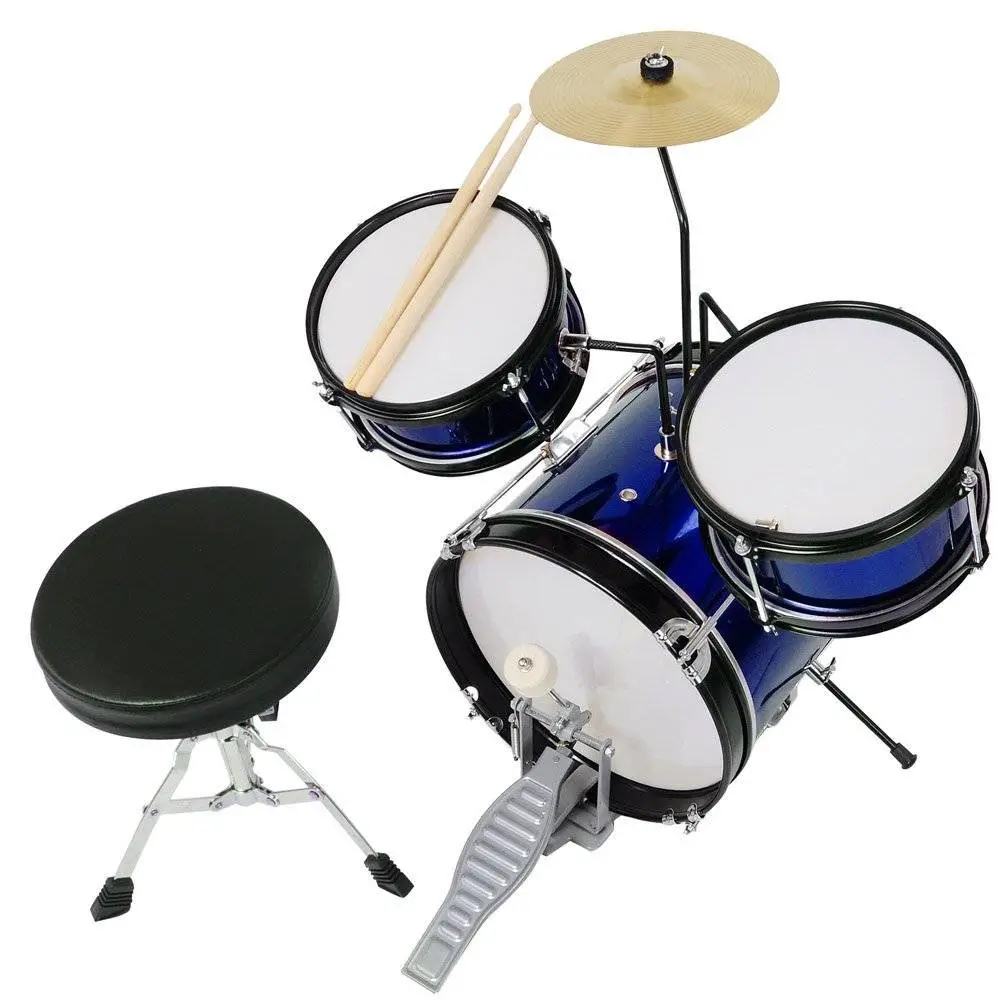 Yes, this 3piece junior kit is dirt cheap and that may be tempting. If you're not very familiar with drums, it might not matter to you, but note the difference to a regular adult drum set (it's not about the polish on the cymbals or the metallic blue color):
The 3piece junior set in the first photo is basically drums with small cymbal attached. It is missing many parts compared to a complete full size kit. Actually, it is more like a toy drum and not a real musical instrument, as it doesn't even have a decent cymbals stand. With that cheap toy drum, your child will not be able to internalize many motions essential to drumming. In effect, your child would miss out on the opportunity to playfully pick up the right motions from the very beginning.
And all these drum sets I've reviewed here do provide this opportunity, because they are set up like the above standard complete full size adult drum set. If you are serious in finding a worthy childrens drum set, then consider one of the choice products featured in this review.
Making a Junior Drum Set Sound Fabulous
How does that work? Short answer: through buying new heads or new cymbals. And ideally both. But…
…I said this won't be important to the absolute beginner and I stand by it. Still, changing heads or cymbals might become important once your child gets really good and still hasn't outgrown his/her junior drum set. When that's the case, you'll know where to look.
Looking for Alternatives?
Again, if your child is taller than 5ft or will soon be taller than that, I recommend you look for a complete full size drum set for beginners instead.
If by contrast, you're looking for a Professional drum set that you can take with your on the road and / or that is much quieter than an acoustic drum set – check out my electronic drum pad review.
Have a Question?
Finally, I'd love to hear about your personal experience with junior drum kits and related products– if you're looking for replacement parts for snare drums, floor toms, foot pedals, or if you have any issues and questions concerning these… Let me know in the comments. I'll respond 100% of the time.
PS
If this best drum set for kids review was helpful and if you decide to buy one of those drum sets for your child, please consider going through one of the links or buttons on this page. This won't cost you a cent more but I'd receive a commission and you'd have rewarded me for putting a lot of care and effort into these reviews.
Please note that I have no incentive to make any particular product better than I really experienced it to be, because I'd receive a commission on any of the products on this website. You can read more about my reviewing ethics in my affiliate disclosure.