The Best Electronic Drum Set Reviews At One Glance
Finding your best electronic drum set can open up a whole new dimension to your drumming.
An electronic drum kit isn't just an acoustic kit turned quiet so you don't freak out your neighbors. Instead, they can unleash your creativity. That's why there even is a world championship in e-drumming.
Yet, when I started looking for my first e-drum set, the amount of opptions totally confused me. I didn't know whether I could use my double bass pedal with these kits – or whether I wanted cymbals with choke functionality or not.
So I tried and tested – and wasted quited some money. But eventually I figured out which electronic drum set is best for which purpose. And in this review I'll give you the essence of it!
I'll tell you which kit is best for beginners, for practicing, for the stage and for recording. Heck: I'll even show you my best electronic drum set for under $500!
The Best Electronic Drum Set Reviews At One Glance
Alesis Nitro – My Best Electronic Drum Kit for Beginners
42 beats to learn with guidance
Module easy to handle
Can be used with double bass pedal
Great rack (sturdier and better looking than other sets for this price)
No advanced features (half-open Hi-Hat cymbal sound, triple zone Ride cymbal)
In 2016, the Alesis Nitro has officially replaced the Alesis DM6 as my best electronic drum kit for beginners.
It is now the best selling drum set on Amazon (1,000+ models / per month). And it deserves that title, because it provides amazing value at an amazingly low price.
What the Alesis Nitro can do for you:
Look professional – whether on stage or in your rehearsal room
Provide you with 40 slots containing drum sets mixed together out of 385 quality sounds (jump to 0:40 to hear them in action):
Plug-and-play home recording. You only need 1 additional cable and a laptop
Guide and motivate you in your practicing through built-in training functions (that is usually reserved for high-end kits at $800+)
So there you go: the Alesis Nitro is my best electronic drum set for anyone buying their first electronic kit.
Want to know the difference between the Alesis DM6 and Alesis Nitro? I explain it all in my Alesis Nitro review.
Alesis DM6 – My Ex-Best Electronic Kit for Beginners
Cheapest useful e-drum set on the market
Module easy to handle
Can be used with double bass pedal
Bestselling electronic drum kit on Amazon (1000+ /month)
200 5-star reviews on Amazon
Limited sound range (108)
No advanced features (cymbal pad can't be choked, no half-open Hi-Hat)
In my view, the Alesis DM6 is WAS the cheapest electronic drum set that's actually useful. That is, until the Nitro (above) came along. Yet…
…the DM6 still has its appeal, because Alesis is now selling it with a Nitro module – called the Alesis DM6-Nitro. So you can get the hardware of the DM6 (which essentially means larger pads) but the sounds and functionality of the Nitro all in one product.
Now, I know that's a lot to swallow. So we'll take it step by step:
Are you unsure (now) whether the Alesis DM6 or Alesis Nitro is better for you?
Or do you want to know whether it'd be better to get the Alesis DM6-Nitro (with the Nitro module) or the Alesis Nitro straight away? In both cases check out the link to my Alesis Nitro review just a few lines above this. There, I have a section on both questions.
In all honesty, I don't recommend the Alesis DM6 plain any more. Not because it's bad, but because the DM6-Nitro and Nitro are even better.
But I still have an in-depth review on the DM6 lying around. It covers all the tricky questions: from playing Rock Band for Playstation on it to connecting it to a computer.
Yamaha DTX400K – The Best Electronic Drum Kit for Your Family & Neighbors
Yamaha's high-quality sounds (297 ones)
Beater- and padless kick takes away the biggest source of noise
Module simple to handle
12 training functions on board
Quality headphones (JVC) included
Silent kick feels different from standard pedal (not for first-time drummers)
Limited number of preset kits (10)
Can't choke cymbals by hand
Looks slightly odd (arrangement of drums, hole in the cymbals)
The Yamaha DTX400K is the little brother of what to me is the best electronic drum kit for practicing (the DTX450K below). In contrast to that kit, the DTX400K is perfect for really quiet practice:
This kit is so quiet because it has no kick pad and no beater. This is good for people next door (family etc.), because…
Beater and kick pad normally produce the loudest noise on an electric drum set. The DTX400K takes that out of the equation. (It still does produce the kind of noise I describe in the buyer's guide below).
And the DTX400K will help you keep your neighbors happy, because…
There aren't any sound waves close to the ground that could be easily transmitted into the rooms underneath you.
On the downside, I wouldn't recommend this as a first-time drum kit, because using this pedal will obviously feel different from using a standard bass drum pedal. This is okay for someone who has already learned to play on a normal pedal. But otherwise, I think it's better to go standard first.
If you're keen on quietness and okay with the different feel, this kit can make your practice more fun and effective through:
plugging in your smartphone or mp3-player and jamming along to your favorite songs.
12 built-in training functions. A particularly useful one is called "Measure Break" and guides your playing through a click for a certain time and then pauses for exactly one bar. You play on and when the click comes back in, you'll know whether you were keeping the time or not.
And here's how the Yamaha DTX400K sounds when recorded:
So there it is: my best e-drum kit for neighbor- and family-friendly practice.
Roland TD-1KV – A Beginner's Option
Great price point to get into edrums
Sturdy construction and small footprint
Great sounds
Realistic and forgiving drum pads
Foot pedals are fine for beginner and intermediate players but might frustrate advanced players.
The Roland TD-1KV will get you into e-drums at an economical price with a great return of features, reliability, and a high fun quotient.
This kit has everything that any beginner or intermediate student could ever want and could be used in a pinch by professional players.
It's very well constructed with adjustability for players of various ages and sizes. The pads have a forgiving rebound that is realistic and easy on the hands.
The Sound Module gives you 15 excellent drum sounds, options to record your playing, plus, you can even play along to on-board music as well as tunes from your external sound source. In addition, the Roland TD-1KV has a coach feature that will help you improve your playing.
Check out my full review of the Roland TD 1 KV here.

Alesis Forge – My Best Electronic Drum Kit Under $500 (& Best for Playing Live)
Very professional design (chrome rack)
Wide range of sounds (600)
Can be used with double bass pedal
Quieter mesh version available
No training functions (as with Yamaha and Roland kits)
Another one of Alesis' electronic drums, and this time we're leaving the beginner section and the confines of the practice room. From my experience, the Alesis Forge will also satisfy more advanced drummers on the stage, because…
…with its chrome rack and the more elaborate module, the Alesis Forge looks very professional. And studies have shown that your audiences will judge your more by your appearance (including gear) than by your skills.
The Forge comes with a library of 600 (!) sounds. And with 50 preset kits and 20 empty slots for you to fill, there is also more than enough room to make use of all the sounds. Taken together, this would allow you to change your sound multiple times during each song of a live performance. I've never done this, but perhaps you aspire to be the next Joe Clegg (Ellie Goulding's drummer):
If you'd want to use this kit for practicing too, there's also a quieter version of it. It's called the Alesis Command and comes with mesh instead of rubber pads. You can hear why this can make your neighbours and family really happy in my buyer's guide at the end of this article.
So the Alesis Forge is my best electronic drumset for under $500!
Want to know more about the Forge? Check out my full review.
Yamaha DTX450K – My Best Electronic Kit for Practicing
Yamaha's high-quality sounds
Module simple to handle
12 training functions on board
Kick pad broad and sensitive enough for double pedal
Limited number of preset kits (10)
Can't choke cymbals by hand
Looks slightly odd (arrangement of drums, hole in the cymbals)
Yamaha is a widely recognized manufacturer of all kinds of quality musical instruments. And the Yamaha DTX450K is no exception.
This is my best electric drum kit for practicing for the following reasons:
 It comes with a very simple-to-handle module that simultaneously produces sounds as good as this:
It lets you plug in your smartphone or mp3-player so you can jam along to your favourite song. And with its 297 sounds and 10 preset kits, you can record really nice stuff with it:
But the best thing about this set are the 12 built-in training functions. The most effective of those is called "RhythmGate" and trains you to keep the time. Only the much more expensive Roland TD 11K (below) can do this too.
So the Yamaha DTX450K is my best e-kit for practicing!
You can see the training functions in action, find out about the latest deal, or learn how the kit can be made to sound like from outer space in my in-depth Yamaha DTX450K review.
Alesis DM10 – My Best Electronic Drum Set Under $1,000 (& Best for Recording)
1000 sounds (can even be overwritten)
Realistic sounding pads through Dynamic Articulation™
The only kit with an additional tom + cymbal pad for under 1,000$
Amazing value for little money throughout
Seriously, I couldn't find any
Now we're headed into professionalism. And again we're looking at one of Alesis' electronic drums.
As the name implies, the Alesis DM10 has been built with studio recording in mind. And it lives up to that purpose for several reasons:
It has 1000 (!) sounds. And they can all be overwritten via your computer. So practically the sound library is limitless.
It comes with 1 additional cymbal pad and 1 additional tom for maximum sound range while playing. And the module can even handle one more of each.
The pads use Alesis' Dynamic Articulation™ technology. That means that the snare pad produces various different sounds depending on where you hit. So the DM10 sounds great without any editing in the computer:
Note that the Alesis DM10's pads are mylar. In terms of noise this is comparable to rubber. So if you wouldn't only use the DM10 for the studio but for practicing at home too, consider the mesh version of this kit.
But whatever heads you prefer: to my mind, the Alesis DM10 is my best electric kit for recording.
Update 2018: The Alesis can now only be bought used any more, and you can find out why here (hint: it's not beacuse it's bad).
Roland TD-11K – Top Quality Isn't Cheap
Top-notch sound quality
Control every nuance of your (live) sound (ambience, muffling, tuning etc.)
3 effective training functions on board
Quiet all-mesh version available (TD 11 KV)
Relatively high-priced
No chrome rack available (like with Alesis kits)
Limited sound range (190)
As you can tell from the headline, I'm not entirely in favor of the Roland TD-11K. This is not because of this kit's quality (that's superb), but because it's the most expensive electronic drum set in this review.
I've owned this kit for years and it does perform well in the studio, on stage and in the practice room! But there are also kits that do similarly well for less money. And here's why:
In the studio the TD-11K scores through Roland's "superNATURAL" sound technology. That's essentially the same as with the Alesis DM10: 3 different hits on 1 pad produce 3 slightly different sounds.
Now people keep telling me that Roland's sound quality is second to none. And that might well be. But if you're in the studio, the sound will always be processed and edited anyway. So I'd rather save $300 by going for the Alesis DM10 above.
On stage, the TD-11K will look professional and the 25 preset kits will be more than enough. The brand name might even make the drummers in the audience a little jealous. But the only real edge over the DM10 is that with the TD-11K you can muffle and tune each pad or increase reverb and echo with just the push of a button. So it's up to how much that is worth to you.
In the practice room you can profit a lot from the TD-11K's coach mode. This comprises several features to train your timing:
The DM10 doesn't have this, so if you want this, the Roland TD-11K is the better option.
For more reasons why the Roland TD-11K is probably the highest-quality product in this review (despite being the most expensive too), see my full TD-11K review. If there's currently a discount on this kit, you'll find out there too!
Roland TD-30KV – On An Entirely Different Level
Multi-dimensional drum sound that feels organic
Realistic and consistent trigger pad feedback
Customize and modify the settings to your heart's content!
Comes with a Hi-Hat stand (none of the other kits here have that)
Not really for new players looking for a starter electronic kit
This product does not come with a warranty.
I didn't even consider this kit in the comparison table, because it would – in all fairness – just be unfair to the other e-drum kits presented here. After all, the Roland TD-30KV is more than three times as expensive as the Roland TD-11K and the price of the other kits in this review don't even compare.
BUT: neither can they compare in terms of quality. The Roland TD-30KV is fully-professional set that you can take into any high-profile recording studio in this world – and people will be impressed. And this is because…
It comes with Roland's so-called "SuperNATURAL sounds" and "behavior modelling technology" which essentially means that no sound coming out of this kit is prerecorded. Yes, the kit does have sounds in its library (how else can it produce them), but each strike of yours will trigger the Roland TD-30KV's module to synthesize an individual and unique sound each time. In other words, this e-kit produces sounds in just the way an acoustic drum set would.
The Sound Module enables you to configure each and every aspect of your drum sound. Care to choose whether the kick should sound as if beaten with a wooden beater? Or do you prefer felt? The TD-30KV module gives you the power to switch with just the push of a button. The same goes for shell depth, microphone positon, muffling and a dozens of other parameters that you can read about in my in-depth review of the Roland TD-30KV.
So there's really nothing negative to say about the Roland TD-30KV. Quite the opposite: it's a stellar electronic drumset and will bring you as close to acoustic sets as possible while preserving all the advantages of an acoustic one.
Only: it might not be for you. For a the lots of room for customization that this kit brings with it, also mean that you need to spend a least a bit of time using those features. They are fairly easy to learn, but if you have absolutely don't want to be concerned with tweaking the sound through your module – better save the money.
If you're good with that, the Roland TD-30KV will take your breath away! Guaranteed!
What to Look For in Your Best Electronic Drum Set
Now you know about the features of 7 very good electric drum sets. But what if you're not sure which features you need – and which would be a waste of money?
That's where this buyer guide comes in. I'll show you what you should look for in your e-kit – and what you can safely ignore.
Checking for essentials
You value your money, right?
So the first thing you should consider is this: what will you get for the price?
I've never seen an electronic drum set pack that doesn't include the actual pads and the "rack" (the mounting system). But quite often the bass drum pedal is not included. And even more often there's no drum throne and the kit doesn't include drum sticks or headphones.
But to start playing you need all of this. (And in case you're not a headphone type, consider getting a good drum amplifier or in-ear monitors)
So make sure you know what you get for your money – and what you have to pay for on top of the kit.
Tip: Even if drum throne / sticks / headphones aren't included, Amazon will often give you a discounted package deal. Just look at the "Frequently Bought Together" section right underneath the product picture on Amazon.
Your Purpose?
There's one thing to realize that makes buying an electric drum set much easier:
it doesn't have to be very good in every respect. Not only would you have to spend thousands of $ to get there (as you saw with the Roland TD-30KV above) – but you'd also perhaps not make use of all you paid for.
So better determine whether you want to use your electric kit for practicing, playing live or home/studio recording. Do that now!
Now you can simply scroll to the respective section below and ignore all the rest. (If you want your kit for multiple purposes, add up the important aspects.)
Purpose #1: Practicing
An e-drum kit for practicing should:
Have a useful setup
Make little noise
Have a few practice tools on board
In particular, this means…
a. Setup
This is paramount but often overlooked: an electronic drum set should be set up like a regular acoustic kit.
Because if it doesn't, you'll store motions in your muscle memory that you would have to change once you sit down on an acoustic set again.
And this doesn't work instantly. It needs a lot of un- and re-learning and is truly boring. So don't buy an electronic drum kit like this (Pyle PED041):
Because it doesn't resemble a regular acoustic setup at all: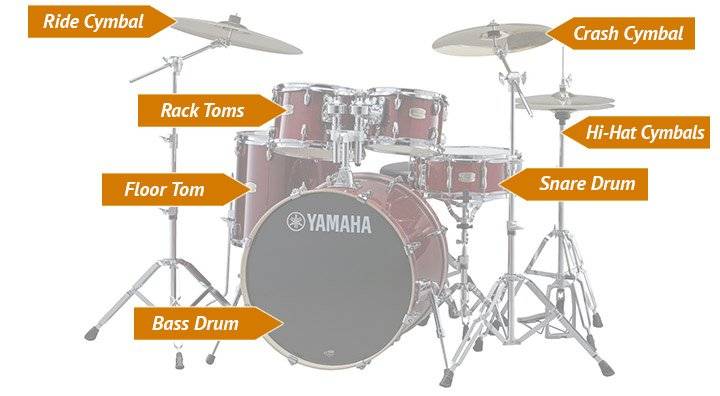 Even if you're looking for a portable electric drums, you'd do yourself no favor going for one with the above setup. For yes, it would be easier to fit into a car or under a bed – but I think the un-learning aspect is much more important. I think you can afford to spend 10 more minutes disassembling a kit, but hardly anybody can afford to spend 2 months un-learning useless data in one's muscle memory.
b. Noise
Chances are this is why you're going for an electronic drum kit in the first place: you want to practice without freaking out your family or neighbors. Honorable intention…
…but the problem is: electronic kits are not completely silent! Yet, depending on their pads some are more silent than others.
The crucial distinctions in terms of the pads (applying to cymbals, toms and the kick) are between:
Rubber pads
Pads with mylar heads
Pads with mesh heads
Rubber pads have a steel core that's covered with, well, rubber and they look like this:
And hitting a rubber pad will produce peak volumes of about 70 decibels. That's like hitting the pages of an open book with a stick. Not very loud, but potentially annoying if there's a person in the same room or directly next door.
But judge yourself:
Pads with mylar heads:
Mylar is a material that's used in real drum heads too. But of course, the mylar PADS won't be as loud as real drums, because there's no shell that amplifies the tone.
Yet, hitting a mylar pad will again peak at around 70 decibels (think open book hit with a stick).
Pads with mesh heads:
Mesh heads finally are the most quiet option as the sound waves are dispersed on the woven mesh.
Imagine the "noise" to be similar to hitting a sturdy cushion. It's perhaps too loud to do when someone's sleeping or watching TV right next to you. But usually it won't bother people next door.
Again, I'd like you to judge yourself:
And the "feel" of the pads?
Many people seem to be reluctant to go for electric drums, because they're concerned the pads won't feel like acoustic drums. And there's really only one thing to say about this:
If you want something that feels exactly like an acoustic drum set, buy an acoustic drum set.
Don't get me wrong: e-drum sets have become very advanced and the pads do mimic the feel of an acoustic drum set quite well (mylar and mesh better than rubber). But there will always be a slight difference. Emailing doesn't feel exactly like writing a letter either, right?
The upside is of course that electric drums can do lots of different things that acoustic drums can't.
They can help you practice effectively, change your drum set sound instantly on stage, record on a budget or make your drum set sound like a piano (see video below).
c. Practice Tools
This is the final cornerstone to watch out for in a practice kit: tools to help you make efficient progress.
The absolute essentials for this are:
A metronome, so you can practice to play in time. (I haven't seen a electronic kit which doesn't have one built in, but be sure to double-check.)
A recording function, so you can record what you are practicing:
Because as a beginner, you'll be fully occupied with trying to get that groove in front of you right. You simply won't have enough concentration and objectivity left to listen and recognize all the details that aren't spot-on yet. So it's invaluable to be able to push a button, have whatever you're working on recorded and give it a listen afterwards.
Plg for smartphone / mp3-player, so you can play along to your favorite music:
This is the real deal for practicing the drums. Nothing will boost your motivation more than being able to jam along to your favorite track. So make sure the electronic drum set has a plug to connect your smartphone/iPhone or mp3-player. (Mostly the plug is called "Mix-In" and has a ⅛'' jack).
Finally there is one nice-to-have-but-not-quite-necessary tool for practicing:
On-board training functions.
Some higher-priced electronic kits such as the Yamaha DTX450K or the Roland TD-11K have guided trainings built into the module. These programs would for instance play a groove for you to emulate and then drop the click for a few bars at some point. You're supposed to play on until the click sets back in – at which point you'd know how well you've been playing in time. There are different exercises for different purposes of course, but the point is: it's guided and it's tracked. Both will help you make progress more easily and eventually maintain your motivation.
Finally, if you're beginner and operating on a budget, electronic drum pads can be a good alternative to an electronic drum kit when starting out.
Purpose #2: Playing live
If you want to take your electric drum set on stage, it should:
have a decent range of quality sounds
look professionally
be expandable
a. Sound Range & Quality
With respect to the sound range, there are two crucial questions to consider:
Can you import sounds into the module?
If so, that would make your sound range virtually limitless which is obviously a good thing. But it's also expensive as only the higher-priced sets like the Alesis DM10 are able to import sounds.
If the kit you're looking at can't import sounds, you should google for the manua. In there will be a list of the sounds in the kit. If you want to play Rock or Jazz you'll find appropriate sounds in any kit – but higher-priced ones will have more. If you're into Latin or even Electro, it depends on the individual set whether it has some at all.
Does the kit have enough presets for your gig?
A preset is a whole drum set compiled out of the individual sounds. Usually that's one sound for each pad, so 9 for a standard e-drum sets (3 tom, 1 snare pad, 1 kick, 1 Hi-Hat and 2 Cymbal sounds).
The number of presets can range from 10 to 100 and there is also a variable number of kits to customize yourself from product to product. I recommend you think about how many songs you're usually playing/going to play on a single gig and how often you want to change the sound of your kit. Depending on your music and the level of proficiency, this could be every single song, once per gig, or never.
As for the sound quality of a kit, I can't give any hard and fast rules, because taste is obviously subjective. The simple test would be to search for the electric kit you're interested in on YouTube where you'll usually find lots people playing this set for you. Just give it a listen and decide yourself.
b. Design
It's scientifically proven that audiences will judge you by how you look on stage as well as by your skills. So better make sure that you're really reaping the fruits of your practise by having a professionally-looking set.
What this entails isn't set in stone, but generally a kit that resembles a regular drum set will be familiar to an audience and thus look like it's up there on stage for a reason.
Just think about what you'd expect on stage and I'm sure you'll agree it isn't this (DDrum Beta):
And that this Alesis Forge looks much more professional:
Purpose #3: Recording
Finally, electronic kits are a great and very affordable way to professionally record music at home (or in the studio).
And the only thing you really need to worry about for this purpose is if and how your kit connects to a computer. Once that's done, even sound quality and range don't matter any more, because you'll be able to modify the track in any way you wish on your computer.
Connecting to your computer as a MIDI trigger?
So everything you need to record is a MIDI output at the back of your kit's module. Usually you'll be using the MIDI-USB port, but with an audio interface (for more advanced recording) you might need to use the 5-pin outputs. Both are just below the Alesis logo at the back of this Alesis DM10 module:

Once you've connected the module to your computer, your e-drum set acts as a MIDI trigger. That means, each time you're hitting any drum pad, a signal is sent into your computer.
That signal doesn't carry any sound information, which is actually a good thing. Because once you've opened your recording software (Audacity and Reaper are free; Ableton, GarageBand or Logic paid), you can match the signal with any sound in your library.
This way, you can make your drum set to simply sound very, very good for any style of music. Or you can make it sound like something entirely different:
So choose a set that connects to a computer and can serve as a MIDI trigger (which most electronic drum kits now can), and you'll be recording in no time.
Questions?
I hope I could convince you that choosing an electronic drum set isn't that difficult once you know what to look for.
I also hope you saw that an electronic drum kit isn't just an acoustic set turned more quiet, but that it can improve your practice, your stage performance or your recording – and even open up new dimensions to your creativity.
If you've got a question about any of the e-drum sets reviewed here, I'll gladly answer them in the comments. And I'd love to hear about your experiences with any of these kits!