Updated: August 17th, 2022
Have you ever wanted to buy an electronic drum kit but couldn't rationalize the purchase price? Well, I've got plenty of good reasons to make the move now.
Many times in the past I've entertained the thought of spending money on electronic drums… but went running back to my acoustic kit when I got a good look at the electronic drum kit price.
Traditional practice pads weren't cutting it out for me anymore.
I just really wanted a simple option that would allow me to practice quietly in a small space and create some fun without shattering my budget.
Sadly, there never seemed to be any options available to meet my needs. That is until I got a kit for this Roland TD 1KV review.
The Roland TD 1KV has completely changed my thinking about electronic drums. Apart from being a quality product, it's priced well enough to allow you entry into the world of electronic drums and experience the benefits that they offer.
Roland TD 1KV Review at One Glance
[P_REVIEW post_id=3019 visual='full']
What's in the Box?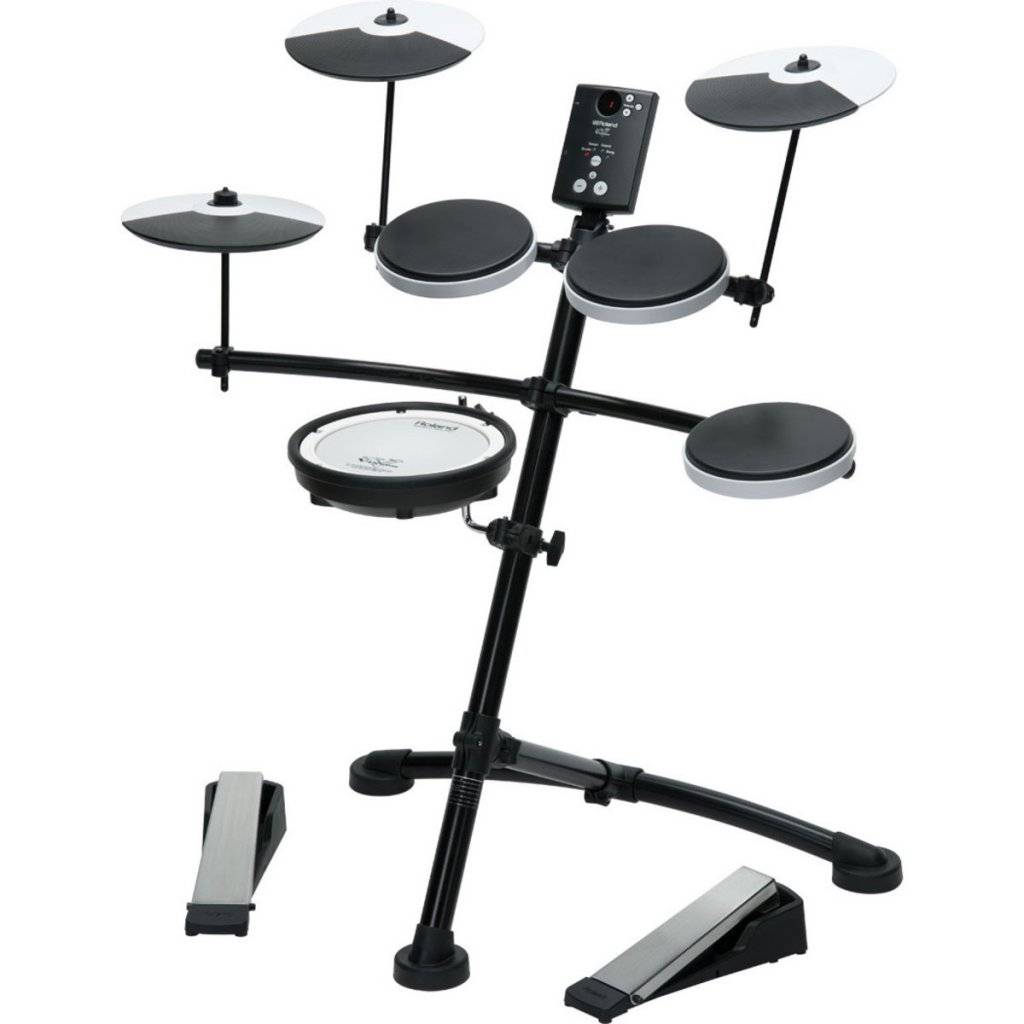 Sturdy drum rack with quick and easy height adjustment for every kind of drummer, from kids to adults

Mesh-head PDX-8 V-Pad snare provides realistic drum feel with head/rim triggering

Beater-less kick pedal

Beater-less hi-hat pedal

3 gum rubber tom toms (Rack 1, Rack 2, and Floor Tom)  

Roland TD-1KV Electronic Drum Set Sound Module
3 pairs of sticks
audio cable
polishing cloth
Features & Specifications
The Roland TD 1 KV has a small footprint of 37 x 18 x 13 inches, which means it is easily transportable at 30 pounds and gentle on your budget without compromising on quality and functionality.
The frame that holds the entire drum set together is amazingly sturdy and it moves forgivingly when you play the kit.  
The rack and floor tom pads have a reasonable rebound that I found pleasing to play and the mesh snare provides a different rebound and feel that is both realistic and comfortable.
The kick pedals for the bass drum and hi-hats are super positionable to accommodate players of different ages and sizes. They responded effectively even when I challenged them with more elaborate rhythms for this Roland TD 1KV review.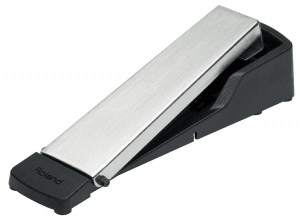 The hi-hat cymbals can be adjusted for tension and a splashed hit-hat sound can be achieved by simply touching the pedal without hitting the hi-hat pad with a stick. This creates the sound of the top and bottom hi-hat cymbals hitting each other and will accommodate drummers who make use of this technique when playing jazz or 2nd Line drum grooves.
The ride and crash cymbals can be choked and the ride cymbal provides a bell sound when hit with a more aggressive stroke.
All of the toms, the mesh snare, and the bass pedal are velocity sensitive, which is important for a drummer.  When you play softly, the sounds are soft. When you dig in for a harder sound, the Roland TD 1KV will respond with more volume as one would expect.
In doing this Roland TD 1KV review,  I found the fifteen different drum kit sound options on the Sound Module to be ample. But you can get even more elaborate by connecting via USB to an external Digital Audio Work Station (DAWS). Through the DAWS, you can experiment with extra sound options that you may have available using 3rd party software.
Electronic kits can be useful for certain types of gigs, but I have always wanted to have an alternative to practice pads that would allow me to get the essence of the sound of my playing while not disturbing others. This kit is great if you don't want to bother your family, roommates or the neighbours, but still be able to play with with as much intensity as you like. Roland TD 1KV is relatively quiet and fits the bill beautifully.
If you have small children or fussy adults who go to bed early, fear not. You can practice endlessly into the night and the kids or the roomates will never notice.  With your headphones on you'll be rocking a major performance in the most unobtrusive way.
Freedrum- Play the drums anytime, anywhere
Best of the Best
Best of the Best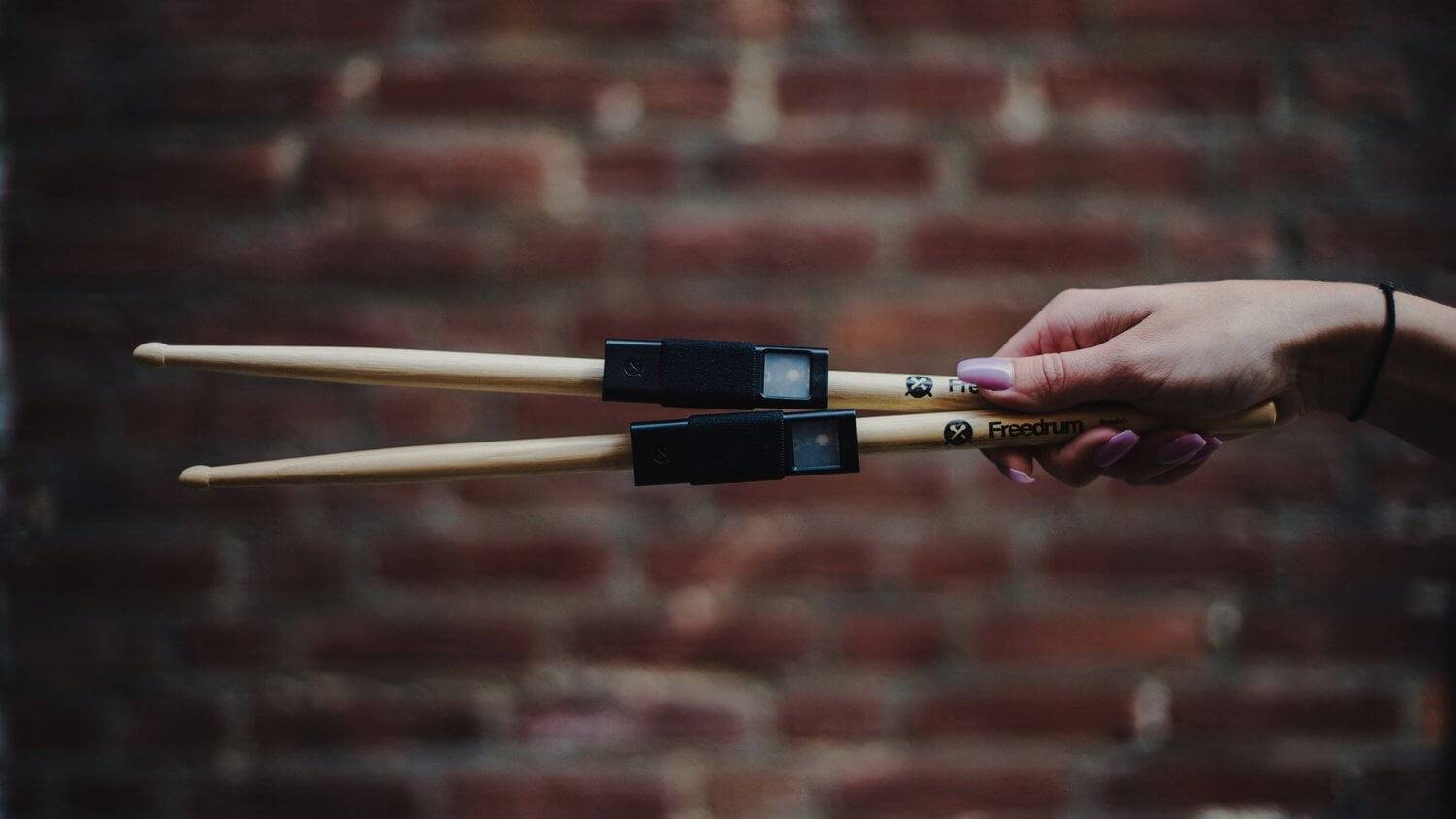 Freedrum
If you crave a convenient, mobile drum kit that is and Freedrum is exactly what you need. Connect using bluetooth and play on your smartphone, computer or tablet
FEATURES
Sensors are super accurate
Good Value for Money
Compatible with all major music software / DAWs
Sturdy Construction, Durability, & Adjustability
Having a super cool electronic kit is meaningless if it's not able to withstand constant pounding, hitting, and the endless practice time that I know you will be investing so that you can challenge all the other great drummers out there.
The Roland TD 1KV takes up a small amount of space. It offers the ability to move the components around to accommodate players of many ages and sizes.
I wanted to make sure to have a thorough experience for this Roland TD 1KV review, so I gave this kit a work out and played it as if I were in the middle of a forty-five minute set. Amazingly, this kit sat firmly and took my licks like a pro. The unit moves in a forgiving way in response to your playing, just the way a traditional acoustic set would and should.
Snare & Tom Pads Feel Realistic
The gum rubber pads that represent the rack toms and the floor toms on this electronic kit have a realistic rebound that I found easy on the hands and wrists when I played them.
This is very important, because I've found rubber pads on older electronic drum kits to be tough on the wrists after about an hour of playing on them. A real drum skin has enough give to allow you to play without pain but rubber pads of the past always resulted in pain and that indicates to me possible long term damage or injury is on the horizon after extended playing. This seems to have been eliminated with the Roland TD 1KV gum rubber toms.   
The mesh snare, which is the predominant drum used when playing a drum kit, is even more realistic and comfortable and can be tension adjusted with a supplied key to match your requirements.  
Sound Module Gives You Plenty of Options & Flexibility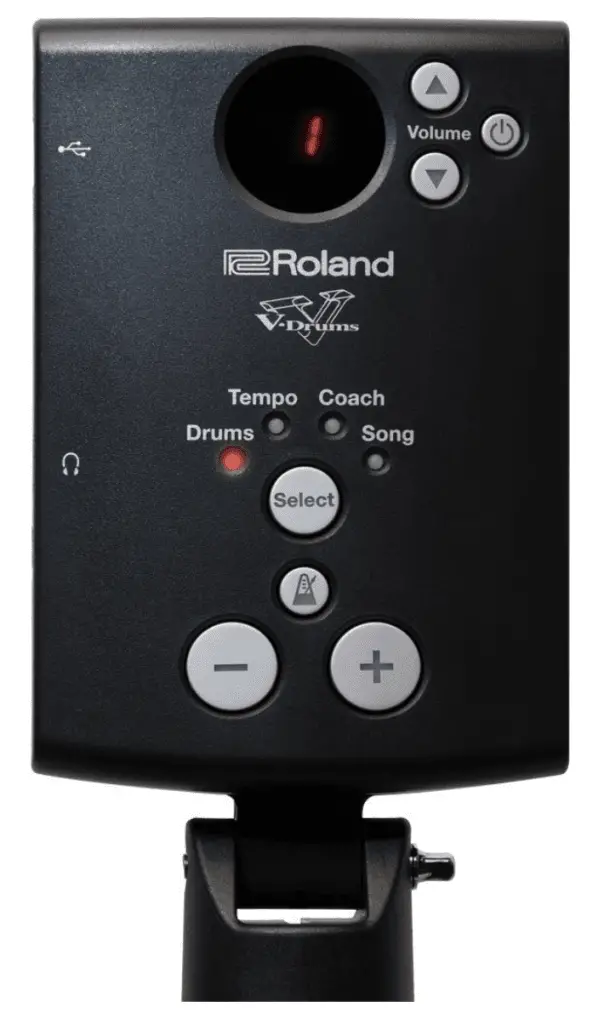 The Sound Module provided with this electronic drum kit gives you a useful and varied set of functions. There are 15 different kit sound choices from traditional rock and pop kits, to hip hop, techno, as well as a bongo, and affiliated percussion sound set-up.
You can simply play your Roland TD 1KV along to the on-board metronome or accompany a range of provided songs. This feature is a fabulous change up from woodshedding rhythms and beats on a traditional practice pad. It was a totally gratifying blast for me!
In addition, you can record what you have just performed on the Roland TD-1KV and listen back to hear how if the results are what you were aiming for.
For this Roland TD 1KV review, I was able to make use of the coach function as an advanced player to keep me honest regarding my meter. The Time setting and the Drop Out setting indicated whether I was getting ahead or behind the beat.From an educational standpoint, this function is perfect for new students and even veteran players who want to get their meter locked in.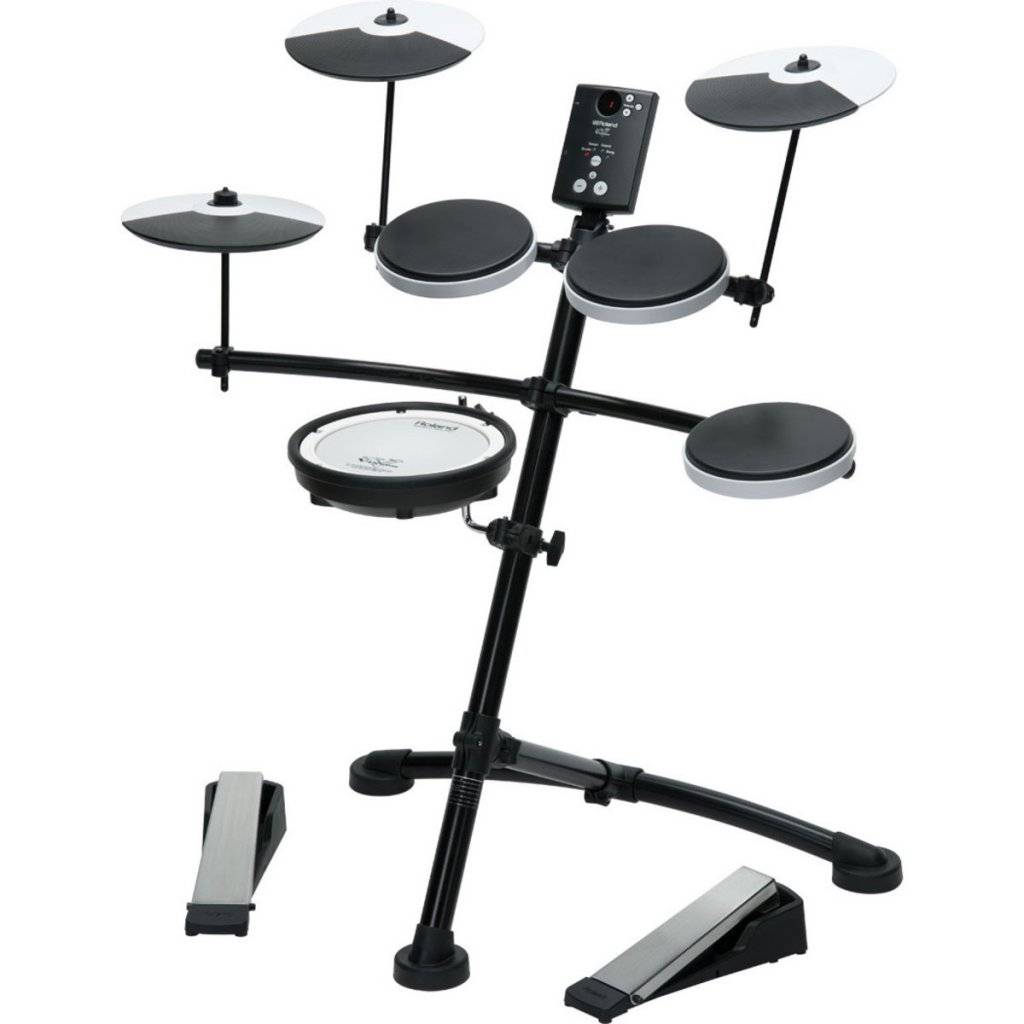 Small footprint. Perfect when space is limited

15 default drum kit sound options that sound realistic

Set up is easy (Approx 30 minutes)

Very durable

Sound Module provides many options for teaching or just for fun

Ability to add your own drum sounds via USB connectability

Forgiving drum pads and mesh snare pad

Velocity sensitivity

Perfect for beginners to establish if they really love to play the drums
Bass pedal and hi-hat pedal may frustrate more advanced players, as they lack a feeling of resistance, typical of a real hi-hat or bass pedal.

Volume for music and drums when played together cannot be adjusted separately

Cannot play with brushes on the mesh snare
Frequently Asked Questions
Q: Do you need a speaker to hear this kit?
A: Yes.  You can plug in a set of headphones to hear what's going on by yourself or you can attach an external speaker so that others will hear your kit.
Q: Can you midi this to an external DAWS program such as Pro Tools or Garage Band.
A: Yes.
Q: Does the kit come with a drum stool?
A: No.  A drummer's throne will need to be purchased separately.
Alternative Products to the Roland TD 1K
Roland TD-1K vs TD-1KV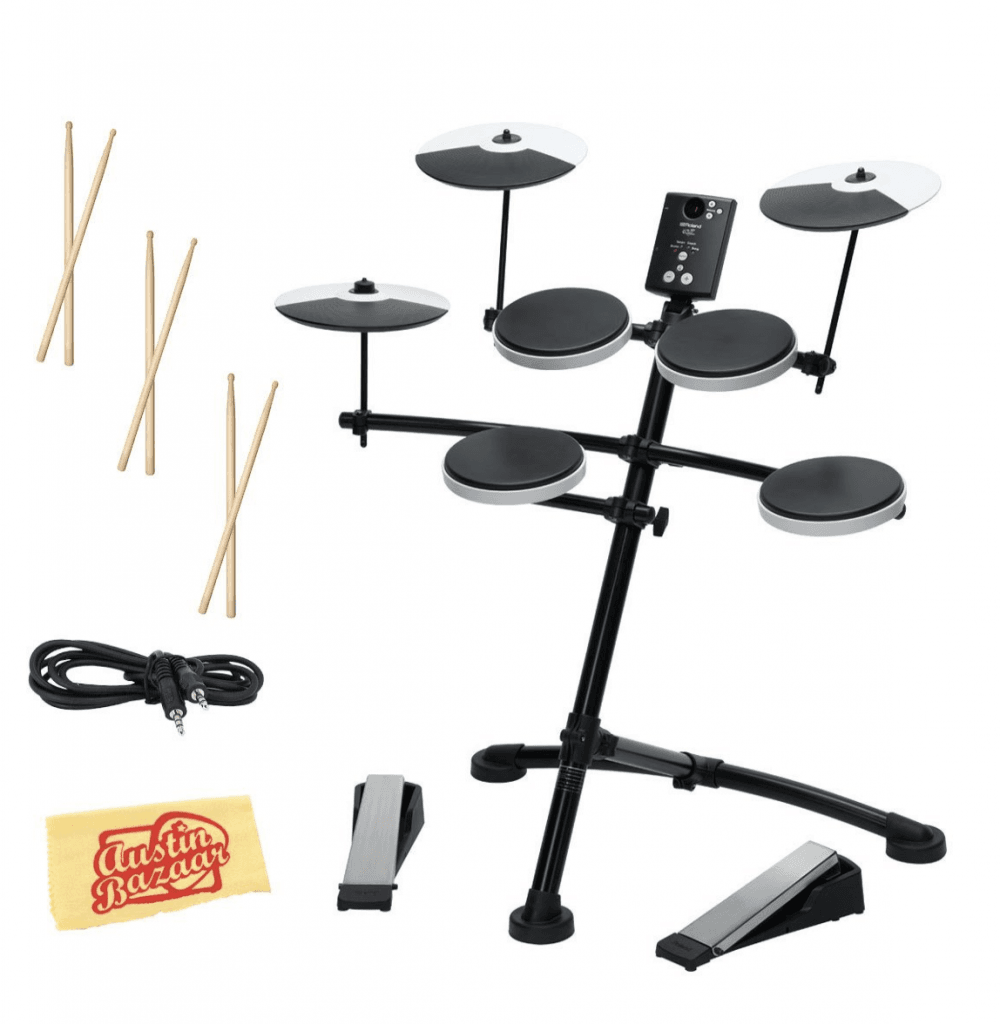 The Roland TD-1K kit is essentially the same as the TD 1KV however the snare pad is constructed of the same rubber substance as the rack and floor toms. This may be a minor issue for the beginner, which means you can still acquire electronic drums even if your budget is as tight as a drum skin.
Roland TD1KV vs Yamaha DTX400K
The Yamaha DTX400K is a respectable alternative to Roland's TD1 KV.
It also has two rack toms, a floor tom, and a snare pads. However, the snare is also rubber versus the mesh snare on the Roland TD1 KV. The control module on the Yamaha DTX400K is limited somewhat due to a lack of LCD screen versus the Roland options.
Freedrum- Play the drums anytime, anywhere
Best of the Best
Best of the Best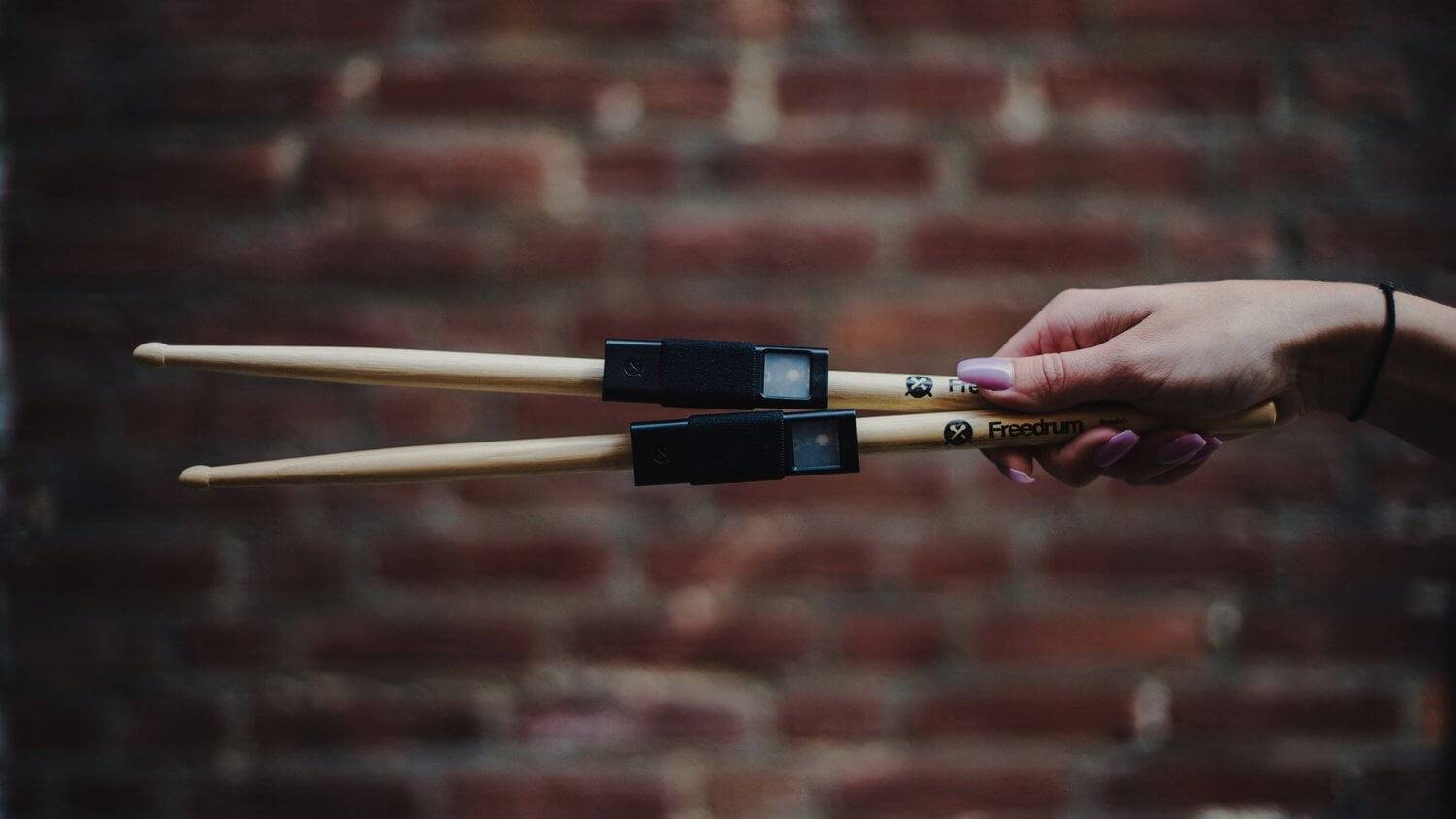 Freedrum
If you crave a convenient, mobile drum kit that is and Freedrum is exactly what you need. Connect using bluetooth and play on your smartphone, computer or tablet
FEATURES
Sensors are super accurate
Good Value for Money
Compatible with all major music software / DAWs
My Final Opinion
After making this Roland TD 1KV review, I would recommend this kit without hesitation. Roland has a pedigree for electronic drums and they have included quite a few great features into this kit that are useful and will help develop your talent.
The kit provides a great price point to get a young student started and help establish their passion for playing the drums. Best of all, this kit is fun!
Questions? Comments?
Drop them in the box below and I'll get back to you within a day!