It is frustrating when you want to practice your drums but you know you are disturbing your neighbors. If only there was something you could do to reduce the sound. Your walls and doors are already pretty good at blocking sound, so most of the noise that you are expelling into the street is coming through your window. You can help reduce this sound with a soundproof curtain.
As a caveat, they are called soundproof curtains but while curtains can reduce sound, none will block it out completely. They can work to muffle the noise and make it less intrusive and jarring for your neighbors, but don't expect 100% soundproofing. For that, you need a sound-insulated room like a professional sound studio.
On this page, we will take you through the best soundproof curtain options to help prevent the noise from escaping from your drum room. These curtains will also be blackout and insulating, and the same technology is used for these three effects. We will also share a buying guide to help you understand what you are getting with soundproof curtains, and how to choose a good set.
Product Quick Links
Key Features
5 Best Soundproof Curtains For 2022
These curtains from Nicetown are the market leader when it comes to blackout, thermal, and soundproofing curtains. They are affordable and come in a great range of options and colors.
Triple weave polyester curtains
Multiple sizes and 26 color options
These curtains are made from triple weave polyester with two blackout layers and one insulation layer that will help absorb about twice as much noise as a standard curtain.
These curtains are also designed to be convenient to use. They are designed with standard silver-colored grommets with a 1.6-inch inner diameter (which means they can fit a pole up to 1.5 inches thick). You can put them in the washing machine, but be careful what cycle you use as some customers have reported damaging their curtains this way. While the manufacturers claim that the curtains are made with no dangerous chemicals, some customers have reported a chemical smell when they initially hang them.
Pros
Excellent variety available
Highly affordable
Significant increase in noise blocking
Cons
Could be damaged in the washing machine
Some customers have reported a chemical smell
If you are looking for something generally trusted by the market and with great reviews, these curtains are an excellent bet.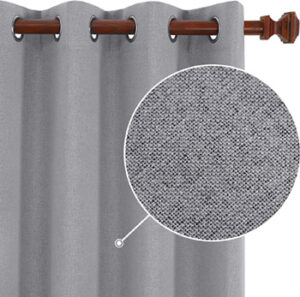 If you love the look of classic linen curtains but want something that absorbs sound as well as blacking out and absorbing heat, you will love these faux linen curtains from Deconovo.
Faux linen with three layers
6 sizes and 11 colors
These curtains look like authentic linen, and the manufacturer even claims that they are authentic linen in a number of places, but that is not true. If you look closely you will see that they are made from faux linen, but they still look great.
The curtains have three layers with two blackout faux-linen layers and a high-density black yarn layer to absorb noise and heat. They are easy to hang with 1.6-inch grommets and are machine washable.
Pros
Authentic linen look
Machine washable
Effective noise-dampening yarn layer
Cons
Not made from real linen
Limited colors available
The fact is that real linen curtains won't do much to block noise, but these faux-linen curtains with their black yarn layer look almost as good and do the job.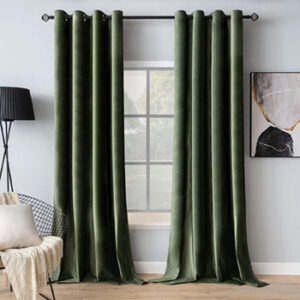 If you prefer something more natural, try these velvet curtains. They don't use the same technology as the other options on this list, but the heavy velvet is naturally soundproofing.
Natural velvet curtains
6 sizes and 15 colors
These curtains are a single layer, but they are made from heavy velvet in a variety of colors. This naturally absorbs and blocks noise almost as well as the other options on this list.
These curtains also block less light than the other options, which could be a good thing if you are interested in soundproofing but don't want to completely block the sun from your space. Easily hangable with 1.6-inch grommets.
Pros
Natural velvet
Not complete blackout curtains
Easy to hang
Cons
May block a little less noise than competitors
Velvet requires specific care
If you are looking for the most natural and lightweight solution to dampen the noise passing through your windows, these are an excellent option.
If you want something adaptable that can function as soundproofing when you need it and just be normal curtains at other times, these curtains with a detachable absorbing layer are an option.
Three layers of linen and felt
7 sizes and 13 colors
The curtains have two polyester fabric layers with a noise-absorbing felt layer in the middle. This layer can be easily added or removed, with Velcro fasteners to hold it in place.
This feature also makes the curtains easier to care for since you can detach the felt layer and pop the rest in the wash. Hang them easily with standard silver-color 1.6-inch grommets.
Pros
Detachable noise-absorbing layer
Machine washable
Affordable
Cons
Some customers have said that they appear cheap
Limited color options available
If you know you don't want to be canceling out noise all the time and prefer to keep your home more natural, these curtains with detachable absorption layer are a great option.
Moondream claims to use patented technology that can increase soundproofing by up to four times that of a standard curtain, which is much more than any of the other options on this list.
Polyester and cotton with four layers
5 sizes and 14 colors available
These curtains use four layers. There are two blackout fabric layers on the outside, and between them is a thermal insulation lining, which absorbs heat and sound, and a thick cotton lining which will absorb even more sound.
Customers seem to be very happy with these curtains, but some of their claims still need to be justified. I'm willing to give them a chance, though, and there are lots of great color options.
Pros
May absorb more sound than other options
Lots of color options available
Affordable
Cons
Some product claims are yet to be proven
Relatively few customer reviews available
If you are looking for the most effective sound-dampening curtains, these affordable curtains are certainly worth experimenting with.
Soundproof Curtain Buying Guide
Soundproof curtains look pretty much the same as regular curtains, but they are much thicker and heavier. This is usually achieved by combining three layers that are designed to block out light, absorb heat, and absorb sound.
This extra weight absorbs some of the noise as it tries to pass through the curtain, significantly reducing sound, but it will not eliminate the sound entirely. It also has a different level of effectiveness with different types of sound. They tend to do very well with high-frequency sounds such as bird calls and tire noise, but less well with low-frequency sounds such as construction sounds and engine noise. Drums do tend to be at the lower end.
What does this mean? While soundproof curtains will make a difference, they will not block out the sound of your drums completely.
Size – Ideally your curtains should be large enough to fully cover the window and a good portion of the wall around it to create a "seal." As a guideline, choose something three times the width of your window and about 10 inches longer.
Weight – Heavier options mean more layers of fabric to block more sound. For the best soundproofing, go for the heaviest option available.
Material – You will find a wide range of materials used in these curtains including velvet, suede, and polyester. These are all good options. Check the number of layers in the weave and choose something thick.
Rods – In addition to the curtains themselves, you are going to need rods to hang them. Check whether your existing curtain rods are wide enough or in the right position and whether they are strong enough to hold the heavier curtains. If they are not, consider your curtain rod investment when choosing your curtains. If you are going for a blanket design, also make sure the product has attachments that will let you connect it to the curtain rod.
FAQs
Do noise-reducing curtains really work?
Noise-reducing curtains will help reduce the amount of noise that passes in and out of windows, but while they provide noise reduction they do not soundproof a space. They are more effective for high-frequency sounds than low-frequency sounds, so it is worth bearing in mind that drums generally produce low-frequency sounds and thus the curtains may be less effective than you anticipate.
Do blackout curtains block sound?
If you get a pair of blackout curtains, you will find that they also work to control temperatures through insulation and reduce sound. The heavy layers needed to block out light are also good at absorbing sound, and most curtains are sold on the basis that they do both.
Are soundproof curtains better than acoustic panels?
Curtains are much easier to use and mount in your home than acoustic panels, but acoustic panels block a lot more sound than curtains, especially at the lower frequency which includes drums. If you need to block sound from a room that also doubles as a shared living space, curtains are a convenient solution. If you are trying to soundproof a dedicated drumming space, acoustic panels are the way to go.
How can I cheaply soundproof a room?
One of the cheapest options for soundproofing is industrial blankets, which are padded blankets used to protect furniture during moves. They have the same basic structure as sound-dampening curtains and can be hung to help reduce passing noise.
Applying weatherstripping tape around windows and doorframes to seal gaps where sound is leaking out can also help.
Are towels good for soundproofing?
Towels are not usually big enough to fully cover a window and therefore effectively minimize sound passing through. A more permanent solution is a better choice if you know you will be needing it regularly.
Can egg cartons be used as soundproofing?
No. While egg cartons may look a lot like soundproofing acoustic foam, the cardboard that they are made from is not thick enough to effectively block sound.
The Verdict
If you are a considerate drummer, you are probably conscious of the impact of your drum training on your neighbors. This probably means that you control your drumming hours and take advantage of times when you know that no one is home. You probably also resort to alternative forms of practice late at night.
Another thing you can do to help reduce the sound that is spilling out of your drum room and into your neighbors' ears is soundproofing curtains. Walls and doors already absorb a good amount of sound, but windows let a lot escape.
No curtains will completely eliminate the sound of your drums, but they can help reduce it and your neighbors are likely to appreciate the extra effort.
Want to practice your drums soundlessly via headphones? Consider investing in a set of electronic drum pads.