When you're looking for electronic drums, there are a lot of kits to choose from. Their prices and quality are highly variable.
No kit is perfect, and no kit will satisfy every drummer, but some kits have such great overall values that they can be hard to pass up.
The ideal starter electronic kit is designed for the beginner, priced low, but still packed with enough features to make it appeal to just about everyone. Alesis has tried to make one of those kits: the Forge. But have they achieved that goal?
This Alesis Forge review aims to answer that question.
Alesis Forge Review at One Glance
[P_REVIEW post_id=2132 visual='full']
Current Deals
You came here right in time, for the Alesis Forge hasn't been discounted since April 2015. Today, though, Amazon US invites you to check out this great kit for a good bit off its original price. (Spotted January 16th 2018 – no idea how long this will last.)
What's In the Box?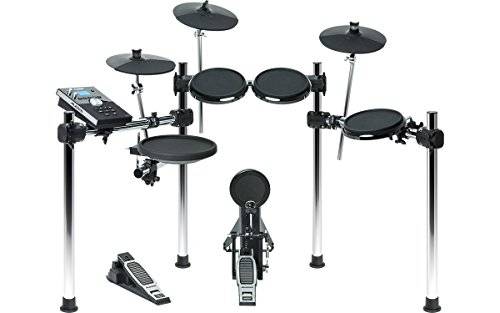 Inside the box of the Alesis Forge, you'll find the following:
the Forge Drum Module
4 rubber pads
kick pad tower
kick drum pedal
hi-hat pedal
a 4-post chrome rack
cable snake
power adapter
user guide, kit assembly guide, manual…
…and even drumsticks!
This is one of those purchases that includes everything you need to get started, which is great for beginners. It made me quite happy!
Check out this video to see how to set it up:
Features & Specifications
Advanced Drum Module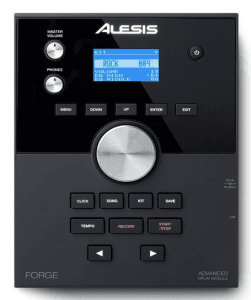 This may be a beginner-level electronic kit in terms of price, but I find that the quality to get is much better. The reason for this is the Forge's "Advanced Drum Module" which lives up to its name:
This module is deep and rich, with great sounding samples and a pretty large library. It includes 70 distinct kits, 50 of which are factory presets and 20 kits you can custom-build. And the sound library contains 600 sounds, each carefully constructed.
Also included in the Advanced Drum Module are 60 play-along tracks, which will help you practice (they help me!), and a metronome (this is a drummer's best friend, whether you are a beginner or a seasoned pro).
Responsive Rubber Pads
Let's be honest about rubber pads. Most of us don't love them, and they are what keep a lot of people away from electronic kits in general. But not all rubber is the same, and not all rubber pads are created equal. So how are these pads? How do they stand up to higher-end mesh heads, or even to real life drum heads?
These pads are great. Yes, they are rubber, but they are as responsive and lively as I can imagine rubber to be. Their response is, to put it in a word, natural.
User-Customizable Samples
One of the great features of this kit is the way that the sample library is designed. In addition to the hundreds of samples that come pre-loaded, you can expand your library by adding custom.WAV format samples. Just insert a USB memory stick into the included input. This opens up a huge world of sonic possibilities.
Pros & Cons
This is a great kit for its price, but if you're thinking about buying it you may want to know a little more about what makes it good and also how it might fall short of your expectations.
The Pros
Sound library: the library of sounds on this thing is great. It is rather vast to begin with, and when you add in the ability to load your own samples, you end up with something that could never get boring.
Preset kits: There are a lot of kits in the Advanced Drum Module, and most of them sound great. Added to the 50 preset kits, there is space for 20 user-defined kits, which – when combined with the ability to load your own samples – means a lot of sonic territory for you to choose from. Just listen to the Forge in action here:
Price: There isn't much to say about the price of this kit other than that it is quite good, given all of the things you get. This kit's price makes it a great piece for beginners.
The Cons
Sound Quality: Don't get me wrong, this kit sounds great (for its price), but there is still something left to be desired here. Higher-end electronic kits just sound a little better.
Feel: Again, and for the price, the Forge feels great. There are, however, better-feeling kits out there. In the end, these are still the rubber pads that many of us don't care for.
Alternative Products
So you're not quite convinced by the Alesis Forge yet? Well, if you want more, here are some good and similar kits to choose from:
Alesis Command
Both the Forge and the Alesis Command come with the same module and thus boast the advantages you've read about above. But the Command comes with a higher price tag, and there is a reason for that: the pads are mesh rather than rubber, and this makes them more responsive and feel more like you were playing an acoustic kit. In general, these are both great kits, but the Command is on the higher end.
Alesis Nitro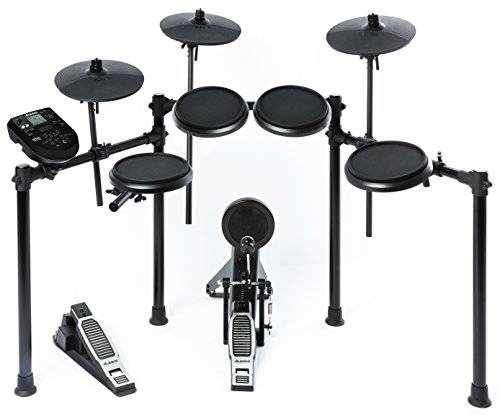 The Nitro is the Forge's somewhat smaller and, more importantly, cheaper cousin. It is the beginner kit in this line of Alesis kits. Both the Forge and the Nitro are tailored to beginners, but both still feature professional-level samples and great modules. In the case of the less expensive Nitro, there are fewer sound options (385) and fewer kits to store them in (30). In my view, the Nitro's sounds are more than enough for any beginner. But you might have different needs here. So it's really up to you.
Roland TD1K
The TD1K is Roland's introductory model. Roland is probably the best-known manufacturer for electronic drums, so you know that the quality is there. I find that the Roland has impressive sounds but there are fewer to choose from and "only" 15 kits to store those sounds in. It is a great kit, and might be higher quality, but in my view the limited selection of sounds is the issue here.
In addition, the TD1K's pads are very small, and for some people this is a problem. For me, this is another way in which the Forge delivers big despite its low price. Generally, you get more for your money with the Forge, but the Roland comes with the name and a high standard of quality.
My Final Opinion
I think that the Alesis Forge is a great overall beginner's kit. If you are new to drums, or if you are new to electronic kits, then this is a great buy. It has more to offer than the Nitro and will give you more bang (and thump, and crash!) for your buck than any other model in its class.
The Alesis Forge won't let you down! Neither in the rehearsal room nor on stage.
Comments?
If you have any experiences with the Forge, let me know in the comment section below. Also feel free to leave any other feedback – questions, comments, concerns, critiques.