New to the world of electronic drum sets and not sure whether Alesis DM6 is the best drum set for you?
Believe me, after reading this review you'll have no more questions, including ones about modules, pads and how to connect them both to your computer.
I've searched and searched the web for all the questions about the DM6 – and compiled the answers in this Alesis DM6 review.
So jump to what's relevant to you or read it all through. I'm confident you'll get your questions answered.
An Important Update
In my view, the Alesis DM6 is was the cheapest useful electronic drum kit on the market – until early 2016.
For back then, Alesis launched the DM6's successor – the Alesis Nitro – and I think they've made this new model even better than the DM6. So before reading on, I recommend you check out the differences between the Alesis DM6 and Alesis Nitro here.
Once you've done so you might ask: why should I still buy the DM6? And my answer is: don't…
To my mind, there's no good reason to do so. Both the Alesis Nitro and the Alesis DM6 have the same pad sizes and you've just read that the Nitro module is much better in terms of sound range, learning functionality and opportunities to expand the kit.
Yet, if there's a reason that you still want to go with the Alesis DM6, be my guest. Back when I played this set I was very, very satisfied with it. And I'll tell you why in detail now…
Alesis DM6 Drum Set Review At A Glance
[P_REVIEW post_id=443 visual='full']
What's in the box?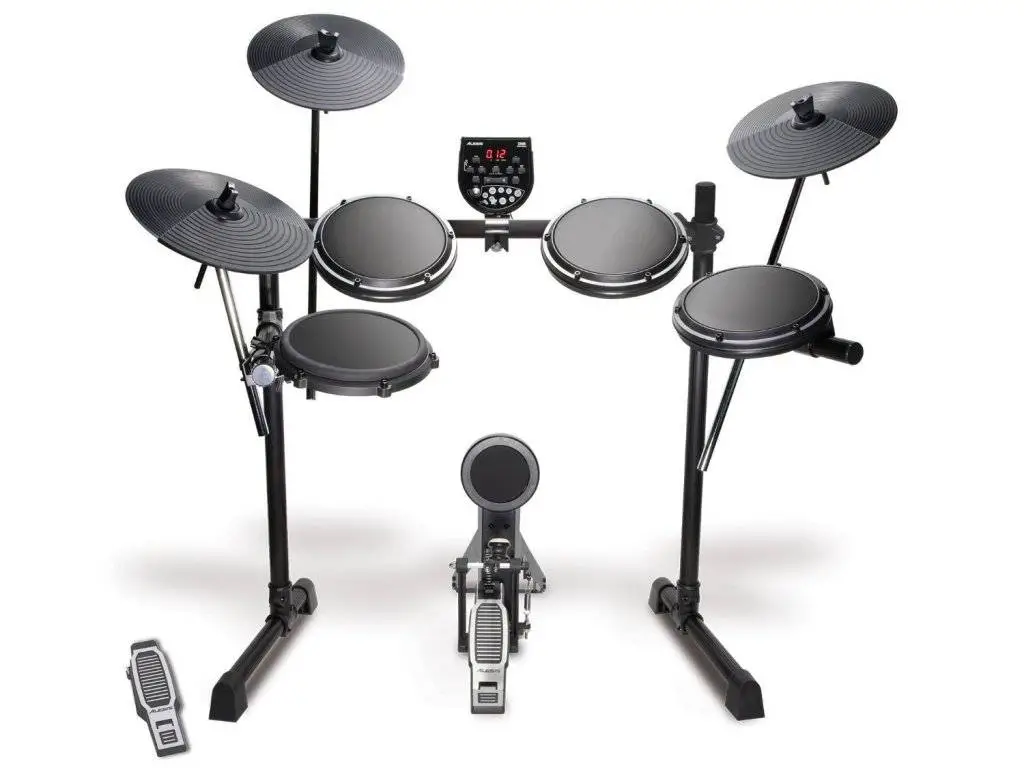 If you bought this kit on Amazon like I did, it would come in one box of about 3 x 2 x 1ft and weigh around 35 pounds. Update: the DM6 is no longer available on Amazon, but the box sizes shouldn't vary much when buying here.
Inside that box are 8 drum pads: 1 dual-zone snare pad (for regular hits and rim sounds), 3 single-zone tom pads, 1 kick pad and 3 cymbal pads.
The box also includes the stand (or "rack") and a 110 Volts AC adapter, and you'd also get a pair of sticks (cheap ones of course) and even a cheap, but solid, bass drum pedal.
A drum throne and headphones have to be bought extra, and since headphones are crucial, I talk about good ones here. (If you want to save money for the moment, you can buy an adapter to plug your day-to-day music ear plugs or headphones into the DM6.)
If you'd rather let your surroundings hear that you're playing drums, you can also go for any kind of amp (guitar, bass or keyboard), or use you band's PA via a sound board.
And in case anything's not in the box or broken: the DM6 comes with a one-year warranty against manufacturers defects.
Sounds & the Alesis DM6 Module
Operating the Alesis DM6 module is very simple and I think that's a good thing for you as a beginner.
Whether it's changing the volume of the individual pads in the lower half, switiching on the click or the recording function: all works at the push of one or two buttons. And they are labelled very clearly.
The DM6 module contains 108 different sound (Alesis calls it "voices") ranging from various versions of kick, snare, tom and cymbals sound over Timbales, Congas and Cowbells all the way to some DJ sounds (see overview here).
Out of these 108 sounds, Alesis has constructed 10 preset kits (Rock, Pop, Jazz, Latin, DJ etc.) and provided 5 slots for you to put together your own drum sets. Want to give the presets a listen?
I have absolutely nothing to complain about in terms of sound. Considering the price, the Alesis DM6 does sound really good.
And in case you want to connect the DM6 to a computer, the sound range becomes limitless anyway (and I'll explain why in a second)…
Recording or Playing the DM6 via Computer
Of course, the Alesis DM6 can be hooked up with any computer (Windows, Mac, Linux…). You have to buy a MIDI-USB cable, but once you have it, you just plug it into your computer and the USB input at the back of the module:
Then you can record what you're playing into a recording software like Reaper (free) or any paid option out there (Addictive Drums, Ableton, Garage Band etc.).
From this point onwards your DM6 is no longer a drum set, but it's a MIDI controller. Meaning: when hitting a pad you can trigger any sound that's stored in your software's sound library.
You could make it sound like a piano or make it sound even more like an acoustic drum set:
And you can surely record drum covers with it:
Practicing with the Alesis DM6 Electronic Drum Set
That's what I think is the DM6's main purpose: being a practice kit. And while it does that well, the DM6 hasn't got any of the motivational training functions of a Yamaha DTX450K or Roland TD 11 on board. But to be fair: the DM6 only costs half / one third of those kits.
Still, the DM6 allows you to do the most motivating thing I know, and that is playing along to some Foo Fighter's songs (or any band of your taste).
You have to get a 1/8 inch audio cable separately again, but with it you just plug your iPod, iPad, mp3-player or whatever into the Mix-In input at the back of the module and off you rock.
And whether you're playing over headphones or an amp: you will hear both the original track and your own drumming. And you can adjust the volume of the latter via the knob on the module.
What about Rock Band for Playstation or Xbox?
Another fun way to practice is by playing the game Rock Band for Xbox360 or Playstation. And the DM6 is compatible with both devices if you buy one more cable and a MIDI-adadpter. (This video explains well how to set it up.)
What the Pads can Do and How Loud they Really Are
The DM6, like most other electronic drum kits, has pads made of rubber (with a steel core). Playing them will feel much like playing a practice pad. I don't see this as a negative, but I know some people want playing electronic drums to feel like playing acoustic ones.
If you're one of them, you're cheapest option is to invest around 800$+ dollars and get the Alesis DM10 with mesh heads (see my review here).
Otherwise, you might be concerned about how loud the pads are. Being made of rubber-over-steel, they do produce sound peaks at around 60 decibels (for those outside your headphones). That's like hitting the pages of an open book with a stick – or like this:
I put a carpet underneath my kick pedal, because its vibrations transmitted especially well into the room underneath.
As for the pad's sound features: the snare pad is quite finey tuned, so that it can even register very quiet strokes (so-called "ghost notes").
You can open and close the Hi-Hat, but you cannot get a half-opened Hi-Hat sound. Again: no problem for me, but you have to chose yourself. Also, the cymbals have no choke funtions like those of pricier kits have.
Adding Toms, Cymbals & Double Bass
Since many customers wanted to add a tom or cymbal to the DM6, Alesis manufactured an expansion cable snake with two more trigger inputs. So now you can actually add two pads (1 cymbal, 1 tom).
And in case you want to use your double bass pedal with the DM6 you need not add anything. The kick pad is about 3 inch wide and that will accomodate most double bass pedals.
I use an Iron Cobra, and in this video you can see that it also works with two older, larger bass drum beaters (jump to 3:42 to see it):
Assembly & Storage
Don't worry about assembling the DM6. It's easy (9 steps) and there are how-to videos to assist you too.
Once set up, the Alesis DM6 will take up an area of about 5ft by 4ft. And you can of course fold it in order to store it away. You'll have to loosen 15 nuts or so, which can be done fairly quickly, but I wouldn't recommend doing this on a daily basis.
Any Concerns?
Is there something left that this review didn't answer? Just let me know and I'll get back to you in no time (usually less than 24 hours.)