Updated: August 15th, 2022
The best shoes for drumming are those in a snug, minimalistic style. Comfort is a top priority in drum shoes from the simple reason that any distraction can have a negative effect on your drum playing.
Quick Links: Our Top 5 Picks:
Before Buying Your Drum Shoes – Consider this:
While some players opt to wear shoes made specifically for drumming, others prefer to wear sneakers or trainers that are not defined as "drumming shoes". While you can technically wear any shoe you like for drumming, you'll find that certain features help some brands and styles stand out from the crowd.
Appearance –While looks aren't the most important factor to consider when choosing the best shoes for drumming, it's important to keep your personal style in mind and opt for a pair that appeals to you. Pick a dark, neutral color if you're concerned about your shoes standing out. At the same time, keep in mind that your feet probably aren't on the audience's radar at all! Your listeners are far more concerned about the sound you're producing.
Feel – The same shoes that feel great while you're walking or running might not feel fantastic while you're drumming. Thick soles with lots of traction features tend to get hung up on the pedal(s) and this can lead to problems with everything from speed to performance quality. You want a sole that grips just a little, yet allows you to slide easily.
Comfort – Considerations like breathability, weight, and the overall feel of the inside of the shoe will make a big difference in whether it performs well for you. The best drumming shoes fit so well that you don't even notice that they're there while you're playing.
Our picks for the best shoes for drumming include a variety of options ranging from classic trainers and sneaks to barefoot shoes. All are favorites with the drumming community and most come in a variety of colors.
Urbann Boards Virgil Donati Signature Shoes
Thanks to Vigil Donati and several other drummers, Urbann Boards has a selection of shoes made specifically for drummers. These pairs are most popular due to their breathable and lightweight nature. The Virgil Donati Signature shoes are constructed with a large mesh on the upper part for breathability and flexibility. Inside the shoe, there is a parachute material that keeps it firm and durable.
Since it is a flat shoe, the weight of the foot is distributed evenly. The soles are flat too, and you can feel the pedals through it. It is good to note that like running shoes, this shoe fits smaller, so when purchasing, you may need to buy a few sizes bigger than your foot size.
Pros:
Long-lasting shoes

Has Virgil Donati's name and signature on it

Quite affordable

Right support and weight
Cons:
Not a perfect fit, your feet size may fit too snugly
Who will enjoy wearing these shoes for drumming?
Those that love Urbann Boards as a brand will understand that their shoes are durable and custom made. Fans of Virgil Donati will especially love the name and signature on the back of the shoes. If you enjoy drumming for long periods without rest, you will need flat shoes such as this one to ensure your feet are not too stretched and do not develop blisters. If you also want to wear them for other purposes, they blend in perfectly and casually when you are out on the streets.
Puma Speed Cat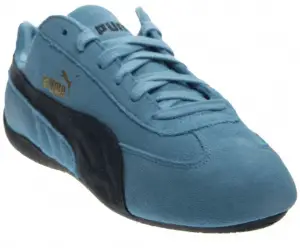 Puma Speed Cats feature blue suede uppers with a contrasting stripe – perfect for pairing with your favorite jeans. Matching laces make for a comfortable, adjustable fit. These shoes offer a low profile and sleek, rounded toes and heels with classic rubber tire tread bottoms. In case blue isn't for you, you may want to consider similarly styled Puma suede classic leather formstrip sneakers, which come in a variety of colors to suit your personal style.Drift Cat 5 walking shoes are another great choice from Puma and are even considered as one of the best golf shoes for walking by Wired Golfers.
Pros:
Very well made
Cool, casual look
Ultra-comfortable despite the snug fit
Cons:
Many buyers note that Pumas run small, mentioning that you may want to buy up to a size larger than your normal size
Who will enjoy wearing these shoes for drumming?
Puma Speed Cats were designed with professional race car drivers in mind. The low profile allows for fast footwork, while the shoes' sleek yet casual looks are undeniably stylish. Together, these features make Speed Cats popular with drummers across various genres. If you're interested in something that's a step up from sneakers in terms of appearance, then you may want to give Pumas a try.
Best for Budget – Emerica Wino Cruiser Shoe
Emerica Wino Men's trainers are great if you want a pair of drumming shoes without spending much money. They are comfortable, breathable, made of gum rubber soles, and feature an adjustable lace design. The soles ensure that you have enough grip on the pedal, allowing you to feel the rhythm. These shoes have a casual but still eye-catching design with a rounded toe. They are available in several colors and sizes.
Pros:
Breathable, long-lasting shoes

Lightweight and comfortable

Good feel on the pedal since sole is thin

Perfect fit

Easy to clean

Inexpensive
Cons:
Stiff at first few uses and takes time to break-in

Complaints about sole coming off from the rubber padding at the bottom
Who will enjoy wearing these shoes for drumming?
These low-top shoes are often a perfect fit for the shoe size purchase. They ensure comfort with the ultimate class and style altogether. Despite their low price, they are flexible and durable. Mostly designed for skateboarding, drummers love them because of their durability, plain design, and ease of cleaning.
Vans Low Top Sneakers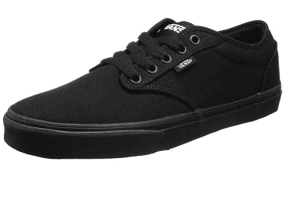 Vans Low Top Sneakers feature canvas uppers, a flexible gum rubber sole with just a little grip, and an adjustable lace up design for a comfortable, customized fit. These sneakers feature a rounded toeand a casual, classic look. If lace-ups aren't your favorite, you may want to consider Vans slip on core classics as an alternative. Both styles come in a variety of colors and in sizes to fit most drummers.
Pros:
Cool, comfortable designs
Stylish appearance, suitable for wearing as street shoes
Fairly thin sole lets you feel the pedal
Cons:
Shoes feel fairly stiff at first, take some time to break in
Who will enjoy wearing these shoes for drumming?
If you're looking for good drumming shoes at a moderate price, you might want to consider a pair of Vans. These are popular with drummers not just for their comfortable, breathable feel, but also for their cool appearance. While Vans have been on the music scene for decades, it's clear that they're not going anywhere!
Vivobarefoot RA II Classic Oxford
Vivobarefoot RA II Classic Oxfords feature a classic dress shoe profile paired with a thin, slightly grippy rubber sole that allows the wearer to feel everything underfoot. The lace-up design lets you obtain a custom fit for outstanding comfort.
Vivobarefoot offers a few other designs that appeal to drummers. The Gobi II Classic Desert Boot offers Chukka-inspired styling, and comes in a few different colors. The Slyde Leatheris a great alternative for those who prefer slip-ons.
Pros:
Excellent pedal feel
Superb styling
Premium materials and craftsmanship
Cons:
Tight feel when new; can take some time to break in
Slippery insoles
Who will enjoy wearing these shoes for drumming?
If you like drumming in bare feet or socks, but you're reluctant to keep your "barefoot" look while on stage, then you're probably going to like the way these shoes let you feel the pedal. They're far thinner than trainers / tennis shoes, yet they offer just a touch of grip. These shoes are also ideal for drummers who prefer the look of a dress shoe over a casual one.
Tips for Choosing the Best Shoes for Drumming
Of all the equipment needed for drumming, shoes tend to be trickiest. Some drummers prefer their everyday street shoes, while others need a very specific type of shoe to perform their best. With individual preferences in mind, here are a few more tips for selecting the best drumming shoes for your needs.
Sole:Thinner soles will feel strange at first if you're accustomed to wearing well-padded shoes or boots for everyday activities. It might take you some time to get used to the way your pedal feels and responds, too. But overall, most professional drummers tend to prefer thin-soled shoes or boots. You'll want to consider doing the same if you're interested in upping your drumming game.
Materials: If your feet tend to get hot and sweaty while you're drumming, then you may be best off with breathable canvas shoes like Chuck Taylor All Stars or Vans. If you don't like the look of these shoes, then choose your socks carefully. Many leather shoes – particularly those designed for drumming – get fairly low marks for breathability.
Price: Cost is a definite consideration. We encourage you to take a look at different options and pick a pair of shoes that fits your feet while accommodating your sense of style. If the shoes you want are a little out of reach, it might be a good idea to save up.
Just like your drum throne, your drumming shoes have a direct impact on your comfort level, which in turn has an effect on your performance. You want to look good and feel great, and if you reserve your chosen shoes for drumming only, you'll find that they're likely to last for years.