Updated: October 23rd, 2022
Drum microphones is something you need, whether you want to build your own home drum studio or your drum set is just not loud enough for the venues that you are playing gigs in.
But no, not just any mics. I bet you're looking for the best microphones for drums you can get for your budget.
But there are so many related questions:
Do you need different microphones for recording and playing live?
What is the difference between various models of the same kind of microphone?ro
And what are the best drum microphones you should get?
As you might guess, I'm here to guide you through those questions – and give you my personal favorite drum microphones: overheads, mics for your kick drum, for your toms, your snare and many many more.
So read on and get your drum kit miced up.
The Best Microphones For Drums
IMAGE
PRODUCT

Clear, crisp audio
Built with a small-diaphram for better frequency response

VIEW LATEST PRICE →

Superior freuqency resposne
Top of the range microphone

VIEW LATEST PRICE →

Balanced output results in a clean signal under high-output conditions
Switchable 80 Hz hi-pass filter allows you to cut out unwanted low end frequencties such as wind

VIEW LATEST PRICE →

Cardioid microphone
Frequency range: 40 – 18 kHz

VIEW LATEST PRICE →

VIEW LATEST PRICE →
Mics for Recording vs. Playing Live?!
Many people are asking me whether they should mic their drums differently when playing live vs. when recording drums in a their home recording studio.
In my perspective, both purposes essentially deserve the same types of microphones. So in an ideal world, each drum set that's being recorded in the studio or amplified on stage would be equipped with 5 kinds of microphones.
But I can hear you ask: "What if don't have the time, money, or patience to put 5 different types of drum mics onto my drum kit?"
Well, in that case you don't have to. You can record your drums at home or mic them up for the stage with only the microphones reviewed in section 1 below. You can also do it only using the drum mics in sections 1, 2 and 3. Or you can use all 5 different types of microphones.
Of course, this will make a difference to your sound, but all setups will enable you to be amplified on stage or recorded in the studio.
Therefore, I'll be presenting the best drum microphones in order of importance. Yet, make sure to check out section 6 – it's a huge money saver.
1. Overhead / Room Mics for Drums
What To Look For
The purpose of overhead drum microphones is to provide a full stereo sound of the drum kit. Stereo means that the sound is full and surrounds the listener.
Most overhead drum microphones are condenser mics. Condenser microphones have the greatest frequency response out of all the microphone types. This means that they are more sensitive to sounds and are able to pick up all the sounds around them.
Having these mics as a start is a good way to get the most sound out of your kit and pick up all parts instead of just a single area as a kick drum mic or snare mic would do.
Best Room / Overhead Drum Mics
1. AKG Perception 170 Professional Instrumental Microphone

Built with a small-diaphram for better frequency response
Clear, crisp audio
20 dB rolloff switch allows you lots of gain room before the mic starts to distort
Can be used to record other instruments as well
Can distort due to its high sensitivity
Specifications:
Frequency Range: 20Hz to 20kHz
Small-diaphragm condenser microphone
Low-cut filter removes the higher end frequencies allowing you to get more bottom end sounds
Overall verdict:
Looking at the pros and cons of the P170, the scales easily tip toward the former. This small-diaphragm microphone gives you crisp audio for an affordable price. Certainly a good buy for entry-level to intermediate sound engineers and drummers.
See It In Action:
2. Shure SM81-LC Cardioid Condenser Instrument Microphone

Superior freuqency resposne

Low noise and high output clipping level allows you to push the volume up a lot before the SM81-LC starts distorting

Top of the range microphone
Very expensive
Knowledge on microphones and mastering needed to get the best result out of this
Specifications:
Selectable low frequency cut enables this mic to ignore unwanted low-frequency sounds like wind (on stage) or the microphone shaking (in the studio)
Phantom powered
Overall verdict:
To me, the Shure SM-81 LC is the type of mic some people may have to grow into. The ruler flat frequency response is not going to make you immediately go "wow." It may be necessary to work with the SM81 in conjunction with your EQs and preamps to get the desired result you're trying to achieve. On the other hand, this mic is a workhorse and you'll use it for years to come. You only need to put in some time for tweaking initially.
See It In Action:
2. Kick Drum Mics
What To Look For
Ever been at a live show and that bass hits you right in the chest? Or watching some drum videos online and think "Man, that kick drum sounds amazing!"
Then that probably was because they had a great microphone picking up the already awesome sounding kick drum. The kick drum is key in playing tight with the band and locking in grooves – so having a good microphone for the kick drum will complement the band and allow you to feel your kit better.
For your kick drum, I recommend so-called supercardioid mics only. This technical term describes the area from which the microphones picks up sound, so it's something like the microphone's hearing radius. And a supercardioid mic picks up sounds from the front plus a little from the rear: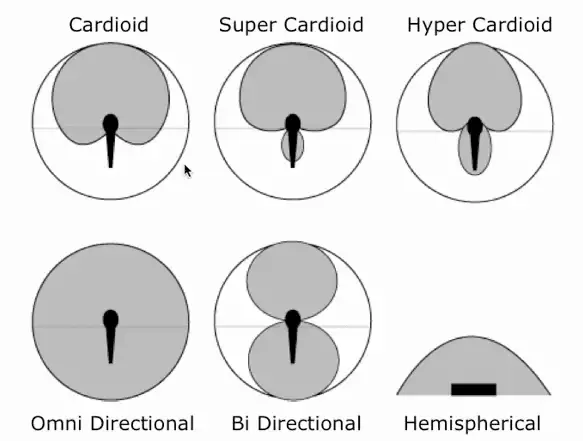 This is perfect, since kick drum mics are placed very very close to the kick drum – or the sound hole inside it.
Best Kick Drum Mics
1. Shure Beta 52A

Frequency response shaped specifically for kick drums and bass instruments

Studio quality performance, even at high sound pressure levels

Good price
Better suited for the stage than the studio because this mic doesn't give the kick drum as much of a presence in the stage mix as, for example, the AKG D112 below. (In the studio that's not an issue, since you can easily tweak the mix afterwards.)
Specifications:
Dynamic Microphone
Frequency response: 20Hz to 10kHz
Connector: Three-pin professional audio connector (male XLR type)
Adjustable stand adapter allows you to easily manipulated the mic mount in order to suit your setup needs
Overall verdict:
Plenty of kick and punch! The Shure Beta 52A Kick Drum Mic is a high-output, dynamic microphone with a frequency response tailored specifically for kick drums and other bass instruments. It provides superb attack and punch and delivers studio-quality sound even at extremely high SPLs. Its modified supercardioid pattern ensures high gain-before-feedback and excellent rejection of unwanted sound.
See It In Action:
2. AKG D112

Affordable
Top of the range mic – so much that even the pros use it
Works well both live and in the studio
Larger frequency range than the Shure Beta 52A
Specifications:
Cardioid-pattern microphone
Built-in swivel mount allows you to rotate the mount so as to tilt the mic up or down
Response tailored for bass drum pickup, both in the studio and onstage
Built-in windscreen
Overall verdict:
Now this is what I call a kick drum sound – not only can you hear the bass, you can hear the impact of the beater, and almost feel the rush of air coming from the drum. This is an excellent kick drum sound with all the elements well in place – anything you don't want can be EQ'd out. Perhaps there is some element of reflection involved, but nevertheless this is excellent sonic material to work with.
See It In Action:
3. Snare Drum Microphones
What To Look For
Besides bass drum and hi hat, the snare is the drum that you're going to hit most frequently. And your snare sound often defines your kit because it's such a prominent "crack" or "punch" (depending how you tune it).
So you're going to need a mic that's going to help you cut through the mix and show your presence with the resounding sound of your snare drum. So you're looking for a mic that's crisp yet punchy, loud yet soothing.
We've picked out two great contenders that we think will suit your needs. Let's jump in!
Best Snare Mic
1. Shure SM-57

Frequency response is clean and crisp

Professional-quality reproduction for drums gives you the exact sound of your kit

Uniform cardioid pickup pattern isolates the kick drum while reducing background noise

Extremely durable under the heaviest use

Frequency response 40Hz to 15kHz (The range of frequency the mic picks up, 40Hz being low frequency and 15kHz being high frequency)
Needs to be gained (i.e. the volume needs to be increased) after recording due to soft preamps in the Shure SM-57
Specifications:
Microphone Type: 

Dynamic

Polar Pattern: 

Cardioid

Frequency Response: 

40Hz-15kHz

Connector: 

XLR
Overall verdict:
When it comes to micing a snare drum, the SM57 has pretty much dominated for the best part of 50 years. The SM57 adds just the right amount of low-end weight, while also adding presence and 'crack' to the drum. For this reason, the 57 is a go-to mic and has featured on countless records throughout music history.
I currently have this mic and have never looked back – however, recently I've become torn between this mic and the one in the review below. So here is a video that can give you a sound comparison of these 2 great mics.
See It In Action:
2. Audix i5

Cardioid pattern for picking up the sounds in front of the mic (i.e. the snare) and ignoring what's behind it (those other musicians)
Smooth, uniform frequency response
Durable cast zinc alloy body
Dent-resistant grille
A boosted bass tone sound (not downright bad, but some people may not want this)
Specifications:
Type: Dynamic
Polar Pattern: Cardioid
Frequency Response: 50Hz – 16kHz
Impedence: 150 ohms
Sensitivity: @1k 1.5 mV/Pa
SPL handling of 140dB
Overall verdict:
Between the Audix i5 and the Shure SM-57, it mostly comes down to preference. The i5 gives you a bit extra lower end and sounds more bassy than the SM-57 while the SM-57 is a highly reputable classic microphone used all around the world.
As I said, I currenty own several SM-57 mics, but the Audix i5 owes it nothing in terms of quality.
See It In Action:
4. Hi-Hat Mic
What To Look For
With the hi-hat you're generally going to be needing something similar, if not the same, as your overhead mics – this helps to keep all the cymbals on overheads and brings a stereo sound to the kit.
The hi-hat mic will also pick up some snare and bring ambience to it. Therefore, a condenser mic is key here as it picks up a fairly large area of sound.
Best Hi Hat Mic
1. Audio-Technica AT4053B

Balanced output results in a clean signal under high-output conditions
Switchable 80 Hz hi-pass filter allows you to cut out unwanted low end frequencties such as wind
Mostly used to for voice or other instruments
Fairly expensive
Specifications:
Dialog Boompole Microphone which can be mounted on most microphone stands
AT4053b-EL Hypercardioid Head Capsule focuses on sounds at the front of the mic
Overall verdict:
There aren't videos explaining the use of this microphone for drumming purposes – because it's mostly tailored towards voice recordings.
Yet, I think the specs perfectly fit what I'm be looking for in a hi-hat microphone! So this might just become your Hi Hat microphone of choice.
See It In Action:
5. Tom Mic
What To Look For:
Along with your kick drum and snare, the toms bring warmth and depth to your drum set sound.
Since fills are an integral part of any song, and those are largely played on the toms, you might want to use tom microphones instead of only using overheads and hoping the toms will be picked up just enough.
So to really zoom in on those toms, I'll recommend cardioid mics, since their "hearing radius" is as pictured below: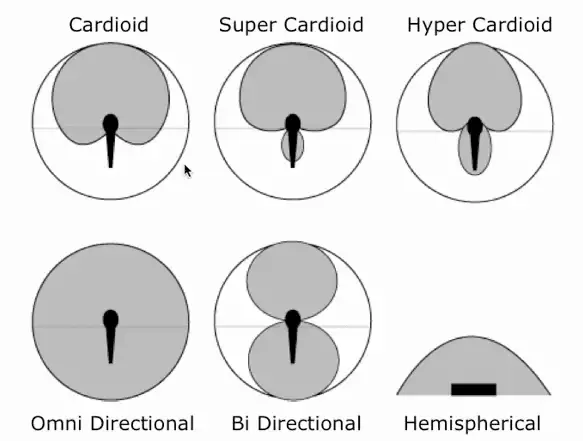 Also, I recommend mics with enough bass to feel the warmth of the toms but at the same time hear their impact! So…
Best Tom Mics:
1. Sennheiser E604

Cardioid microphone
Frequency range: 40 – 18 kHz
Even highest sound pressure (160 dB) is transmitted without distortion
Very low inherent noise
Integrated tripod mount
Sometimes,the Sennheiser E604 can't be bought individually
Specifications:
Microphone Type: d

ynamic

Polar Pattern: c

ardioid

Frequency Response: 

40Hz-18kHz

Connector: 

XLR

Included Accessories: d

rum clip to mount the mic onto the rim of your tom
Overall verdict:
This is a great sounding mic and I use it 3 times a week – without ever having had a complaint. So I love the Sennheiser E604 and think they are the perfect set to get when starting out or at an intermediate level.
Below is a video of the E604 in action – and compared to it's more expensive brother (which I think it can easily compete with).
See It In Action:
2. Shure PGA56

Tailored design for clear reproduction of your toms

Swivel joint with quick release latch with a design similar to bicycle component-locking technology for extremely quick and easy positioning

Cardioid polar pattern picks up audio from the source while rejecting unwanted noise

Drum mount included for quick attachment to drum rims, no additional mic stand required

Quality design and construction for exceptional performance in rigorous environments
Specifications:
Microphone Type: 

Dynamic

Polar Pattern: 

Cardioid

Frequency Response: 

50Hz-15kHz
Overall verdict:
Overall, the Shure PG56 has a great tone to it and will last you for a very long time. I think it's definitely worth the buy and that you won't be disappointed.
You can see the PG56 in action below as part of Shure PGA drum mic pack – read on to find out how that mic kit fares and how much money you can save on it.
See It In Action:
6. Drum Mic Kits
At this point, you might realize that buying all the Kick Drum Mics you need individually is a costly project. Which is why various manufacturers are now selling drum mic bundles that contain everything you need for micing your drum set on stage or recording it in your own home.
Before buying those drum mic kits, however, it is important to understand how and why to use the individual mics you've learned about here.
Which is to say: you're well-equipped now, to dive into the best drum mic kits on the market below.
And since I figured you might want to save money on microphones and therefore be especially interested in the drum microphone bundels, I've given you 7 options to choose from.
I've also given you my 2 favorite options at the very end of this article.
What To Look For In A Drum Mic Kit
Well, actually, we don't need this section, since by reading the above part of the article you're already an expert on drum microphones.
Just a short reminder then: if you're buying a drum mic kit, make sure you choose one with an appropriate number of microphones. And also make sure that the right kinds of microphones (for kick drum, snare drum, overhead etc. etc.) are included.
Best Drum Mic Kits in 2020
2. Shure PGADrumKit7 7-Piece Mic Kit

Though slightly more expensive than the TOURING7, the Shure PGADrumKit series gives you a lot of bang for your buck.
Specifications (7-piece kit):
Contains 7 pieces
Includes one PGA52 cardioid dynamic kit drum mic
Includes three PGA56 cardioid dynamic tom/snare mics
Includes one PGA57 cardioid dynamic mic
Includes two PGA81 cardioid condenser mic for cymbals, hi-hats, and overhead micing
This kit comes in both 7 and 5-piece version.
For both versions, reviewers cite a great overall sound, useful in the studio as well as in live situations.
The price of the 7 piece kit is higher than the TOURING7, but it is by no means prohibitive, and users often say that it is a great deal for its price.
In general, people have relatively few negative things to say about this kit. It is a solid all-around contender.
Though most users do not have any real problems with this kit, some of them insist that it is an introductory kit.
Some say that its price is lower than some other kits for the reason that it is in general not as high quality.
What that means exactly is unclear, but even those reviewers who feel this way often stipulate that it is possible to get a great live sound out of these mics with the right EQing.
See It In Action:
3. Pyle-Pro PDKM7 7 Microphone Kit With Mounting

The PDKM7 kit is a true introductory kit, extremely affordable. However, this kit might be the best you can get in its price range. If you're on a real budget, these are some mics to consider.
Specifications:
7 microphones included
One kick drum mic
Four snare/tom mics
Two overhead mics
This kit is far less expensive than most of its neighbors, and since it is still of relatively high quality, it is a great deal. On reviewer called it "incredible" for its price.
Users claim that it can be used effectively in a live situation when you're on a budget and can produce some solid results.
Some users even say they use it in the studio, and that with some good EQing, it rivals more expensive kits.
Overall, this is a serious contender and a great kit, deserving of your consideration.
Since it is designed for someone on a budget, this kit is not of the same quality as higher-end mic kits.
Users praise its low price, but site its overall lack of clarity and sound quality as an issue.
Most people think that it is possible to EQ the problems out, but that doesn't mean that the problems aren't there to begin with.
See It In Action:
4. Shure DMK57-52 4-Piece Drum Mic Kit

This 4-piece drum mic kit offers high quality Shure gear at a price most people can afford. If you're on a budget and you already have condenser mics for overhead use, then this kit might be a great option for you.
Specifications:
4-piece kit
One Beta 52A kick drum mic
Three SM57 mics (generally used for snares and toms)
Reviewers agree, almost unanimously, that this package represents some of Shure's finest gear.
Shure is a huge name in microphones, and for good reason — these mics deliver high quality, clear, punchy sound that doesn't always need as much EQing as some others.
This kit, according to users, is great for both live and studio uses, although its small size (only 4 pieces) is conspicuous.
The biggest con of this kit, according to most users, is that it doesn't include condenser mics, which are traditionally used overhead.
It is likely that this was a calculation on Shure's part to keep the cost of the kit down, but if you don't already have good overhead mics then it may be an issue for you.
See It In Action:
5. Lewitt DTP Beat Kit Pro 7-Piece Mic Kit
The Lewitt DTP Beat Kit Pro 7 is simply put among the cream of the crop. If you are looking for stellar audio quality, particularly for studio use, then this might be the kit for you.
Specifications:
7-piece kit
All cardioid
One DTP 640 Rex dual-element mic
Three dynamic DTP 340 TT mics
Two condenser LCT 340 mics
One dynamic MTP 440 DM mic
Reviewers agree in unison on this kit: It may cost most than other kits, but it is worth the money.
People site it impressive clarity and punch, particularly in studio settings.
This kit is designed to be used in a studio, where it can be EQed properly.
It doesn't always require too much in the way of effects.
These mics give you big sound, big punch, and big clarity.
You may pay big money, but if you can afford it, it is likely worth it.
The biggest con here is the price. At over twice the price of the next most expensive kit on our list, this mic kit may be prohibitively expensive for some.
See It In Action:
Best Drum Mic Kit For Live Sound
It is difficult to say which mic kit will work best for everyone in every live situation. But in general, there is one kit that seems to outperform the others. For its time-tested reliability, the Shure DMK57-52 kit receives our "Best Drum Mic Kits For Live Sound" award.
SM57s are perhaps the most widely used unidirectional mics available, and drummers have been using them for decades with great results. All you need to do is find yourself one or two overhead condenser mics and you're all set with this kit.
Best Drum Mic Kit For Recording
The Beat Kit Pro 7 stands as the best in its, and any, class for recording. There is simply no other kit on this list, and very few on the market in general, that can compete with its sound quality. For that reason, it earns our "Best Drum Mic Kits For Recording" award.
You Were Saying?
Did this article help you choose a drum microphone or even a full drum mic kit? Or do you have experience in choosing or using drum mics?
If so, leave a comment below! I reply to every one of them!