Updated: October 24th, 2022
So you're looking to start your drumming journey (or help someone else start it) without breaking the bank? You're looking for cheap drum sets that are still good enough to last for the first few years of drumming?
Well, my parents were in your shoes when they bought my first drum kit about 20 years ago. Unfortunately, they didn't have this article to save them from spending a good few hundred dollars for that kit.
But lo and behold: when it came to spending my own money on drum gear during adolescence, I started testing which cheap drum sets out there would still meet my demands in terms of quality.
This article is the essence of all that testing. It will show you my favorite affordable drum sets on the market today and it will explain to you why I think they are very solid options to buy for any drummer on a budget.
Note:
in the first section, I'll show you 4 cheap drum sets for adults (2 acoustic, 1 electronic)
and in section 2 I'll show you 3 cheap kids drum sets (all acoustic; there are no electronic drum kits for children yet)
Are you ready?
In the unlikely case that you won't find what you're looking for in this article, you might be successful in locating a more expensive drum kit at a discount. I've explained how to do so here, at the article about "used drums for sale"
My Favorite Cheap Drum Sets in 2022
IMAGE
PRODUCT
 

The drum kit sounds perfect when tuned right

It has all the hardware needed to start playing right away

VIEW LATEST PRICE →

Sounds very decent for a junior drum kit
Comes in 6 color options to boost your child's motivation

VIEW LATEST PRICE →

Cheapest Electronic Kit for Adults

Cheapest mesh drum kit in the history of electronic drum kits
Quieter than an acoustic drum kit

VIEW LATEST PRICE →

The Music Alley kit comes with all required accessories so your child can start playing right away

Hardware is robust and sturdy

VIEW LATEST PRICE →

All the essential hardware are available so you can start playing right out of the box

The drums sound good

VIEW LATEST PRICE →

The Affordable Best Seller

Very professional looking drum set

Sturdy and durable

VIEW LATEST PRICE →
Cheap Drum Sets for Adults
Just to be clear: "adult" in the drumming sense is only defined by height instead of age – because a drum set fits a person if he / she can reach all parts without stretching or straining.
So once you or the drummer you're buying this kit for is taller than 5ft, he / she needs an "adult" drum set (although he / she might be far away from adulthood). And: under 2.5ft I don't recommend a drum set at all – better go for a drum set toy or a snare drum only.

1. Mendini MDS80 – Cheapest Drum Set Around

By a small margin, this is the cheapest drum set on the market that's actually useful
You can start playing right out of the box (throne, sticks and bass drum pedal)
The drums sound decent (can sound great with new heads and tuning)
Especially good for young drummers, because it's available in 7 colors
As with most drum kits in this price range, cymbals are low-quality
I wouldn't take this up on stage as an adult (so it's a practice kit)
The Mendini full size kit comes at a price that was unheard of for drum sets when I got started. At the same time, it is a decent drum kit all around that can easily carry you along your first years of drumming.
And I say that because:
I find the Mendini's sound – even with stock heads – surprisingly good. Yet, taste in sound is subjective so have a listen and judge yourself:
Also, the Mendini full size kit is set up like any other standard acoustic drum set. That makes it easy for you to transition to a more advanced drum kit later on without having to unlearn anything.
As for a "negative", the Mendini comes with stock cymbals which I think do not sound well by any standard. Still, you need to consider that most other drum kits come without any cymbals at all, so you'd have to buy them separately and that will cost you about as much as you're spending for the Mendini as a whole (see a few cymbal options here). So I think it's actually quite nice that Mendini enables you to play right out of the box – but you should be aware that you're sacrificing cymbal sound quality for that.
All in all, the Mendini is perfect for young drummers above 5ft and also a good option for adult beginners that plan to primarily practice with this kit (as opposed to taking it up on stage).
Want more info on this kit? Check out my full Mendini review.
2. Gammon 5 Piece – The Affordable Best Seller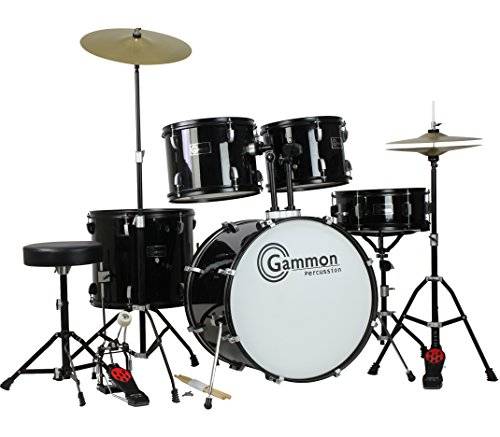 By a small margin, this is the second cheapest drum set for beginners around
With the Gammon too, you can start playing right out of the box
Delivers decent drum sound
Overall a little more sturdy than the Mendini
Again, this comes with low-quality stock cymbals (can be replaced)
The Gammon too doesn't look professional enough for the stage (for my taste)
The Gammon full size kit is fairly similar to the Mendini which means that:
it sounds surprisingly good for a drum set in that price range
can be played right out of the box, since the package includes a drum throne, sticks, and a bass drum pedal
can be made to sound even better with new heads and the right tuning
the cymbals are low quality – which is normal and understandable (read why in my full Gammon drum kit review)
In terms of differences, the Gammon is a tiny bit more expensive than the Mendini, but its hardware also seems a little more sturdy to me. Perhaps that's also why it is the most frequently sold drum kit online.
As for the sound – I like it, but again I'd ask you to judge yourself:
So I fully recommend the Gammon for any beginning drummer too. And in case you're torn between it and the Mendini, I'd say:
If you're buying for a young drummer and color is important, go for the Mendini in the color of his / her choice.
If you're interested in a slightly more sturdy and more "professional" looking kit, go for the Gammon full size drum kit.
3. Alesis Nitro Mesh – Electronic, Cheap & Great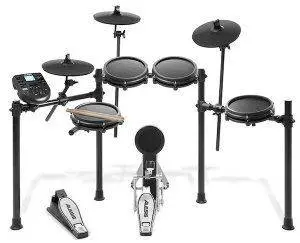 Interface of the module doesn't have an overwhelming amount of buttons, so you'll be able to handle this quickly and easily
Easy to set up (even if you're never set up an electronic drum kit before)
Can be used with a double bass pedal
Quieter than an acoustic drum kit
Doesn't support advanced features such as different shades of sounds on the cymbals, or half-open HiHat sounds
Electronic drum kits are a much more recent invention and therefore have always been more expensive than acoustic drum kit. Until, that is, Alesis entered the market and set out to make electronic drumming affordable to anyone.
And I think they have come very close to fulfilling that mission by releasing the Alesis Nitro Mesh – the cheapest electronic drum kit of its kind in history.
What's so revolutionary about it are the mesh heads which used to come only with electronic drum kits around the $1000 mark. These are much quieter than rubber pads and allow you to play your drum kit without driving your family or neighbors crazy.
What is "quiet" you ask? Well, hitting a mesh head is about as "quiet" as hitting a page of a sturdy cushion with a stick.
Also, the Alesis Nitro Mesh is set up like any standard acoustic drum kit, so it'll be easy for you to switch to such a kit later on.
Therefore, I hold the Alesis Nitro Mesh to be the best beginner e-drum kit on the market. If quiet practice is important in your home, this the perfect alternative to start your drumming journey.
4. AeroBand
POCKETDRUM 2 PRO - Play and practice the drums anywhere you go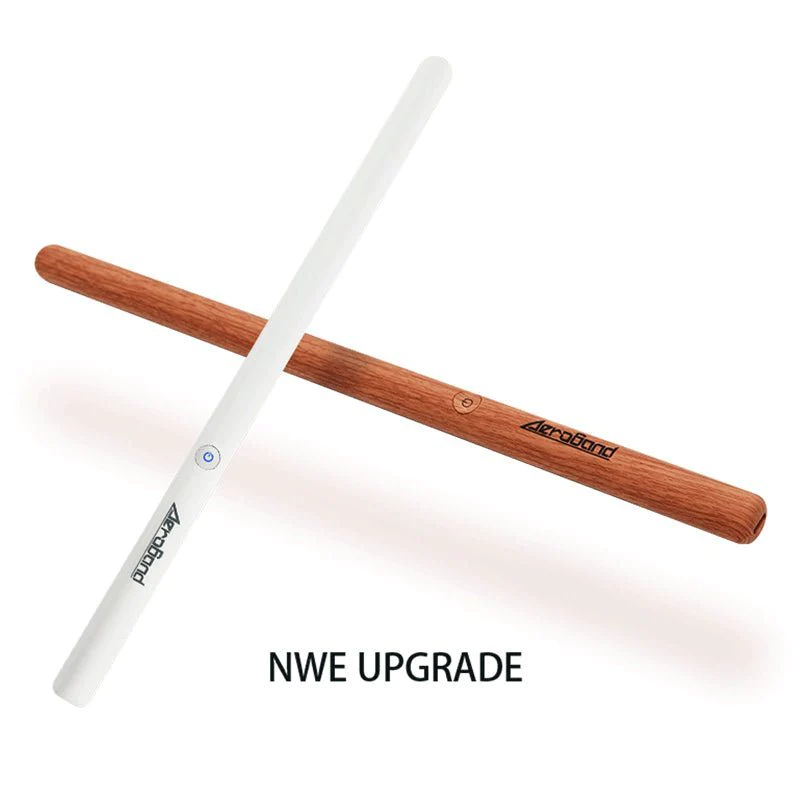 AeroBand
If you crave a customizable, portable drum kit that is super affordable, AeroBand's Pocketdrum 2 Pro is exactly what you need. Connect using bluetooth and jam freely or play along with the app!
FEATURES
Lightweight and portable - You can play whenever you want
Good Value for Money
Suitable for both Beginners and Professional Drummers
Bluetooth MIDI
AeroBand app is free to download
Cheap Drum Sets for Kids
Quick reminder: who are kids drum sets for?
(Right, children below 5ft.)
1. Best Choice Products 3-Piece Drum Set – Best Cheap Kids Drum Kit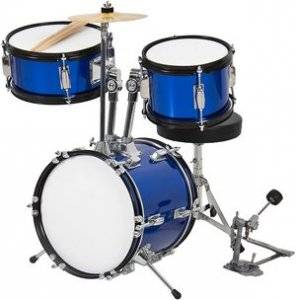 The drum kit sounds perfect when tuned right

Has all the hardware needed to start playing right away

Compact, so will not take up much space

Available in 2 color options
Best Choice Products produce many children's products, musical instruments inclusive. It may not be well known, but they have this excellent and affordable drum set for young aspiring drummers. This three-piece drum set includes a bass drum, two toms, drumsticks, a brass cymbal, a cushioned drum throne, and a drum pedal to boot. The shell material is an all-wood design that is as sturdy as it is durable. The hardware is plated in premium quality chrome with attractive blue or black finishes.
The cymbal is of a low quality, which is quite expected for cheap drum kits no matter how good the sound is. At least, it is strong enough and will not crack so quickly even if your child is a hard hitter. As your child gets better, you may want to make room for upgrades. Assembly may take time if you know nothing about drum sets. The product does not have any instruction manual that can be referred to, though you can check an assembly video on YouTube.
2. Pearl Roadshow – Cheapest Drum Set Around

All the essential hardware are available so you can start playing right out of the box

The drums sound good

The drums are sturdy, durable and can take a beating

Comes in several shell configurations and colors
The stock heads and snare wires may require an upgrade for more skilled drummers

Cymbals are of an inferior standard
Pearl is a well-known drum company that produces quality drum sets. They also happen to make budget-friendly drum sets that are still of excellent value, such as the Pearl Roadshow. The Roadshow is an entry-level drum set for beginner drummers and ideal for practice. You can purchase the kit in any of the four shell configurations, which are fusion, jazz, new fusion, and rock.
The shell is made out of 9-ply 7mm white poplar, and the 5-piece drum kit comes complete with 16" brass crash-ride cymbal, 14" hybrid hi-hats, a bass drum pedal, a drum throne, stand, tom holders and drumsticks. The kit should include a drum throne, but some customers complained of not getting it, so be sure to check before ordering. The stands and mounting hardware are sturdy while being height and angle adjustable. The stands feature double-braced legs that allow them to withstand pressure when in use by the drummer. The Roadshow kit sounds good with the stock head, and as you progress from learning the basics to playing well, you can upgrade the heads to those with better sounds. Be sure to tune the heads appropriately, as poor tuning can reduce the sound quality of any drum head. The stock crash cymbals and hi-hats are an average just like most budget drum sets, but they still make for great playing.
Recommended reading: my full Mendini Junior review.
3. Music Alley 3-Piece Drum Set (DBJK02-BK) – Waiting for Discounts

The Music Alley kit comes with all needed accessories so your child can start playing right away

Hardware is robust and sturdy

Very budget-friendly and compact

Assembling this drum kit is easy

This drum kit looks very professional
Cymbals are low quality

Customers complained of poor packaging and delivery

Only two color options available
If you happen not to afford or find the first two drum sets easily, this is another good one. By Music Alley, this 3-piece set is designed to teach young children from 3 to7 years old all they need to learn about rhythm and music-making. The shell is constructed from real wood with tunable skins and chrome-plated hardware. The drum set is quite sturdy and is available in three colors; metallic black, red, and blue.
The Music Alley drum set comes with a bass drum that is 14 inches in size, an 8" mounted snare drum, 8" mounted tom, and a 10" cymbal. Your child can play the set right out of the box since it comes with the necessary accessories: a pair of drumsticks, a drum throne, and a bass drum pedal.
Also Read: Best Professional Drum Sets
Also Read: Best Kick Drum Mics
What's That Confused Look?
Just kidding: but if you do have any questions left on your mind, please do let me know in the comments.
They will help other readers and I'll do my best to reply to every one of them.