When I ordered the Ludwig Breakbeats, I wasn't sure if it would live up to my expectations.
After all, it was a Ludwig drum kit and Ahmir "Questlove" Thompson, drummer of Jimmy Fallon's house band, had designed it. So I thought it was too cheap to be good.
So I got the kit and I played and played and played it. And in this Ludwig Breakbeats review I'll tell you what I found out in the process. Its features, its pros and its cons.
And finally, I'm going to tell you whether I think it's a valuable kit.
By that time, though, you'll be able to make an informed decision yourself.
Ludwig Breakbeats review at one glance
[P_REVIEW post_id=911 visual='full']
Also, don't just take my word for it, and see what Vincent had to say about the Breakbeats after using it for a while.
Features
The Ludwig Breakbeats by Questlove is a compact drum set with an extremely small footprint. That is, if you use use the tom mount to set up your ride cymbal…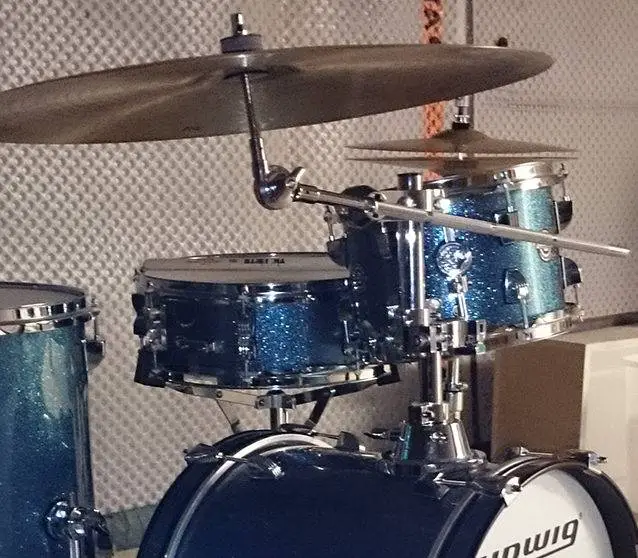 …you can fit this kit into a 5" x 3.5" area (without you sitting behind it). With a normal ride stand it would be 5" x 4.5".
Please be aware that the product picture of the Ludwig Breakbeats is misleading in most online shops as it does not come with hardware or cymbals.
Instead it does come with:
a snare drum (14" x 5"), a bass drum (16" x 14"), one tom (10" x 7") to mount on the bass drum and one floor tom (13" x 13")
Tom mount (with clamp for ride cymbal), legs for floor tom and a bass drum riser
So, out of the box it would look like this, without the snare stand.
(If you don't know how to set up the Breakbeats kit, there's a whole series of videos on it.)
Who's the Ludwig Breakbeats for?
Queslove designed the Breakbeats kit with NYC drummers in mind, because it's quite normal there use the subway to get your set to gigs. Plus many NYC apartments are too small to fit a bigger-sized drum set in.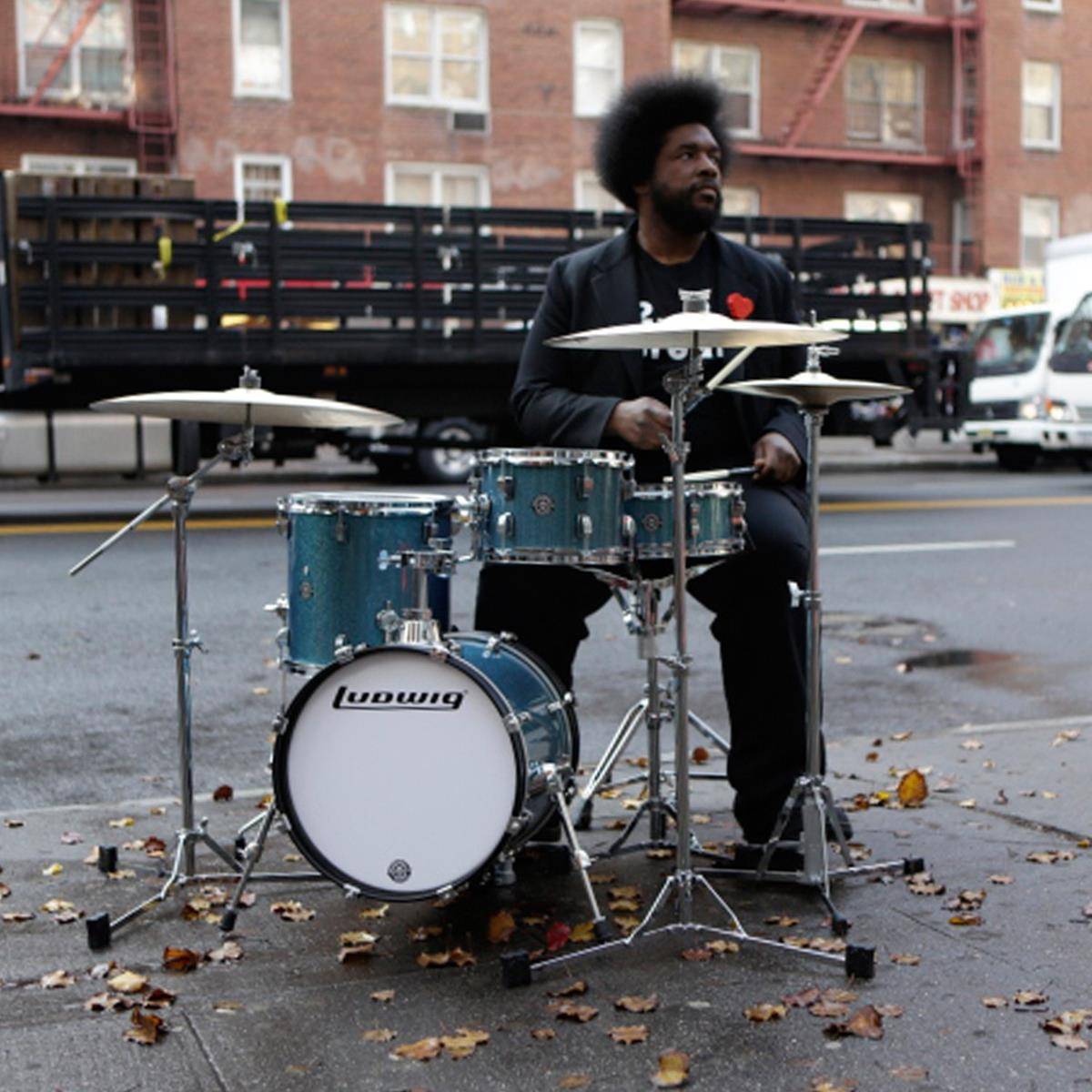 But this doesn't mean the Ludwig breakbeats is only for NYC gigging drummers. It is also very good for:
adult beginners buying there first drum set (because it's very good quality for little money)
young / little beginners (below 5ft) who want a kit that sounds far better than any of the exisiting junior drum sets. Be aware though that the Breakbeats kit will be more expensive as most junior drum sets come complete with hardware, cymbals, stool and sticks.
At the same time this set is not good for someone looking to play heavy metal. It's not that Questlove's Breakbeats kit wouldn't deliver the sound for it (it does). But I think it doesn't look all too appropriate on the heavy metal stage.
So, I see the Breakbeats used a lot by drummers playing Jazz, Hip Hop, R&B, Funk or quieter shades of Rock.
Pricing and Purchasing Details
For Ludwig drums, the Breakbeats kit is extremely well-priced at 399$. Yes, this doesn't include hardware or cymbals (I'll get to that when talking about the cons below), but it includes a very well sounding set that solves a crucial problem for many drummers (storage & transport).
And Amazon ships it to you for free. The only thing to be aware of is that Ludwig put up a separate article for each of the color finishes of the set (black sparkle, azure blue sparkle, white sparkle). So you can't change color on the product page, but you will find an overview of the finishes here.
The Pros
The toms and bass drum can be tuned to sound like anything from Bebop high to punchy low. I think that the kit sounds especially good when tuned rather low. And the bass drum in particular has a very nice punch to it (sounds "bigger than it is" if that makes sense):
The ride cymbal can be mounted directly off the bass drum. This way you can save money on one stand plus reduce the weight and footprint of the kit even further (5" x 3.5"). I've made good experiences with this DW cymbal boom arm.
All finishes of the Ludwig Breakbeats are sparkle, and that really makes them an eye catcher with lights turned on on stage. 
And looking good on stage is invaluable, because audiences will judge you more by your looks than by your skill.
Whether you use the riser or not (see cons below), you'll be able to use a double bass pedal with this kit.
The Cons
Because the bass drum is smaller than usual, Ludwig included a riser that is supposed to lift the bass drum up, so the drum beater hits the head dead center (instead of more towards the top). In theory, the construction should work like this:But unfortunately, it doesn't. I tweaked the pedal-to-riser connection a lot, but always ended up with either a chain that is blocked by / has contact with the hoop edge or a beater which hits the head at a non-90° angle (so it doesn't hit with full force).
That's not cool, but after a few hours of trial and error, I've found two solutions (one free, one paid):
1. Get rid of the riser entirely + lower the beater + accept that it will strike a little bit above center
2. Buy a drum riserLift instead
The kit comes without kick pedal, stool, hardware and cymbals. Not getting cymbals is pretty normal with most other major brand drum sets (such as the Pearl Export), because the drum manufacturers don't also produce cymbals (read the next section for one exception). So you'd need to buy cymbals extra, and a budget pack of good ones (that can last for a decade) would cost you about 200 bucks
Not getting hardware is an exception in that price range and unfortunate for a beginner. But it's also why this set is so cheap. A good and affordable hardware pack for beginners would be this DW bundle. It includes a hi-hat stand, a ride/crash stand, a snare stand and a kick pedal
Many beginner kits would also come with a stool. The Breakbeats doesn't (because it's also for advanced players). So you'd also have to invest into a good budget drum throne. And you could go for the Ludwig Breakbeats pack complete with cymbals and hardware. But I'd recommend you buy the above hardware, cymbals and stool individually. That will cost around 100$ less and you won't end up with the pack's mediocre cymbals and hardware.
Alternative Products
If getting your hardware and cymbals alongside the kit is important to you, check out the Pearl Roadshow set in my best beginner drum set review. In that case, the hardware will be decent, but the cymbals will sound pretty crappy. So it depends on whom you're buying for (kids will care less about sound quality), and how much you're willing to spend.
If you want to look into another kit that's very similar to the Ludwig Breakbeats, try the Sonor Martini. And read my review of it here.
My final opinion
I have seen many drum sets come and go into my household, but the Ludwig Breakbeats left a particularly good impression on me. It's so much easier to carry around to gigs, and the sound doesn't suffer at all. (I mostly play rock / pop.)
Actually, I think you can't go wrong with this kit no matter if you're a beginner or advanced drummer (and adult or child). There's only one caveat: you need to be ready to spend the extra money for hardware, cymbals and stool.
If you are, I'm quite certain that the Ludwig Breakbeats will make you happy.
Current Ludwig Breakbeats deals
Yes the full Breakbeats pack along with hardware, cymbals, stool and kick pedal is not my favorite option (see "Cons"). But this deals is just too good to let it go: the pack is now a freakin' 60% off (including shipping). (Spotted August 4th, 2016).
So that's my Ludwig Breakbeats review for you and now I'd love to hear back. If you've got a question, a story to share or simply disagree with me, let me know in the comments. I reply 100% of the time.
PS
I really hope that his Ludwig Breakbeats review was helpful to you! If so and if you decid to buy a Breakbeats kit, please consider going through the links on this page. This way, I'd receive a commission at absolutely (!) no extra cost to you, and you'd reward me for the care and effort I've put into this Ludwig Breakbeats review. And if you're unsure about my reviewing ethics, take a quick look at my affiliate disclosure.
Also Read:
Best Drum Set for Kids 2019- A Teacher's Guide For Parents
Best Drum Machine for Making Awesome Beats [Top 7]
My 12 Best Electronic Drum Sets: 5 Cheap Ones Under 1000 & 500