Updated: August 8th, 2022
Have you ever wondered if that unique Gretsch sound, which the best and most famous drummers crave for, is really that "great"?
In this Gretsch Catalina Maple review, you'll find the answer you are looking for.
The Gretsch Company has a 130 year history and a reputation for crafting beautiful drum kits that create a unique and special sound. Some of the greatest drummers ever, like Vinnie Colaiuta, Tony Williams, and Elvin Jones have played Gretschdrums.
Stellar players who are touring and recording in the music scene today, such as Keith Carlock, Ash Soan, and Mark Guiliana, all continue to choose Gretsch drums. Read on to find out exactly why.
This is a guest post by Scott Bruyea, a professional drummer with over 35 years of expertise and experience in the world of drumming. You can read more about him here – and I'm hoping that you will read more articles written by him here too.
Gretsch Catalina Maple Review at One Glance
[P_REVIEW post_id=2928 visual='full']
And if you don't want to rely on my verdict alone, read what Ken had to say about the Gretsch Catalina Maple.
What's In the Box?
When you purchase the Gretsch Catalina Maple CM1 4-Piece Shell Pack
you are getting a quality set of drums that can inspire a beginning drummer, an intermediate hobbyist, and even dutifully support a working drummer involved with live performance or recording sessions.
This shell pack consists of:
a 22" x 18" Bass Drum
a 6"x14" Snare Drum
a 12" x 8" Tom and 16" x 16" Floor Tom.
a newly designed Tom Holder for the 12" x 8" Tom which fits into a mount plate on…
…the 22" x 18" bass drum.
The new design of the Tom mount sports a lower profile and allows for a cymbal stand to be added.
Features & Specifications
Not only does this Gretsch kit have a quality look with its Walnut Glaze finish, but it sounds great in a way that I can only describe as bigger, warmer, and uniquely Gretsch. For this Gretsch Catalina Maple review, I analyzed each part of the drum kit thoroughly to see how it compares with other Gretsch kits, or even other brands.
The 30 degree bearing edges on this Gretsch kit are the same as the more expensive Gretsch kits, like the Brooklyn Series and the Gretsch USA Custom. Some drum experts would discount the significance of bearing edge geometry, however, as a former player of Ludwig drums for over 35 years, I hear a tangible difference in sound that is worthy of note.
If "That Great Gretsch Sound" is even partially a result of 30 degree bearing edges, then I won't question it or quibble with the design theory. I just enjoy it!
The snare and toms come equipped with 2.3mm triple-flanged hoops and Remo heads and the bass drum is fitted with wood hoops in a matching finish, telescopic bass drum legs with rubber gaskets, and a newly designed low profile tom mount that incorporates a cymbal post hole to take a ⅞" cymbal tube post (not included).
The ball/socket 12.7mm L-arms on the tom mount provide tom positioning freedom and a secure hold for stability.
The badging on each drum is now the round Gretsch style logo.
The drums are constructed of 7-ply Maple wood and have natural shell interiors. They are solid, durable, and able to withstand ongoing gigging and transportation and can stand up even longer if kept stationary in a practice space or a studio.
"That Great Gretsch Sound"
This is what I alluded to at the title of this Gretsch Catalina Maple review, and it is indeed a real thing that took me by complete surprise on the first gig I played with this kit (at an outdoor venue, competing with five other performers on stage). These drums project beautifully and with a warm, round, and punchy sound that can truly impress. The sound is their number one feature and can be reason alone to own a Gretsch Catalina Maple kit.
Classy Design
Anytime that you are playing in front of the public, it's always a bonus to sit behind a kit that radiates class and professionalism. Even at this price point, the beautiful Walnut Glazed finish looks "top drawer" whether performing on a big stage under professional lighting, or in a small dimly-lit club.
Durability & Functionality
Both are important factors in a drum kit. After all, you're hitting these things endlessly. Whether you gig once a month or daily, the Gretsch Catalina Maple kit takes a pretty good pounding. The hardware adjusts easily during set-up and tear-down and tuning is reliable due to the kit's solid hardware and construction.
Pros & Cons
The Pros
In my opinion, as a working drummer who uses Gretsch drums, this kit gives you an instant start at sounding great. Regardless of how a drum kit looks, the sound of your drums is of paramount consideration, and Gretsch really delivers a bigger, warmer sound than anything else I've played. Early reviews on this kit continue to emphasize how great they sound. I rest my case. However, sound is indeed a subjective feature of a drum kit, so check out this video (using headphones preferably) and judge for yourself.
This Gretsch Catalina Maple review is not just about the performance, but also its looks. This kit looks great with the Walnut glazed finish and you'll look impressive if that is a "thing" for you. (I know that looking like a pro is important for me.)
The mounting hardware is solid, easy to manipulate with T Wing wingnuts that are easily adjustable and keeps everything clamped firmly in place. Stability is important when you're in the middle of a great groove, a solo, or navigating through a challenging part of a drum chart and need to focus. Worrying about cheap hardware loosening and components moving is a total drag.
The Cons
The supplied tom mount only holds the tom using 2 lugs and seems to suspend the tom a little too firmly, therefore, not allowing it to resonate as much as older Gretsch tom mounts that hold the tom using more than 2 lugs.
Not a turn-key solution for brand new drummers. This kit is a shell pack which means that you'll need to add cymbals and related stands as well as a snare stand and a bass drum pedal. Don't forget you'll need a drummer's throne!
Frequently Asked Questions
Q: Does this set include all hardware and cymbals?
A: Unfortunately this drum kit does not come with cymbals and hardware. It is a shell pack only.
Q: Are these wood finish or a plastic outer wrap?
A: The outer finish is a pristinely finished wrap.
Q: Does the floor tom come with legs?
A: Yes, the floor tom hardware is included as shown in the photo..
Alternative Setups of the Gretsch Catalina Maple
For those of you who enjoy having more options for orchestrating your playing, there are great Gretsch kits with additional toms (links provided below) that sport very similar specifications to the Gretsch Catalina Maple 4-piece.
Gretsch Catalina Maple 7 Piece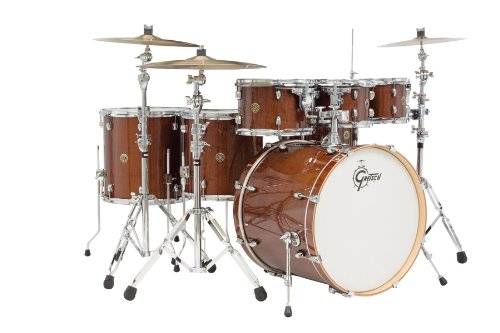 With this kit you can stretch out a bit more with your playing using three toms and two floor toms to allow you to get more creative. This kit would be more suited to more experienced drummers playing in a rock band or in a group where more sound options are expected or required.
Gretsch Catalina Club Jazz Maple 4 Piece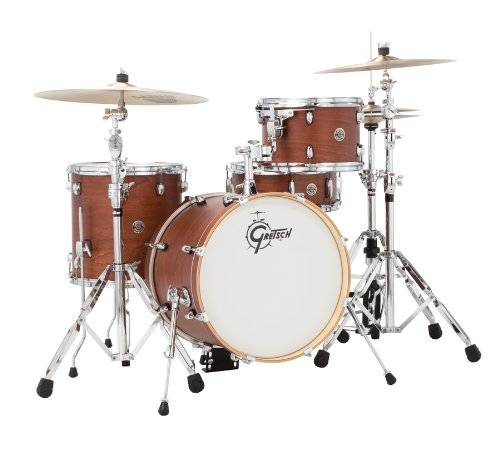 This Gretsch kit carries the Jazz label but could still work in pop or funk bands where that Gretsch sound is what you're shooting for.
Gretsch Catalina Maple 5 Piece
This 5-piece shell pack would be a good multi-purpose kit and could also lend itself nicely to playing jazz and country music with a 16×20″ Bass Drum, 7×10″ & 8×12″ Rack Toms, 14×14″ Floor Tom, 5.5×14″ Snare Drum.
My Final Opinion in this Gretsch Catalina Maple Review
I have zero affiliation with Gretsch Drums and was always puzzled as to why certain drummers raved about Gretsch, but I have since become a believer in the overall quality of Gretsch. Now, I can honestly say that I, too, love the Gretsch Catalina Maple drum kit.
For the price, this kit is of supreme value and will instantly make you sound like a pro and you will look stellar sitting behind them.
I have used my kit as a hired gun playing pop music, soft jazz, country as well as pounding out a big sound in front of a festival audience of over 5,000 excited people. So, rest assured, this Gretsch Catalina Maple review is an honest one.
These drums are versatile and that opinion comes from the experience of playing them with my reputation on the line. I recommend the Gretsch Catalina Maple 4-piece drum kit highly.
I hope this information is useful and helps you during your next drum-kit purchase.
We'd love to hear what you think of Gretsch drums and invite you to comment with your feedback, experiences and suggestions regarding Gretsch drum products.
Also Read:
5 Best Gifts For Drummers in 2019: Kickstart Your Creativity