Finding your best electronic drum set can open up a whole new dimension to your drumming.
An electronic drum kit isn't just an acoustic kit turned quiet so you don't freak out your neighbors. Instead, they can unleash your creativity. That's why there even is a world championship in e-drumming.
Yet, when I started looking for my first e-drum set, the amount of options totally confused me.
I didn't know whether I could use my double bass pedal with these kits – or whether I wanted cymbals with choke functionality or not.
So I tried and tested – and wasted quited some money. But eventually I figured out which electronic drum set is best for which purpose. And in this review I'll give you the essence of it!
I'll tell you which kit is best for beginners, for practicing, for the stage and for recording. Heck: I'll even show you my best cheap electronic drum set for under $500!
The 12 Best Electronic Drum Sets in the World Today
Apart from my 7 best electronic drum kits, I've reviewed 4 more e-drums which didn't receive "best" awards. Please note that this doesn't mean they are bad – but it does mean that they will be different in at least 1 respect and therefore not appeal to the majority of people.
But then again, you might well not be among the majority. That's why you'll find an overview of all electronic drum kit reviews in the table of contents below.
Finally, the electronic drum kit reviews are arranged by price – from most affordable to more expensive – for the fact that an e-drum kit is cheap doesn't have to mean it's bad. If you read on, you'll find that sometimes it's quite the contrary….
1. Alesis Nitro – Ex-Best for Beginners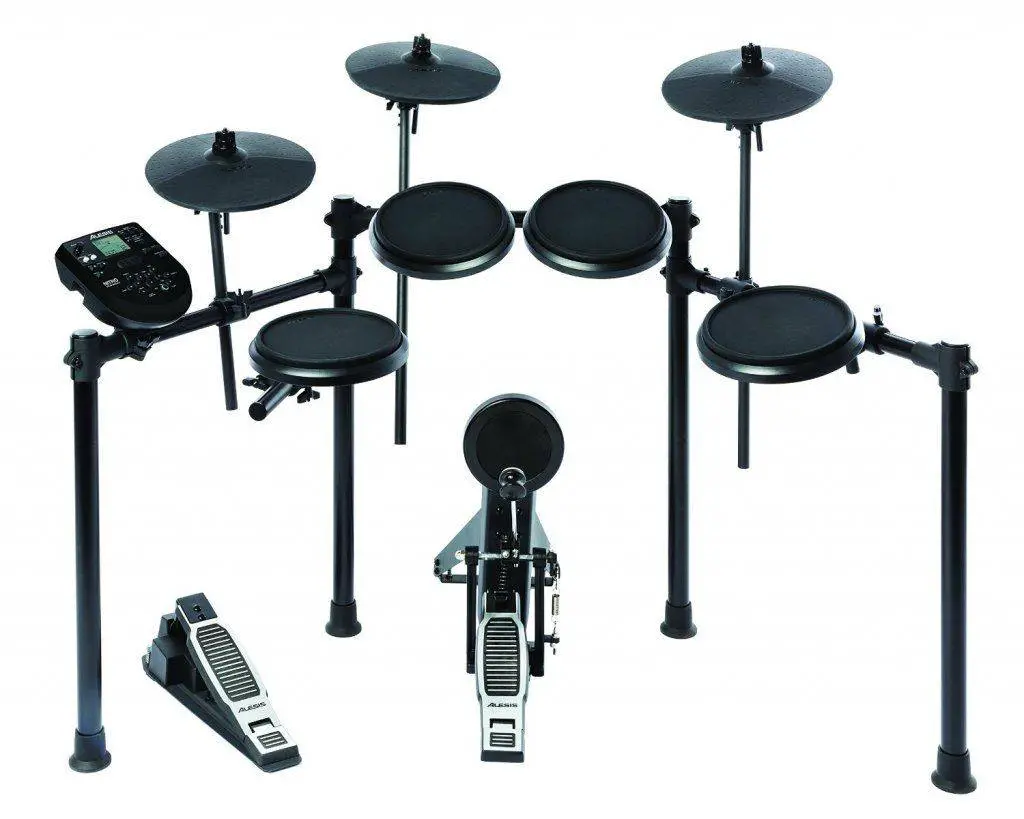 Alesis Nitro
In 2016, the Alesis Nitro has officially replaced the Alesis DM6 as my best electronic drum kit for beginners. And it deserves that title because it provides amazing value at an amazingly cheap price
PROS
Cheapest useful e-drum set on the market
42 beats to learn with guidance
Module easy to handle
CONS
No advanced features (half-open Hi-Hat cymbal sound, triple zone Ride cymbal)
In 2016, the Alesis Nitro has officially replaced the Alesis DM6 as my best electronic drum kit for beginners.
It is now the best selling drum set on Amazon (1,000+ models / per month). And it deserves that title because it provides amazing value at an amazingly cheap price (it's the only kit under 300 dollars in this review).
What the Alesis Nitro can do for you:
Look professional – whether on stage or in your rehearsal room
Provide you with 40 slots containing drum sets mixed together out of 385 quality sounds (jump to 0:40 to hear them in action):
Plug-and-play home recording. You only need 1 additional cable and a laptop
It will guide and motivate you in your practicing through built-in training functions (that is usually reserved for high-end kits at $800+)
So there you go: the Alesis Nitro is my ex-best electronic drum set for anyone buying their first ever e-drum kit.
Questions about the Alesis Nitro? I'll answer them in my Alesis Nitro review.
2. Alesis Nitro Mesh Kit – Best for Beginners
Alesis Nitro Mesh Kit
The Alesis Nitro Mesh Kit is identical to the Alesis Nitro in module and hardware. Yet, as the name suggests, this one come with mesh heads instead of rubber-only pads – which is fairly incredible at this price point.
PROS
Great value for the price
High-quality drum module, because the build is solid
Sturdy rack holds the kit even if you're a heavy hitter
CONS
Relatively large footprint
Drum module takes has some more detailed settings that you might have to get used to
The Alesis Nitro Mesh Kit is identical to the Alesis Nitro in module and hardware. Yet, as the name suggests, this one come with mesh heads instead of rubber-only pads – which is fairly incredible at this price point.
And if you thought the mesh heads would be poor quality because of the low price – well, think again. I found them to have a good response (the module picking up even very light strokes) and rebound (bouncing the stick / your wrist back into its default position, so you save energy and power) – so playing the Alesis Nitro Mesh feels more like playing an acoustic drum kit.
The second advantage of the mesh heads on the Alesis Nitro is that they are much quieter than rubber pads, so you'll be able to play without your family or neighbors noticing.
As such, the Alesis Nitro Mesh Kit has replaced its non-mesh version as the best beginner electronic drum kit on the market, because it's really difficult to find anything wrong with this kit. The quality of the mesh pads and sounds within the module as well as the design of the Alesis Nitro Mesh result in visual appeal and a great drumming experience!
3. Alesis Command Mesh – Ex-Best E-Kit Under $500
The Alesis Forge is not available at the moment (or even permanently), but you can still get its brother version (with mesh heads) or an even cheaper alternative.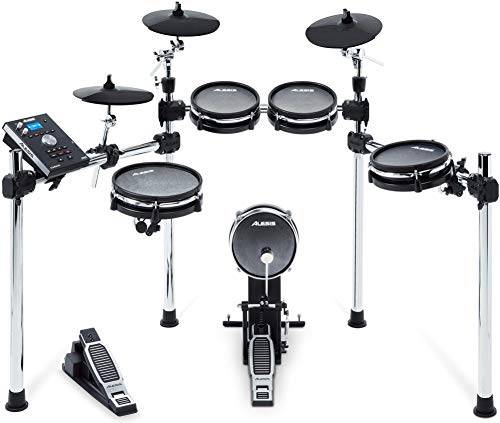 Alesis Command Mesh
The Alesis Command Mesh is not available at the moment (or even permanently), but you can still get its brother version (with mesh heads) or an even cheaper alternative.
PROS
Very professional design (chrome rack)
Wide range of sounds (600)
Can be used with double bass pedal
CONS
No training functions (as with Yamaha and Roland kits)
Another one of Alesis' electronic drums, and this time we're leaving the beginner section and the confines of the practice room. From my experience, the Alesis Command Mesh will also satisfy more advanced drummers on the stage, because…
…with its chrome rack and the more elaborate module, the Alesis Command Mesh looks very professional. And studies have shown that your audiences will judge your more by your appearance (including gear) than by your skills.
The Forge comes with a library of 600 (!) sounds. And with 50 preset kits and 20 empty slots for you to fill, there is also more than enough room to make use of all the sounds. Taken together, this would allow you to change your sound multiple times during each song of a live performance. I've never done this, but perhaps you aspire to be the next Joe Clegg (Ellie Goulding's drummer):
So the Alesis Command Mesh is my ex-best electronic drum set for under $500!
I provide all the details and latest deals for this kit in my full review.
4. Alesis Surge – Best E-Kit Under $500
Alesis Surge
The Alesis Surge is an upgrade of the Alesis Forge – with the important difference of mesh heads instead of rubber ones.
PROS
Compact setup fits most indoor environments
Good response time from the time of hitting the drum to when you hear it with headphones on
Easy setup even for beginners
CONS
Limited number of EQ options such as wood types, room sizes etc.
Just like with the Alesis Nitro and Alesis Nitro Mesh, the Alesis Surge is an upgrade of the Alesis Forge – with the important difference of mesh heads instead of rubber ones.
That means that the all-mesh drum heads of the Alesis Surge are quiet enough to not annoy your family or neighbors while drumming.
I found them to also feel great, which means that they threw my sticks back to me (rebound) after a stroke so I could play as fast as possible. And they also triggered the sound that the head is supposed to play without any noticeable time lapse.
And the best thing is: the Alesis Surge isn't even much more expensive than its rubber brother, the Alesis Nitro. Therefore, I now recommend the Alesis Surge as my best e-drum kit under 500 dollars.
Find all my reasons for making that claim in my full Alesis Surge review.
5. Donner DED-200 Electric Kit Electronic
This acoustic drum is ideal for beginners and seasoned players. It is also very suitable for beginners to practice with at home and for band performances.
PROS
Silent play options as headphones can be connected

8-inch all mesh drum head that is great for practice

Convenient foldable Drum stand

Uses digital technology, efficient software algorithms, and chip computing efficiency, to record the sound of real instruments and avoid sound delay and repetition

Up to 25 Demo songs

Durable design
CONS
It is quite delicate and dense

It is not suitable for outdoor performances because of low volumes
It provides an accurate and balanced performance experience; you can produce varieties of sounds with this acoustic drum. Its silicone cymbal has a stable and well-distributed tone response at all positions of the cymbal. The drum set has a collapsible Iron metal stand, which makes it steady and extremely safe for use. 
This model features 225 adjustable Timbre, which produces more realistic and excellent jazz, rock, blues, and punk, among others, as well as eradicates sound delay. The unique mesh drumhead hoop technology also eliminates the problem of mesh deformation and slackness, giving it a better feel and a longer life.
6. HXW SD61-2 Electric Drum Set
The HXW SD61-2 is a perfect entry-level e-drum for drum beginners with a user-friendly interface designed and reviewed by skilled engineers. 
PROS
Provides user-friendly module that supports USB-MIDI interface and AUX input

Ease of storage and movement

Offers onboard Coaching Function using metronome and recorder

Easy to set up

Collapsible Design

It is affordable
CONS
Sensitive triggering

Sensitive dual-zone mesh 
This model features hi-hat, rides hat, crash hat, dual-zone cymbals with choke, bass drum with a kick pedal, world-class percussion sounds, customized drum kit, and built-in play-along tracks. It also has a Sensitive dual-zone mesh snare shot and three premium silicone toms. All these features offer a natural feel, impressive sounds, and a satisfying experience with the drum set.
The coaching function allows users to record while playing so that during playback, they can listen and improve their skills. Its USB-MIDI port makes it easy for you to connect your electronic drum kit to a computer for external recording. And the AUX Input offers a personalized user experience. The drum set is easy to set up and doesn't require technical help. Due to its collapsible design, it saves space, and it is easy to store and transport. 
7. Yamaha DTX450K – Best for Practicing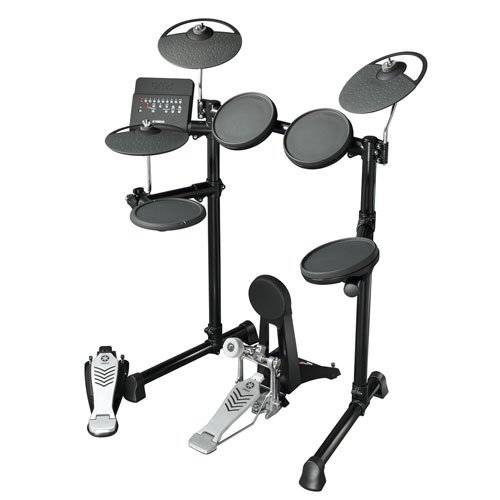 Yamaha DTX450K
Yamaha is a widely recognized manufacturer of all kinds of quality musical instruments. And the Yamaha DTX450K is no exception. This is my best electric drum kit for practicing.
PROS
Yamaha's high-quality sounds
Module simple to handle
12 training functions on board
CONS
Limited number of preset kits (10)
Can't choke cymbals by hand
Looks slightly odd (arrangement of drums, hole in the cymbals)
Yamaha is a widely recognized manufacturer of all kinds of quality musical instruments. And the Yamaha DTX450K is no exception.
This is my best electric drum kit for practicing for the following reasons:
 It comes with a very simple-to-handle module that simultaneously produces sounds as good as this:
It lets you plug in your smartphone or mp3-player so you can jam along to your favourite song. And with its 297 sounds and 10 preset kits, you can record really nice stuff with it:
But the best thing about this set are the 12 built-in training functions. The most effective of those is called "RhythmGate" and trains you to keep the time. Only the much more expensive Roland TD 11K (below) can do this too.
So the Yamaha DTX450K is my best e-kit for practicing!
You can see the training functions in action, find out about the latest deal, or learn how the kit can be made to sound like from outer space in my in-depth Yamaha DTX450K review.
8. Alesis Command – Best Under $1,000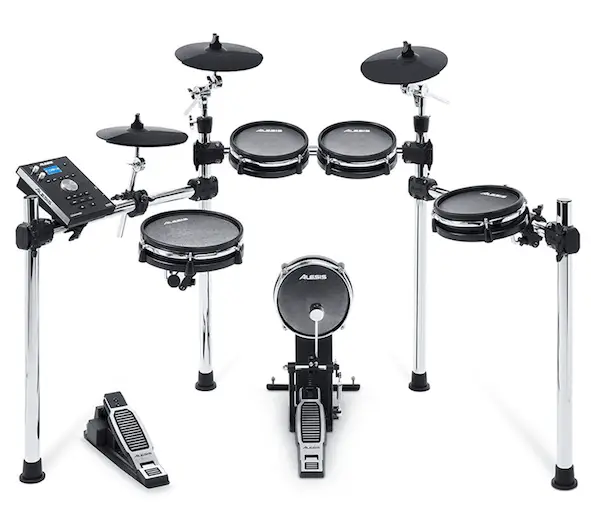 Alesis Command
It comes with a solid 4-post chrome rack and a bigger overall size. Since most other e-kits in this price range are smaller, the Alesis Command looks more like a traditional acoustic drum kit. And that's what people in the audience are used to.
PROS
The two most important pieces (snare & bass pad) are mesh for excellent response and individual tension adjustment
Chrome frame is sturdy and durable, plus it looks professional
The entire kit sets up in about an hour out of the box
CONS
Cymbals are single-zone only – so you won't have an edge sound on the ride cymbal for example
I think the Alesis Command 8-piece electronic drum kit is best electronic drum kit for live performances for these reasons:
It comes with a solid 4-post chrome rack and a bigger overall size. Since most other e-kits in this price range are smaller, the Alesis Command looks more like a traditional acoustic drum kit. And that's what people in the audience are used to.
Also, the tom pads – sized 9″, 9″ and 11″ – are larger than usual (8″ and 10″) so you have some margin for error in terms of your strokes. And on stage, when you're playing and also performing, this can be very useful. Plus: one of the cymbal pads is chokeable.
Finally, the 70 digital drum kits and 600 sounds programmed into the sound module provide you more than enough flexibility to even play gigs where you'd have to cover a wide range of musical styles while on stage.
So for drummers who need an electronic kit for live performance, I believe that the Alesis Command is a near perfect fit.
See It In Action:
9. Roland TD-1K Electronic Drum Set – Best For Playing Live
This five-piece electronic drum kit is for those starting as drummers and players who practice in noise restricted areas such as their home. As a beginner, it helps you build your skills and check your progress.
PROS
Built-in tutorials

Easy to operate

Cymbals are dual-zoned

Flexible enough to suit any style and set-up

Built-in USB-MIDI interface 
CONS
Too expensive for a beginner kit

Does not come with sticks

Not suited for professional drummers
Operating TD-1K is as easy as taking a walk in the park, which is why it is the ideal choice for beginners who may need to play live. Due to its clear layout, you can easily access all functions quickly and easily using the control panel. The LED display and the metronome flashing tempo indicator help you see all info at a glance.
TD-1K fits into the tightest living spaces and gives it a stylish and modern look. For better use, the sturdy drum rack is adjustable, allowing the drum positions to be set up for both adults and children. The height of each cymbal and the angle of the snare pad can be set to suit your comfort and playing style.
The drum kit comes fully furnished with everything you will need to play, except the sticks. Its set-up includes three toms, one snare, one bass drum, a hi-hat, a crash cymbal, and a ride cymbal.
Cymbals that come with TD-1K are dual-zoned in the sense that you can get different sounds from each pad depending on how you play it. Aside from that, the cymbals can quickly be muted simply by grabbing the outer edge.
10. Roland TD-27KV Drum Set
WHY YOU SHOULD BUY
TD-27KV is a high-quality, mid-range electronic drum set that offers a variety of options and features that come only with the best models, but for a lesser price. So, whether you are a beginner on the lookout for an excellent quality drum set or a professional looking for a budget-friendly option, TD-27Kv is ideal for you.
PROS
Good sound quality

Value for money

Highly advanced

Suitable for Double-bass drum pedals
CONS
Bass drum tower does not have a mess head
TD-27KV is a nine-piece drum kit with five drums and four cymbals. So, there is a bass drum, two crash cymbals, a ride cymbal, three toms, snare, and a hi-hat. The pads, toms, and snare have realistic mess heads which give out more natural response than rubber pads. However, the bass drum tower does not come with a mesh head. It is equipped with a rubber-type pad, which makes it somewhat quiet to play.
As regards sound, TD-27KV comes with a total of 728 sounds that spread over 100 drum kits, and 55 presets that you can use. The best part is that you can upload your favorite sounds through the SD card and use them while playing.
Also, the drum set features a revolutionary Mic stimulator that allows you to set your drums to sound as though they were being recorded from different Mics in different positions. As for connectivity, there are a total of seven ¼ jacks, SD card slot, USB jack, and a MIDI I/O. These connections allow you to expand your drum set if the need arises.
11. Alesis Strike – Most Affordable High-End E-Drum Kit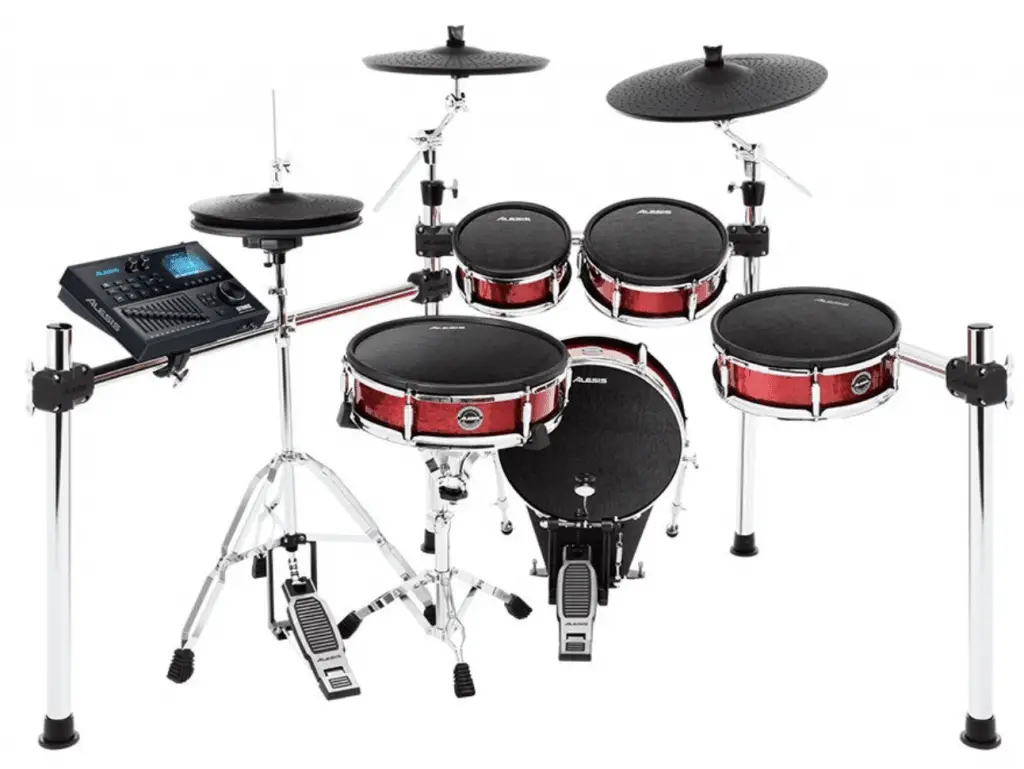 Alesis Strike
There simply is no other kit on the market that offers a similar range of sounds, a design as professional or sound modification options as intricate at such a low price. For this reason, the Alesis Strike is my best electronic drum set for recording at a fully professional level.
PROS
The mesh heads on snare, toms and kick are super-responsive & have very realistic rebound characteristics
Offers more than 1600 realistic-sounding drums, cymbals, percussion instruments (and more)
Comes with one of the most solid racks I've seen so far
CONS
Hi-Hat has issues registering / playing opening and closing sounds accurately. The previous firmware update has improved the situation considerably, but unintended sounds still can occur
When Alesis launched the Strike Pro, most people assumed this simply couldn't be a high-end kit at such an affordable price. But the Strike came, saw and succeeded.
There simply is no other kit on the market that offers a similar range of sounds, a design as professional or sound modification options as intricate at such a low price. For this reason, the Alesis Strike is my best electronic drum set for recording at a fully professional level.
The only issue really is the HiHat which you can read more about in my review below. For me, though, even this "issue" has never limited my joy in playing the Alesis Strike in any way. And you'll have to pay thousands of dollars more to find a similar range of features when looking at another brand (see Roland TD-30KV below).
So about this HiHat issue – and all other great things about the kit – see my full review of the Alesis Strike.
12. Roland TD-30KV – If Money Doesn't Matter
The Roland TD-30KV is not available at the moment, so here is my recommended alternative.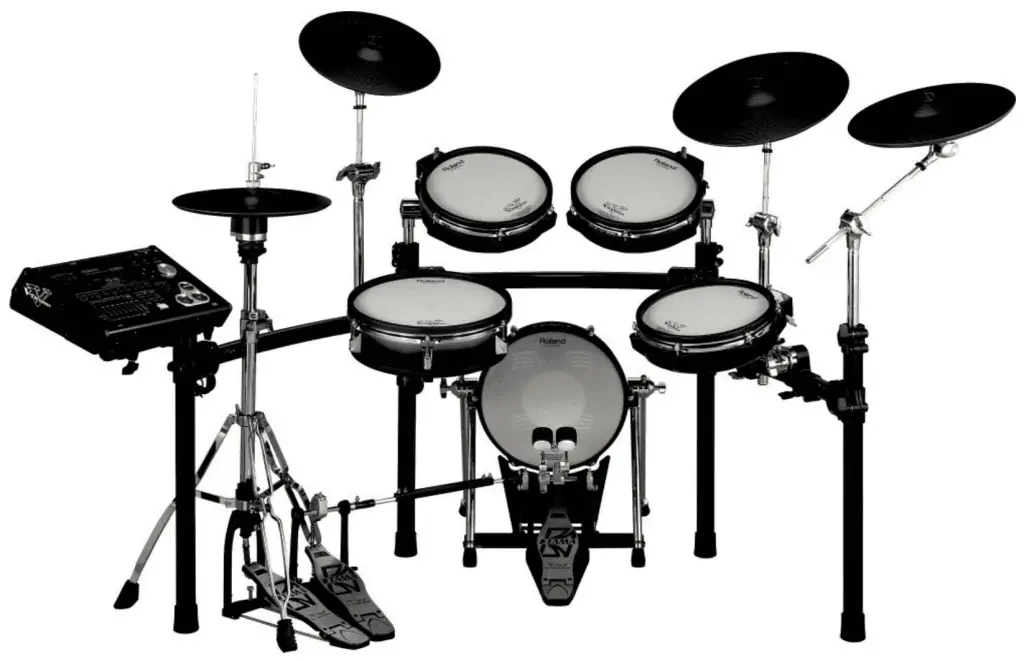 Roland TD-30KV
The Roland TD-30KV is a fully-professional set that you can take into any high-profile recording studio in this world – and people will be impressed
PROS
Multi-dimensional drum sound that feels organic
Realistic and consistent trigger pad feedback
Customize and modify the settings to your heart's content!
CONS
Not really for new players looking for a starter electronic kit
This product does not come with a warranty
I didn't even consider this kit in the comparison table, because it would – in all fairness – just be unfair to the other e-drum kits presented here. After all, the Roland TD-30KV is more than three times as expensive as the Roland TD-11K and the price of the other kits in this review don't even compare.
BUT: neither can they compare in terms of quality. The Roland TD-30KV is a fully-professional set that you can take into any high-profile recording studio in this world – and people will be impressed. And this is because…
It comes with Roland's so-called "SuperNATURAL sounds" and "behavior modeling technology" which essentially means that no sound coming out of this kit is prerecorded. Yes, the kit does have sounds in its library (how else can it produce them), but each strike of yours will trigger the Roland TD-30KV's module to synthesize an individual and unique sound each time. In other words, this e-kit produces sounds in just the way an acoustic drum set would.
The Sound Module enables you to configure each and every aspect of your drum sound. Care to choose whether the kick should sound as if beaten with a wooden beater? Or do you prefer felt? The TD-30KV module gives you the power to switch with just the push of a button.
So there's really nothing negative to say about the Roland TD-30KV. Quite the opposite: it's a stellar electronic drumset and will bring you as close to acoustic sets as possible while preserving all the advantages of an acoustic one.
Only: it might not be for you. For the lots of room for customization that this kit brings with it, also mean that you need to spend a least a bit of time using those features. They are fairly easy to learn, but if you have absolutely don't want to be concerned with tweaking the sound through your module – better save the money.
Also, when a legend like Jim Keltner gets excited about using this MIDI electronic drum kit and the drum sounds that it makes, I'm all ears. So while the Roland TD-30KV is the most expensive kit in this review, it also is my best MIDI drum set.
If you're good with that, the Roland TD-30KV will take your breath away! Guaranteed!
Wanting to modify your shell depth, microphone positon, muffling and a dozens of other parameters? Discover how in my in-depth review of the Roland TD-30KV.
Carlsbro CSD130 Electronic Drum Set
The Carlsbro CD 130 electronic drum set comes complete with 8 pieces and features a realistic kick pedal for a great feel. Easy to sest up in minutes thanks to stereo outputs that connect directly to recording consoles, PA systems, and amplifiers, it is equipped with the Commander 120/130 drum module, which gives you 250 different percussion sounds and 30 drum kits – 20 are preset and the other 10 are user assignable. Full dynamic, sensitivity, and crosstalk adjustments help you create the sound you want.
Key features:
250 high-quality percussion voices
20 preset drum kits
Digitron display
Carlsbro CSD130 Electronic Drum Set

Designed with brand-new players in mind, the Carlsbro CSD130 is an 8-piece electronic drum kit that lends itself to practice environments including bedrooms and apartments thanks to nearly silent components. Fully adjustable components include crash and ride cymbal pads with manual choke, kick drum foot pedal, pad sensitivity, and velocity response. A Commander 120/130 drum module is included, allowing you to enjoy the ultimate in control while easily connecting to other components for recording and performance.
Key features:
250 different drum and percussion samples
Preset with 20 drum kits & 10 user kits
20 songs preloaded
Carlsbro CSD130 9-Piece Compact Electronic Drum Kit with Throne, Isolation Headphones, & More

This is an upgraded version of the CSD130 8-piece set, with the same high-quality components, Commander 120/130 drum module, and realistic feeling kick pedal. It's set apart by the inclusion of a pair of CAD audio Drummer Isolation Headphones, a set of Vic Firth American Classic 5A Drum Sticks, and a drum throne.
Key features:
Collapsible design for easy transport / storage
20 preset drum kits, 10 user defined drum kits, and 20 demo songs
Recording and playback facility plus USB, MIDI, and Aux interfaces
Carlsbro CSD 180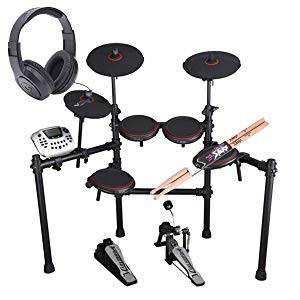 This electronic drum bundle contains almost everything you need to get started including a Commander 300 sound module with 26 preset drum kits and 20 demo songs. The kit features three tom pads, a bass drum pad, hi-hat, crash, and ride cymbals, a kick pedal, and of course, the necessary drum rack and mounting hardware. Over-the-ear stereo headphones and drumsticks are included.
Key features:
Commander 300 Sound module with demo songs, preset drum kits, and more
458 percussion voices
Recording and playback facility USB interface, MIDI in/out, and LCD display
Roland TD-17KV-S Electronic Drum Set Bundle

With realistic pads designed to mirror the acoustic drumming experience, The Roland TD-17KV-S is fully equipped with all the toms, and cymbals needed, plus a bass and snare. Foot pedals are included, as are a rack, many accessories, three pairs of drumsticks, a throne, and an audio cable that connects your phone to your drum set so that you can play along to any track. Full electronics round out this exceptional electronic drum kit.
Key features:
Roland TD-50-class sound engine
TD-17 module imports samples, helps with mixing and layering, and more
50 premium drumkits built in, or create your own kit using onboard sound elements
Roland V Entry Electronic Drum Set TD-1DMK

The Roland TD-1DMK electronic drum kit features dual-ply mesh heads with adjustable tension for a realistic experience. A built-in metronome helps you improve tempo and timing, and 14 preset kits let you create unique musical expressions. The kit includes a kick, snare, hi-hat & pedal, 3 toms, a crash cymbal, ride, and the drum stand. This set is also available in a Roland V Drums bundle that includes a throne, drum sticks, and a double bass drum pedal.
Key features:
256 notes of polyphony
Compact setup for easy setup
Preloaded module connects to Melodics drum training software (sold separately)
Vault ED-5 4-Piece Electronic Drum Kit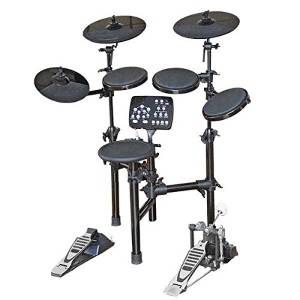 With a convenient pre-assembled rack, the Vault ED-5 4-Piece electronic drum kit offers quick, easy set up in minutes. The set includes a bass drum pad with a pedal, a snare, 3 toms, an 18" hi-hat with a pedal, a crash pad with a stop function, and a ride pad. The sound module is fitted with 3.5mm stereo jack inputs and outputs, USB, and MIDI. A metronome helps you keep time.
Key features:
20 preset drum kits
184 sounds
50 songs for play along
Yamaha DTX402K Electronic Drum Kit

This is a great electronic drum kit for beginners thanks to a user-friendly design and an affordable price point. With ten built-in training functions, apps for iOS and Android, USB connectivity and more, it covers different genres of music that make practice sessions even more enjoyable. All toms, cymbals, and pedals are included, along with a snare, a bass, and a compact rack.
Key features:
Features 287 drum and percussion sounds
10 preset kits
Customize additional kits using various sounds
Yamaha DTX452K Electronic Drum Set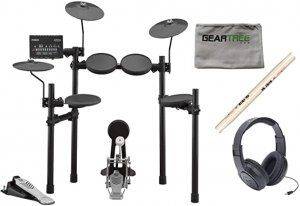 The Yamaha DTX 452K electronic drum set is specially designed for beginners to improve their performance and expression as drummers. Loaded with ten built-in training functions, novice drummers will find it more comfortable working on their rhythm and timing. These functions include Rhythm Gate, Fast Blast, Pad Gate, and the Recording function.
To access these training functions, drummers make use of the Yamaha Touch app on their Android or iOS device. You can also practice and perform with your favorite music using the Rec N' Share app. The app will also help you share your drum covers with your family and friends.
Equipped with a kick drum tower, an adjustable tower, and a hi-hat controller, the set produces high quality and realistic sound.
There is no big deal when it comes to setting up Yamaha DTX 452K electronic drum sets. Since it comes with a simple design, less effort and time is required to assemble, and you can start performing almost immediately.
Though the rack is made with sturdy steel, it is also lightweight, foldable and compact, making it easy to move around.
Key features:
Immersive stereo drum samples

Ten preset drums kits that can be edited and overwritten

Ten play-along songs

Beginner-friendly

Highly portable

Durable rack

Built-in training modules
Yamaha DTX522K Electronic Drum Set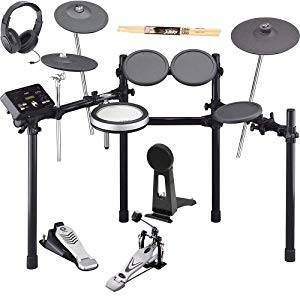 With triple-zone snare and cymbal pads for realistic performances, the Yamaha DTX522K drum kit includes 3 toms, 2 cymbals, a snare, a hi hat, a drum module, and a complete rack system with hardware. Bass and kick pedal are included, along with a foot pedal for the hi-hat. The module provides playing analysis to help you improve. On-ear stereo headphones and drum sticks are included.
Key features:
Yamaha DTX502 Drum module
50 preset kits plus 50 user kits
Many convenient practice and recording features
Yamaha DTX760HWK Electronic Drum Set
Offering some features neglected in the DTX720K, the Yamaha DTX760K electronic drum kit is an advanced drum set designed explicitly for pro drummers.
The drum kit is a 5-piece with Textured Cellular Silicone (TCS) Pads. It also comes with a more prominent snare, which means the drum will need additional support. With this in mind, Yamaha decided to provide a separate snare stand instead of mounting the snare on the rack. The snare stand offers better support, as well as reduced movements and vibration when you are playing the drum.
DTX760 equally features a DTX700 module that comes in handy when you need to perform a variety of functions. The module contains 1396 individual drum voices, and they include acoustic kits, electronic kits, percussion, and SFX. Aside from that, you can import your sound into the drum module using the USB port. After importing the sounds, you can go ahead and save them into new custom kit presets.
To navigate the module with ease, Yamaha made the module compatible with one of their iOS apps. You can download and use the app to control and edit the drum module. You can also edit drum sounds, as well as add EQ and other effects with the app.
Key features:
5-piece Electronic Drum Set with Textured Cellular Silicone (TCS) Pads

DTX700 sound module

Four cymbal pads

Snare stand
Yamaha DTX542K Electronic Drum Set

This five-piece electronic drum set features triple-zone snare and cymbal pads for superior voicing. The module offers multiple training functions, along with fifty onboard drum kits that enhance your practice and performance sessions. The frame and hardware are included.
Key features:
Full 8-drum kit on an easy-to-assemble five-piece frame
Space-conscious design; hi-hat is integrated into the frame
Kick pedals for bass and hi-hat are included
Yamaha DTX562K Electronic Drum Set

Offering more than 691 realistic drum sounds and a real hi-hat system with a pedal built in, the Yama DTX562K brings your electronic drumming experience to the next level. This kit includes three toms, a snare, a bass, a crash cymbal, and a ride cymbal, all this three zones and Yamaha's exclusive 36-degree choke function for enhanced control. Rack and hardware are part of the package.
Key features:
Drums feature textured cellular silicone heads
DTX502 module
Many functions for practicing, playing, and recording
---
What makes a good drum set?
Learning and playing drums is more than just making music and creating art, as there are enormous health benefits that come with drumming too. However, a drum set that offers versatility will guarantee that you enjoy drumming regardless of the genre of music that you prefer. You get to play jazz, rock, and blues, among other styles conveniently, without having to buy a new set. Drummers also love to experiment, and a good drum set makes it possible for you to switch and try different selections while producing quality sounds.
What Makes The Best Electronic Drum Set?
Now you know about the features of 7 very good electric drum sets. But what if you're not sure which features you need – and which would be a waste of money?
That's where this buyer guide comes in. I'll show you what you should look for in your e-kit – and what you can safely ignore.
1. Checking for essentials
You value your money, right?
So the first thing you should consider is this: what will you get for the price?
I've never seen an electronic drum set pack that doesn't include the actual pads and the "rack" (the mounting system). But quite often the bass drum pedal is not included. And even more often there's no drum throne and the kit doesn't include drum sticks or headphones.
But to start playing you need all of this. (And in case you're not a headphone type, consider getting a good drum amplifier or in-ear monitors)
So make sure you know what you get for your money – and what you have to pay for on top of the kit.
Tip: Even if drum throne / sticks / headphones aren't included, Amazon will often give you a discounted package deal. Just look at the "Frequently Bought Together" section right underneath the product picture on Amazon.
2. Determining Your Purpose
There's one thing to realize that makes buying an electric drum set much easier:
it doesn't have to be very good in every respect. Not only would you have to spend thousands of $ to get there (as you saw with the Roland TD-30KV above) – but you'd also perhaps not make use of all you paid for.
So better determine whether you want to use your electric kit for practicing, playing live or home/studio recording. Do that now!
Now you can simply scroll to the respective section below and ignore all the rest. (If you want your kit for multiple purposes, add up the important aspects.)
Purpose #1: Practicing
An e-drum kit for practicing should:
Have a useful setup
Make little noise
Have a few practice tools on board
In particular, this means…
a. Setup
This is paramount but often overlooked: an electronic drum set should be set up like a regular acoustic kit.
Because if it doesn't, you'll store motions in your muscle memory that you would have to change once you sit down on an acoustic set again.
And this doesn't work instantly. It needs a lot of un- and re-learning and is truly boring. So don't buy an electronic drum kit like this (Pyle PED041):
Because it doesn't resemble a regular acoustic setup at all: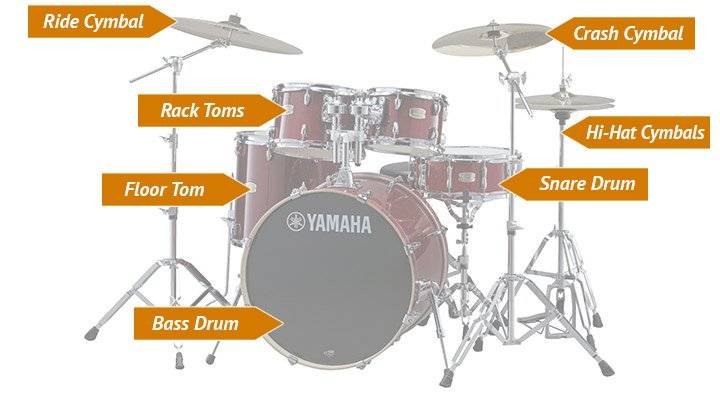 Even if you're looking for portable electric drums, you'd do yourself no favor going for one with the above setup. For yes, it would be easier to fit into a car or under a bed – but I think the un-learning aspect is much more important. I think you can afford to spend 10 more minutes disassembling a kit, but hardly anybody can afford to spend 2 months un-learning useless data in one's muscle memory.
b. Noise
Chances are this is why you're going for an electronic drum kit in the first place: you want to practice without freaking out your family or neighbors. Honorable intention…
…but the problem is: electronic kits are not completely silent! Yet, depending on their pads some are more silent than others.
The crucial distinctions in terms of the pads (applying to cymbals, toms, and the kick) are between:
Rubber pads
Pads with mylar heads
Pads with mesh heads
Rubber pads have a steel core that's covered with, well, rubber and they look like this:
And hitting a rubber pad will produce peak volumes of about 70 decibels. That's like hitting the pages of an open book with a stick. Not very loud, but potentially annoying if there's a person in the same room or directly next door.
But judge yourself:
Pads with mylar heads:
Mylar is a material that's used in real drum heads too. But of course, the mylar PADS won't be as loud as real drums, because there's no shell that amplifies the tone.
Yet, hitting a mylar pad will again peak at around 70 decibels (think open book hit with a stick).
Pads with mesh heads:
Mesh heads finally are the most quiet option as the sound waves are dispersed on the woven mesh.
Imagine the "noise" to be similar to hitting a sturdy cushion. It's perhaps too loud to do when someone's sleeping or watching TV right next to you. But usually, it won't bother people next door.
Again, I'd like you to judge yourself:
And the "feel" of the pads?
Many people seem to be reluctant to go for electric drums, because they're concerned the pads won't feel like acoustic drums. And there's really only one thing to say about this:
If you want something that feels exactly like an acoustic drum set, buy an acoustic drum set.
Don't get me wrong: e-drum sets have become very advanced and the pads do mimic the feel of an acoustic drum set quite well (mylar and mesh better than rubber). But there will always be a slight difference. Emailing doesn't feel exactly like writing a letter either, right?
The upside is of course that electric drums can do lots of different things that acoustic drums can't.
They can help you practice effectively, change your drum set sound instantly on stage, record on a budget or make your drum set sound like a piano (see video below).
c. Practice Tools
This is the final cornerstone to watch out for in a practice kit: tools to help you make efficient progress.
The absolute essentials for this are:
A metronome, so you can practice to play in time. (I haven't seen a electronic kit which doesn't have one built in, but be sure to double-check.)
A recording function, so you can record what you are practicing:
Because as a beginner, you'll be fully occupied with trying to get that groove in front of you right. You simply won't have enough concentration and objectivity left to listen and recognize all the details that aren't spot-on yet. So it's invaluable to be able to push a button, have whatever you're working on recorded and give it a listen afterwards.
Plg for smartphone / mp3-player, so you can play along to your favorite music:
This is the real deal for practicing the drums. Nothing will boost your motivation more than being able to jam along to your favorite track. So make sure the electronic drum set has a plug to connect your smartphone/iPhone or mp3-player. (Mostly the plug is called "Mix-In" and has a ⅛'' jack).
Finally there is one nice-to-have-but-not-quite-necessary tool for practicing:
On-board training functions.
Some higher-priced electronic kits such as the Yamaha DTX450K or the Roland TD-11K have guided trainings built into the module. These programs would for instance play a groove for you to emulate and then drop the click for a few bars at some point. You're supposed to play on until the click sets back in – at which point you'd know how well you've been playing in time. There are different exercises for different purposes of course, but the point is: it's guided and it's tracked. Both will help you make progress more easily and eventually maintain your motivation.
Finally, if you're a beginner and operating on a budget, electronic drum pads can be a good alternative to an electronic drum kit when starting out.
Purpose #2: Playing live
If you want to take your electric drum set on stage, it should:
have a decent range of quality sounds
look professionally
be expandable
a. Sound Range & Quality
With respect to the sound range, there are two crucial questions to consider:
Can you import sounds into the module?
If so, that would make your sound range virtually limitless which is obviously a good thing. But it's also expensive as only the higher-priced sets like the Alesis DM10 are able to import sounds.
If the kit you're looking at can't import sounds, you should google for the manua. In there will be a list of the sounds in the kit. If you want to play Rock or Jazz you'll find appropriate sounds in any kit – but higher-priced ones will have more. If you're into Latin or even Electro, it depends on the individual set whether it has some at all.
Does the kit have enough presets for your gig?
A preset is a whole drum set compiled out of the individual sounds. Usually, that's one sound for each pad, so 9 for a standard e-drum sets (3 tom, 1 snare pad, 1 kick, 1 Hi-Hat and 2 Cymbal sounds).
The number of presets can range from 10 to 100 and there is also a variable number of kits to customize yourself from product to product. I recommend you think about how many songs you're usually playing/going to play on a single gig and how often you want to change the sound of your kit. Depending on your music and the level of proficiency, this could be every single song, once per gig, or never.
As for the sound quality of a kit, I can't give any hard and fast rules, because taste is obviously subjective. The simple test would be to search for the electric kit you're interested in on YouTube where you'll usually find lots people playing this set for you. Just give it a listen and decide yourself.
b. Design
It's scientifically proven that audiences will judge you by how you look on stage as well as by your skills. So better make sure that you're really reaping the fruits of your practice by having a professionally-looking set.
What this entails isn't set in stone, but generally a kit that resembles a regular drum set will be familiar to an audience and thus look like it's up there on stage for a reason.
Just think about what you'd expect on stage and I'm sure you'll agree it isn't this (DDrum Beta):
And that this Alesis Forge looks much more professional:
Purpose #3: Recording
Finally, electronic kits are a great and very affordable way to professionally record music at home (or in the studio).
And the only thing you really need to worry about for this purpose is if and how your electronic kit connects to a computer. Once that's done, even sound quality and range don't matter any more, because you'll be able to modify them in any way you wish inside your music recording software.
How Does an Electronic Drum Set Work With MIDI?
Everything you need in order to use your electronic drums to a computer is a MIDI output at the back of your kit's module.
Usually you'll be using the MIDI-USB port, but with an audio interface (for more advanced recording) you might need to use the 5-pin outputs. With the Alesis DM10, for example, both are situated just below the Alesis logo at the back of the module:
Once you've connected the module to your computer, your electronic drums act as a MIDI trigger. That means, each time you're hitting any drum pad, a MIDI signal is sent to your computer.
That signal doesn't carry any sound information, which is actually a good thing. Because once you've opened your recording software (Audacity and Reaper are free; Ableton, GarageBand or Logic paid), you can match the signal with any sound in your library.
This way, you can make your drum set sound very, very good for any style of music. Or you can make it sound like something entirely different:
So choose an electronic drum set that has a MIDI output and you'll be recording in no time.
Previous Best E-Drum Kits
Alesis DM6

Module easy to handle
Can be used with double bass pedal
Bestselling electronic drum kit on Amazon (1000+ /month)
200 5-star reviews on Amazon
Limited sound range (108)
No advanced features (cymbal pad can't be choked, no half-open Hi-Hat)
In my view, the Alesis DM6 is WAS the cheapest electronic drum set that's actually useful. That is, until the Nitro (above) came along.
The Nitro has more sounds, more functions in its module and looks more professional in my view. That's why I don't recommend the Alesis DM6 plain anymore. Not because it's bad, but because the Nitro is even better.
But I still have an in-depth review of the DM6 lying around. It covers all the tricky questions: from playing Rock Band for Playstation on it to connecting it to a computer.
Questions?
I hope I could convince you that choosing an electronic drum set isn't that difficult once you know what to look for.
I also hope you saw that an electronic drum kit isn't just an acoustic set turned quieter, but that it can improve your practice, your stage performance or your recording – and even open up new dimensions to your creativity.
If you've got a question about any of the e-drum sets reviewed here, I'll gladly answer them in the comments. And I'd love to hear about your experiences with any of these kits!