Updated: August 17th, 2022
One thing you'll notice right away about this Alesis Nitro review, mainly if you're more of a starting drummer, is that Alesis Nitro is one of the cheapest electronic drum kits in the world today.
And what is more: Alesis recently released a brother version – the Alesis Nitro Mesh – which is the cheapest e-drum set with mesh heads in the history of electronic drum kits.
This is no less than astounding since, when I bought my first electronic drum set in 2002, these things were freakin' expensive ($1000 and more).
But it also brings out a question: has Alesis lowered the price of their drum kit by sacrificing quality?
You might also be unsure about the differences between the Alesis Nitro and the Alesis Nitro Mesh.
Or you might have heard good things about their best-selling predecessor, the Alesis DM6 and wonder whether that would be a better fit for you?
Well, I'll answer all these questions in this Alesis Nitro review – and don't want to waste any more of your time. So let's jump right in…
Alesis Nitro Mesh Kit
Alesis Nitro vs Alesis Nitro Mesh Kit
So what is the difference between the Alesis Nitro and the all new Alesis Nitro Mesh?
Well, very simple: the module is the same, but the hardware is different in exactly 1 major and 1 minor respect:
(Major) The Alesis Nitro mesh comes with mesh heads; the Alesis Nitro features rubber ones – and I'll explain what that means in the next section.
(Minor) The Alesis Nitro Mesh has a slightly different HiHat control pedal as well as a different bass drum pedal. In my testing, though, I didn't notice that one of the 2 kits has an edge in terms of the pedals. Rather, they both do their jobs just fine.
As such the Alesis Nitro looks like this: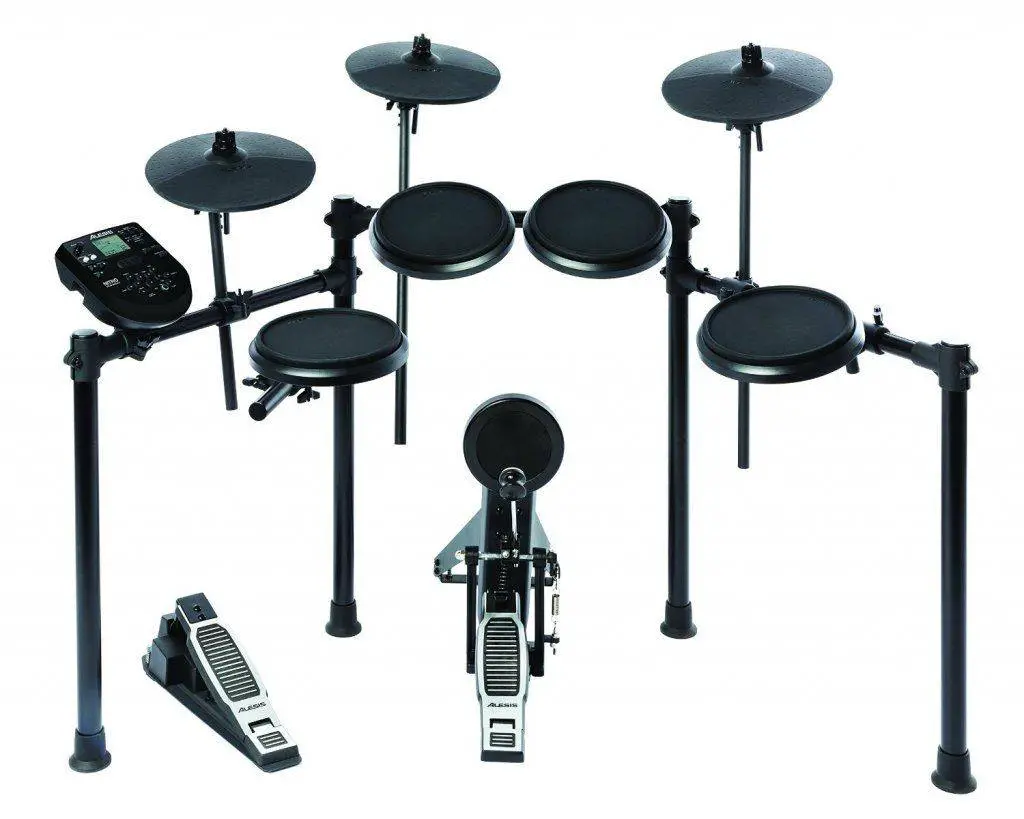 And the Alesis Nitro Mesh looks like that: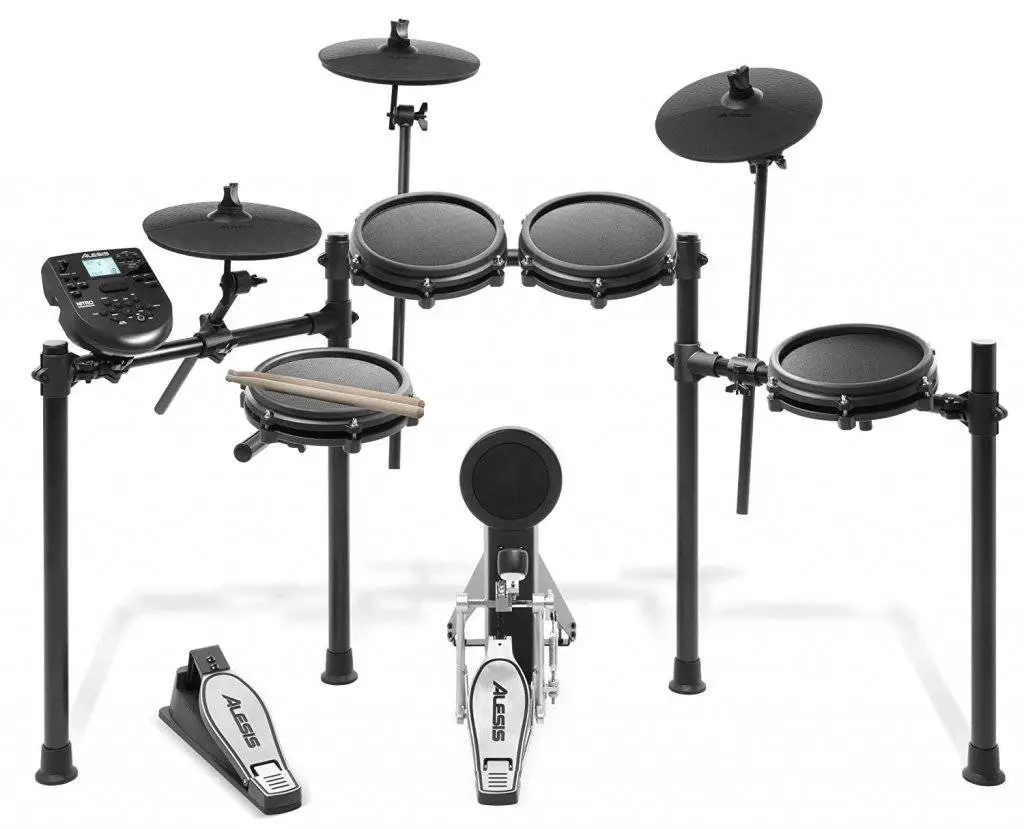 So when you open the box that any of these 2 kits comes in, you'll find:
The Nitro drum module (more about this further down)
Five 8" drum pads functioning as snare drum (1 pad), toms (3 pads) and kick drum (1 pad with stand). Note that the kick pad is big and sensitive enough to accomodate a double bass pedal.
Three 10" cymbal pads (Hi-Hat, Crash and Ride cymbal)
1 Hi-Hat controller
1 bass drum pedal
So both the Alesis Nitro and the Alesis Nitro Mesh are ready for you to play right out of the box. And setting them up isn't very difficult either (this video shows how). Each of them took me about 45 minutes, and it shouldn't be much longer for first-time assemblers.
Feel and Noise of the Pads
Whenever I browse around the web for electronic drum set news, I find that 2 myths keep being told over and over. So be prepared for some clarification:
Electronic drums are not quiet. They are more quiet than acoustic drums, but the pads still do make noise – depending on which material their pads are mainly made of.
Since the Alesis Nitro features rubber pads while the Alesis Nitro Mesh comes with mesh heads, the Nitro Mesh will be more quiet than the Nitro. (Rubber on the left, mesh head on the right:)

And to give you an approximation of what "more quiet" actually sounds like: hit a page inside an open book with a stick. The "noise" produced should be similar to hitting the Nitro's rubber pads. Conversely, hit a sturdy cushion with a stick and you'll be at about the "noise" level emitted by the Alesis Nitro Mesh.
So if you're concerned that your neighbors or family might be distrubed by your drumming, I recommend you go for the quieter Alesis Nitro Mesh.
Hitting the pads of electronic drums does not feel like playing an acoustic kit. And that isn't a bad thing either. It's just logical, since acoustic drum heads are not made out of rubber or mesh – they are made of mylar (a type of plastic). So when playing the Alesis Nitro Mesh, you won't get the exact feel of an acoustic kit (although it does feel pretty similar to me). Yet, you will get to:

change your entire drum kit sound in 40 ways (!) in seconds and by only pushing a few buttons on the module
record your playing without messing around with microphones, because that function is built into the module
use the built-in metronome or have the module coach your training (more on that below)
So what I'm saying is: No, an electronic drum kit does NOT feel like an acoustic one, but that in no way means that it feel worse – only different. At the same time, though, the Alesis Nitro Mesh can do a whole lot of things an acoustic kit can't do.
And the other good news is: anything I say below applies to both the Alesis Nitro and Alesis Nitro Mesh – since they share the same module.
For you this means that it's time to make up your mind on whether your prefer mesh heads or rubber pads now.
Sounds in the Alesis Nitro Drum Module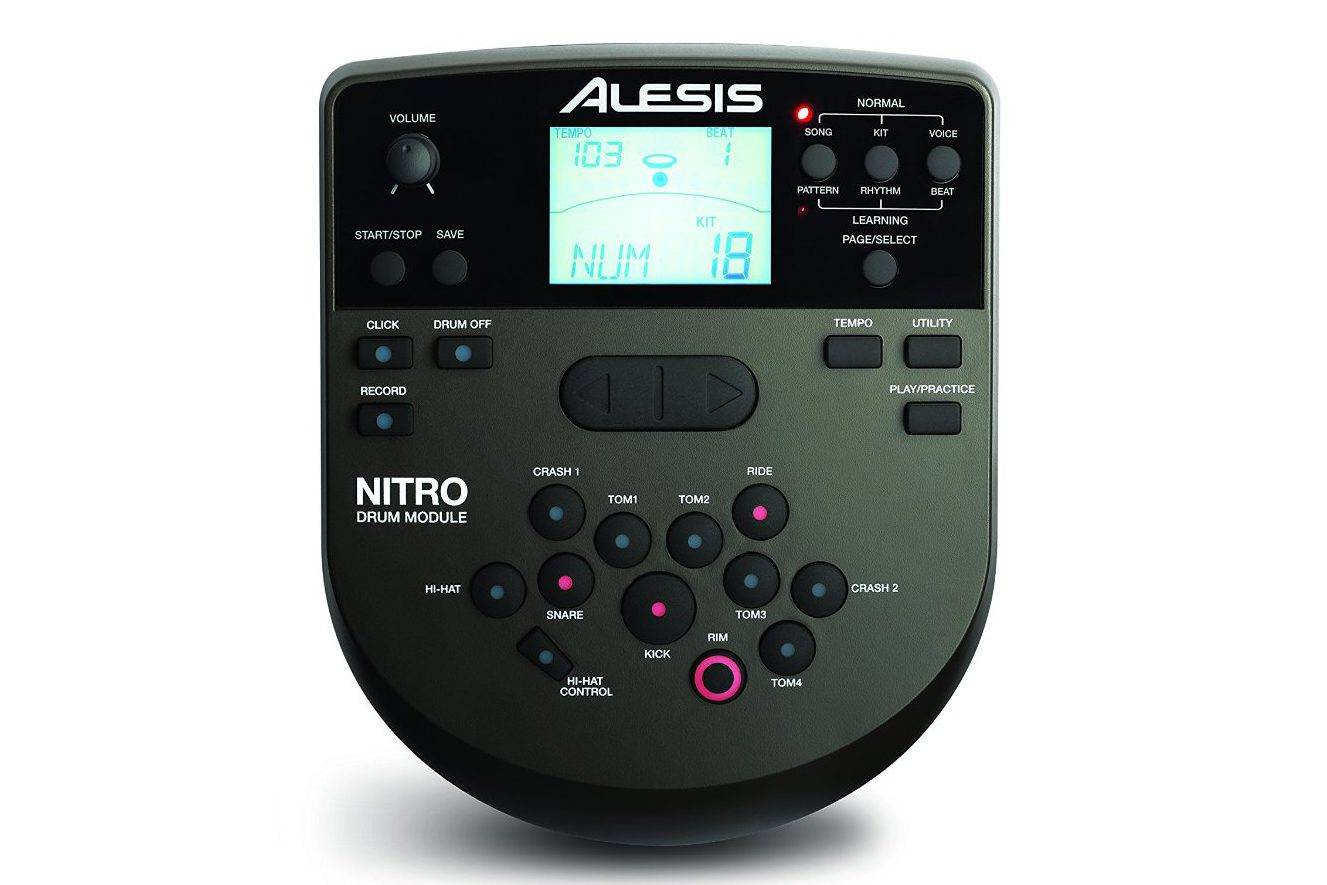 The Alesis Nitro module comes with 385 drum, cymbal and percussion sounds on board, and out of those Alesis has built 40 preset kits. That's the largest quantitiy of sounds and presets in this price range of electronic drum kits.
And it should provide more than enough flexibility for any live gig, as you could change your drum set sound for 40 consecutive songs.
And do the presets sound good?
Want even more flexibility? You can modify any of the presets. That used to be possible only with much more expensive Alesis kits such as the Alesis DM10.
Recording with the Alesis Nitro
Quality recording on a budget is what electronic drum kits are good at, and the Alesis Nitro is no exception. There are 3 ways to go about recording:
Hit the module's record button while you're playing. You can then listen to this recording through your headphones or speakers. But you cannot export it from the module.
Connect the audio output(s) on the back of the module to a recording device (could be as simple as your smartphone), hit record and lay down your track. This way you'd have basic recording quality with minimum effort.

Connect the module to your computer via the MIDI outputs or the MIDI-USB (to the left) and use the Alesis Nitro as a MIDI trigger. (You'll need a recording software for this and for a beginner I recomend the free and awesome Reaper – but you can also use Logic, Ableton, Garage Band etc.) This way you can achieve good sound quality – even out of your practice room:
Playing to Your Favorite Music
I think there is nothing more exhiliarating than playing one's favorite songs (this can replace your next workout too). And with the Alesis Nitro this can be done with the push of a button.
Just connect your smartphone / iPhone or mp3-play to the the module via this adapter, hit play on your phone and you'll hear the music through your headphones or speakers – as well as your drumming.
And if you have mastered all your favorite songs, you can move on to tackle the 60 play-alongs the Alesis Nitro has on board. They range from Pop to Rock to Jazz to BigBand, Dance and more and sound like this:
What's cool here: you can mute the drums on the play along so that it's just you and the music. Note: that doesn't work with the songs on your phone unless the're using drumless tracks (some of which you can find on Youtube).
Practice Made Fun with the Alesis Nitro
Yes, I think playing along to music counts as practicing. But you still need to work on those beats and grooves. And sometimes it's hard to get yourself to start practicing them.
From that perspective, the Alesis Nitro's "learning mode" is the most useful new feature. "New", because so far only much more expensive sets like the Yamaha DTX450K and the Roland TD-11K came with built-in training functions. And "useful" because it's much easier to practice when there's someone to guide you (the module) and when the whole process is staged as a playful challenge.
And "learning mode" does just this. It either asks you to…
play along to a rhythm or pattern after a count-in
or plays you the rhythm or pattern without the drum part, which you'd have to supply.
In both cases, your playing is recorded for you to listen to later. And you'll receive a score for your accuracy. This is objective feedback and it's challenging. Both has increased the motivation of my students quite considerably.
What rhythms and patterns does the Alesis Nitro have? Here's a quick overview from inside the manual:
Frequently Asked Questions
What's the footprint of the Alesis Nitro and Alesis Nitro Mesh?
Any of the 2 kits will take up between 5′ x 3′ and 6′ x 4′ depending on your size and preferred positioning. That makes it the largest kits in its price range, but also the sturdiest.
Do I Need An Amplifier To Hear Myself Playing?
You'll need either headphones, in-ear monitors or an amplifier. If you're using headphones for your daily dose of music anyway, you can connect them to the Nitro through a 1/8" to 1/4" adapter. If not, you can check out what I consider to be the best headphones for electronic drumming.
Alternative #1: Alesis Nitro vs DM6
Apart from that, the Alesis DM6 has been a best seller for years and – if you can get your hands on it – costs less than either the Alesis Nitro or the Alesis Nitro Mesh. So you might wonder: why go for those newbies when the DM6 is so well tested and trusted?! Well…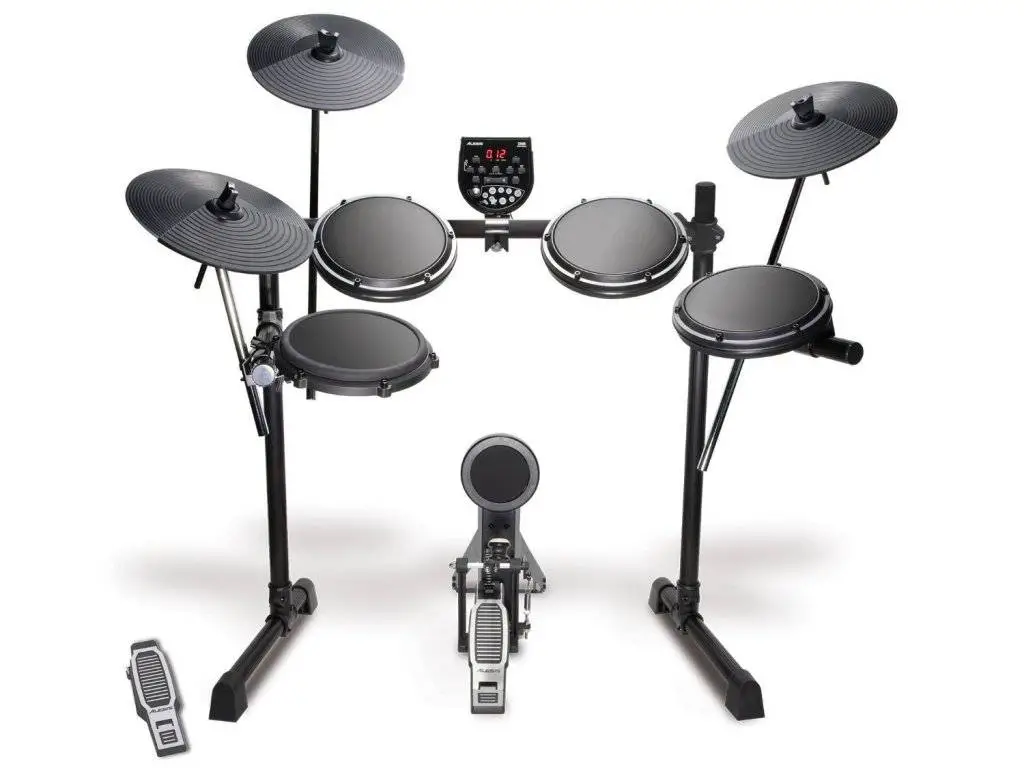 An Alesis sales rep confirmed to me that the Nitro and Nitro Mesh are meant to successively replace the DM6. And while that alone doesn't mean they are better, it does mean both Nitro versions are newer and that there are differences between them and the DM6. And those differences are:
The Nitro kit has 385 sounds and 40 preset kits on board while the DM6 only comes with 108 sounds and 15 slots for presets.
The Nitro kit has "learning mode" whereas the DM6 doesn't have built-in training functions.
The Alesis Nitro can be expanded (plus 1 tom and 1 cymbal) by buying those pads and simply plugging them into the side of the module. The DM6 doesn't have any (native) expansion capabilities.
So, I hope you do notice that I recommend you go for the Alesis Nitro Mesh instead of the Alesis DM6.
But to confuse us even more, Alesis has one more very similar kit up their sleeve: the Alesis DM6 Nitro…
Alternative #2: Alesis DM6 Nitro Vs Nitro
Alesis released this kit as an updated version of the DM6 – namely one that comes with the DM6 hardware but the Nitro module. That in itself was a good thing at the time, but I think their naming couldn't have been more confusing.
Today, though I wouldn't go for it any more, since you can usually get a better price on the Alesis Nitro Mesh – and that one is a better kit for 2 very simple reasons:
The Alesis Nitro Mesh comes with mesh heads where the Alesis DM6 Nitro has rubber ones
The Nitro Mesh has a 4-pole rack instead of being based on 2 poles like the DM6 Nitro is. This will make your kit more stable while playing and also makes it look more professional in my opinion.
So now I'm really glad we have all these subtle version and naming differences out of the way 🙂
Buyer Feedback & Your Questions
Gabriel has shared his experience with the Alesis Nitro in a comment elsewhere on Kickstart Your Drumming, so that you don't have to rely on my opinion alone. Thanks, Gabriel, for making this article a better Alesis Nitro review!
Can you help others by sharing your opinion about the Alesis Nitro or Alesis Nitro Mesh too? Or did this review leave any questions open?
If so, please drop me a comment below. I respond 100% of the time and usually within 1 day.
Freedrum- Play the drums anytime, anywhere
Best of the Best
Best of the Best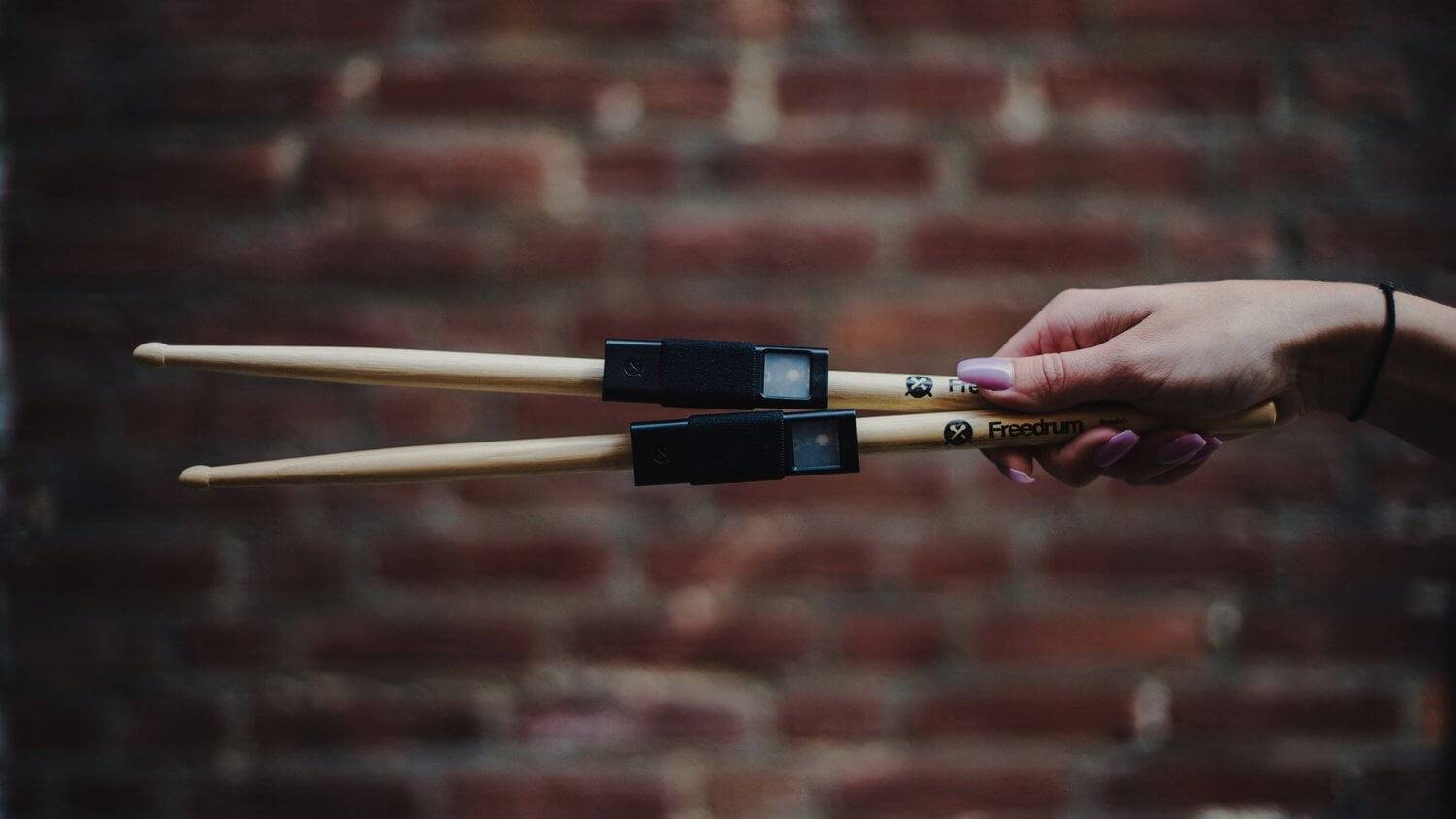 Freedrum
If you crave a convenient, mobile drum kit that is and Freedrum is exactly what you need. Connect using bluetooth and play on your smartphone, computer or tablet
FEATURES
Sensors are super accurate
Good Value for Money
Compatible with all major music software / DAWs
Also Read:
Find Your Best Cajon Today – 4 Favorites Out Of 10 Prospects