Updated: October 23rd, 2022
So you've made the leap and gotten yourself or – even better – someone else a shiny new drum kit? That's great but before the drumming fun begins, you still need to arrange all those shells, stands, cymbals and pedals. And that can be confusing if you don't know how to set up a drum set.
Not to worry, though, it's not difficult and after you've done it once, you'll get quicker at it every time. And I'm here to guide you through the first setup procedure.
The article is arranged in steps and has pictures and videos supporting it, so all you have to do is follow along as we set up your drum set together (at least digitally).
So let's get to it…
(This is a gues post by Tom Warner, who is teaching drumming in Sheffield UK. You can find out more about him at the end of this article.)
1. Stool
First, set your stool up. Ideally, you want to be high enough that you can sit up straight while maintaining a relaxed posture, with your legs slanted down in front of you very slightly (about 5 to 10 degrees). Don't sit with your legs too flat, or knees higher than thighs.
I like to tell my students: ''Knees below thighs, your stool's the right size. Thighs below knees, adjust your seat please.''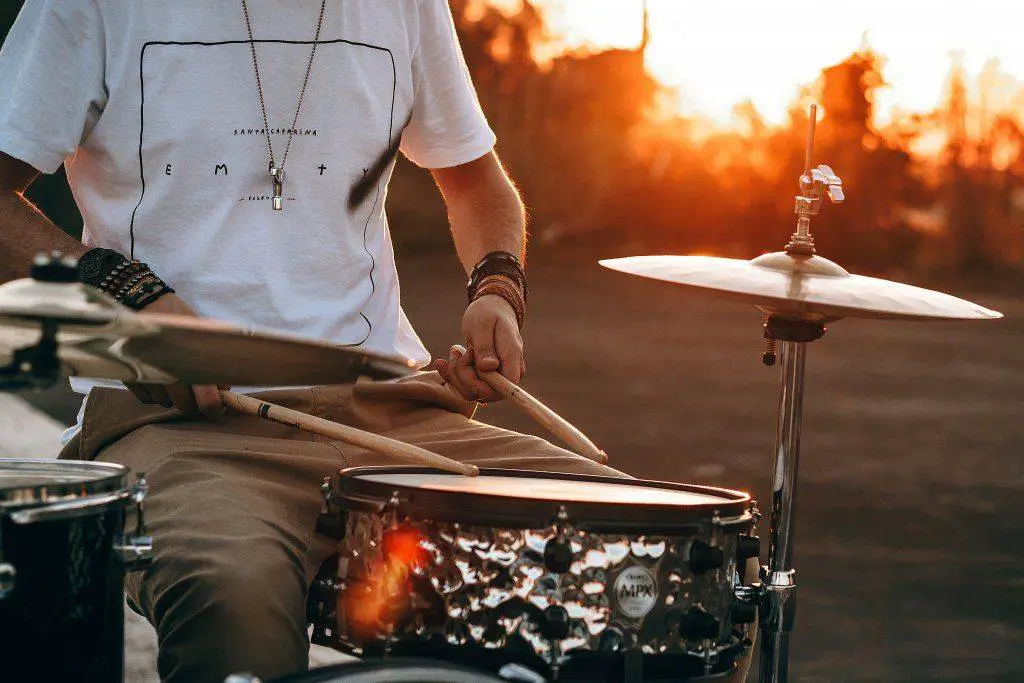 Make sure your lower back is supported and that your legs can move freely around. You can adjust the height of the stool either through a sliding shaft or a threaded shaft, both fixed in place by a wing nut at its base. Some cheaper stools will secure with a bolt and nut and have four holes in the shaft for various heights. (I recommend spending at least $50 on a drum throne as this will last – cheaper ones will most likely need replacing after a few months use.)
2. Kick Drum
Next up is the centerpiece of your kit, the kick drum. Whether you are right or left handed/footed will dictate where the kick goes and how it angles.
There are a couple of different angles you can have with your kick; either directly in front of you, or slightly angled away from you.
Make sure that when positioning the legs, they are at a slight angle pointing away from you but not straight down or too far forward; you don't want the shell resting on the floor!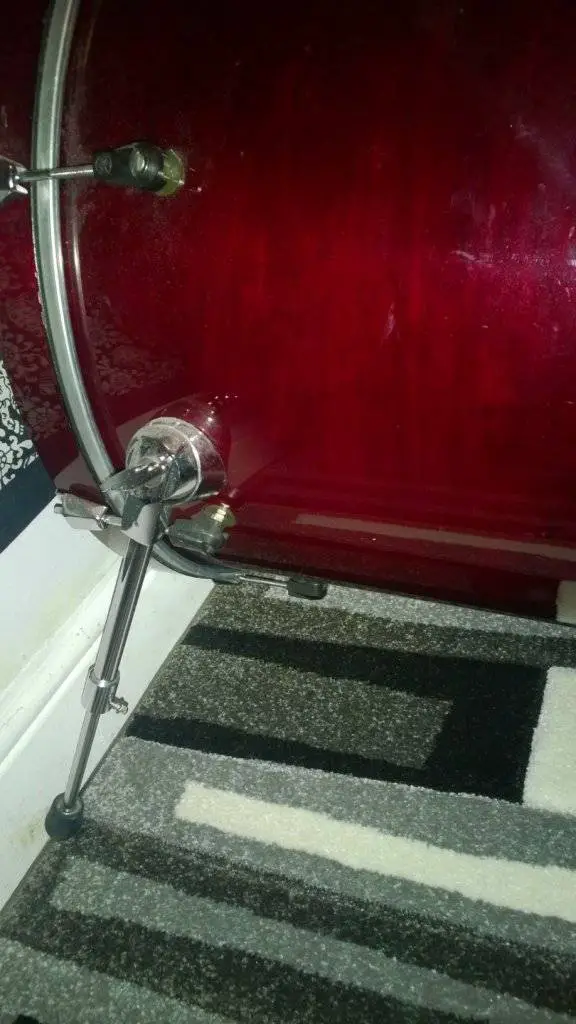 Next, attach your kick pedal (these are my favorite pedals) to the hoop. Whether it is a metal or wooden hoop, the clamp will fit, so there are no worries about compatibility.
Once the pedal is on, sit at the kick and make sure you can see your toes over your knee. This is the appropriate distance for you to sit for the best control over the pedal and is also best for your posture.
 .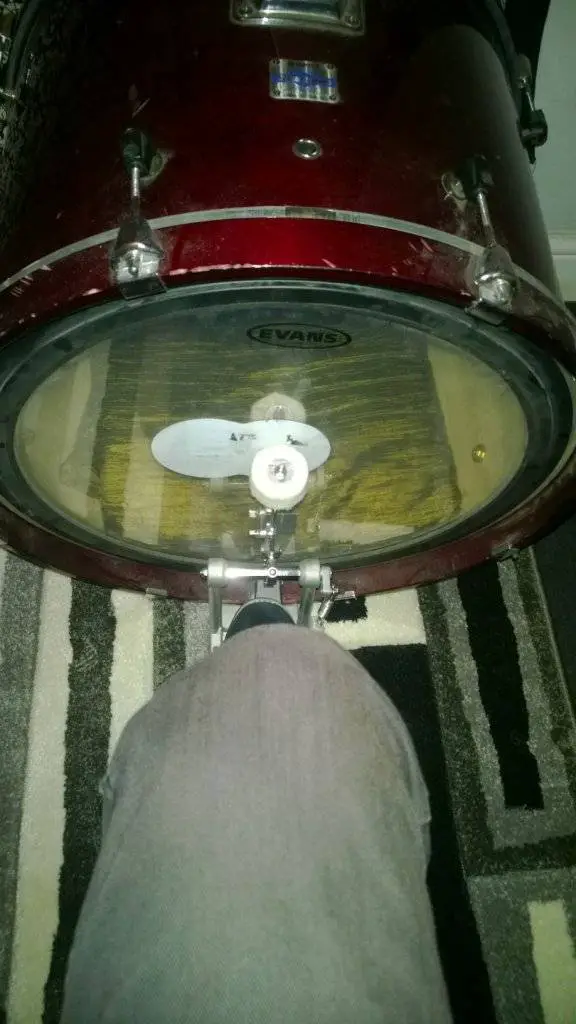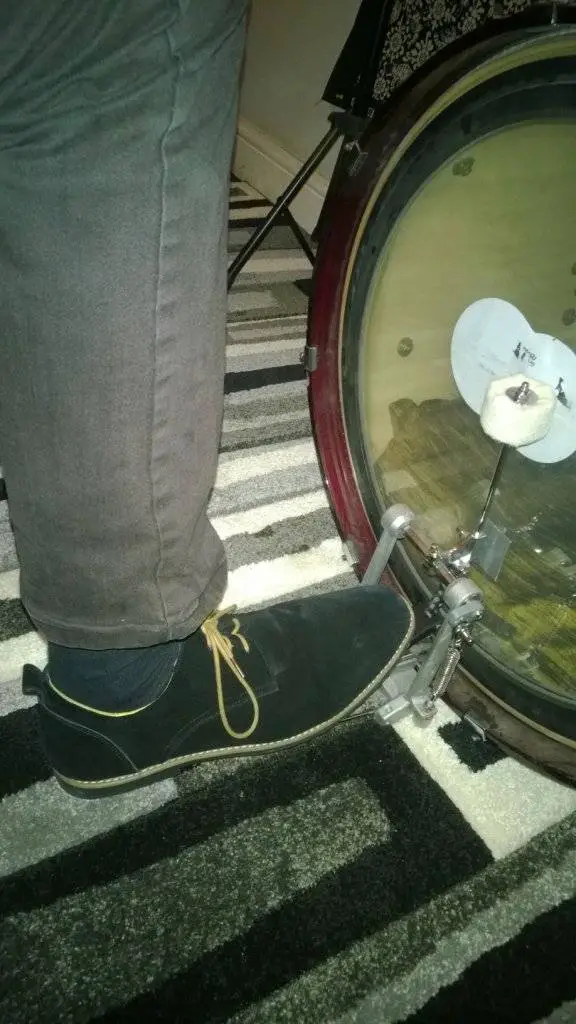 3. Snare
The snare (my favorites are here) should sit between your legs, to either the right or left of the kick pedal depending on your orientation.
Make sure there is enough distance between your thigh and the side of the snare; it's very annoying using the kick drum with a piece of metal rubbing against your leg!
Position the snare to be close enough to the kick hoop without it touching but leave enough room in case the stand moves. You don't want to have your snare catching a lovely wooden hoop and causing damage either.
The angle of the snare is up to you, some people like to have it facing away from them, some like it facing towards them and some like it to be flat. Try any of these positions and pick the one you find most comfortable, there are no wrong answers, just as long you are comfortable.
The height of the snare is also down to personal preference; try to make it level with your thigh height or about a centimetre higher. Too low and you'll smack your leg, too high and you'll catch the rim.
4. Hi Hat
The hi hat pedal should sit under your other foot comfortably (the foot not on the kick). Try to angle the pedal so it faces slightly outwards and away from you.
When attaching the hi hats (you guessed it – I have favorites here too) to the clutch, unscrew the first nut and take one felt off. The order on the thread of the clutch should be roughly: nut – felt – felt – nut.
Place the top hi hat so the convex part of the hi hat (called the bell) points towards the wing nut on the hi hat, and then replace the felt and nut in that order. The hi hat should be sandwiched between the two felts and held in place with the two nuts.
Now slide the clutch with the hi hat down the spoke (the long, thin pole coming out of the top of your hi hat stand) and, before adjusting the clutch, make sure the height is correct for you.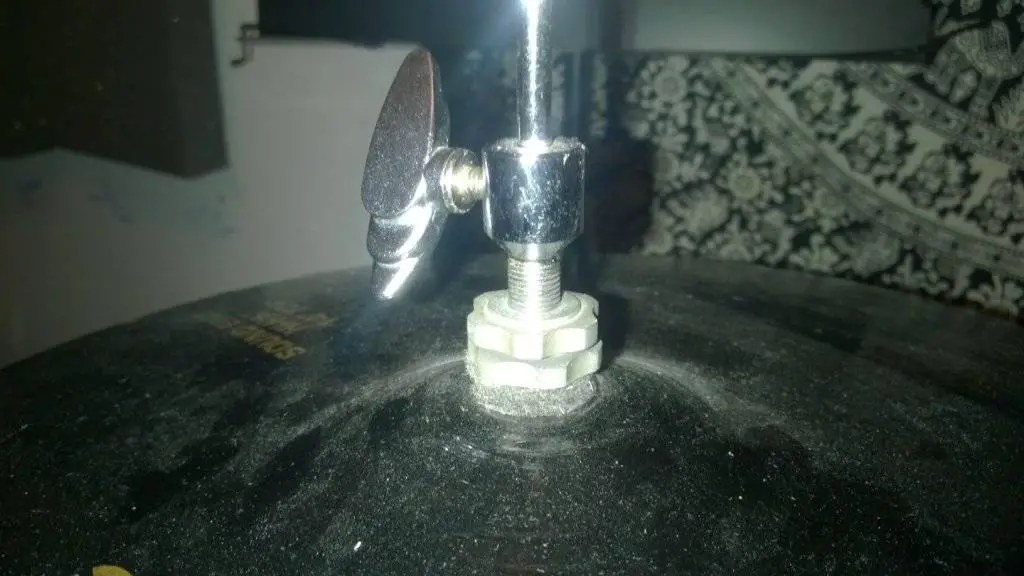 Adjust the height of the hi hats so they are around 8 inches higher than the snare. This is a good starting position to make sure you have plenty of room to manoeuvre. Once you have a good height, tighten the wing nut on the stand back up.
Now push your foot down on the pedal a tiny bit to drop the spoke. Tighten the clutch wing nut and release your foot. This is how you set up open hi hats. Adjust this so that the hi hats stay open by about 1-2 centimetres, or a finger tip.
5. Toms
There are a few different types of toms, but the most common are mounted racks and free standing.
Free standing toms will sit on a snare stand and be positioned next to the kick drum – but higher and angled towards you at a steeper degree. Mounted toms will be placed on a tom holder and rest on top of the kick drum.
Now, the tom holder will have either spokes for the toms to rest on, or holes for a separate tom mount to slot into. Whichever one you have they are very easy to set up:
Slide the tom into the tom mount, then the mount into the holder which rests in the kick drum. Tighten everything up and see if it is comfortable. Naturally, the toms need to be higher than the snare to begin with but angle them to make sure you can't catch the rims.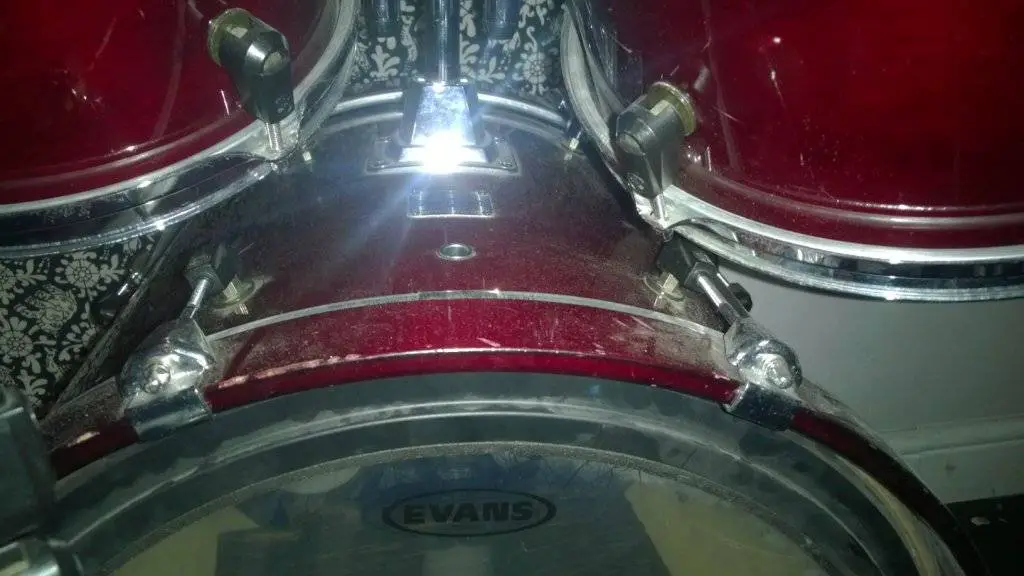 Everything on the tom mount and holder is to hold something else in place, so have a fiddle around with the wing nuts and sliders to see what each one does; this is the best way to learn. Finally, make sure your tom shell does not hit your snare rim, so position the drums accordingly.
Your floor tom may also be one of two types; mounted or legged. A mounted floor tom will simple have a tom mount that sits in a clamp (which may or may not need to be bought) which also clamps to a cymbal stand.
A legged floor tom has three legs, that slot into three leg holders at the bottom of the shell. The feet of the legs should be pointed down from here, so the majority of the shell is above the legs. To adjust the height, simply loosen the legs and lift the floor tom through them (best to do this one leg at a time) and make sure they are all level.
The floor tom should be the same height as your snare. Then to angle the floor tom, drop a single leg until it faces towards or away from you, whichever you prefer. Of course, you can leave it flat, which for the sake of the tone is usually best.
6. Cymbals
Finally, your cymbal setup is important as these can cause the most obvious drummer injuries such as catching fingers and knuckles.
Set up your ride first, this will be the heaviest one. The cymbal stand will have a wing nut, then two felts, then a plastic base. Like the hi hats, the cymbals rest between the felts, bell pointed upwards, and sitting on the plastic base. Tighten it up with the wing nut and position it.
Your ride should start by going either next to your floor tom or in front of it. This is for ease of access to it.  Don't let it overhang your floor tom too much, but don't have it too far away either. Just over the floor tom rim to start with is best.
You want it to be high enough to not catch the floor tom, but low enough that you can rest your arm by your side comfortably without holding it up to reach the top of the ride. Also, you may angle it towards you a little if you wish, or again, have it flat.
Your crashes will be the highest point on the kit. Make sure they are positioned to be at least a full stick height away from the centre of the toms with the stick pointing straight up, but also that you can stretch your arm almost all the way and grab them with your fingers.
Again, you are free to angle them towards you or flat. Angling them away from you is done by some professionals, but when starting out, before you've learned to transfer energy through a strike properly like they have, you can do more damage to the cymbals this way, so try to keep them angled in or flat.
7. Full Kit Test
Now that the kit is set up, have a go!
If anything feels uncomfortable, readjust it. If you catch your sticks on rim, you may need to angle the rims down a little more. If anything moves, tighten it up.
Maintaining your setup is easy, and often enough you don't need to do anything once you've properly tightened all your nuts and wings.
8. Making Your Drum Kit Sound Amazing
Since the ideal setup doesn't equal ideal sound, let me end this article by explaining a quick and easy way to seriously upgrade your drum kit's sound by nothing other than tuning it right.
A nice and easy way to tune your kit is using your drum key and going by position, you don't even need a musically trained ear for this.
Loosen every tension rod on the drum until it wobbles (if it's a bit stiff, just make sure the rod head is no longer on the hoop). Then tighten them all to be finger tight, no more or less. The rod heads should now be on the hoop but not tight.
Next, use the drum key to position the tension rods so the flat head (the bit you're turning) of the drum key is angled flat against the rim. Move to the tension rod directly opposite the one you just tuned, then move clockwise to the next, and across to the next, and so on, in a star shape until you have turned them all.
Now from the first tension rod, tighten 90 degrees at a time moving in the star pattern until you have a tone you want. Tip: if you don't want too much ring, stick three small bunched pieces of duct tape along the top of the skin, and you'll end up with nothing but tone.
Do this for every drum. The top head is the one you will be hitting. The bottom head is known as the resonant head. This gives you the warmth and tone of the shell. To get the maximum dynamic from the shell, do the same for the reso head, but tighten it two turns above your batter head (top head).
Any Questions?
So that's my take on how to set up a drum set as a beginner. Again, this may seem like a dreadfully long process initially, but I can assure you it becomes very easy once you've done it yourself once.
And once you're finished, it's time to become the best drummer you can be.
Also Read: Best Shoes For Drumming
Also Read: Best Kick Drum Mics
So give it a go and let me know if you have any questions. I answer every single one of them!
---
About Tom Warner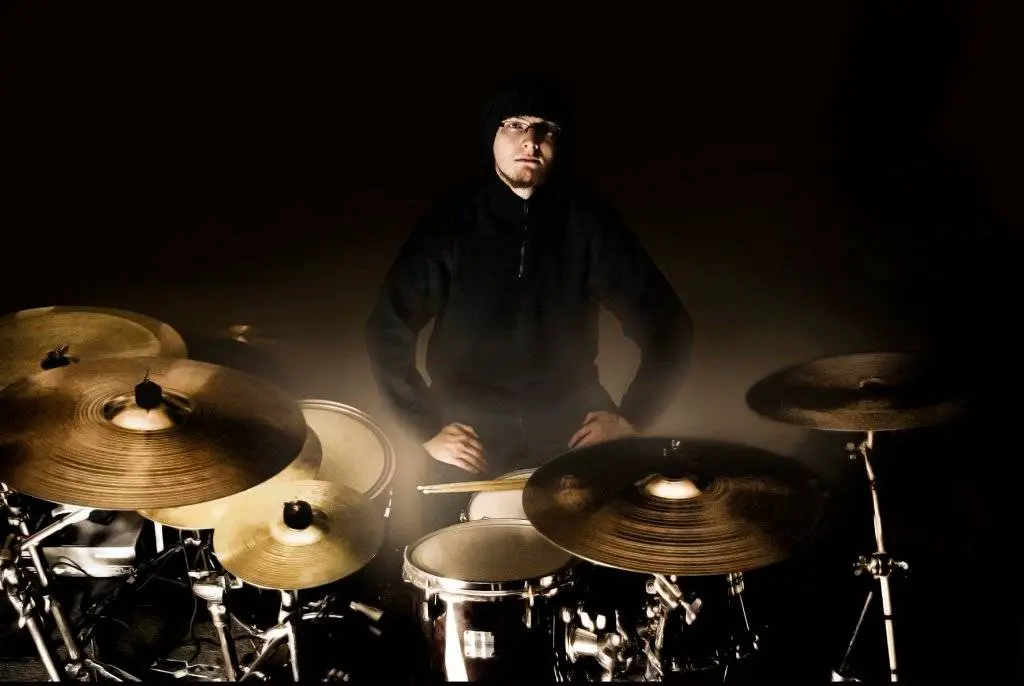 Tom Warner is a drum tutor, working in a studio in Sheffield, South Yorkshire. He is currently studying for a Masters in Creative Practice, analysing the effects of drumming and rhythm on the brain in an attempt to control and develop malfunctioning neurons, and potentially cure neuropsychiatric conditions. The study also involves the regeneration of tissue damage using shock wave therapy generated through drumming. He also delivers high quality drum lessons to students in the surrounding areas.