Updated: August 23rd, 2022
When I first discovered the Zildjian L80 Low Volume Cymbals and the Zildjian Gen16, I thought: nice, now my neighbor never has to come shout at me again because my drumming is driving him mad.
But then I wondered: why are there so few low volume cymbals on the market? Does it mean low volume cymbals are wishful thinking? And will that make both the Zildjian L80 and the Zildjian Gen16 bad?
Well, this review is my answer and it's divided into 2 parts. The first provides an in-depth look at the Zildjian L80 Low Volume Cymbals – the second evaluates the Zildjian Gen16 as another low volume option.
So let's get these cymbals X-rayed…
Zildjian L80 Review at a Glance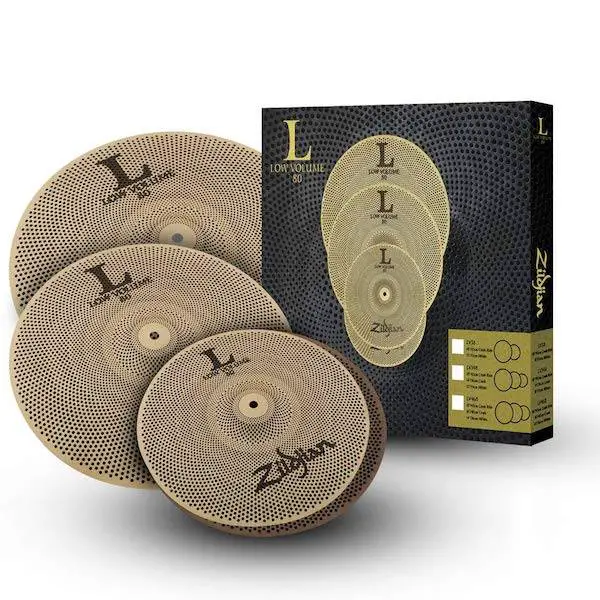 up to 80% quieter than traditional cymbals of the same size
drumsticks rebound and react back at you almost like playing a real cymbal
short sustain is suited to practice and lesson spaces
hi-hat cymbals can be splashed like real hats versus other hi-hat muting options.
special alloy construction isn`t as hard as full volume cymbals and can break after hitting it too aggressively for a long time
How Can Cymbals Be Low Volume?
To produce a cymbal that creates a sound that is substantially quieter than traditional cymbals, Zildjian has used a proprietary metal alloy with a matte finish and then perforated the L80 Low Volume Cymbals with a large amount of strategically placed holes to give them a dull sound and a low tone.
This reduces the volume of the sound beautifully, yet you will still enjoy a feel and response when playing this product that is surprisingly close to playing a real cymbal.
The Zildjian L80's have a sustain as well, that although short, provides a superior response versus the dead tick or ping you get when hitting a rubber pad or a real cymbal muted with fabric for practice use.
What are the Zildjian L80s Good For?
The Zildjian L80 Low Volume Cymbals are perfect for use in a practice space, lesson rooms or even as a potential option for gigs that demand an extremely quiet drummer.
Drum teachers and students can take advantage of the low volume of the L80's to reduce ear fatigue and possible hearing damage and can discuss lesson issues and topics as students are playing in real time. So no more stopping for discussions because of loud cymbals.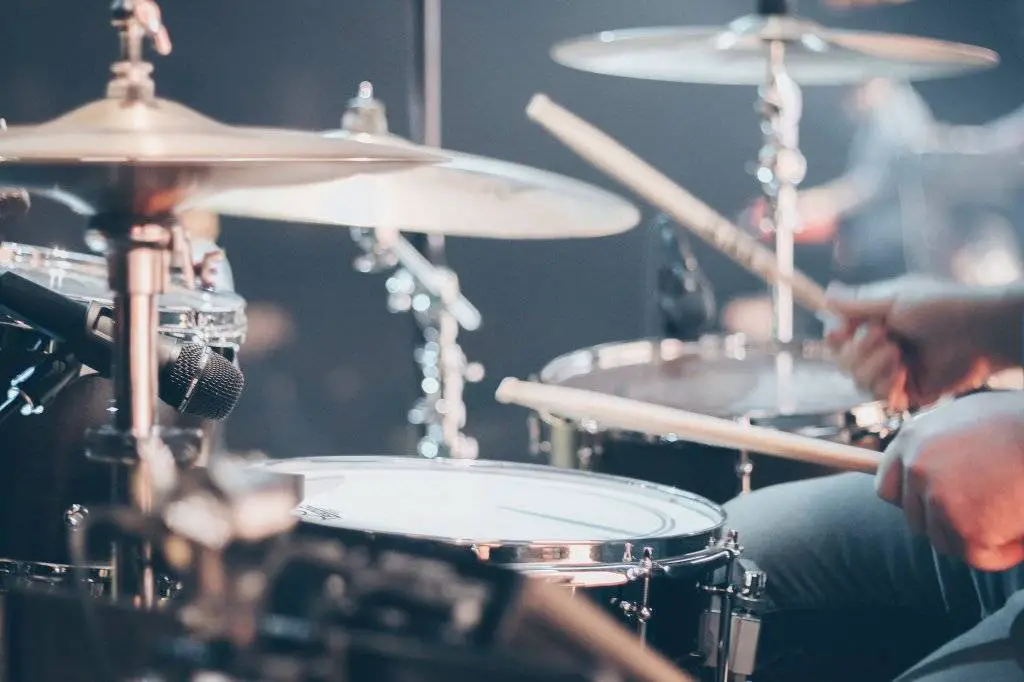 For drummers who need to practice at times that may disturb neighbors and family members, using Zildjian L80 Low Volume cymbals in conjunction with drum pads or mesh heads on a drum kit, can now allow drummers to play the drums whenever they please.
Mastering new concepts, preparing for that last minute gig or even warming up backstage during the last minutes before hitting the stage are all realitier with the Zildjian L80 Low Volume Cymbals.
Cymbal Pack or Buying Individually?
Purchasing the Zildjian L80 Low Volume Cymbals in a pack is by far the best option with respect to your budget, yet Zildjian now offers various cymbals for purchase individually and there are reasons for this.
If the 18″ crash/ride size, that comes in a pack, is a little odd for your fancy, acquiring a 20″ ride separately solves the problem.
If you needed to replace specific cymbals at any time or want to add just one cymbal option to your practice set up, it's convenient to pick up the one replacement cymbal required without buying an entire pack.
Frequent Questions About the L80s
Is there a HiHat in the Zildjian L80 series?
Yes, low volume hi-hat cymbals are available in both 13″ and 14″ sizes.
Can the L80 series be integrated with an electronic kit?
This is possible with some effort, however this product was designed to give you a quiet cymbal option for acoustic playing and practice along with pads or a muted drum kit. Look to the Gen16 cymbals (discussed below) as a more effective option to use with an edrum kit.
Do the L80s come with felts to accomodate placement on a cymbal stand?
No, they do not. Felts will need to be purchased separately.
Zildjian L80 vs Gen16
How they work:
Although Zildjian's L80 Low Volume Cymbals and the more expensive Gen16 Buffed Bronze Cymbals are both similarly riddled with holes and are roughly the same color, they work differently and were designed for different uses.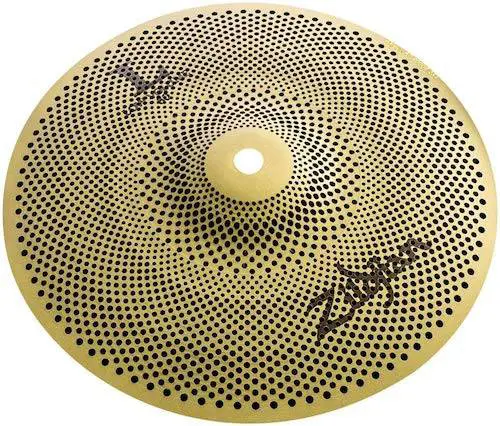 The L80s are designed to provide a cymbal that is up to 80% quieter than a traditional cymbal of the same size and will give the response of a real metal cymbal when played.  This makes the Zildjian L80 perfect for rehearsal and lesson spaces and even in some cases, gigs that require super low volume cymbals.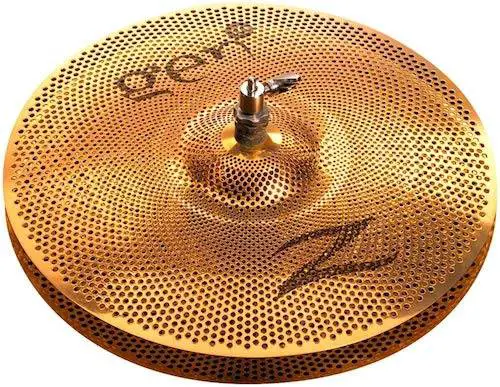 The Gen16 cymbals are louder, look more like a real cymbal despite the holes and are part of an electronic system that includes direct source pickups, pre-amps, wires and a Digital Cymbal Processor (DCP) that can adjust the EQ curve and therefore the sound of each cymbal.
These adjusted cymbal sounds can be saved and used in conjunction with an electronic kit or even blended with an acoustic drum kit.
Zildjian Gen16 Review at a Glance

give the response of a real metal cymbal but with lower volume
have a different bell cup size to give a better bell  sound than L80's
look great on stage due to the buffed bronze
can be integrated with an electronic kit or mixed with an acoustic kit and other real cymbals
cymbal sounds can be modified and saved for use where suitable for the drummer
recording engineers tend to adore Gen16 cymbals due to their flexibilty and adjustability
relatively expensive for an entire set of G16 cymbals
a bit louder than L80 cymbals
L80s: Buy or No Buy?
The L80 Low Volume Cymbals are an extremely effective solution for drum students and teachers who need a quiet cymbal that feels and responds like a real cymbal.
The Zildjian L80 Low Volume hi-hats on their own may be the best quiet practice hi-hat solution yet. Set packs of these cymbals cost less than the cost of most real single cymbals and they are backed by the Zildjian reputation for quality, innovation and service.
All the cymbal sizes respond as close to a real cymbal as could be expected while being played yet they are amazingly quiet.
This product is a winner in every way and I highly recommend them.
Any Questions?
Please let me know in the comments. I responded to each and every one – usually within 24 hours.