Updated: February 9th, 2023
When I started to seriously play the drums I realized I would have to keep track of my daily practice – as well as of my band's current creative musings.
So I was sure I needed a digital recorder, but unfortunately my expertise in terms of audio equipment was below 0. I had no idea what XLR, overdub or 4-channel recording meant.
Thankfully, a friend borrowed me his Tascam DR-40 – and I've used this digital recorder ever since. Also,
I now know what those terms mean and I'll explain them to you in this Tascam DR-40 review.
But surely you don't want to rely on my opinion only. That's why I've done a great deal of research to find out what other people – musicians, journalists and podcasters – think about the Tascam DR-40.
So I'll answer the most common questions people have about the Tascam DR-40and at the same time present you with its strengths and weaknesses.
I'll even be so bold as to show you a recording of myself made on this very digital recorder.
I hope this Tascam DR-40 review can help you make an informed buying decision!
Tascam DR-40 Review At One Glance
What Is A Digital Recorder?
Essentially, a digital recorder is a device which enables you can convert sounds (songs, seeches, interviews) into a computer-readable digital file.
First, the digital recorder picks up sounds through microphones that are built into or attached to it.
Then, the recorder transforms those sounds into a digital file. And this file can then be exported onto your computer – most often through a USB port or Micro SD card.
People use digital recorders to caputer music tracks, for interviewing, podcasting, field recording etc.
So, if you want to preserve music or voice quickly and at good quality, a digital recorder is your weapon of choice.
The Tascam DR-40's Most Important Features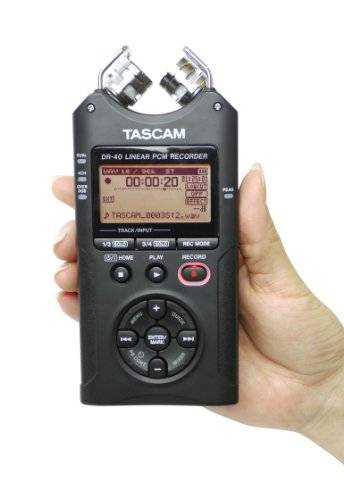 XLR and TRS balanced MIC/LINE inputs ("balanced" essentially means: the sound signal is transmitted without interfering noise)
Switchable microphone position from X-Y to A-B allows you to tailor your recording to the sound of the room (X-Y for a tight and A-B for an ambient sound)
4-track recording using the built-in microphones as well as external ones at the same time. This allows you to capture a safety track to prevent distorted takes
3 AA batteries power it up for about 15 hours of recording
Comes with a 2GB SD card for storing and transfering recordings to your computer
Does it work on external power (AC adapter)?
Theoretically you could use the AC adapter inside this Tascam Accessory Kit to power the DR-40 externally. But you'd have to buy it separately. And I don't think you need to…
…for if you don't want to only rely on the DR-40's batteries, you can use a macro USB cable (like the one used for printers) to charge / power it through a computer or USB-charger.
Does it have a built in speaker?
A built-in speaker is included for checking recording without headphones, but this won't give you a very high sound quality. It's only made for a quick check after all. If you're listening for recording quality, you would have to use ear- / headphones.
What inputs and outputs does it have?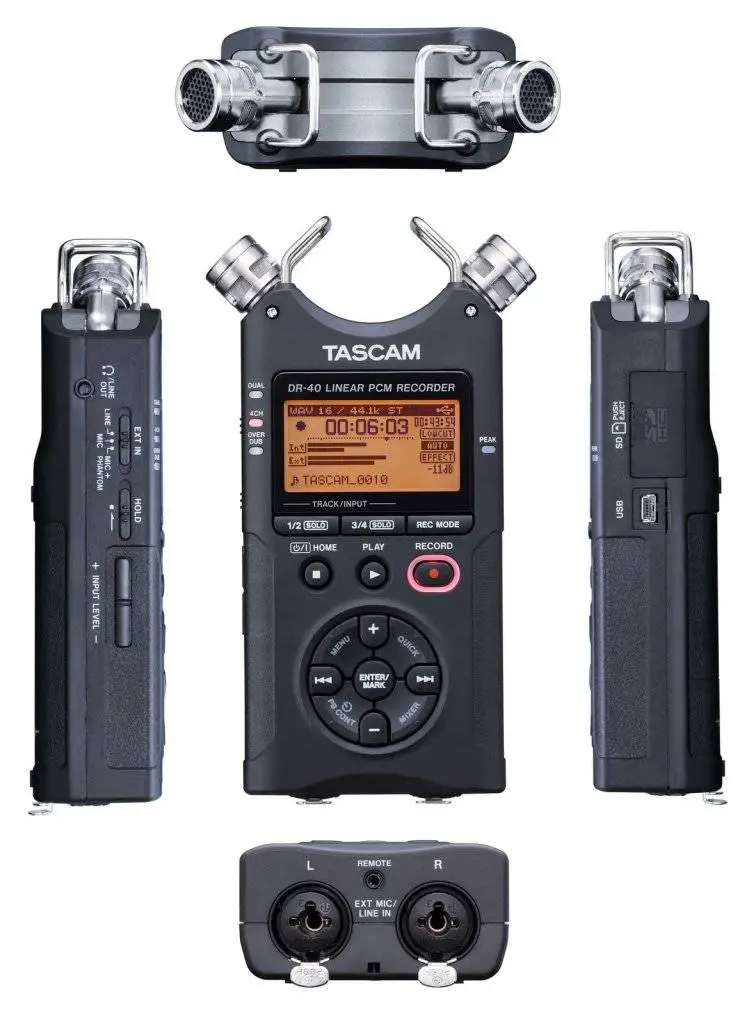 The Tascam DR-40 has 2 XLR inputs for the external microphones you could (but don't have to) use.
In terms of outputs, you'll find a 1/4" jack (like the one on your mobile phone) for listening to recordings on your headphones.
Is it possible to disable the sound from the built in mics and just use external input?
Yes, you can disable the internal mics in 2 of the 5 different recording modes the Tascam DR-40 allows for:
Mono
Stereo
Dual
4-Channel
Overdub
In order to disable the internal mics, you need to be recording in Mono or Stereo.
Dual is the recording mode for concerts or live band sessions while 4-channel recording allows you to record with both the internal and external mics at the same time.
So, 4-channel recording is best suited for situations in which you want to record two or more people at the same time.
How good are the microphones?
I have nothing to complain about the 2 built-in condenser microphones as well as the internal preamps.
I won't go into any technical details here, but rather show you one of the recordings the Tascam DR-40 has produced for me. I recorded my drum set here and then edited the music track over it (best with headphones):
I'm very satisfied with this, given that it only took me about 2 hours to record. But judging is up to you now…
There is really only 1 disadvantage about the Tascam DR-40's microphones. Or actually, about recorders with built-in microphones in general:
They are susceptible to noise, which might be produced by you holding the Tascam DR-40 during recording. This is usually not the case with external condenser mics.
If you don't want to buy an external one, your best bet to cancel out unwanted noise is this tripod. It will hold the recorder during the use and prevent the noise. You'd have to buy it separately though. Or you go for this Tascam DR-40 bundle that also includes batteries, earbuds and input + output cables.
Which purposes can the Tascam DR-40 be used for?
For Bands (live or in the rehearsal room)
As you can hear above: I'm a drummer and I've been using the Tascam DR-40 to my fullest satisfaction for years.
However, many people ask me whether this little recorder is able to handle 2 or more amps and a drum kit in a relatively small rehearsal room or live venue…
And the answer is: for me it always has. And that's because the DR-40 has the dual recording mode mentioned above. In this mode, the DR-40 produces two stereo recordings with one at room volume and the other 6-12 dB lower. So in case something unexpectedly loud comes along, your second recording will still capture your music just fine.
For Singing:
I've found the Tascam DR-40 to produce great recordings of me singing. (Yet, I'm quite the amateur singer, so I don't dare to show you my recordings here.)
To my ears, the internal mics do just fine. Simply set the limiter to automatic, so exceptionally loud notes won't be lost. Then put it about 3 feet away from yourself and start recording. It will do a great job.
However, if you want a more professional result, upload the recording to your computer and edit it to your liking. Or use an external mic this Behringer is a good one and record with studio-like quality.
For Field interviewing / recording:
The Tascam DR-40 is strong when used in environments with a lot of noise (such as convention floors etc.). In general, its microphones do their job much better than those of other recorders in the same price range such as the Zoom H4N.
As for field recordings, I'm told that the Tascam DR-40 is a very good option on a budget. But of course it can't compete with dedicated field recording kits such as the Tascam DR-680MKII which you would use with an external mic and, possibly, a wind shield.
For Podcasting:
I'm no podcaster, but as one such craftsman says on Amazon: "Great for podcasting at home or on the fly! Great sound quality, mobility, and versatility."
And again, if you want to go professional here, the DR-40 won't let you down. Plug in 2 external mics, set it to 4-Channel Mode and you'll be able to record 2 separate audio tracks. Plus: you can then use the internal mics either for recording a backup track or for picking up the ambience of the room. This will make your podcast sound really professional.
Tascam DR-40 Tutorial
Turning the DR-40 On & Recording With It
Press the POWER button
It will show you a welcome message and then it will take you to the home page where you can record audio, change the default microphone settings, view the files you have recorded and delete them.
Insert image showing how it works
how to record with tascam dr-40? [answer this question in general but ALSO answer answer the following, more specific question]
Press the RECORD button once. You will notice that the levels on the screen will start moving.
This doesn't mean you have started recording. It only means the DR-40 is in standby-mode and ready to record.
Press RECORD once more to actually start recording.
Pressing RECORD again will pause your recording.
And guess what pressing RECORD again will do. Resume the recording…
Easy enough, right?
As for mixing & mastering: The Tascam recordings work in virtually any recording software out there. Logic, Garage Band, Audacity (free) and a dozens others – you can use them all.
Resetting the Tascam DR-40
Every file recorded with the DR-40 will be given a number that ascends in value with each recording. This number is put behind a file name of your choice. E.g.: "myawesomerecording0027".
Resetting enables you to set this number back to 0001. In order to do this:
1. POWER up the DR-40
2. In the home menu, use the + or – button to select the option COUNT INIT (for "initialize")
3. Press the ENTER/MARK button to execute. This will bring up a pop message asking: 'Restore Factory Settings. Are you sure?'
4. Press ENTER again to start the reset
How to Overdub With The DR-40
Overdubbing means to record on top of an existing track or piece of music. A common application of this would be a band recording a studio album. In this process, the drums would usually be recorded first – and the guitar, singer etc. would be recorded afterwards and while listening to the drum track. These several dubs put on top of each other would then result in the final "full" recording.
And overdubbing is totally possible with the DR-40:. You just need to:
Push REC mode button and use + and – to set REC MODE to OVERDUB
Underneath it, the screen says DUB MODE. Set this to either MIX (the playback track and the input signals are being mixed together) or SEPARATE (the playback track is being played but not recorded – only the inpur signals are)
Navigate to SOURCE on the REC MODE screen and select either the built-in or external microphones as input source.
Press RECORD to put DR-40 in standby mode
Press RECORD again to start recording
Updating the DR-40's Firmware?
Tascam updates its firmware frequently which allows your DR-40 to stay up to date and to run smoothly.
This video explains how you can easily update your firmware to the current version: [embedyt] https://www.youtube.com/watch?v=3UGaxKPuABU[/embedyt]
You can download the latest firmware.
Alternative Products?
The Tascam DR-40 Version 2
The Tascam DR-40 V2 comes at a much higher price than the DR-40 itself. Yet, the only difference between the 2 seems to be the 4GB SD card – and I think a 2GB card is more than enough to start off with.
Apart from that, the DR-40 Version 2 comes with a newer firmware (since it's from 2015) – but I've shown you how to upgrade that manually above.
So is the price difference justified? I don't think so. To me this seems like an upgrade in price rather than in functionality.
The Tascam DR-44WL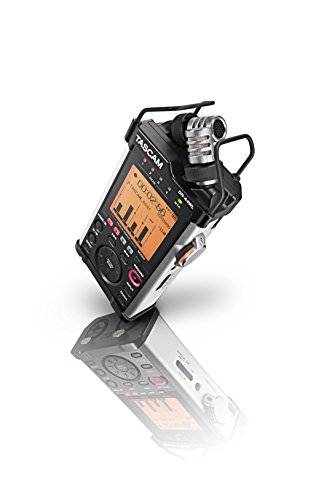 The Tascam DR-44WL comes with WI-FI and a bigger screen. This might or might not be important to you.
But in terms of recording there is one significant difference:
The DR-40 has adjustable mics whose position can be changed from XY to AB (for a "wider" or "cleaner" stereo sound)
The mics of the DR-44WL by contrast cannot be adjusted. But instead, it has a shock handle that avoids any unwanted sound such as wind or you handling the device while recording. The shock handle basically holds the microphones firmly in their places.
Note though: this is a difference in functionality. In terms of recording quality, I couldn't notice a significant difference between the DR-40 and the DR-44WL. So your decision depends on how and where you want to use your recorder…
Tascam DR-40 vs Zoom H4N?
The Zoom H4N is the major competitor of the Tascam DR-40. That's the case because they are so similar. For both have…
…the ability to record four tracks simultaneously
…two XLR inputs for external microphones
…2 internal condenser mics
are almost identical in size and weight (easily portable)
Yet, there are 2 main differences that I think give the Tascam DR-40 the competitive edge:
The DR-40 allows for dual recording (to record a backup track at a user defined lower level dB)
The microphones have this little protective cage so to speak. The mics on the Zoom H4N, so they can easily get damaged when something hits them or you don't protect the recorder while transporting it.
Apart from that, there are a few finer details that the
Longer run time: The DR-40 uses 3 AAs instead of 2 on the Zoom but also seems to use them up less quickly
Faster Card formatting. As one reviewer on Amazon puts it: "when I would put a fresh SD card in the Zoom it would sometimes seem to take forever to format the card. The Tascam would be up in running in no time. This may not seem like a big deal, but if you have a client waiting it will become a big deal fast."
One final thing in defense of the Zoom H4N:
It comes with an AC adapter, while the DR-40 only comes with batteries.
Conclusion
All in all, I can full-heartedly recommend the Tascam DR-40. It has served me well for recordings in all kinds of music settings, styles and decibel levels for years. And my research tells me that other people think so too.
Plus: the same thing goes for journalistic interviewing and podcasting.
So click the image above to check out what other people say on Amazon!
I hope this Tascam DR-40 review was helpful to you! If you've got a question or experience using this device, you're most welcome to leave me a comment below.
And if you should decide to buy the Tascam DR-40, please consider going through the links on this site. This will reward me for the care and effort I put into this review by giving me a small commission. Note that I have no reason to make a product better than I truly found it to be as I've reviewed lots of commission-generating products here at Kickstart Your Drumming. You can also check out my reviewing ethics over here.
Related posts: