Finding the best dum set for your child can be difficult. Even more so if you're not a drummer yourself and have never cared about cymbals, drum heads or shell sizes.
And then there is the difference between the Mendini junior and the Mendini full size drum set.
Which is for whom? And are Mendini drums any good anyway?
Without answering these questions, you might easily end up buying the drum set that doesn't fit you're child.
So we're going to figure them out. Right here in these 2 Mendini drum set reviews (junior and full size set).
Also Read: Best Toddler Drum Sets
In order to do so, you'll need to know what to focus on. This is surprisingly little (only 3 aspects), but without them you can drown in the multitude of features and characteristics a drum set has.
So bear with me, and you'll find the Mendini drum set that really fits your child. (Or I'll point you to other good options.)
Mendini Junior Drum Set (for Kids up to 5ft)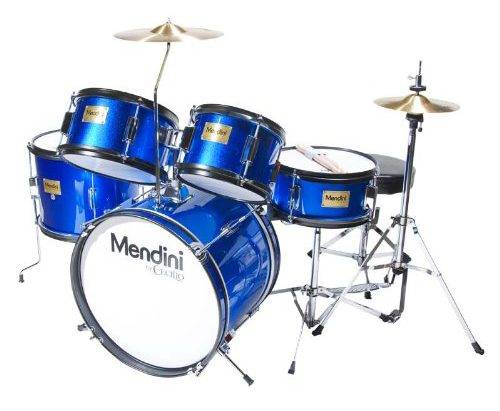 Suited for children between 2½ and 5ft tall, the Mendini junior drum set has one considerable advantage over cheaper junior drum sets like this: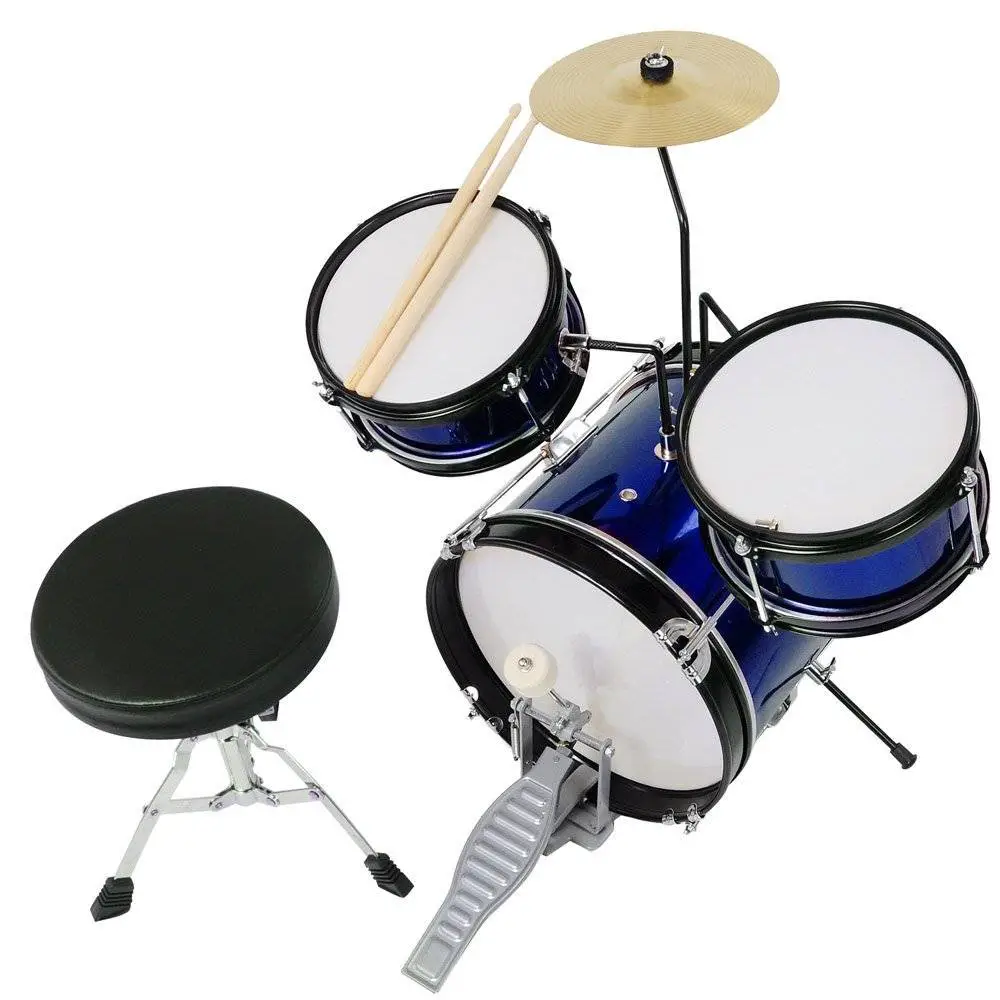 The Mendini junior has almost all the important parts. And they are almost all set up like on an regular adult drum set.
Only the crash cymbal isn't normally mounted on the bass drum but stands behind the floor tom (see regular setup picture above). The good thing is, a crash cymbal is not used very often. So most motions your child learns on this kit will be the ones he/she uses forever.
If you want to have the crash cymbal in the right place from the beginning, see the Ludwig junior drum set.
Another pro: the set comes with everything your child needs to start playing right out of the box. There are the drums, cymbals, a pedal, a stool and a pair of drum sticks.
Sound
Before I comment on the sound, please judge for yourself:
As for the drums: the snare and the toms sounds good – in reality even better than on this video. Only the bass drum (the "thud" he produces with his leg) isn't all too good.
But this is a drummer's judgement. My younger students usually don't care about sound very much. They are more interested in having fun hitting those drums.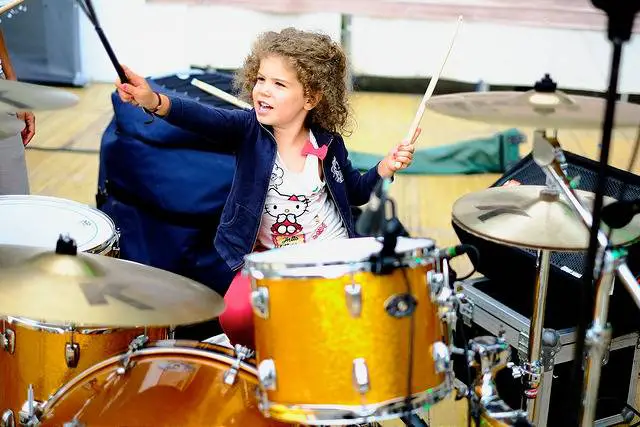 This will likely change at some point. But then you're child might be taller than 5ft already and going for an full-size beginner drum set.
Or you can make the Mendini junior set sound much better by replacing the snare and bass drum head or even by only using some tape, a blanket and tuning.
As for the cymbals: they are pretty crappy. But this too doesn't bother most of my younger students. It certainly seems not to bother this young gentleman:
Mendini Junior Review at a Glance
For the price, the Mendini junior drum set comes as an amazing deal. If your little drummer is between 3 and 5ft tall, this drum set will bring him/her much fun – the most important factor when starting out.
My best kit for little drum beginners! 
Mendini Full Size Drum Set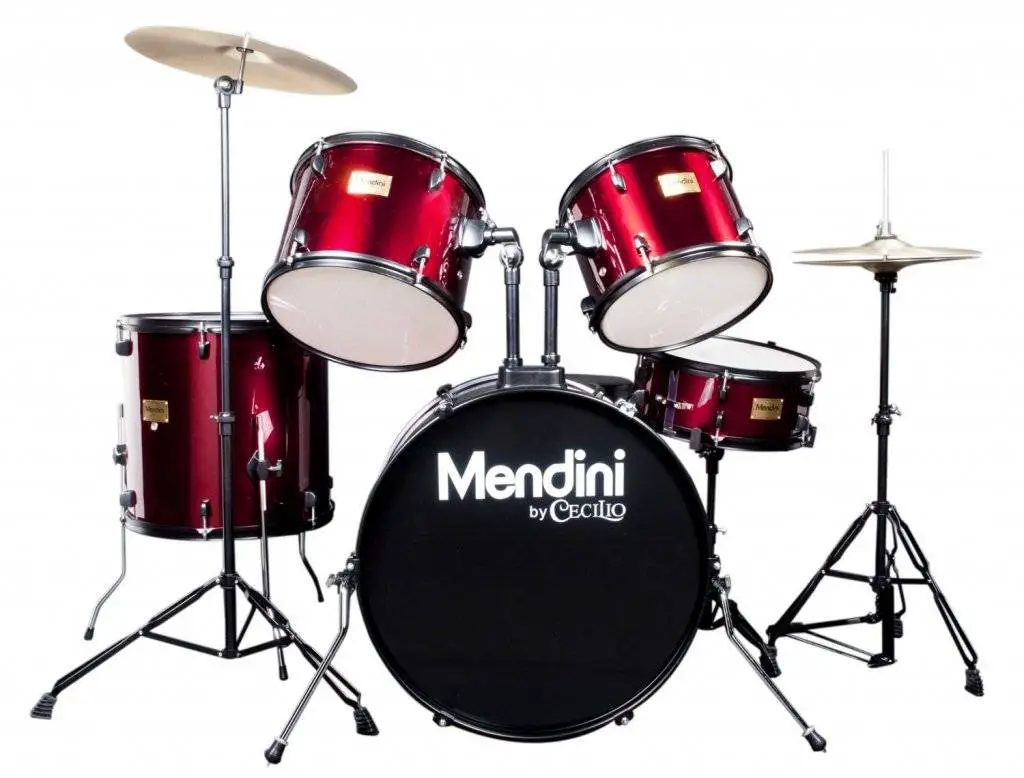 The Mendini full size kit basically is the Mendini junior for drum beginner taller than 5ft.
But it has one major advantage: it's set up the standard way, so your child will build up the right motions in the first place – without any un-and re-learning later on.
Sound
The drums sound pretty good on this one. Or what do you think?
With this set, you don't have to spend money on new heads to make it sound good in the first place.
But you can hear that the cymbals suck. This is normal as even high-end custom drum sets come with trashy cymbals or without any at all.
So it's best to think of the cymbals as Mendini's (low quality) gift in order for your child to start playing right out of the box. And my younger students usually don't care much about sound quality. They are in it for the fun of hitting the drums and learning grooves.
Still, if you're planning on keeping this set for longer than your child's first 2-3 years of drumming, be prepared that he/she might want to get new cymbals around that time.
This will cost you a good few bucks, but any advanced kit your child will ever buy will also come without cymbals. So he/she will need good ones. And they will last for years and years.
Mendini Full Size Review at a Glance
The Mendini full size drum set is a good-sounding and well-designed drum set for drum beginners taller than 5ft.
If your child has had a junior drum set before and is in for a longer drumming career, I recommend you take a look at the Pearl Roadshow in this review.
If this is your child's first drum set, it will be a wish come true for him/her! And with the lowest price on the market, it probably will be for you too.
I fully recommended this drum set for beginners at 5ft or taller!
[P_REVIEW post_id=45 visual='full']
Have you considered the 3 crucial aspects yet?
Good news first: in order to buy a decent drum set for your child, you don't need to be an expert. You don't need to know much about drum sets and nothing about shells, loops and lugs. Instead, I recommend you focus on 3 very important aspects:
Design
Besides being a drummer, I'm also a middle and high school teacher, so I know what motivates kids and what doesn't. And there can be no greater motivation killer than an ugly-looking drum kit. Fortunately, all of my stundents found the Mendini kits very pleasing to look at (they are available in 6 different colors). Still, I'm including this in case you're moving on to look for another drum set. Then remember: ask your child's opinion first![spacer height="15px"]
Setup of the drum kit
Unless you're already familiar with possible setups of drum kits (which are limitless), I recommend your child starts out with the standard setup: a drum set consisting of five drums (a "five-piece drum kit"). More drums will give you a wider range of sounds, but having five will enable your child to play 99.9% of the songs on the radio. And this is why I don't recommend this Mendini set:

The Mendini MJDS-3 – not recommended

As you can see, this is very different from a standard acoustic kit with a regular setup:So if your child were to learn on the Mendini junior set, it would be a real hassle to unlearn most motion routines when changing to a more advanced kit later on. Muscle memory, once built, is made to last. Try brushing your teeth with your weak hand tonight and you'll know what I mean.

Size – not age – of your child
"What drum set is right for my 10 year old son / daughter?" Many of my students' parents ask me this question. And I say: "It depends on his/her size".  After all, the only thing that matters is that your child can reach all the drums / cymbals / pedals without stretching or straining. If your little drummer is between 3 and 5ft tall, just read on about the Mendini junior drum set. If he/she is taller than 5ft or quickly approaching that mark, better jump to my Mendini full size kit review below.
As you can see, sound ist not crucial, and if you've read the above reviews, you know why.
With that you're all set to make your first drum set purchase!
Did my Mendini drum set reviews leave a question unaddressed? Do you have a story or experience to share? Let me know in the comments. I reply 100% of the time.
PS
If these Mendini drum set reviews were helpful to you, and if you decide to purchase a Mendini kit, please consider going through the links / buttons on this page. This way I'd receive a commission on your purchase at absolutely no extra cost to you. And it would make you even more awesome than you already are!
Please note that I put a lot of care and effort into these Mendini drum set reviews and that I have no incentive to portray products any better than they are. Because I reviewed lots of products and I receive a commission no matter on which in particular. For more on my reviewing ethics, check out my affiliate disclosure.