Updated: August 17th, 2022
You might own the best electronic drum kit, yet it worths nothing if you don't use the best electronic drum amp.
You may get the perfect sound when listening to your drumming using your headphones, but this is not the case to whoever is listening to you, say an audience in a gig venue or your band members.
Best of the Best
Best of the Best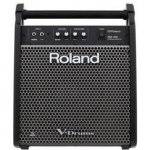 Roland PM-100V
The Roland PM-100V is our top pick because it comes equipped with 80 watts of power which allows you to have good sound quality and serious volume--loud enough for gigs.
FEATURES
Very sturdy and durable

Two stereo inputs (1/4" and 1/8")

80 Watts
But as I've found to be the problem with many different pieces of musical equipment: amplifiers don't come cheap. And I guess the last thing you want is to spend your hard-earned cash on a subpar product. Also, electronic drum amplifiers offer the additional challenge of needing to be able to capture and amplify a wide range of sounds, from the low-pitched kick pad to the high-frequency cymbal pads and snare.
So to make life easier for you, I've reviewed what I think are the best electronic drum amps money can buy. I've based my reviews on sound quality, special features of each amplifier, the physical robustness of this equipment, and given an indication of their price as well.
Hopefully, these reviews will help you in buying the right amplifier to bring the best out of your electronic drum set.
The Best Electronic Drum Amps
1. Behringer Ultratone KT108 20WE
Behringer Ultratone KT108 20WE
This drum amp features 2 channels with separate volume control so you can easily input two different instruments to play simultaneously.
PROS
Inexpensive
Two different channels
Headphone jack and CD Input
CONS
Not powerful enough for a large venue
Sound Quality: The Behringer Ultratone KT108 showcases 20 watts of clear, high-quality sound. This speaker is perfect for small, intimate performances, the studio, or practicing at home.
The dual-cone speaker allows for wide frequency response for a nice crisp sound and the VTC mimics tube sound, a warm, vintage sound that I simply adore. It's also perfect for the large variety of sounds your electronic drum kit can create.
Features: This amp features 2 channels with separate volume control so you can easily input two different instruments to play simultaneously. A 3-band equalizer then allows seamless manipulation of the sound, depending on your venue.
The KT108 also has a headphone jack, so you can play at home without disturbing your family or neighbors and with a little bit of privacy.
This amp also has a CD input that allows you to play along to music or substitute in a missing instrument for practice.
Physical Specs & Durability: This little amp is as ready as you are to hit the road. The cabinet itself is made out of wood and all the electric parts of your new amp are protected in a metal enclosure. It's also easy to transport, weighing in at just over 10 lb.
Price: $
2. Roland PM-200
This drum amp, explicitly designed to reproduce sound from V-Drums sound, is equipped with 180 watts of power, a custom 12-inch speaker, and a horn tweeter.
PROS
High and quality sound

2-band equalizer for sound control
CONS
Heavy

Not budget-friendly
Sound Quality: The Roland PM-200 is the perfect match if you are using V-Drums. Its custom 12-inch speaker projects rich and full-range sound. Since it is equipped with 180 watts of power, the volume produced by the amplifier is loud enough for live gigs in large venues. But there are also independent volume controls which help you control the volume when playing at home.
The front face has an angled design for ideal sound coverage while seated on the V-Drums. This drum amplifier also comes with a 2-band equalizer for sound control and has a powerful effect in terms of volume. If you are looking for a drum monitor to keep up with your loud guitar amplifier while on stage, this is a perfect choice.
Features: The PM-200 is a sound monitor fine-tuned for Roland's V-drums. Two XRL direct outputs are used to send sounds to a mixer or recording device. Due to this feature, you can use the amplifier while on stage, during rehearsals, and for studio application.
The amplifier is designed in a way that guarantees maximum performance when in use. There is also a bar handle which can be used for floor adjustments and to carry it around.
Physical Specs and Durability: Weighing 46 pounds, PM-200 might produce high-quality sound, but is it quite heavy. However, it comes with a full-width bar handle, which helps with transportation between vehicles and on stage.
Price:$$
3. KAT Percussion 200 Watt Amplifier
The KAT Percussion is a drum amp designed to amplify sound from electronic drums boasting 200 watts of power.
PROS
High-quality sound

Sturdily built for more durability

Multiple inputs and output options for adding your music

There are inputs for other instruments or sound sources
CONS
One of the heaviest amplifiers
Sound Quality: KAT percussion emits 200 watts of power, making the sound loud enough and a perfect choice for gigs by professional drummers. It is considered one of the best amplifiers for use on-stage due to its high-quality and loud sound.
The excellent sound emitted from this amplifier can be balanced and shaped to a drummer's preference, thanks to its 3-band equalizer and "attack control."
Features: Specially designed for electronic drums, the amplifier boasts 200 watts of sound. It also features a 12-inch woofer and a 1" x 1" compression driver for crisp high-end sound. While playing, if you feel that the music is too loud or too low, you can use the 3-band equalizer to shape the sound the exact way you want it. 
One cool feature about this amplifier is that there are three 0.25-inch inputs where you can connect other instruments like headphones while playing. It would be helpful if you are playing in an area where much noise is not needed. 
The amplifier comes with multiple inputs and out options, which helps you in adding your music. Also, there is an XLR Line Out with separate volume control that can be used for mixing or recording. 
Physical Specs and Durability: The amplifier weighing 44.25 pounds is very heavy to carry around. A large carry handle comes with the amp to make it easier to transport.
When it comes to durability, KAT KA2 is the best. The design materials are sturdy enough that the amplifier can last for several years. 
4. ddrum DDA50 Electronic Percussion Amplifier
ddrum DDA50 Electronic Percussion Amplifier
The ddrum DDA50 Electronic Percussion Amplifier boasts a 3-band equalizer, allowing you to manipulate sound and create the perfect harmony between instruments.
PROS
Capable of amplifying both high-pitched and low-frequency sounds
Headphone jack and AUX input capabilities
Solid sounds, high volume capabilities
CONS
Expensive (but serious quality inside)
This thing is heavy (33 lb.)
Sound Quality: The ddrum DDA50 Electronic Percussion Amplifier is an awesome system for practicing at home or performing in a small venue environment. With 50 watts of power, this amp also features a high-frequency tweeter to accommodate high-pitched sounds with more clarity.
The ddrum DDA50 also has a heavy-duty woofer, which allows this loudspeaker to produce deep, low-frequency sounds. Coupled with the tweeter, this gives the DA50 a huge range of sound capabilities, ideal for your electric drum kit.
Features: The ddrum DDA50 boasts a 3-band equalizer, allowing you to manipulate sound and create the perfect harmony between instruments.
This amplifier features a headphone jack, which allows you to practice in private and also to practice without bothering those around you.
And the ddrum drum set monitor also has AUX input capabilities and will allow you to plug in an mp3 player or stereo so that you can play along to your favorite music.
Physical Specs & Durability: A metal grill protects the front of the ddrum DDA50 from damage. This is good but also means that this amplifier is quite heavy. In fact, it is the heaviest on my list (33 lb.) and therefore the most challenging to move around.
Price: $$$$
5. Alesis Strike Amp 12 Amplifier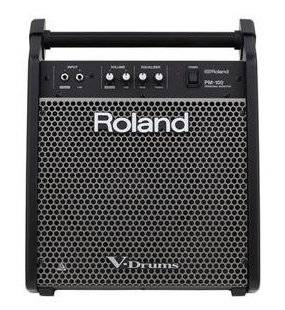 Alesis strike, boasting 2000 watts of room-shaking power, will always play loud and clear in any space and situation – whether you are performing, recording, or rehearsing.
.
PROS
High-sound quality

Easy to set up

Sound can be customized

Highly responsive
CONS
Sound controls are at the back of the amplifier
Sound Quality: Featuring a 12-inch woofer and high-frequency compression driver, Alesis Strike delivers the full sound produced without any artificial coloration. 
Aside from that, it is also very responsive when you are playing at low volumes, as well as more than enough power to shake the wall without distortion when the volume is up a bit. This effect is achievable using the on-board Contour equalizer control.
In addition to that, the amplifier comes with a Ground-Lift switch that helps take out unwanted noise so you can be confident that the sound you hear while playing is a pure recreation of your unique tone. 
Features: One nice feature about the Alesis Strike amplifier is that it can fit anywhere. It is also straightforward to set up, thanks to the lightweight and flexible tilt-back cabinet design that allows it to be pole-mounted. While playing, you can either decide to use it vertically or tilt it back horizontally like a stage monitor.
The amplifier has an XLR out that you can use to link another strike amplifier or send your recording to another input device.
Physical Specs and Durability: Weighing 34.8 pounds, the Alesis Strike has a refined appearance, lightweight but rugged construction. These properties make it durable and easy to transport around.
***Best Bang for your Buck – Peavey KB 2 50-Watt 1×10 Keyboard Amp (same 20w as the Behringer that is replaced)
What kind of amp do I need for electronic drums?
People usually turn to amplifiers when they need to make their sounds louder, but that should not be the only reason. The frequency range is another important factor, hence the need to consider the features of various models before making a purchase.
In a bid to save money, most people turn to guitar amps, which are not ideal for use with electronic drums because of its few features. You need to consider the size of your audience and the quality of sound that you seek to produce. Specialized drum amps are your best bet, as well as keyboard amps with multiple channels that are capable of handling a wide range of frequencies.
Top Notch Electronic Drum Amp
And the best overall drum amp is …
The Roland PM-100V and the Powerwerks PW50. But before you kill me, hold on a second. I'm not trying to confuse you but mean to say that those 2 options are best for 2 different purposes.
For if you're looking to play your electronic drum kit in your practice room and by yourself (or along to music) – I recommend the Powerwerks PW50 because of it's superior sound quality and affordability.
By contrast, if you want to amplify your e-drums in your band's rehearsal room or at gigs in small venues, the Powerwerks won't have enough volume in my opinion. In that case, I'd go with the Roland PM-100V. Sure, it costs more but nobody said making music was cheap. And I'm sure it will impress your audience.
Best Bang for Your Buck
Want to test the waters with drum amps and spend as little as possible for decent quality?
Then I think you should start with the Behringer Ultratone KT108. It lacks nothing in terms of sound quality compared to the 2 more expensive options above.
The only difference is that the Ultratone features 20 Watts instead of 50 / 80 as the Powerwerks / Roland. So you won't be able to push up the volume as much. But it will sure be enough for your practice room. It might even suffice to drive your neighbors mad.
Also Read: Best Drum Triggers
Your Queries?
Have you tried one of my best electronic drum amps? Let me know what your experience was and if you agree with my final assessment in the comments below!
I'm also happy to answer any questions or queries you may have about drum set amps! I usually reply within one business day!