Updated: June 7th, 2021
Many people have asked me what is the best drum machine in my opinion. I've waited long to give an answer, as this is not a simple question due to the fact that some might say that drum machines stand in direct competition with a human drummer.
But I don't think so. Drum machines are great tools for DJs, producers, and drummers alike and they aren't there to replace no one. Rather, they invite you to create gripping beats and grooves even without becoming a drummer first.
The good news are: drum machines have come a long way in the music industry since their early days in the '80s.
Today, there is a wide range of feature-packed modern drum machines available to suit every ability and budget. And I'll give you my personal best selection from across the whole spectrum…
Best Drum Machines: An Overview
IMAGE
PRODUCT
 

Small size, but high performance
Redesigned thick fat backlit pads

VIEW LATEST PRICE →

Best for Live Performance

Realistic drum sounds
For both composing songs and live performances

VIEW LATEST PRICE →

Built-in speaker
Compact size

VIEW LATEST PRICE →

Wonderful battery life
Price is great for even the beginners

VIEW LATEST PRICE →

Versatile
Comes with unique analog reverse cymbal

VIEW LATEST PRICE →

Hardware and software integration is seamless
Delivers high quality audio

VIEW LATEST PRICE →

Great variety of sounds and good quality audio
Attractive and logical design

VIEW LATEST PRICE →
WHY YOU SHOULD BUY
Korg Volca Beats Analog Rhythm Machine
If you're looking for a wide variety of pro features, the Korg is the drum machine for you.
PROS
Can be played anywhere with built-in speaker
Includes optional battery power for mobility
CONS
Not a full-featured sampler
Only good for certain types of music
Size: The Korg Volca is known for its small size, weighing around 2 pounds and 10.3" x 6" x 2.8". It's a medium-sized drum machine that provides all the hints and tricks of a larger one. Although small, the Korg Volca provides a large range of functionality with minimal parameters, makes use of true analog sounds, inspired by an old-school rhythm machine, and is even equipped with a built-in speaker.
Performance: Korg is a trusted name in drum machines. They make high-quality and high-performing machines that have been used by both professionals and amateurs for decades. This particular analog rhythm machine delivers unforgettable classic sounds with six analog and four PCM-based drum parts. PCM means Pulse Code Modulation, which is a form of digitalized and uncompressed sound that provides better quality audio. It allows for instant editing via an intuitive user interface so you can easily cut, mix, and slice loops to create awesome beats. To make things even easier, each of the six analog parts has its own knob for easy editing, and the four PCM parts provide speed control for changes in the pitch.
Features: If you're looking for a wide variety of pro features, the Korg is the drum machine for you. This KorgVolca has a 16-step sequencer, which means that it can store sequences of musical sounds up to a maximum of 16 beats and is inspired by an Electribe, a vintage collection of synthesizers, rhythm machines, and drum machines created by Korg. This drum machine also features eight memory patches to store your settable parameters and a stutter for a glitch or delay-like effects. If you're interested in production, it even comes with a MIDI In for note entry and external sync and control from your DAW. The best part about the KorgVolca is that you can play it anywhere thanks to its high performing, built-in speaker, and optional battery power features.
2. Alesis SR16 Stereo Electronic Drum Machine
Alesis SR16 Stereo Electronic Drum Machine
The Alesis features an exclusive Dynamic Articulation feature that allows a drum sound to change its tonal when you play it harder for the ultimate in realistic performances.
PROS
Realistic drum sounds
Perfect for both composing songs and live performances
CONS
Can't be run on battery
No 3/4 time preset
Size: This Alesis Stereo Electronic Drum Machine is another small machine that is more powerful than its simple design lets on. It comes equipped with 4 audio outputs, 12 pads, and requires AC voltage for power. In terms of dimensions, the Alesis is sized 9.25" x 1.5" x 6.5" and weighs around 2.5 pounds. It's not great for portable use since you can't run it on batteries and it's a little on the heavy side.
Performance: Whether you're looking for a machine to help you write songs or accompany you on live performances, this drum machine can do it all. The Alesis likes to call itself the best drum machine ever made and with good reason. It has often been used by songwriters, live performers, and remix engineers as their preferred drum machine. With its 233 realistic and natural drum sounds and an awesome digital reverb, this is an incredibly versatile drum machine that allows you to customize your patterns and songs. It's great for professionals and amateurs alike.
Features: The Alesis features an exclusive Dynamic Articulation feature that allows a drum sound to change its tonal when you play it harder for the ultimate in realistic performances. It also features 50 preset patterns that were recorded by top studio drummers, not just programmed in a computer. With its 12 velocity-sensitive pads, 8 loudness levels, soundtracking, step editing, stereo samples with reverb and ambiance, you will be making professional-sounding songs in no time.
WHY YOU SHOULD BUY
Dave Smith Instruments Tempest
If you're looking for a wide variety of pro features, then this is the drum machine for you.
PROS
Sensitive and expressive pads

Great for editing drum sounds

A bank of included samples

Used for recording a beat in real-time
CONS
New samples cannot be loaded into it.

Expensive

Not a beginner drum machine
Size: The Tempest drum machine is one of the best you may ever use in music production. It is a high-quality analog instrument with original Linn Drum and 9000 Linn drum sounds. It has 16 pressure-sensitive pads and helps musicians create beats beyond what they can imagine. Its dimensions are 20.5 x 13.5 x 7.1 inches, and it weighs about 9 pounds.
Performance: More than just a sequencer, the Tempest doubles as a synthesizer and grants you access to six synth voices. The percussion sounds one can produce with it are fantastic, and on the plus side, the pads are very responsive. This model can combine analog and digital drum sounds more than most drum hardware. You learn to create, embellish, and edit practically any drum sound you can think of with this instrument.
Features: The Tempest features six analog voices with two analog and two digital voice oscillators. It has five envelope sections per voice, 2 LFOs, a high pass filter, and 16 lit pads that play 32 drum sounds through 2 banks. The pads are arranged in a 2 x 8 grid that grants more access to your hands for step and real-time programming. Tempest also features stereo mix and phone outputs, a USB, and a MIDI in/out.
4. Teenage Engineering PO-12 Rhythm Drum Machine
Teenage Engineering PO-12 Rhythm Drum Machine
This works great with the tabletop synth rigs because of it being loaded with 16 sampled and synthesized drum sounds.
PROS
Wonderful battery life that allows a long standby time
Price is great for even the beginners
Integrated folding stand
CONS
Without the headsets, it doesn't have a good volume
Size: If you're looking for a big performance in a small package, I would recommend the Teenage Engineering PO-12 Rhythm Drum Machine. This mini machine packs more punch than it would appear to, and the size makes it easy to store, transport, and even keep with you so you have it in a pinch without ever compromising on sound quality.
Performance: Teenage is a small machine power-packed with solid sounds, killer effects, and intuitive sequencing. This machine has 16 tweakable drum sounds with a 16-step sequencer that is perfect for creating beats and melodies as well as 16 effects that can be used to alter the sound of the audio source. It produces high-quality sound emitted from a Knowles speaker, uses real synthesized drum sounds, and has so created a buzz among music enthusiasts as they can use it whenever the need for premium sound arises. AAA batteries power this device and it is so power-efficient that a single pair can indeed last for years. The machine also auto-powers off after not being used for 5 minutes.
Features: If you are here to find the best drum machine, Teenage is a perfect device. It works great with the tabletop synth rigs because of it being loaded with 16 sampled and synthesized drum sounds. Each of the sounds is further equipped with 2 real-time parameters that match the physical attributes in naturally occurring sound and so, allows Teenage to create realistic sound. The effects library features 16 different effects to alter your drum sounds and allows you to create more varied music. Paired with the 16-step sequencer and 16 patterns this machine will make it simple for you to create entire songs
Novation Circuit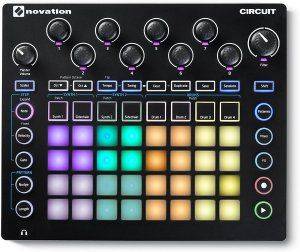 PROS
2 Nova synthesizers with six-note polyphonic per synth and 4-part drum machine

32 RGB backlit velocity sensitive button grid with 28 RGB backlit function buttons

Battery-powered or through a mains supply

3-year limited warranty

The sequencer has several demo sessions available

Real-time drum record
CONS
Speaker is not loud enough
Size: This is a compact, portable, and battery-powered instrument you can use to create tracks from start to end without needing a computer or a speaker. It has two digital synth engines, measures a 24cm width x 20cm depth x 3.5cm height, and weighs 2.09pounds.
Performance: The Novation Circuit is an easy way to learn and use drum machines. More than a drum machine, Circuit grants users a way to create their samples and play. Without a menu, you do not even need to be an expert to operate it. You get to experiment your way into becoming the expert. It has fun to use an interface that makes it suitable for a beginner. The four-part sampler creates up to eight patterns per part, making 32 patterns that can be played with and mixed to form unending tracks. Circuit offers a broad range of sounds and rhythms varying from deep basslines to warm pads. After programming, the Circuit can be connected to your computer or other synths so you can transfer your inventions. Still, you can save up to 32 sessions without moving them.
Features: As a standalone autonomous drum machine, Novation Circuit features an integrated speaker, a four-part sampler, and two six-voice polyphonic synths. There is a jack socket and a USB to connect to your MAC or Microsoft. Also, there is a built-in synthesizer, and a front-mounted jack socket connects to headphones. In the event of no power, Circuit has a battery compartment, and the six AA batteries are included on purchase. The instrument can also work as a USB-MIDI controller. It is equipped with 32 backlit drum pads, 64 synth patches, 64 drum patches, and several controls.
6. Roland Aira TR-8 Rhythm Performer
Roland Aira TR-8 Rhythm Performer
The Roland Aira is one-of-a-kind and features 16 kits that are made up of 11 different instrument types.
PROS
Attractive and logical design
Great variety of sounds and good quality audio
CONS
Sounds are right but they don't have the separate outputs for processing
Size: Roland Aira is a great performance drum machine that weighs 6.8 pounds with the dimensions 4.3" x 13.3" x 21.7". Easy to store and transport between venues.
Performance: As the name suggests, this machine can give a new edge to your love for rhythm. The kick drum sounds play nicely and this machine offers a sound that rivals even more costly drum machines. This machine delivers big on sound quality and is a great tool for live performances. Besides the small size, the build is solid and durable, which makes it easy for you to carry this drum machine along anywhere. This drum machine is also easy to program, update and its design is logical, with color-coded knobs and buttons, seamless programming as well as everything intuitively feeling like it is in the right place.
Features: The Roland Aira is one-of-a-kind and features 16 kits that are made up of 11 different instrument types. It also includes custom dream kits that make use of vintage TR 808 and 909 sounds, which are two vintage Roland rhythm machines, for more versatility. For incredible sound, use the continuous fine and shuffle adjustment knobs that exist to produce custom audio. Dedicated knobs also control the intensity and volume of this machine. This Roland device will also help you remember your youth as it produces great sound for electronic and techno beats.
Best of the Best
In my opinion, the Alesis Stereo Electronic Drum Machine is the best drum machine for live performances. This machine is versatile, portable and a great tool to use during your live performances. As this drum machine produces classic, realistic sound and provides high-quality audio regardless of venue size, many singers, celebrities, and songwriters have used this machine. This piece of hardware also allows you to unleash your creativity and create your own patterns and songs using the 233 realistic and natural drum sounds. The digital reverb of this great machine makes it an all-rounder in terms of performance and will allow you to produce fantastic sound in large or small venues.
Best Bang for Your Buck
In my opinion, the Teenage Engineering PO-12 is the best drum machine for beginners. It is a small machine that is user-friendly for someone who is just learning to navigate a drum machine and also produces high-quality sound. A beginner can easily try his hand on this machine because of the budget-friendly price while enjoying a variety of great features. It also doesn't sacrifice performance for the price and can fulfill a music lover's needs with premium quality sound. In addition, the battery standby time is long-lasting, allowing a beginner to practice for hours
Additional Picks:
Alesis SR-18 Studio-Grade Standalone Drum Machine
With 500 professional sounds and built-in digital effects, the Alesis SR-18 drum machine offers many desirable functions for a combination of realism and power. Used by remix engineers, liver performers, and songwriters, it comes with your choice of 100 or 200 patterns. Pattern play modes can be triggered directly from the pads and are fully programmable. Use the ¼" input to plug in an instrument and play along with your chosen beats.
Key Features:
Produce music anywhere; choose from battery power or use the wall adapter
Dynamic articulation technology modifies the built-in sounds so they change while you play
Built-in Alesis effects engine with EQ, reverb, and compression Akai Professional MPK Mini MKII
The Akai Professional MPK Mini MKII offers affordable pricing and easy-to-operate features that are ideal for beginning and intermediate users. Backlighting makes for accurate use in dim environments and the USB-powered compact design lets you create rhythms anywhere.
Key Features:
USB MIDI controller with 25 velocity-sensitive synth-action keys; provides a full melodic pitch range
8 assignable Q Link knobs for reliable mixing and more
Full 64-bit software production package for Mac/PC included
Akai Professional XR20
While the Akai Professional XR20 drum machine is a favorite for producing hip hop and dance tracks, it's well-suited to any genre. Hundreds of fully modifiable sounds let you make the music of your choice. An integrated effects engine puts you in control, and a mic input lets you mix vocals into your tracks with ease.
Key Features:
More than 700 sounds, all produced by Chronic Music
99 presets and 99 user patterns
Headphone output; microphone input
Arturia MiniLab MkII 25 Slim-Key Controller
The Arturia Minilab MKII offers compact, portable sizing for easy creation anywhere. With 500 V-collection 8 presets plus 21 keyboard instruments and synthesizers, it's designed for easy operation – even for raw beginners who are looking for a solution they can use right out of the box.
Key Features:
Multiple software packs included
RGB backlit velocity and pressure sensitive pads
16 rotary encoders and 2 capacitive touch sensors for modulation / pitch bend
BeatBuddy
If you're looking for a drum machine that sounds human while offering easy operation, then take a look at the BeatBuddy. This intuitive drum machine is pedal-operated so musicians can easily add beats hands-free during performances and recording sessions. An online library lets you download up to 3 million songs and create your own beats using the free software.
Key Features:
Live, hands-free control
Realistic studio-grade 24-bit sound; award-winning performance
10 drum sets with 24 genres and 220+ styles; add up to 300 drum sets
Beat Buddy MINI 2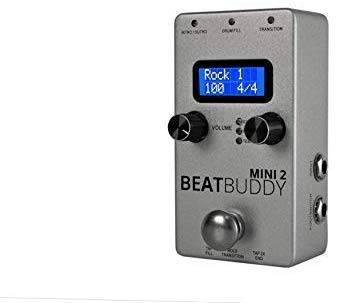 Designed to create a live drummer effect, the Beat Buddy MINI 2 gives instrumentalists hands-free control of the beat via an ergonomic footswitch. Several pre-programmed songs and effects are included. Additionally, this drum machine is compatible with any sound system – even headphones.
Key Features:
No programming needed
9 drum sets, 200 styles, 24 genres, and all time signatures included
High-quality sound; beats are created using recordings of professional drummers
Elektron Analog Rytm MKII
The Analog Rytm MKII is an improvement from a previous Analog Rytm by Elektron. It is a hybrid combination that has eight drum voices with two envelope sections and an LFO per voice. The Rytm MKII features Delay, Reverb counts, Analog Distortion, and an analog compressor. To store its audio samples, the MKII has a capacity of 1 GB. When your storage is full, you can make use of the Elektron Transfer software to exchange samples to and fro a computer. All in all, the 12 backlit large pads on the MKII will enable you to play and have fun.
Key Features:
Audio can be sent with the DAW software.

The sequencer has 64 steps.

Eight voices, each with an analog filter, overdrive, and envelopes
IK Multimediea UNO Drum Portable Analog / PCM Drum Machine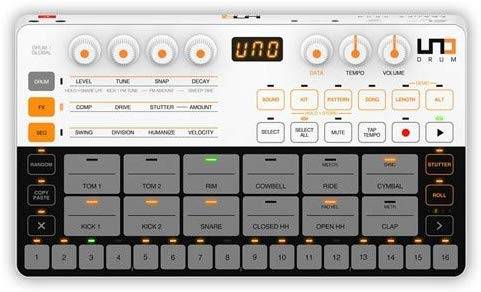 Featuring a 64-step sequencer with 8 parameters per step, the IK Multimedia UNO Drum Portable Analog / PCM Drum Machine offers 6 analog voices and 12 PCM voices. Portable sizing belies the big sounds this machine makes; use up to 12 elements at a time and program as you please. This drum machine is easy to integrate into any studio, live, or mobile setup and can be connected multiple ways.
Key Features:
12 double-velocity multi-touch pads
Save up to 100 drum kits and 100 patterns
USB, audio in & out, and 2.5mm MIDI
Korg Electribe Sampler Drum Machine
With the Korg Electribe Sampler Drum Machine, it's possible to create any genre of music, complete with a variety of patterns, sounds, and beats. Multiple pads and controls provide access to an entire library of onboard content. There are 400 more bonus patterns available from Kora.
Key Features:
Nearly endless stringing ability; create full sets, not just songs
16 velocity-sensitive multi-LED pads plus numerous analog-style knobs and buttons
Delivers up to 24 voices of polyphony
Elektron Digitakt
Featuring an astounding operating system of backlit pads, a fantastic OLED screen, headphone output, USB port, 6 MB sample memory, and 1 GB drive storage, the Elektron Digitakt is a needed drum machine. It is a standalone digital sampler with an excellent sound engine, a sequencer, and numerous rhythm compositions. The Digitakt is compact, durable, and will make a great addition to your studio.
Key Features:
Eight voice/audio tracks and 8 MIDI tracks

Overbridge 2 beta software

Assignable LFO per voice and an overdrive effect
Korg KR Mini Rhythm Machine
Perfect for practice sessions and suitable for beginning performers, the Korg KR Mini Rhythm machine features 16 pads to tap for drumming or recording, plus a built-in speaker for fun solo jam sessions. A chain function lets you arrange rhythm patterns to complement your creativity, and fill-ins help you create entire songs. A fun press and play feature lets you accompany yourself with a selected rhythm pattern.
Key Features:
Great sound, perfect for beginners and practicing
Many built-in drum sounds for fun jamming / casual settings
Portable, battery operated design includes foot switches for hands-free operation
Korg Volca Drum Physical Modeling Drum Synthesizer
Featuring 16 6-part drum kits and 10 preloaded program slots, the Korg Volca Drum Physical Modeling Drum Synthesizer features a wide array of sounds thanks to extensive programming. While there is definitely a learning curve with this drum machine, experienced players find that it helps them create unique sound profiles.
Key Features:
Battery operated, works anywhere
16-step sequencer, pitch knob provides several octaves, controls 256 levls in all
Save 16 programs at a time
Mooer Audio Micro Drummer Digital Drum Machine
The Mooer Audio Micro drummer is a simple drum machine for guitarists who need a simple solution for practicing and jam sessions. There are 11 drum pattern genres to choose from, along with tap tempo, inputs, an output, and three intuitive controls. You'll need a 9V power adapter to operate this drum machine.
Key Features:
Pedal operated; works with or without a guitar plugged in
Drum and bass grooves, ideal replacement for a metronome
121 different drum beats to choose from
Native Instruments Maschine Mikro Mk3
Those who want to make music on a laptop will appreciate the Native Instruments Maschine Mikro Mk3. This portable unit is compatible with select Windows and Mac operating systems, and is simply connected via USB 2.0. Capable of tapping out beats and playing melodies, this versatile drum machine lets you build tracks anywhere.
Key Features:
Many sounds and effects; multiple instruments
Pads, controllers, and other performance features including a dual-touch smart strip that lets you slide or strum to create sounds and beats.
Works on its own or as part of a larger DAW
Nektar Impact LX25+
This drum machine features 25 synth action keys, modulation wheels, and an onboard pitch bend. With 8 hypersensitive backlit pads, it boasts software instruments that have been automatically paired with controls, making for intuitive performances. The Nektar Impact LX25+ drum machine is compatible with Mac, PC, and iOS.
Key Features:
Full-size piano style keys
4 velocity curves and 3 fixed velocity levels
Fully programmable control center with presets
Roland AIRA Rhythm Performer (TR-8S)
For those in search of an upgrade, the Roland AIRA Rhythm Performer TR-8S offers 128 patterns, along with design kits that feature effects, sampled sounds, and authentic TR drums. This drum machine includes every sound from all Roland TR drum machines including the 808, 606, 707, 7272, 909, and many modified versions as well.
Key Features:
Performance tuned; designed to deliver live play and premium studio recording experiences
Multiple adjustments and a diverse set of sounds and settings to complement any production technique
8 analog outputs; audio and MIDI interface; connect to computers / AIRA link hosts via USB
Behringer RD-8
The Rhythm Designer 8 is a big sturdy drum machine from Behringer that has 16 drum synth sounds and 11 analog outputs for recording tracks. Selected channels feature Decay and Tone controls. The RD-8 has several buttons, knobs, and switches that create a friendly user interface. It incorporates the essential features of a drum machine with the Wave Designer to help users control sounds and produce new tunes.
Key Features:
Analog Filter/Wave Designer produces a great sound

11 audio outputs

64-step drum sequencer

 It stores about 16 songs with 256 patterns
Teenage Engineering PO-14 Sub Bass Synthesizer & Sequencer
Designed specifically to add bass beats while offering maximum portability, the Teenage Engineering Pocket Operator 14 is pre-loaded with 15 bass sounds and a micro drum machine. There are 16 punch-in play styles to choose from, making it easier than ever to quickly program your own bass lines. This accessible unit is powered by two AA batteries and comes with a fold-out stand.
Key Features:
16 different bass effects including stutter, delay, and bit crush
Compatible with tabletop synth rigs
Affordable, beginner-friendly design
Drum Machine Online
While navigating the path to becoming an excellent DJ, music producer, or drummer, you may consider online drum machines that give you access to a variety of features for creating drum beats, sequences, and loops. You only need a good computer and a reliable internet connection to get started. Some provide access to MIDI files that can be downloaded and used offline for convenience.
They are usually accessible from a web browser and provide snares, kicks, and hi-hats, as well as volume and FX controls, among other vital tools. With the intuitive features and effects available on these sites, you can start creating online beats in no time. It is widely used by most people who want to learn how to mix drum loops, as well as other intricacies.
Things to Consider When Buying a Drum Machine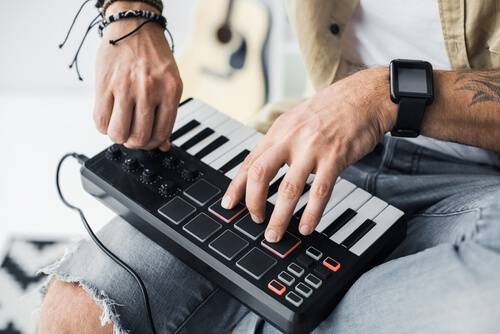 A drum machine nowadays is a super product if you are a music lover. A drum machine can truly be a lifesaver when a live drummer isn't around to keep the rhythm.
There are a few things to consider when selecting the best drum machine for your purpose:
It must be loaded with an effects library for a variety of sounds
It must have custom kits to allow the user to expand or install additional kits as needed
Must be enabled with pressure sensitive pads to create a diversity of complex combinations of sound, as the pads produce different intensity of sound depending on how hard they are pressed
Must be equipped with dual power supply. For example, your machine may be able to run on battery or plugged into an electrical socket depending on your needs.
A good drum machine always comes with a protective case and a headphone set
A machine that encompasses all these features is probably a safe buy. To further help you narrow down your choices, consider the following factors as well:
Consider your budget
Focus on features rather than big brand names
As a beginner, don't invest in an incredibly expensive drum machine right off the bat. Rather, look for a user-friendly model with multiple sounds and a variety of effects.
I hope that this article will steer you in the right direction when selecting the best drum machine to create your perfect sound.
Let me Hear From You!
Have you tried any of these drum machines yourself? Did we miss any great ones? Do you have any questions left? Let me know in the comments below! I'll reply 100% of the time!