Updated: March 7th, 2021
When you go looking for a children's drum set, either it is because you think your kid has a knack for music, or the child asked for a kit. In any of these two scenarios, you may or may not have much idea about hoops, loops, kick drum, floor tom, drum heads, hi-hats, drum shells, or shell sizes, or anything that goes on in a kid's kit. 
BEST OVERALL
BEST OVERALL
Questlove Pocket Kit
The Questlove Pocket Kit is our top pick because it provides a full-scale, high-quality playing experience for young drummers at an affordable price.
FEATURES
Sound of the drums are exceptional
Portable
Excellent value at a low price tag
The drum sets for kids listed here are top sellers that all have excellent customer ratings. Plus, since these junior starter drums all come with their kick pedal, drum thrones, and drum sticks, they will be ready to use out of the box. So your child can start playing drums right away!
One word of caution, though: if you're already dreading the noise your child will cause with a drum kit, check out my electronic drum set recommendations. They are much quieter than acoustic drum sets – and not necessarily more expensive. If, on the other hand, you only want to see the cheapest drum kit options for kids, go here.
At a Glance: Best 5 Kids & Junior Drum Sets To Buy
IMAGE
PRODUCT
 

Sound of the drums are exceptional
Portable

VIEW LATEST PRICE →

Bass drum chain driven pedal
Easy to read setup instructions

VIEW LATEST PRICE →

Instructions are easy to follow

The snare drum has a white frosted skin

VIEW LATEST PRICE →

Great Entry Level Starter Kit

Includes a junior hi-hat cymbal

Ideal for kids aged 3 - 10

VIEW LATEST PRICE →

Great for small kids

One-year warranty

VIEW LATEST PRICE →
1. Mendini 16-Inch 3 Piece Drum Set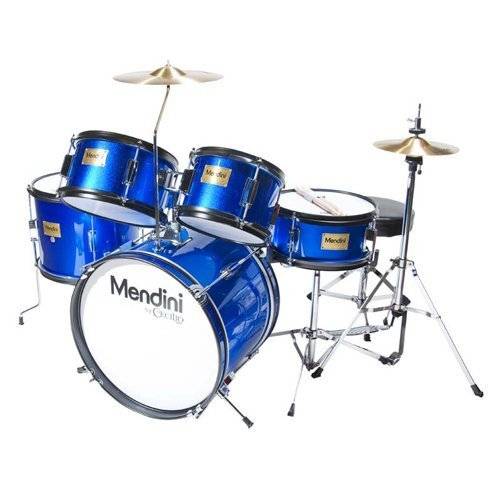 Mendini 16-Inch 3 Piece Drum Set
When looking for kids / junior drum sets, you are considering one that has the basics necessary for your child to become interested in drumming. The Mendini 16-inch is a perfect choice for that. It is excellent for kids 2.5 to 5ft tall and is available in several attractive colors. Featuring three drums and a cymbal, your child will look forward to drum sessions on this model. The 16-inch bass drum has six lugs on each side of the head to keep the drum stable while the hanging tom and snare each have five lugs on the sides of their heads. Other necessary parts include bass drum pedal, cymbal holder, snare drum stand, drum throne, an assembly manual, and two drumsticks. There is no floor drum or hi-hat, but your kid will enjoy spending time on it regardless.
PROS
Excellent starter drum kit for children

Assembly is easy to perform with the manual provided

Sound quality is not bad for a junior drum set

Affordable

Durable and sturdy hardware
Verdict: This is an excellent starter drum kit, but if your child develops a better interest in drumming, you may want to upgrade to a complete 5-piece set.
2. Eastar 14-Inch 3 Piece Kids Drum Set
Eastar 14-Inch 3 Piece Kids Drum Set
This kids' drum set is not a toy drum and should not even be compared with one. Eastar is a brand known for high-quality drum sets such as this one. As to sound, the cymbal is excellent, so it also is the tom and bass. The drum skins vibrate uniformly and wonderfully. There is a key included so you can tighten and adjust the drum heads properly.
Eastar drums are made of wood with plastic heads and metal hardware. The metal parts were passed through a high level of electroplating to ensure the appearance is not treated lightly. On observing the drum set, you know the parts are not going to come apart any time soon. Concerning the drum set specifications in inches, there is a 14 x 10 bass drum, a 10 x 5 snare with a loud sound, and an 8 x 6 tom. There are two pairs of drumsticks included, one for the kid and another for the teaching adult.
PROS
When tuned correctly, the drums have excellent sound quality.

Well-made drums

Has a 12-month warranty

Very affordable