Updated: August 28th, 2022
You've honed your skills, and now you're ready to set up a home recording studio. The fastest, easiest way to set up a recording studio at home is to pick up a package that includes everything you need to get started. Simply set up, and you'll be recording in a flash, minus the questions that come with putting together a studio using individual components.
Best Home Recording Studio Package Reviewed
Best Bang For Your Buck

Best Bang For Your Buck

Focusrite Scarlett 2i2 Studio (3rd Gen)

Best starter pack for recording music

Has a 3-year warranty

Package includes HP60 headphones

VIEW LATEST PRICE

Best For The Money

Best For The Money

PreSonus Studio One Recording Bundle

Has studio monitor with speakers

Interface and software are user friendly

The microphone has a clear output

VIEW LATEST PRICE

Best for Speed

Best for Speed

Focusrite Scarlett Solo Studio USB Audio Interface and Recording Bundle

Simple to setup

Very inexpensive starter kit

Quality components

VIEW LATEST PRICE

Best Direct Drive Double Pedal

Best Direct Drive Double Pedal

iZotope Spire Studio

Portable, great for traveling

No setup

Works with your phone or tablet and app, no additional software needed

VIEW LATEST PRICE
What to Look for In a Home Recording Studio Package?
What's Included – Take a look at the components to see what the package includes. Common components include an audio interface, a microphone, cables, software, and more. Some of the best home recording studio packages include studio headphones and studio monitors, while some include headphones only, or require you to supply your own. We even found an all-in one portable recording studio that works with your phone or tablet.
Target Audience – Home recording studio kits are usually designed for musicians or podcasters, but it's a good idea to take a look at the marketing materials and read a few reviews to see who's using the package that you have in mind.
Compatibility – Studio packages are great for getting started, but at some point, you're going to want to make some changes to optimize or upgrade your setup. The more versatility each element in the package offers, the better. For example, your audio interface is going to connect to your computer somehow. Be sure that your desktop or laptop has the right kind of port. If you are going to use other accessories such as a MIDI keyboard, you'll want to make sure that there are enough ports available to accommodate everything.
Quality – Is more stuff better? The answer here is definitely no. Go for quality over quantity, even if that means you're going to have to purchase some elements separately. Every home recording studio package that made it way onto our "best of" list will help you get started, but in most cases, you'll probably be happier if you eventually optimize with added elements like a subwoofer, studio monitors (for packages that include headphones only), great studio headphones (for packages with monitors only), or even better cables. Your studio is going to evolve over time, and if you make your focus on quality, then you're going to find that every item you choose lasts longer.
With these factors and more in mind, we spent hours uncovering the 5 best home recording studio packages available right now.
| Brand | Model | Rating | Price |
| --- | --- | --- | --- |
| CAD | Multiple | 5/5 Stars | |
| Focusrite | Scarlett 2i2 | 4.4/5 Stars | |
| Focusrite | Scarlett Solo Studio | 4.1/5 Stars | |
| iZotope | Spire Studio | 4.3/5 Stars | |
| PreSonus | AudioBox 96 | 4.3/5 Stars | |
Focusrite Scarlett 2i2 Studio (3rd Gen)
Known for its combo set and quality, Focusrite has upgraded its 2i2 studio pack to a 3rd generation that will last for an extended time. The package includes a CM25 condenser microphone with a 3-meter cable, a set of headphones with an adapter, a microphone stand, and a Scarlett 2i2 USB audio recording interface. The audio interface provides access to two digital audio workstations; Pro Tools First Focus and Ableton Live Lite software. It also features a USB-C port, two instrument inputs, and two microphone preamps. The Ableton live software is a limited version, so you will need to buy a higher version for more options.
For the 3rd Gen interface, Focusrite partners with Splice to grant new owners free three-month Splice Sounds subscription if they set up a New Splice account.
Pros
Great sound quality

Quality components

Has all needed software tools
Cons
The audio interface is compatible with only Windows and Mac operating systems
Your studio space is all set up with acoustic treatments and you're ready to get started. This kit lets you do it, and once everything is connected, you'll be ready to record, mix, and master. The studio monitors and headphones that come with this kit aren't top of the line, but they're pretty good – upgrade when you can and consider adding a subwoofer if you're working with a lot of bass.
PreSonus Studio One Recording Bundle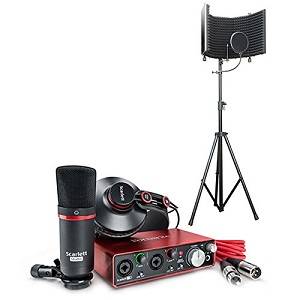 The Studio One Bundle by PreSonus is an excellent recording tool. It is excellent for those that want standard recording equipment at a reasonable price. Features in the bundle include the PreSonus Studio One Artist software that is compatible with Windows and Mac OS, Capture Duo recording software for iPad, and an AudioBox iTwo interface for Mac, Windows, and iPad. These ensure you can use any available device to connect to your PreSonus package, record, and transfer your music. Other items in the bundle are a large-diaphragm M7 condenser microphone, an Eris E4.5 studio monitor with speakers and wires. After purchasing and opening the package, your studio room will look more professional than it ever did.
Pros
Features software compatible with iPad, Mac, and Windows

The interface and software are user-friendly

Microphone amplifies instruments and voices clearly
Cons
No studio headphones, have to be purchased separately
If you want to set up a basic recording studio at home and you're on a tight budget, then you're probably going to like this kit. Upgrade later with studio monitors (even cheap ones under $200) and you'll be well on your way to mixing and mastering.
Focusrite Scarlett 4i4 (3rd Gen) USB Audio Interface
The Scarlett 4i4 audio interface is for when you need to record your music with more instruments such as synths, drum machines, and microphones. It has two instrument inputs where you can record two musical instruments simultaneously, two analog inputs for plugging in a drum machine or synth, and four outputs together with a MIDI in/out. Connection to your computer, Mac, or iOS requires no cables. Two microphones are also included with the interface.
Like other 3rd Gen interfaces, Scarlett 4i4 has maximum sound quality and features two mic preamps that can be switched to Air mode for a better sound. The converters allow quality recordings in 24-bit resolution and sample rate of 192kHz. There are also Pro Tools and Ableton Live Lite software.
Pros
Access to software from Focusrite, Ableton, Splice, and others

More inputs and outputs with more excellent connectivity 

Accurate and optimum sound quality

 

3-year warranty
Cons
Not compatible with all versions of Mac and Windows

No studio monitors
We really like the fact that this setup comes with everything you need to get started with recording and mixing while sticking to your budget – it even includes software! We recommend adding a mic stand – even a cheap one will be very helpful here. You'll probably want to add studio monitors at some point as well. For now, this studio recording bundle will help you learn the basics!
iZotope Spire Recording Studio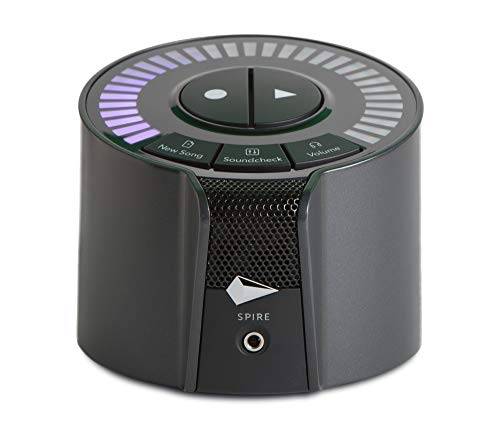 CLICK FOR CURRENT PRICE
The iZotope Spire Studio is an all-in-one solution that features a wireless connection for recording, editing, and mixing using your phone and an accompanying app. There is a built-in microphone, built-in audio effects, and two XLR/TS combo jacks let you plug in if you prefer. There are matching Spire apps for both iOS and Android. The rechargeable battery lasts for up to four hours.
Pros
Portable, great for traveling
No setup
Works with your phone or tablet and app, no additional software needed
Cons
Headphones sold separately
Travel case not included
The iZotope Spire Studio is different from other options – it's designed to let you record music anywhere, and you can even share instantly with friends after mixing and adding effects in the app. We recommend plugging in a condenser mic and maybe adding a mic stand and a pair of good studio headphones. This setup is truly as simple as it gets, and you can record and share in a variety of formats. While the iZotope Spire Studio basically erases the learning curve associated with most studio work, it's a little on the pricey side. If you're looking for simple, fun, and sharable, this might be the best home recording studio "package" for you.
Focusrite Scarlett Solo Studio (3rd Gen) USB Audio Interface and Recording Bundle
The Focusrite Scarlett Solo Studio recording bundle is a starter kit when you want to learn the basics of recording voices and instruments. It comes with a combination of USB Solo audio interface (3rd Gen), USB cable, 3-meter microphone cable, HP60 monitoring headphones for editing tracks, and a CM25 MkIII studio-quality condenser microphone for quality sounds. There is also all the free software you will need, especially the two DAW included; Ableton Live Lite and Pro Tools First FocusRite creative pack. The Solo interface has three outputs and inputs. It features only one third-generation Scarlett mic preamp. This model is designed to stand up to days on the road, connecting straight to your Mac or PC via USB cable. Your Scarlett solo studio pack includes all the software tools you need to get started, including two comprehensive digital audio workstations:
Pros
Easy to set up with the guide

Cheap starter kit

No sound disruptions or distortions
Cons
The headphones may need upgrading

No studio monitors
If you're looking for a traditional studio recording kit with everything needed to get you off to a great start, then you're probably going to like this one. All components are of good quality, so they'll last you for a while. Be sure to read all the accompanying paperwork so you don't miss the instructions for downloading the software of your choice, then get set up and enjoy! Do consider adding a subwoofer and a mic stand.
Don't be intimidated by those who tell you that you need to spend weeks or months planning. Simple equipment – even an all-in-one option like the iZotope Spire Studio – will help prevent you from feeling overwhelmed or discouraged. Besides equipment, we recommend that you choose some ear training software designed to teach you some sound engineering basics while developing an ear for those little details you don't hear while you're making music. Setting up a home recording studio is easier than ever – and with recording studio packages like these, you can get started without spending a bundle.