"When Mr. Ludwig invented the bass-drum pedal, that's what made the drum set possible" (Neil Peart)
So double bass pedals are crucial to your drumming for sure! But they can also suck up a lot of time when it comes to tweaking them so that you're able to play faster.
If you're into that, that's fine. But be aware that it will cost you not only time; more features to tweak make for a higher price as well.
And I'm not into either tweaking or paying more. I want to sit down at my kit and play. I want a pedal that feels good out of the box. Ideally the best double bass pedal for the money.
If you're anything like that, you're in for a treat. I'm going to show you the pros and cons of 4 budget double bass pedals (most under 300$). And I'm going to tell you which is the best double bass pedal for the money (and for a particular purpose).
After all other people can do incredibly fast double bass action with a pretty normal and affordable pedal too (jump to 1:55):
Mapex 500 – Best Bang For Your Buck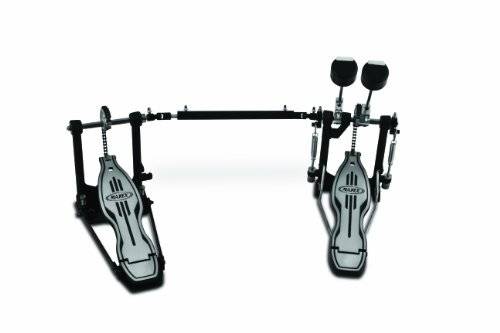 To my mind, the Mapex 500 is the cheapest useful double bass pedal on the market.
The extremely low price made me sceptical when I ordered it, but this pedal really is good value for the money:
Sure, the Mapex doesn't allow for advanced configuration such as replacing the cam (I'll explain in a minute) or changing pedal height. But if you just want a bass pedal to sit down with and start playing right away, the Mapex will do the job (jump to 1:23):
Of course, you can adjust basic parameters like spring tension or beater height. And you can turn the around the beaters to change from felt (for a well-rounded sound) to a plastic surface (for louder, more pronounced kicks):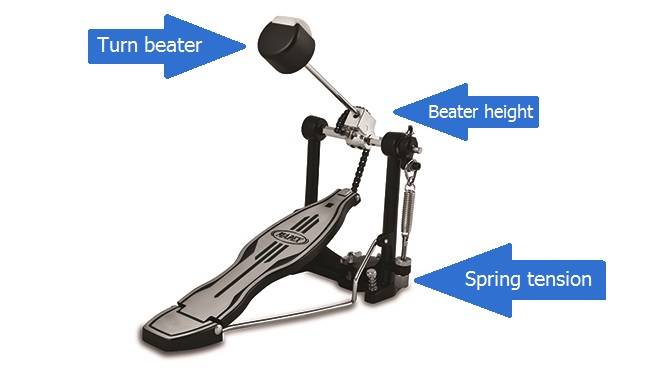 Single chain? Double chain? What does that even mean?
The most significant difference to more expensive pedals is this: the Mapex 500 is a single chain double bass pedal. Meaning: the board is attached to the beater via one chain. This can also be done with two chains side by side ("chain drive"), with a strap ("belt drive") or with a piece of metal ("direct drive").
Single chain, like here, is usually found on cheaper pedals, but that doesn't mean it's bad. It only produces different results:
A single chain is obviously less durable than a double chain, and you might also feel that the pedal is less responsive. At the same time, you might feel single chain pedals are more controllable, because there isn't that much rebound. I say you "might", because this very much comes down to tiny differences that are felt differently from person to person. So…
…if you want to become a really fast double bass player look at the double chain or direct drive pedals below. If you're more into rock or punk or jazz, the plus in terms of control will probably benefit you more.
(Many direct drive players (metal connection between pedal and beater; most expensive) encourage beginners to start with a chain pedal, because you have to be slightly more intentionally in your hits, and this is good for building the right muscle memory.)
Durability
Finally, I've read one person complain about the durability of this pedal. But for me it held up for 2 years without problems (sold it then). And the same seems to be true for the "therevsdeathbat" who you saw in the video above: (note how he has improved in just one year)
Pearl Demonator (P932) – Best Double Bass Pedal For The Money
Appealing design
Longboard for heal-toe players
Click lock for frustration-free tension setting
Choose between offset and linear cam
Not the best for really fast double bass players (single chain)
Why this is my best double bass pedal for the money? Well…
Nice design
First, I hope you find the Pearl Demonator as visually appealing as I do. This obviously doesn't give you any speed or control, but I've experienced with my students that good-looking gear will increase your motivation to practice.
For heal-toe players?
Second, the Demonator has a longboard – that is, the hing is at the very end of the footboard, so the entire thing acts as a playing surface. That's good for you if you('re planning on) using rocking motions ("heel toe technique") for really fast double bass patterns.
(By the way: a longboard doesn't have anything to do with shoe size. Actually you'll often have your foot halfway off the pedal anyway.)
A single chain
Third, this pedal feels really responsive when playing it – despite the single chain. And because of it, it has the added benefit of a fair amount of control. (But remember: tiny differences! Irrelevant for first time double bass players, and I bet many of the intermediate ones won't notice either.)
See how well it works for the average double bass player:
Configuration
Fourth and finally: in addition to a turnable beater (felt and plastic) and adjustable beater height, the Pearl Demonator has two advanced configuration features:
a click lock at the bottom of the spring to adjust its tension
No laboriously turning the screw here. Just switch open the lock, spin the dial, close the lock – and done.
choose between offset and liner cam
This is a cam, and it is offset, because it's not evenly shaped. Therefore, the beater won't be accelerated evenly either. It will gain speed towards the end of the stroke, so you'll achieve a more pronounced kick sound.
And with the Pearl Demonator you can either leave the offset cam in place or take it off and have a liner (evenly shaped) cam.
All in all, my best double bass pedal for the money!
Tama Speed Cobra (HP310) – Best Double Bass Pedal for Speed
Recessed footboard + light sprocket for increased speed
Longboard for fast heal-toe doubles
Double-chain for more responsiveness
Cam not changeable (important for fast players)
The Tama Speed Cobra does exactly what the name implies: speed you up.
And speed it has:
Now, you might have noticed that the beaters of the Speed Cobra in the video are different. That's because it's shot with a Speed Cobra 910, 
the big brother
of our model (the 310).
The more expensive version has quite a few differences in detail, but the only ones that stand out to me are the different beaters (see video) and the "cobra coil". This spring underneath the board accelerates its rebound for even faster tempos:
That's certainly an effective weapon for really fast double bass players (think 250+ beats per minute. But for uses like in the video above, I'd recommend saving the few hundred dollars (you could invest them into lessons, drum heads, or cymbals).
For heal-toe players?
Compared to the other budget double bass pedals in this review, the Speed Cobra is similar to the Pearl Demonator in terms of its board. It's longer than that of normal pedals, so you will have leverage for really fast heal-toe action.
What is special about the Speed Cobra and what makes it so fast is the fact that the footboard is moved back a little bit:

So the seemingly clever arrows in this picture mean to tell you nothing else than that you need to apply less force (F1) to produce a nice, powerful kick with the Speed Cobra. What is more: the sprocket of this pedal is lighter than usual, so this adds to the less-power-more-endurance-effect.
Configuration
Nothing special here, but just like with the other pedals the Speed Cobra lets you adjust the beater angle, the spring tension or change the beater from felt to plastic.
All in all, my best double bass pedal for speed!
Yamaha DFP-9500D – Best Direct Drive Double Pedal
Cheapest direct-drive pedal on the market
Basic configuration possible (spring tension etc.)
Slightly overpriced
Cam not changeable (important for advanced players)
The Yamaha 9500 doesn't have a cool name like the other double bass pedals so far. But actually it's got one thing the others don't have:
A direct drive: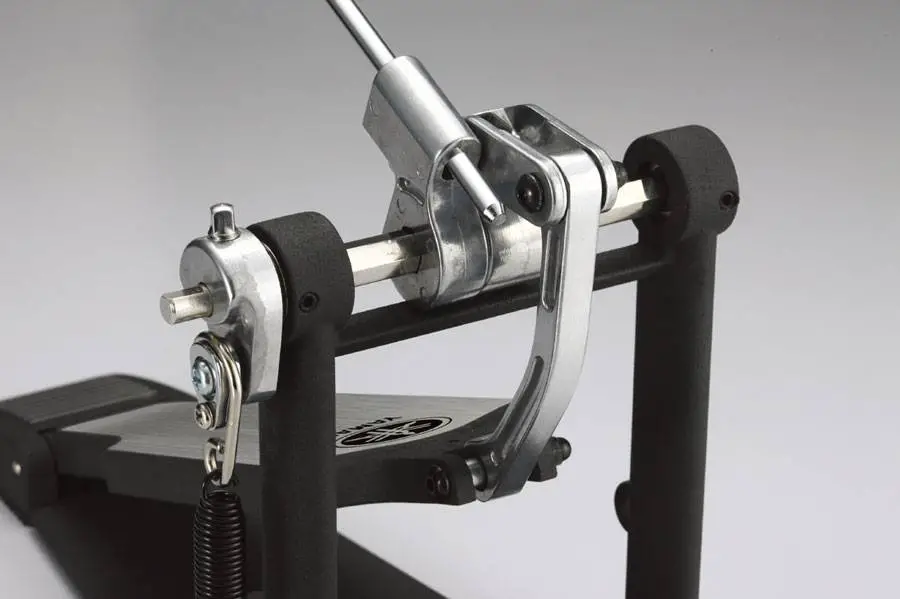 Instead of a flexible chain, the Yamaha 9500 has a solid piece of metal connecting the footboard to the beater. And in contrast to a chain, this metal bridge maintains a perfect connection from the beginning of the stroke to the end. So the beater will hit the head with all the power you put in.
You can see how much more rebound that produces in comparison to a double chain pedal. (The single chain he uses is obviously much cheaper than the other two pedals, so better ignore that one.):
So is direct drive the holy grail of double bass drums? Well…
…many really fast double bass players (250+ beats per minute) swear on it as it gives you a lot of speed and small-scale precision. But at slower tempos direct drive pedals can be more difficult to control – if you play heel-up. Yet, heel-down players often value direct drive, because it will supply the power and speed that heel-down playing naturally lacks.
So no holy grail here. Only depending on your technique and the style of music you play.
Configuration and board
Apart from the chain drive, the Yamaha 9500 can do what the others in this review can too: beater height and spring tension are adjustable. And the beaters can be turned, so you can play the felt or plastic surface.
That's nothing fancy, but everything you really need if you wanted to tweak the pedal at some point.
Price
This is the most expensive model in this best double bass pedal for the money review, and when I bought it, I thought this is just because of the direct drive.
But then I found out that the exact same pedal with a double-chain drive only costs a few dozen bucks less. So I dug and dug for other features to justify this price difference to the other pedals…
…but to this day haven't found any. (If you have, please let me know in the comments.) So I think this pedal is slightly overpriced. But then again, if you want a direct-drive, this is the cheapest pedal on the market.
And currently you can get it a free case for the Yamaha 9500 along with the double pedal on Amazon.
Over to You
So there you have my best double bass pedals for the money. If you've got another recommendation or any questions, please drop me a comment. I answer 100% of the time!