Updated: November 9th, 2022
Updated November 2022
Drumming as a beginner can be hard. There are a lot of basics and theories to learn when all you really want to do is rock out to your favorite songs! Keep yourself motivated by learning some easy drum songs that incorporate elements that you learn early on in your drumming journey and that are great to drum along to with the track turned to maximum.
Below you will find our list of the 15 best easy songs for beginner drummers. Choose your favorite genres and add them to your repertoire!
Don't have a real drum kit yet, but are desperate to learn? Consider investing in the PocketDrum II Pro from Aeroband. This electronic air drum kit lets you play anywhere (portable) and anytime (silently with headphones), to help you jump ahead on your drumming journey.
POCKETDRUM 2 PRO - Play and practice the drums anywhere you go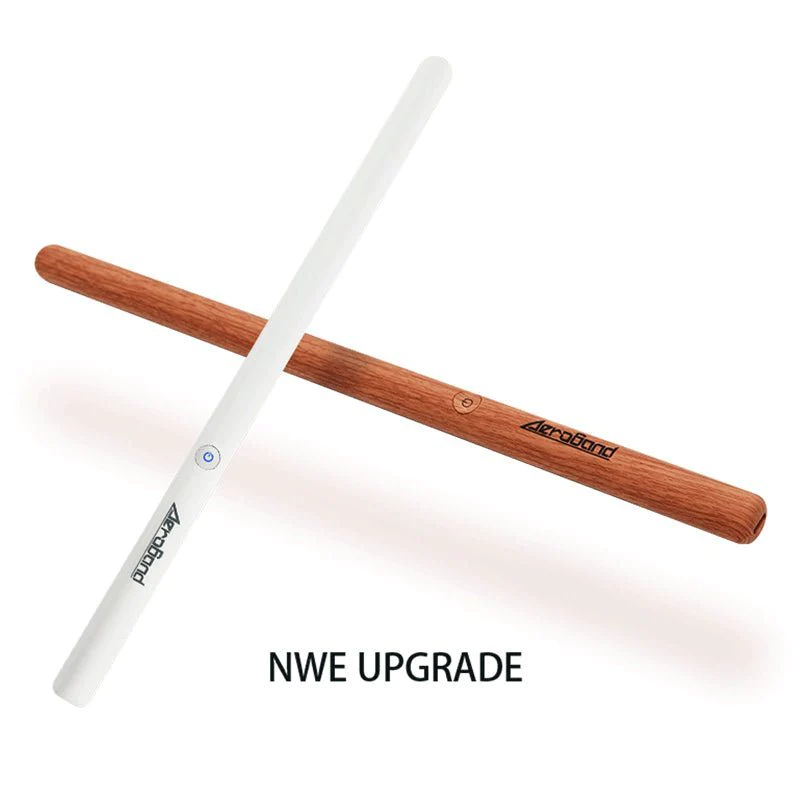 AeroBand
If you crave a customizable, portable drum kit that is super affordable, AeroBand's Pocketdrum 2 Pro is exactly what you need. Connect using bluetooth and jam freely or play along with the app!
FEATURES
Lightweight and portable - You can play whenever you want
Good Value for Money
Suitable for both Beginners and Professional Drummers
Bluetooth MIDI
AeroBand app is free to download
Read our full review of the product.
15 Best Easy Drum Songs For Beginners
#1: Teenage Dream – Katy Perry
Teenage Dream is an easy drum song that needs just a few bass drum strokes and snare hits. The song's beat is very catchy due to its easy rhythm, with the sound moving between the bass and snare. It's a great song for beginner drummers to play, and if you increase the tempo you will get a completely different feel when playing it.
This song and the quick movement it entails will require you to learn consistency and play with strength. Remember that the trick is more about moving your arms than the sticks, as they will be wherever the arms are. This technique also helps in creating powerful sounds and improves your mastery of drumming skills.
#2: Billie Jean – Michael Jackson
Billie Jean is one of Michael Jackson's most iconic tunes. The drums were played in the song by award-winner Leon "Ndugu" Chancler. The song's drum beat, also referred to as the "Money Beat," has been the beat of many hit songs through the years. It is also a really easy drum groove that can hold your attention and energy while jogging or working out.
The time you spend working on learning this beat will be worth it because this is the basis of many other beats that you will encounter in your future as a drummer.
#3: Another One Bites The Dust – Queen
Queen is one of the most iconic and experimental bands in history. They managed to write music that felt like it belonged to you and you have no choice but to sing and play along. This will probably be just the first of many Queen songs that you learn, and If you have already learned Billie Jean, you will have a head start since it also uses the Money Beat.
When you are first learning you can ignore the snare fills, which can be removed from the beat. Once you are comfortable with the core track, challenge yourself by including them.
#4: Heart-Shaped Box – Nirvana
The drummer who performed in this track is one of my personal favorites, Dave Grohl. Heart-Shaped Box is one of Grohl's performances that is very close to my heart and also the simplest to play. This is a perfect song to learn for the little yet important technical details.
The technical details include "tricks" like rim clicks and hitting the cymbals in sync with the guitar. Try to pay attention to the heavy choruses in the track.
#5: Enter Sandman – Metallica
How many of us started drumming because we dreamed of playing alongside our idols and having skills as good as the great Lars Ulrich, one of the most famous and best drummers in the world? Every aspiring drummer needs a Metallica song in their repertoire.
The intro to Enter Sandman is simple but popular, and immediately recognizable if you want to play for your friends. You get to work all the toms, coordinated with the kick of four, before taking on new challenges as the song progresses. There is a challenging solo, but it uses all the elements from the rest of the song so you get to use everything you have just learned in a new way.
#6: Black Sabbath – Black Sabbath
The drum track on this song is basic and simple, but fun to follow. It is an exciting song to play and teaches the beginner drummer how to phrase and support a rock band. Black Sabbath also combines the beat with an underlying riff to make the song perfect for both beginners and professional drummers to practice with. This song beat will keep you eager to play daily and help you develop your drumming skills.
#7: Live Forever – Oasis
This song is known for its drum intro.
Like the first five songs on this list, beginners can easily play it. As the song moves forward, the drummer starts to move from backbeat to the floor tom and then to the snare, because the volume increases as the guitar starts to come in.
#8: You Shook Me All Night Long – AC/DC
You Shook Me All Night Long is an excellent beginner drum song and a rock classic. AC/DC's drummer, Phil Rudd, is the mastermind behind the drum track in this song. The song has a straightforward and trendy groove loved by all drummers; however, you get to practice and develop your timing, as any foul play can be immediately obvious to the listener. Take note of the alternation between the snare and the kick + hats. For more fun, you could decide to open up the hi-hats.
#9: Highway To Hell – AC/DC
Another AC/DC song? The band is the king of doing simple rock in high-quality and interesting ways, so their songs are great for beginners even though you probably won't pull it off with the same finesse as Phil Pudd.
This song has very simple verses that build up the tom and the snare to deliver a harder chorus. It also gives you the opportunity to practice bridging into a guitar solo, which is essential if you hope to perform with a live band one day.
#10: Yellow – Cold Play
Cold Play is one of the most popular current rock bands, and if you love their albums you will be dying to learn to play some of their tunes. Yellow is a great place to start since even though it is relatively complex, it's slow so you have time to think.
This is also a great song for learning when to go hard and when to hold back and let the vocals and other instruments take greater priority. This is a hard skill to learn and takes intuition and practice. It will make the song feel challenging to play even after you have mastered the beat.
#11: Free Fallin' – Tom Petty
Tom Petty has come up with some excellent compositions in his time, and this collaboration with Heartbreaker's drummer Phil Jones is definitely a favorite among drummers. The beat is simple but creative and lets you try things outside of the standard. Verse four introduces a marching band style that is great for working your coordination.
#12: Rebel Rebel – David Bowie
Creativity and Bowie are synonymous, so the drum riffs in his songs always offer interesting surprises. The beat of Rebel Rebel almost sounds like an out-of-control freight train, but you are the one who has to keep it on the tracks!
The most interesting challenge is the mix of the hi-hat on the 8th with the quarter-note down beats. The stops in bars seven and eight of the chorus are also challenging for keeping the rhythm going in your head when you have to pause your playing.
#13: Run To The Hills – Iron Maiden
You shouldn't tackle this track until you become more advanced, but we wanted to spice things up a bit toward the end. That said, you can make this song much easier if you just disregard the 16th action that is going on in the verses and chorus. Just make it into any hi-hat groove in quarter notes and hit the snare drum like it was the last thing you were doing, or even take the snare drum on all 4 notes.
If you want to downgrade even more you can also opt to play eighth or even quarter notes on the hi-hat during the intro, but I think you can bring it up to speed pretty quickly with practice (perhaps leaving out the open hi-hat on count 4).
Through this song, you will learn tricks and tactics for performing and other minute details of playing the drums.
#14: Come As You Are – Nirvana
It should not be a surprise that I've included another song by Nirvana. Like always, Dave Grohl kept the drumming (especially the verses) simple, uncomplicated, and very clear. Come As You Are is one of the best easy songs to play. There are two sections to the song: the verses and the chorus. The verses depend on a combination of the bass, snare, and ride cymbal. Ensure the bass drum strokes are even, clean, and in time with the music.
A pre-chorus to the song features the 16-note snare drum fill, which is enjoyed by all drummers. You might find the chorus quite challenging, since it includes the tom-toms, but that will help you learn endurance early. All in all, the song is great to drum to and is loved by both beginners and professional drummers as they can use it to warm up during rehearsals.
#15: Feel Good Inc – Gorillaz
For a beginner drummer, this song does an excellent job of keeping the drum track interesting and easy. Since only one beat is used, it's like a drum lesson in which you just keep getting faster. Pay attention to the half-open hi-hat hits at the ends of some phrases, and notice how they are supported by the snare drum but do not distract from the lyrics.
Learning to play the song is one thing, and mastering it is another. This difficulty in mastery is due to the numerous variations and the high speed. You can control this by reducing the beats per minute and focusing on mastering the beat. Then, when you feel good about your progress, you can increase the tempo and practice your speed. Feel Good Inc. will make you respect the power of leaving out a kick drum and stopping the beat at a key point in the phrase.
FAQs
What is the most basic drum beat?
The backbeat is the most basic drum beat and the foundation on which many other rhythms are built. Emphasis is placed on the 2 and 4 beats with the snare drum, with the kick drumming playing on 1 and 3.
Can I teach myself drums?
You will learn faster and have fewer setbacks and bad habits if you spend time with a drum teacher, but while they can direct and orient you, how quickly you progress is all down to you and the time you put in. There are lots of great tools out there for practicing alone that will help accelerate your learning alongside a teacher.
Final Thoughts
Just because you are just starting out on the drums doesn't mean that you can't rock out to some of the best music. The songs on our list are all relatively easy to play and utilize the skills that you learn as a new drummer, giving you ample opportunity to practice and improve.
The more you play, the quicker you will improve, so start annoying your neighbors by putting these songs on repeat!
Not sure what to read next? Read our guide to becoming a better drummer.
Do you have any favorite easy songs to play on the drums? Let us know in the comment section below!