(This is a guest post by the folks over at DealsLands. Thanks for contributing!)
It is a proven fact that regularly playing the drums has lots of heath benefits. Its also one of the best ways to enter a state of flow almost instantaneously. And heck: it's also a lot of fun – especially when playing to music. So here's our list of 7 easy songs to play on drums today.
Before you start, it's of course helpful to have a good drum set-up in place. If you think a good drum kit would be way out of budget for you, then I'll let you in on my not-so-secret solution. There are always sale options available from various stores online. The Argos Sale 2017 can be very helpful to you if you haven't been able to find anything that suits your needs and your budget as well.
Freedrum- Play the drums anytime, anywhere
Best of the Best
Best of the Best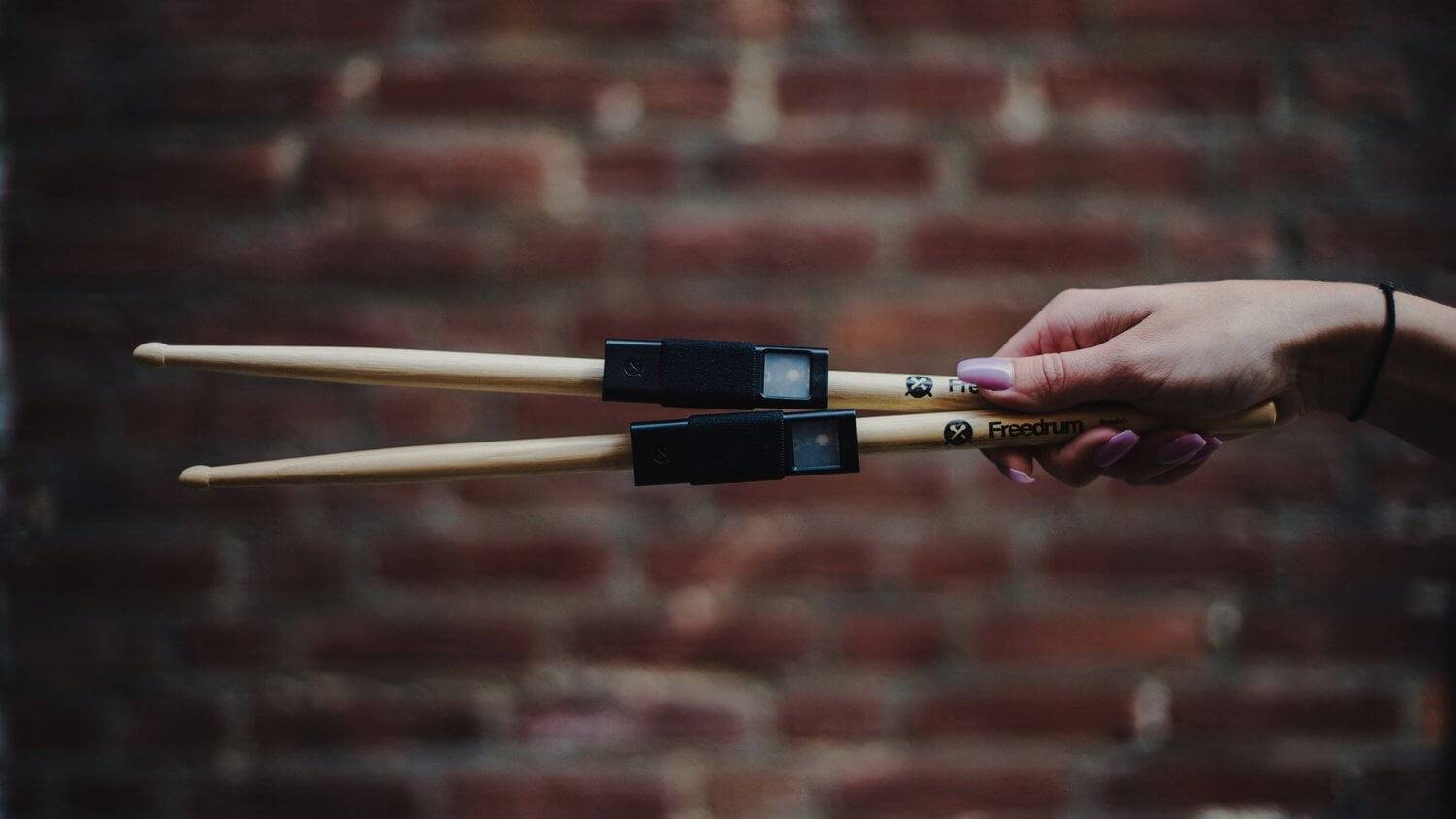 Freedrum
If you crave a convenient, mobile drum kit that is and Freedrum is exactly what you need. Connect using bluetooth and play on your smartphone, computer or tablet
FEATURES
Sensors are super accurate
Good Value for Money
Compatible with all major music software / DAWs
Also Read: Best Online Drum Lessons
On that note, here are 7 easy songs to play on drums.
#1: Teenage Dream – Katy Perry
Teenage Dream leads the list of the most popular pop songs.
Its drum beat pattern is easy to understand and learn, making it amongst the most popular songs to play with drums. It's light and catchy, and once you learn it, you will feel like a true celebrity as you jam along to the song.
#2: Billie Jean – Michael Jackson
Billie Jean is one of Michael Jackson's most iconic tunes of all time. The drums were played in the song by award winner, Leon "Ndugu" Chancler. The song's drum beat, also referred to as the "Money Beat", is the beat of many hit songs through the years. It is also one of the easiest grooves to learn and really fun song to listen to on your MP3 player while you're jogging or working out.
The time you spend working on learning this beat will be worth it because this is the basis of many other beats that you will encounter in your future as a drummer.
#3: Heart Shaped Box – Nirvana
The drummer who performed in this track is one of my personal favorites, Dave Grohl. Heart Shaped Box is one of Grohl's performances that is very close to my heart, and also, the simplest to play. This is a perfect song that you can learn for the little yet important technical details.
The technical details includes "tricks" like rim clicks and hitting the cymbals in sync with the guitar. Try to pay attention to the heavy choruses in the track.
#4: Black Sabbath – Black Sabbath
One of the most iconic and influential songs in metal, Black Sabbath has inspired and will continue to do so to the generations ahead. This song is famous for its tempo, creeping slowness, and awesome room for loads of drum fills.
There is a drastic tempo change towards the end. You will also get a triplet ride pattern that might pose a challenge but will be hugely rewarding once you've mastered it.
#5: Live Forever – Oasis
This song is known for its drum into.
Like the first five songs on this list, it can be easily played by beginners. As the song moves forward, the drummer starts to move from backbeat to the floor tom and then to the snare. The reason being that the volume increases as the guitar starts to come in.
#6: You Shook Me All Night Long – AC/DC
AC/DC's drummer, Phil Rudd is a great model to follow in drum playing. His performances are often studied by even advanced drummers in the community. His simple and trendy grooves made AC/DC's albums classics.
This particular song is actually quite tricky to play on drums, but would become easier if you know the basic techniques. I suggest learning this song after you learn the first six songs mentioned earlier.
#7: Run to the Hills – Iron Maiden
Okay, to be fair, you shouldn't tackle this track until you become more advanced – but we thought why not spice things up a bit towards the end…
That said, you can make this song much easier if you just disregard the 16th action that is going on in the verses and chorus. Just make it into any HiHat groove in quarter notes and hit the snare drum like it was the last thing you were doing. Or even take the snare drum on all 4 notes…
If you want to downgrade even more, you can also opt to play eighth or even quarter notes on the HiHat during the intro – but actually I think you can learn and bring up to speed that intro HiHat pattern pretty quickly (perhaps leaving out the open HiHat on count 4).
Through this song, you will learn the tricks and tactics for performing and other minute details of playing the drums.
Final Thoughts
Are you ready to pick up your drum sticks? It's not as tough as you think. Just visualize yourself on the stage, and go for it!
The more you play the drums, the easier you'll learn songs to play. Once you start getting the rhythm, you will get into the habit of playing and improving your skills!
Want more songs? Here are 7 healthy play-alongs that could even replace your next workout.
Do you have any favorite song to play on the drums? Let us know in the comment section below!