Updated: November 24th, 2022
Updated October 2022
So, you've decided to pick up the drumsticks and learn to beat out some rhythms. But you aren't sure what drum set you should invest in that's great for learning, will still be great as you improve, and represents good value for your money.
On this page, you will find my recommendations for the best drum sets for beginners, as well as a complete guide to help you find the kit that is right for you based on your individual drumming journey.
Our Top Picks:
IMAGE
PRODUCT
 

Best Beginner Drum Set Overall

Based on Pearl's advanced production technologies
Looks good enough for the stage

Best Selling Beginner Drum Set

Best Professional Beginner Drum Kit

Rebel double braced hardware

Mapex lug design

CHECK IT ON AMAZON →

Best Complete Beginner Drum Set for adults

Genuine Remo heads
Ideal for all adult musicians

CHECK IT ON AMAZON →

Best Electronic Drum Set for Beginners

Cheapest electronic drum

Easy to practice on
POCKETDRUM 2 PRO - Play and practice the drums anywhere you go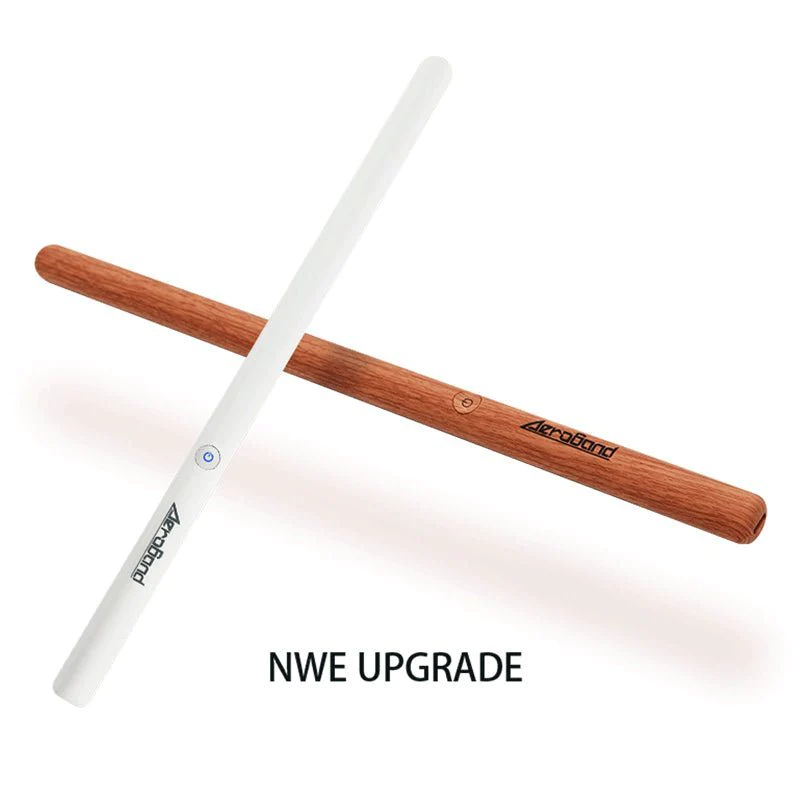 AeroBand
If you crave a customizable, portable drum kit that is super affordable, AeroBand's Pocketdrum 2 Pro is exactly what you need. Connect using bluetooth and jam freely or play along with the app!
FEATURES
Lightweight and portable - You can play whenever you want
Good Value for Money
Suitable for both Beginners and Professional Drummers
Bluetooth MIDI
AeroBand app is free to download
Below, I have provided a short review for each kit, but I have also provided links to other reviews so you can get a broader and more varied feel for the kit.
Make sure you look at the buyer's guide further down as this will give you the key elements and features to focus on when choosing your kit.
So let's get to it…
If you decide to buy one of the products reviewed here, please consider going through the links on this site because this will earn me a small commission – at absolutely (!) no extra cost to you.
I've poured my heart and lots of time into these reviews, and by using my links, you help ensure that future readers will find this site still working.
Also, if you're looking to buy only the cheapest beginner drum kits, read this article too.
Best Beginner Drum Sets
Pearl Roadshow – My Best Beginner Drum Set 2022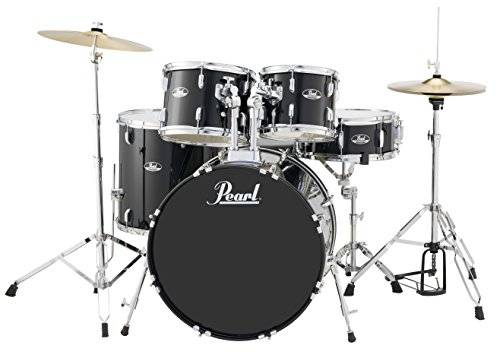 Pearl Roadshow
This is a great-sounding set of drums. The kit features 9-ply poplar shells with modern 45° bearing edges that deliver a modern, lively attack. This kit is great for recording since it's easy to capture with a mic.
PROS
Based on Pearl's advanced production technologies
Includes a great set of cymbals
Looks good enough for the stage
CONS
Seriously, I couldn't find any
Obviously, Pearl's higher-end kits involve better material (wood, loops, etc.), but the Pearl Roadshow profits from Pearl's advanced production technologies. And out comes a sound that surpassed my expectations for a drum set that's so affordable. Hear it in action in the video below.
I also think the Pearl Roadshow looks more professional than comparably priced options like the Gammon or the Mendini. So this is a drum set for practicing as well as for the stage. And audiences will judge you by your looks!
Plus, the cymbals are a tiny bit better than those included in most comparable kits. That said, they are still stock cymbals and can't be compared with brand cymbals (which don't have to be all that expensive – see the cymbals section below).
The Pearl Roadshow is my best beginner drum set and will be a companion for a good few years of drumming!
And if you want to know why exactly, check out my full Pearl Roadshow review.
Pearl Export – The Best Selling Kit Of All Time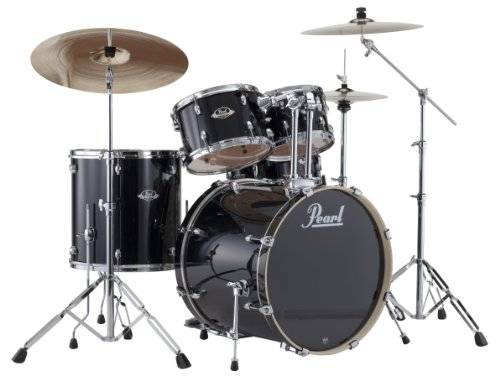 Pearl Export
In terms of design, sound, and hardware, this drum set is far more advanced than the comparable options from Gammon and the Mendini. That's one of the main reasons why it is the best-selling drum kit of all time.
PROS
Very good pedal included
Sturdy, long-lasting hardware
Widely recognized drum set + brand
CONS
Cymbals not included
Stock heads won't allow for full sound potential
This kit looks and sounds great and is from a trusted and widely recognized brand. It's great for practicing at home and professional enough to use on stage. Watch the video below to hear the kit in action.
My only objection to this kit is that it comes without cymbals. While this is normal for advanced kits, since most experienced players will buy their symbols separately, you would expect them to be included in a kit for beginners. So you'll have to spend some extra cash for a good budget pack of cymbals. (See the cymbal section below to find out that they don't have to be expensive.)
Still, if you're an ambitious beginner willing to spend some money, this kit can take you a long way into your drumming career. See what John, who recently bought it, has to say about the Export.
The Export is also available in a beautiful lacquer finish. Then it's more glossy and has visible wood grains.
Looking for current deals on this kit? Do you still have a question or some doubts about it? Check out my full Pearl Export review.
Mapex Rebel 5 Piece Drum Set – Best Professional Drum Set
Mapex Rebel 5-Piece Drum Set
If you are a beginner looking for a professional kit that will grow with you, then this is a great choice. It comes with everything you need, so you can start drumming right away. But the core drums are excellent quality, so you can swap out some pieces, like the cymbals, as you improve and end up with a very professional drum kit.
PROS
Complete set with everything to start drumming

Quality core stack forms the basis of a professional kit


Comes with genuine Remo drum heads
CONS
Cymbals are thin and not of a high quality

No instruction manual included
Mapex is a highly trusted brand in the drum world and you get a lot in this five-piece kit. It comes with a 22 x 16 bass drum, 16 x 14 floor tom, 10 x 7 tom, 12 x 8 tom, 14 x 5 snare, 14" hi-hat cymbal,and 16" crash cymbal, You also get all of your hardware, plus a set of drumsticks and throne.
The shells of the drums are made from Poplar in 9 ply, which is of great quality and uses Mapex' double-braced hardware and the newest lug design. It comes with genuine Remo drum heads, which are better quality than the heads you get with many beginner kits.
Ashthorpe 5-Piece Drum Set – Most Complete Beginner Kit
Ashthorpe 5-Piece Drum Set
This junior drum set features a complete package with a snare drum, bass drum, toms, and genuine brass cymbals. The cymbals are particularly good quality, so this is a great choice if you want an all-in-one deal.
PROS
When nicely tuned, the drums sound great

Includes genuine brass cymbals

Solid and sturdy drums

High-quality materials
CONS
Instructions in the assembly manual can be confusing

No warranty

Not for adults, meaning you'll need to buy another one in the future
This set for smaller players has the essential drums that you find in all these kits, plus an 8" hi-hat cymbal has its stand and pedal while the bass drum has a chain-driven pedal. The toms include mounted and floor ones.
Along with the drums are also an adjustment key, an adjustable drum throne, two drum sticks, and an assembly manual. The drums are sturdy enough to withstand frequent bashings, and they have quality sounds that can rival most adult drum kits.
Its shells are made from genuine poplar wood that enhances the acoustic nature of the set. The triple-flanged hoops aid the resonance produced by the drums.
There are several finishes from which to choose, and each is as aesthetically pleasing as the other.
Watch the kit in action in the film below.
Alesis Nitro – Ex-Best For Beginners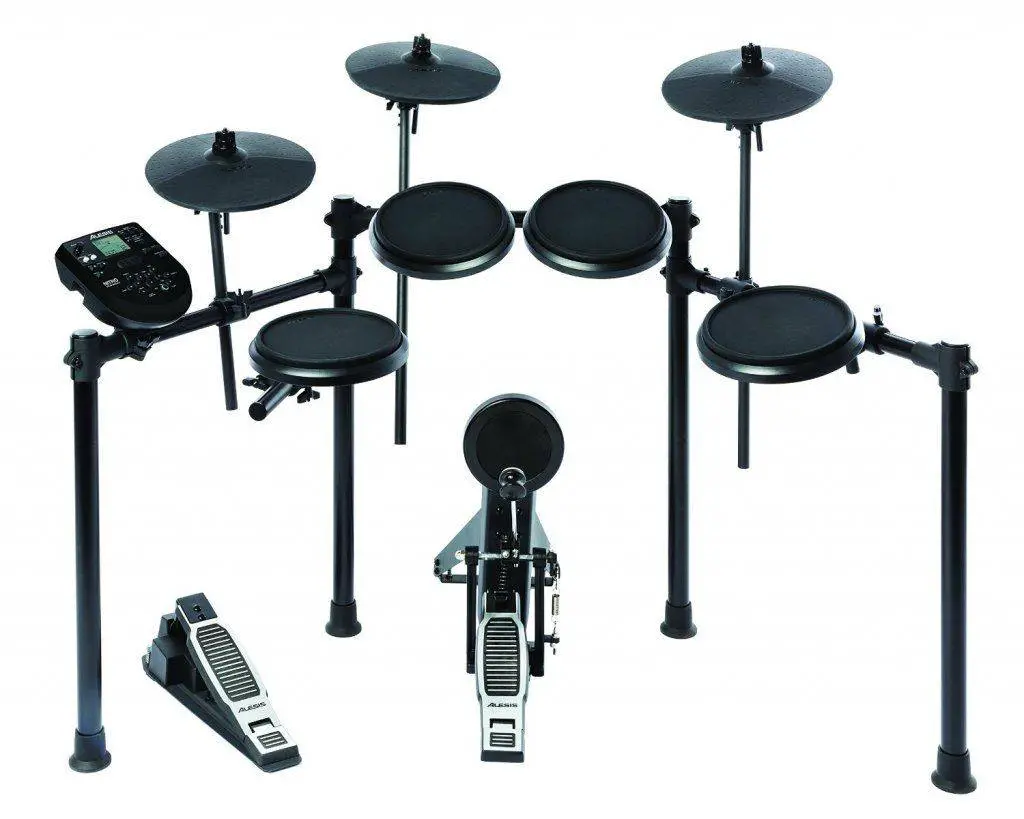 Alesis Nitro
Alesis Nitro has officially replaced the Alesis DM6 as my best electronic drum kit for beginners. It deserves that title because it provides amazing value at an amazingly cheap price.
PROS
Cheapest useful e-drum set on the market
42 beats to learn with guidance
Module easy to handle
CONS
No advanced features (half-open Hi-Hat cymbal sound, triple-zone Ride cymbal)
---
With the Alesis Nitro, you will find yourself playing well in no time! It is an 8-piece e-drum with a Nitro e-drum module. The module has several percussion sounds and play-along tracks. Other essential aspects of the module include a metronome that shows if you are early or late to a beat, and a headphone jack. There is a USB connection on the module so you can connect to your MP3 player or a computer. With the module, you can adjust the sounds played on any pad and play along to any tune.
The electronic drum itself comprises three tom pads, a dual-zone snare drum, a kick drum pad, and three cymbals. It comes with two drumsticks, a drum key, a module user guide, and an assembly manual. The pads do not wear out quickly, but they are quite small at an 8-inch diameter. The kick drum sounds as authentic as a bass drum should, and it has a real pedal attached. The snare is very responsive.
Alesis Nitro's setup puts analog drum kits to shame with its quality, compactness, and sound. The equipment is easy to set up, the music is impressive, and the various options on the module help the beginner hone new drumming skills as early as possible. Whether a pro or a beginner, you will undoubtedly enjoy playing and practicing with this e-kit.
Best Beginner Drum Sets: Important Characteristics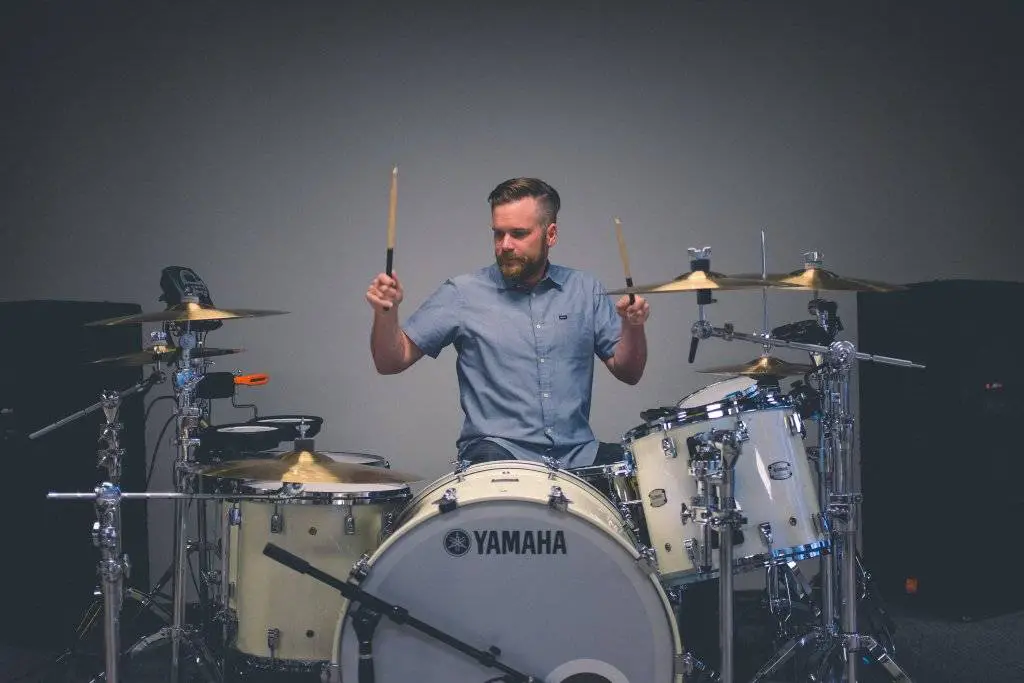 I've shown you the drum kits I highly recommend for beginners, but how do you know which of these great kits is right for you? There is no single definitive perfect set for everyone. Your choice depends on your purpose and circumstances.
So let's quickly learn what's important when looking for a good starter drum kit:
Purpose
What do you want to do with your set? Practice, play live on stage, or record in your home studio?
When making that decision, don't only take into account what you are doing right now. Think about the next 2-5 years of your drumming journey and where you might be by that time. You can easily keep your first drum set for that long.
If you are just dabbling and aren't even sure you plan to keep drumming in the long term, I recommend going budget! That is, go for a practice kit (the Pearl Roadshow) instead of a used one. Used kits can be broken or can have missing sections. This may prevent you from playing your drums correctly, which can inhibit your learning.
If you're set on home recording (one day), I suggest you look at my electronic drum set reviews. Electronic kits make home recording way cheaper and easier.
Size
Again, I've shown you the best starter drum sets for adults. In terms of size, this means that anyone taller than 5ft will comfortably fit behind all the sets presented here.
If you're looking for a drum set for someone shorter than 5ft, you can check out my best junior drum set review.
Setup
Possible setups of drum kits are limitless. Yet, there is one "regular setup" (below) which will enable you to play 95% of the songs you hear on the radio.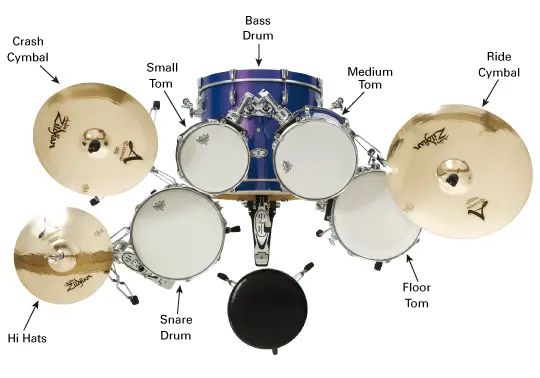 Regular Setup
You won't need more until a good few years into your drumming journey – unless you're trying to show off.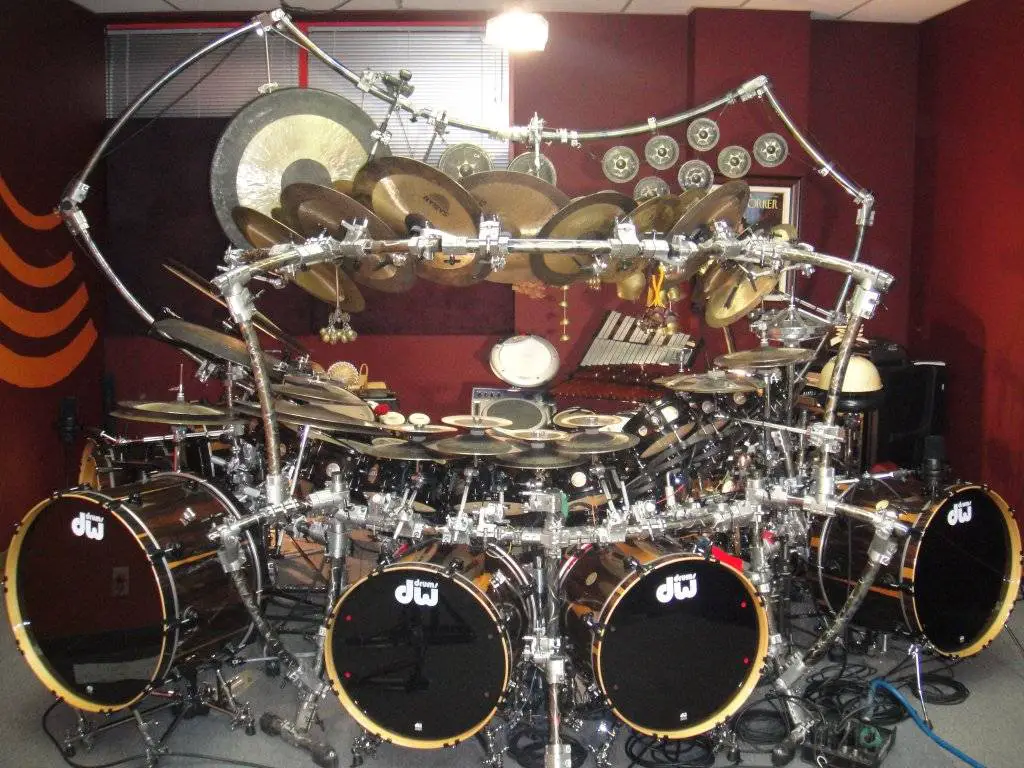 Cymbals
Cymbals are important – you'll play them more frequently than some of the drums. So it's good that all the kits on my list, except the Pearl Export, come with cymbals included.
However, most of them come with only two cymbals each – a hi-hat and a crash cymbal. What all beginner drum kits are missing, except for the Tama Imperialstar, is a ride cymbal.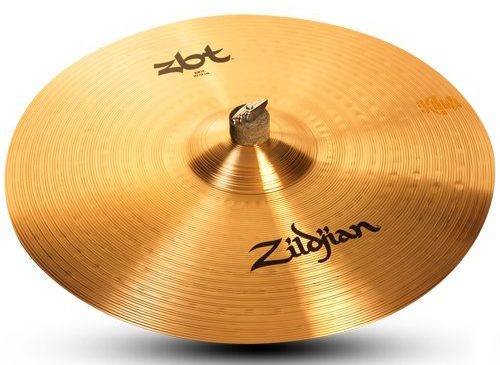 A ride cymbal is larger and thicker than a crash, and without it, you'll be losing out on the higher-pitched cymbal sounds that accompany many guitar solos and choruses. So, with only two cymbals, you won't be able to play everything you hear on the radio exactly as it's played there.
I'm saying this only so you know that it's not crucial to add a ride cymbal now, but it will probably happen sooner or later.
If you need help finding a cymbal, turn to my best budget cymbal review. (This article is about packs of three cymbals each, but the Ride cymbals can all be bought individually too.)
Tips And Tricks
When purchasing a new drum set, especially if you are a novice around drums or musical instruments in general, there are a few things to note:
Tuning is essential – If not correctly tuned, you may assume your drum set is the most inferior quality ever sold on the market. Tuning your drums right can be the difference between pleasant sounds and noise. You can improve your tuning skills by checking out videos on YouTube. If, however, your drums do not sound right despite your tuning abilities, find out if you need new drum heads.
Quality is not dependent on price – Possibly, you want a durable drum kit made of quality materials that can produce quality sound and not those that would disintegrate in less than a year or two. While learning to play, you should note that there is always a balance between quality and cost, hence the importance of guidelines and reviews. Check out online reviews on different types of drum sets before deciding which to purchase.
Noise – Keep in mind that drums are a noisy instrument. You should think of your neighbors as well!
Drum size matters — For a young child less than five feet tall, a junior drum kit could be easier to use than an adult set. Also, as you become more skilled with using the drums and develop a better ear for quality sound, you may decide to purchase a more professional drum set.
Drum Heads
There are dozens of variables that determine how good a drum set sounds. But the quality of the drum heads and tuning are the most important ones. As you can see in the video below, new heads and good tuning alone can make any drum set sound significantly better.
And while you'll probably need to play around with tuning for a bit to get it right, you don't need to read whole books on it. Start with this tutorial to grasp how it basically works. Then just play around with your heads.
And speaking of heads: Start with the ones that come with any of the drum kits above. With the right tuning, you can greatly improve their sound. When it's time to buy new heads, which is about every six months, start with this guide of mine.
Stuff You Should Ignore
What about shell sizes, loops, and snare carpet?
These things do make differences in sound, but none of them are huge, and none of them matter much to drum beginners. At worst, they will confuse you or cost you money.
Take care of your tuning first and ignore the rest for now.
Better to invest your time and money in good drum instructors.
Also Read: Best Professional Drum Sets
Discounted Beginner Drum Kits
I know you would enjoy finding one of those kits above at a discounted price, wouldn't you?
If so, this guide on how to find discounted drum kits is for you.
FAQs
What do you need for a beginner's drum set?
To get started with drumming, you will want a standard drum kit (rather than something custom). This will include a bass drum (also called the kick drum), a snare drum, two tom-toms, and a floor tom.
You will also want cymbals. While more experienced drummers will usually buy their cymbals separately, if you are getting a junior or beginners kit, they will probably be included. You will also need the hardware to mount your kit, especially the bass drum pedal and hi-hat cymbal stand.
You'll also want your drum sticks and a throne (the stool for sitting behind the drum). Again, this is included in most beginner kits but not advanced kits, as experienced players will probably have a personal preference.
How much should I spend on my first drum kit?
How much you should spend on your first drum kit depends on your plan. If you are just looking for something to "dabble," then an affordable kit of around $200-$500 might be enough for you. You might also consider these cheaper kits when looking for junior sets for teenagers since they will grow out of them quickly and you can get them a more professional kit.
If you are very dedicated to learning and are hoping to perform or record within your first few years of drumming, you're going to want a better kit and might expect to pay between $600-$800. As you get more experience, you will probably also find yourself putting more expensive heads on your drums and swapping out your basic cymbals for something more specialist.
What is the most famous drum set?
There are a lot of popular drum brands out there, and they all make a variety of kits, so it would be hard to choose the most famous drum set of all time. But there are some pretty famous kits out there. Ringo Starr of Beatles fame played a set of Ludwig drums, which became known as "The Ringo" in his honor. Rokes Keith Moon (the Who) and John Bonham (Led Zeppelin) both played acrylic Ludwig drums. Yamaha cornered the market on recording drums for a few decades in the 1980s.
Japanese brand Tama is one of the most well-known and respected on the market, and the American brand DW is extremely popular, especially in the United States. Sonor, a German brand dating back to the 19th century, is probably the oldest big name in percussion today.
At what age should I start drumming lessons?
When it comes to learning something that you are passionate about, there is no right age to start. When the bug bites, it is time to invest in yourself and commit to learning something new. Quite a few famous drummers didn't start learning until their early 20s, including Kim Schifino and Megan Martha White (White Stripes).
But when it comes to getting children started, it is generally worth waiting until they are around five years old as this is generally when they start to have the skills to learn in earnest.
How long does it take to teach yourself the drums?
How long it takes to learn the drums depends a lot on the individual and the time and dedication they have to practice. As a general rule, you can probably play basic tunes well within about 3-4  months, and you should expect it to take a minimum of 12 months to feel confident on the drums. Dave Grohl taught himself to drum in a few months without any lessons, but he also had a great musical foundation when he started.
The Verdict
I hope this best beginner drum set roundup will help you in making your decision. If not (or if you disagree with anything), let me know in the comments. I respond 100% of the time!
Best of luck in finding your new drum kit and lots of fun playing it!
PS
If this best beginner drum set review was helpful to you and if you decide to buy one of the drum sets mentioned here, please consider going through one of the links/buttons on this page. This way, I receive a commission, and you reward me for the time and care I put into writing these reviews. Please note that I don't have any incentive toward specific products, since I receive a commission no matter which drum kit you pick (if you do). You can read more about my review ethics in my affiliate disclosure.