Updated: August 17th, 2022
In ear monitors are a must for any drummer as drummers are the ones responsible for the band tempo. Have you ever listened to a band that couldn't keep a steady beat? It sucks – I tell ya.
Now, you can easily learn to keep the time, but one thing that can make or break your job on stage is whether or not you can hear exactly what's going on with the other instruments. And that's where the best in-ear monitors for drummers come in.
Quick Look at Our Top Pick
Best of the Best
Best of the Best
Audio Technica ATH-IM02
The Audio Technica ATH-IM02 is our top pick because it combines comfort and high quality sound which are qualities of a good ear monitor.
FEATURES
Great noise isolation

Detachable cable

Crystal clear sound
It took me a long time to get my first pair of in-ear monitors.
Not because I didn't think they were cool – no, I craved a pair from the first time I saw one – but because I though they must be hugely expensive. Years later it turns out this was all an excuse for not doing my research on them.
And since that time I've been happily using in-ear monitors for live gigs every single time. And I would buy them again and again – even just for the fact that they make you feel quite a bit more professional on stage.
Freedrum- Play the drums anytime, anywhere
Best of the Best
Best of the Best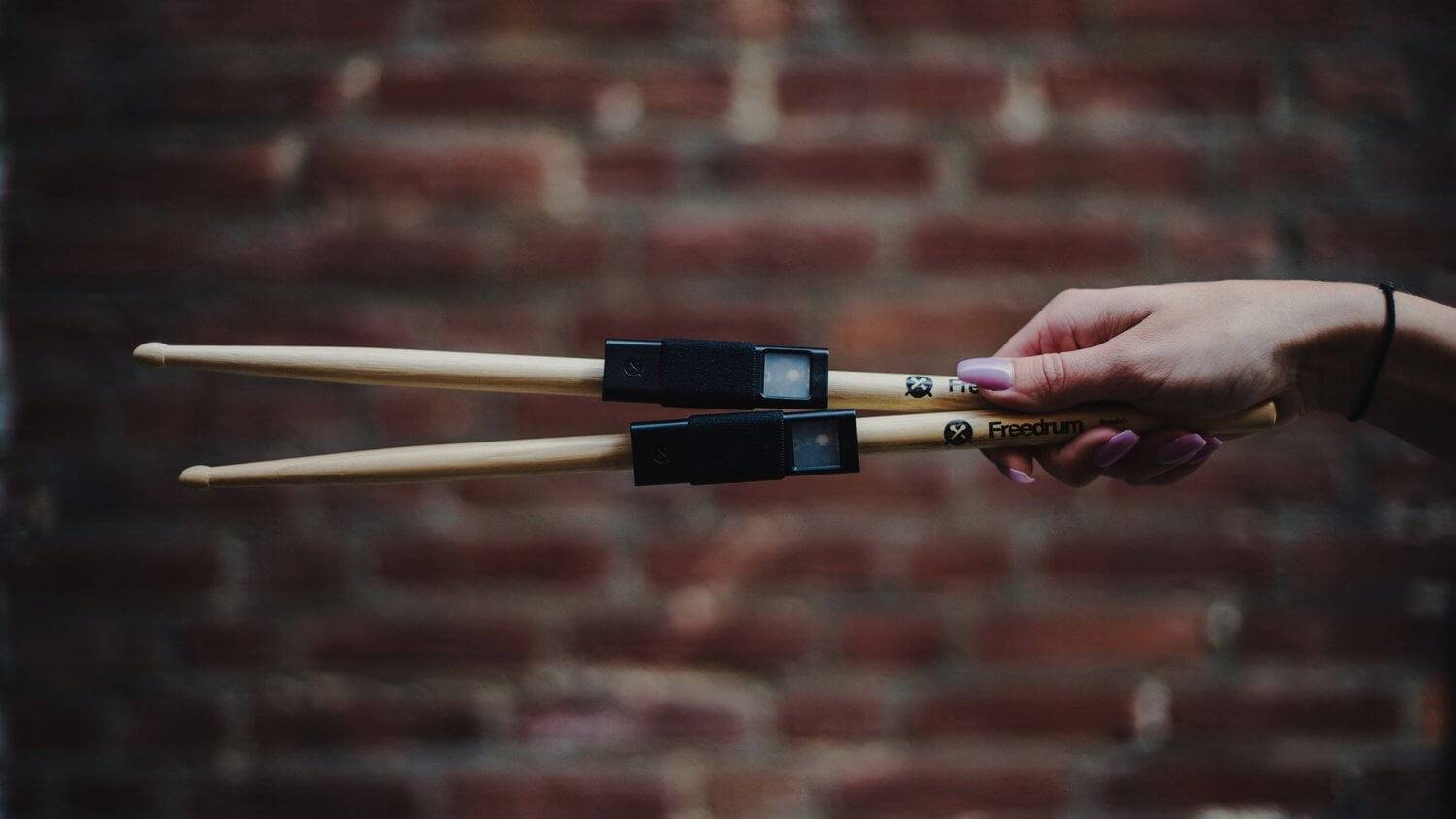 Freedrum
If you crave a convenient, mobile drum kit that is and Freedrum is exactly what you need. Connect using bluetooth and play on your smartphone, computer or tablet
FEATURES
Sensors are super accurate
Good Value for Money
Compatible with all major music software / DAWs
So I've compiled this list of what I think are the 5 best in-ear monitors for drummers today. I looked into 12 models and chose the following 5 and I'm going to show you exactly why I did so.
The Best In-Ear Monitors For Drummers
1. Audio-Technica ATH-E70 Dual Symphonic-Driver In-Ear Monitor Headphones
PROS
Has a sleek, flexible memory cable

Blocks out external and damaging sounds

Has a storage/carrying case
Size and Comfort: Greatly suited for use in studios or stages, this headphone fits right into the ear canal and ideal for prolonged usage. Made by Audio Technica, the model features a detachable memory cable that is 1.5-meter long and gives the ear a customized fit, so it does not fall out easily. Weighing about 6.6 ounces, it features soft silicone and Comply foam ear tips that are sensitive, seals perfectly and enhances comfort for the user. It comes with a carrying case that stores the ear tips together with a 6.3mm stereo adapter plug.
Performance: With several in-ear monitors available, picking one as the best has never been easy. However, Audio Technica has always been a well-recognized brand, and this model is just exceptional. The ATH-E70 in-ear monitor headphone provides an accurate sound stage and extended frequency response due to its three balanced armature drivers. It is expensive compared to most IEMs, but the excellent sound quality averages out the cost and makes you glad you got it.
Sound: Audio Technica ATH-E70 has a full sound that is rich in bass as well as in treble. The tone is neutral and nuanced with a profound response. There is no distortion detected nor any highs and lows in the frequency response. It projects impressive noise isolating effects with a frequency range of 20-19000Hz, a sensitivity of 109dB, and a nominal impedance of 39ohms. You get to focus on your music without distractions.
2. Clear Concept Audio CCA C10 In-Ear Monitor
Clear Concept Audio CCA C10 In-Ear Monitor.
PROS
One year limited warranty

Isolates noise to an extent

Clear nuances

Six color options
CONS
No mic

No carrying case

The cable is prone to tangling
Size and Comfort: As far as comfort goes, the C10 earphones are great. It is a hi-fi audio outfit available in 6 different finishes. The earphones, housed in a resin and zinc alloy shell with excellent build quality, features ten hybrid driver designs with five on each earpiece. It is lightweight and effective at canceling noise. This in-ear monitor is well built for comfort and therefore features detachable cables that allow you to go wireless if you purchase a 0.75mm 2-pin Bluetooth adapter. They also can be worn for long periods without any discomfort and without falling off. This property is due to the extended memory wire on the cable. It is sized at 4.2" x 2.9" x 1.3" and weighs 3.2 ounces.
Performance: The CCA C10 stands against the competition with other more expensive in-ear monitors. It features five drivers on each side, four balanced armature drivers, and one dynamic driver. Additional features include the detachable cables, allowing you to replace, repair, or upgrade it cause issues.
Sound: CCA C10 is designed to cancel noises at 108dB through the in-built MEMS noise-canceling technology. When the silicone tips are included, the seal is good enough to almost completely isolating you from your surroundings. It has an impedance of 32 ohms with a frequency response rate ranging from 7 – 40000Hz. The sound is terrific as it has an excellent balanced mid and high tones produced without distortions.
3. Westone UM Pro 10 Single Driver In-Ear Monitors
Westone UM Pro 10 Single Driver In-Ear Monitors
Despite their tiny size, the ear buds of the Westone UM Pro 10 deliver big on sound.
PROS
Crystal clear sound
Easy to put on due to the comfortable ear buds
CONS
Rough usage is not recommended as it may ruin the sound quality in time
Short cable
Size and Comfort: The Westone UM Pro 10 are heavier and a bit larger than the other 2 in-ear monitors for drummers so far (1 pound at 4.2" x 2.2" x 7.2")., but still this pair of in-ear monitors has been described by many buyers as very comfortable. This is because the package comes with multiple sizes of premium comfort ear tips which provide not only a custom fit, but also an awesome noise isolation. These in-ear monitors will also stay put as they are designed for over-the-ear wear.
Performance: For most drummers, the very basic thing to look for in a pair of ear monitors is the sound quality and noise reduction. The Westone UM Pro 10 are very well rated by professional drummers despite having "only" a single driver. Yet, that one driver seems to do its job well and provides clear sound in any frequency range. The result is of course: a more crisp and clearer sound. Apart from that, this Westone in-ear monitor is made of quality material and you'll be able to use especially the cables for a long while. Plus: the Westones come with a two-year warranty and a cleaning tool for optimal maintenance.
Sound: Despite their tiny size, the ear buds of the Westone UM Pro 10 deliver big on sound. The dual drivers enable you to play a professional performance based on a clean, crisp, and sharp sound range. In particular this means: you'll hear a well-rounded bass, considerable treble (if you choose too) and clear mids and highs. Because of their good noise cancellation, the Westone UM Pro 10 are a particularly good fit for very loud musical genres such as metal or hard rock.
4. Audio Technica ATH-IM02 In-Ear Monitor Headphones
Audio Technica ATH-IM02 In-Ear Monitor Headphones
These in-ears come with strong dual drivers and provide great isolation for a crystal clear listening experience.
PROS
Great noise isolation
Detachable cable
Crystal clear sound
Size and Comfort: The Audio Technica ATH-IM02 are my best in ear-monitors for drummers. This pair of in-ear monitor comes at about the same weight and size as the other Audio Technica above (4" x 2" x 6.5" and 3.4 ounces), so they are easy to store and travel with. These Audio Technica in-ears come with silicone ear tips to give you a custom-like fit. You also have the option to use the foam tips that come with the package. Finally, the ear tips feature a seal for ultimate noise isolation and the ear buds are detachable from the cable in order for you to move freely behind your drum set.
Performance: Although the second Audio Technica product on the list, the ATH-IM02 has earned its spot here. It may be expensive but is one of the most used and bestselling items online. The sound quality, build quality, and the positive reviews from the customers make these in-ear monitors what I regard as best value for the money. To top it off, the Audio Technica ATH-IM02 come with the exclusive dual balanced armature drivers that produce clear, crisp, and pure sound.
Sound: These in-ears come with strong dual drivers and provide great isolation for a crystal clear listening experience. That basically means that the frequencies are generated by 2 separate drivers that, so to speak, specialize in their range of frequencies. As such, these in-ear monitors excel in the general sound department, with a particular strength at higher vocal ranges. Overall, the Audio Technica ATH-IM02 offer near perfect sound, coupled with comfort and the convenience of cable-free playing and therefore…
…these are my "Best of the Best" in-ear monitors for drummers. The Audio-Technica ATH-IM02 fulfill all the requirements that a good ear monitor must have while remaining comfortable and providing high quality sound.
5. Knowledge Zenith KZ ZS10 Pro IEM Headphone
Best In Ear Monitors Under $100
PROS
One-year warranty

The overall sound is balanced

Can be used as wired or wireless

Sturdy and inexpensive
CONS
Has no carrying case, no adapters, and no foam tips

Putting on the ear tips may take time to learn
Size and Comfort: Included in the package for this product are three pairs of ear tips, one detachable cable, the IEM earphone, a manual, and a warranty card. The headphones are lightweight and great looking, and the shells are made of resin plus stainless metal. You can choose out of three color options. They are very comfortable and fit in your ear perfectly once you get the hang of them. The cable is 120cm in length, braided, flexible, and can tangle easily.
Performance: The KZ ZS10 Pro by KINBOOFI Audio features four balanced armatures, one dynamic driver, and a 10mm double magnetic dynamic driver. It has a sensitivity of 111dB, an impedance of 30ohms, and a frequency range between 7-40000Hz. The dynamic driver for the mid-frequency is fast and tight.
Sound: In terms of sound range, it offers a rich improved bass compared to the older model, with clear elevated trebles. The vocals are natural and well-controlled, with zero distortion. Noise isolation is good with a very low sound leak. The ZS10 Pro is like a regular earphone with better sounding and fit. It is suitable for monitoring and instrument separation since you can differentiate each instrument in a mix.
---
Things to Consider When Buying Ear Monitors
No matter what your purpose is when buying an in-ear monitor, there are always few characteristics or factors to consider.
Remember that what's very important for one drummer might not be crucial to you.
So do make your own decisions but make sure to keep these things in mind when searching for the best in-ear monitors for drummers:
Sound quality must be top notch. There is no room for more or less of it because you being a drummer cannot afford to have a bad sound in ears. The better the sound, the better you can coordinate with your band to play great music.
Noise isolation is another factor to look for. The ear monitors must have the capability to reduce the outer noise thus focusing on the main music or the sound you hear directly. This will not only allow you to focus on the music without distraction but will also protect your ears from long-term damage.
Ear buds are highly important in-ear monitors as the bad buds can ruin your ear walls when exposed to music for long hours. While banging the drums, sweating is natural and a good pair of ear monitor withstands it well to offer a comfortable atmosphere to the drummer.
Look for a protective case and spare silicon ear buds to fit every ear size.
I hope that this guide will put you well on your way to purchasing the best in-ear monitor to achieve your drumming dreams!
Questions? Comments? Your Story?
Have you tried any of these monitors? Do you think I missed something? Let me know what you think in the comments below!