Updated: August 21st, 2022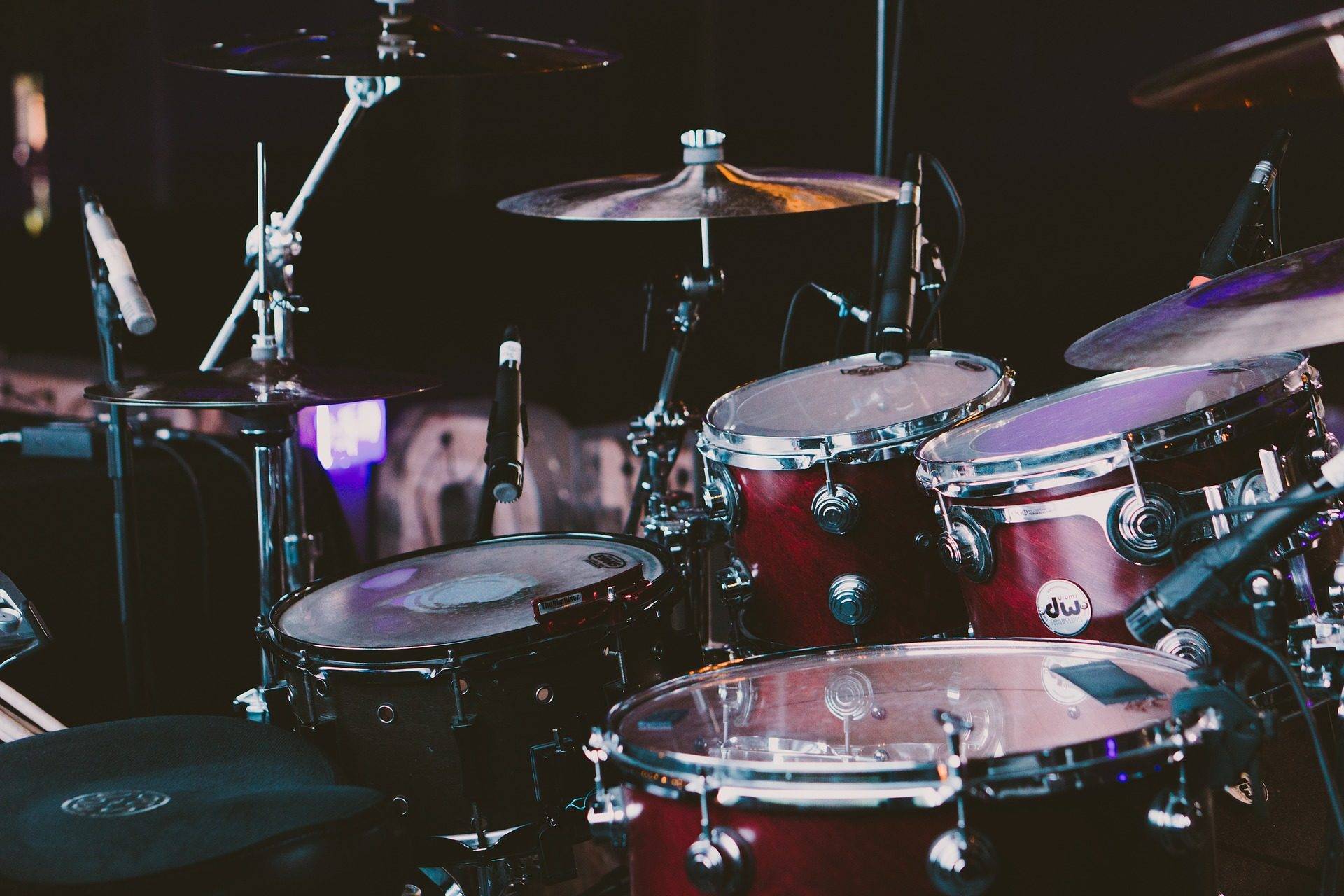 Percussion instruments are continually being upgraded with new designs and configurations that benefit drummers as they improve their skills and performance. With a variety of tools and accessories, it becomes easier to explore different musical ideas and styles. As elite drummers tried to perfect their craft, the need for mounting systems that enabled them to play multiple instruments simultaneously became paramount.
Whether you prefer the four and five-piece kits or something more significant, the right configuration on an elaborate rack system will enhance the music creation and production process. With the better placement of sample pads, toms, cymbals, and other percussion instruments, your convenience is guaranteed as your drumset becomes more appealing. The simplicity makes it possible for you to have your entire kit ready within a short time.
There are numerous rack designs with unique fixtures, making it challenging to decide the right one for your drum kits. This article answers the questions you might have regarding the best drum rack, providing additional information on the extra pieces that can be added later to enhance your configuration.
A Quick Look at Our 5 Best Drum Racks
Drummers looking to consolidate their kits for a better experience would love this drum combo rack from Pacific Drums by DW. It features a variety of reinforced clamps and accessories on a heavy-duty chrome-plated steel tubing. Regardless of your preferred configuration, this rack can accommodate a wide variety, with a durability that makes it stand out.
PROS
V-clamps that are usable with a variety of hardware

Integrated spikes for isolating the vibrations

Soft-grip rubber feet to prevent skidding

Heavy-duty chrome-plated steel tubing for enhanced durability
This sturdy and modular rack features a main and side package for accurate set-ups. It features a nameplate for easy identification and soft-grip rubber feet to prevent skidding while in use. With additional components like TechLock locking screws and integrated spikes for isolating the vibrations from the rack and equipment, you can rest assured that your sounds will remain crispy.
You also get V-clamps that can be used with various hardware, making it a flexible option for all drummers, whether beginner or pro. Other accessories include hinged memory locks, V-angle adjustable clamps, cymbal arms, tube top cymbal adapters, and a hi-torque drum key.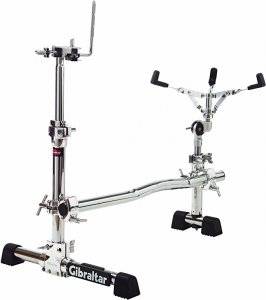 The GSVMS Stealth vertical rack is a standard option for drummers who require an affordable option that guarantees convenience with various configurations. Your snare, toms, cymbal, and other drums can be in one unit, allowing you more flexibility during a performance.
PROS
Quite affordable

Anti-skid rubber feet

Simplistic design with no tripods

Bent connecting bar

A single tom-mount with cymbal clamp included
CONS
It can only hold a few instruments.
This rack is simplistic with no tripods, making it usable on any stage, regardless of the available space. The connecting bar has a bent design to allow the convenient use of a double pedal connector arm. It features versatile accessories that are usable with a variety of drums from different brands. The included nylon bushings ensure that toms and snare baskets remain stable when in use.
You also get right-angled clamps, an adjustable snare basket, a single tom-mount with cymbal clamp. The anti-skid rubber feet guarantee stability and fewer vibrations when playing instruments on the rack. With this equipment's easy set-up, you can have your entire kit ready for use within minutes.
Drummers looking for a set-up that can accommodate different instruments in the desired configuration would love the Gibraltar GSDS. It features a U-shaped bar for holding your 22″ bass drum securely while you play. Its innovative design ensures that your drumset does not look bulky while playing on a small stage.
PROS
Lightweight for easy repositioning

Includes hex locking nuts and rubber stoppers for quick setting up

No tripods on the U-shaped bar

Accommodate different instruments in the desired configuration  
CONS
Not great for two bass drums
Users get to mount a ride cymbal, a rack tom, and two crash cymbals in a way that removes clutter from the available floor space. The tripods with anti-skid rubber legs ensure stability for better performance, even as you increase your speed. With no tripods on the U-shaped bar, you get to maintain a low-profile look without trouble.
The GSDS is lightweight, with hex locking nuts and rubber stoppers that allow quick set-up and dismantling of the equipment. It is easy to transport or reposition on the stage after set up.
The CPRK by Drum Workshop is a mid-range option that features the main rack with matching heavy-duty clamps. With thick stainless steel tubing, you can enjoy stability and durability as the frame remains viable after several years.
PROS
Modular hardware system

Name badge

Tube-mounted cymbal arms included

Matching heavy-duty clamps
CONS
May take up space when setting up bigger kits.
The unit features high-density rubber, and so has much more bounce. Although it is not a silent practice pad, it does not produce sounds loud enough to disturb others. It is a very functional piece, making it ideal for practice at odd hours, such as nighttime.
There are no tripods, making it possible to use on small stages. The built-in name badge makes for easy identification of the rack. It is lightweight and less clumsy to move around or reposition on stage when set up. With its soft-grip rubber feet, you can minimize the drums' vibrations and movement while performing on stage.
This rack from the DW 9000 series also comes with tube-mounted cymbal arms and various accessories to support different configurations. You get to mount your kits and dismantle them with ease, making the equipment ideal for beginners and advanced drummers.
The GCS300C is another option from Gibraltar that features a curved design, with extended bars that allow for flexibility during setup. With a curved horizontal bar, you get to use different add-ons comfortably without interference. There are RMAA cymbal boom mounts on the vertical bars which can be adjusted to the desired height.
PROS
Lightweight with a minimalist design

Gibraltar logo badge for easy identification

A wide variety of clamps and memory locks are included

Sturdy quick-release T-legs

The curved horizontal bar for enhanced flexibility
CONS
You would require to buy more clamps separately to fit more equipment.
The quick-release T-legs are sturdy enough to bear the weight of your drums. With anti-skid rubber feet, the vibrations are minimized during a performance. The included standard and hinged memory locks allow for a quicker set up of cymbals and other hardware. You also get different clamps designed for use with a variety of accessories from different brands.
The Gibraltar logo badge makes it easier to identify authentic products before making a purchase. Its minimalist design ensures that drummers can enjoy prolonged performances on small stages without trouble.
Key Considerations When Choosing a Drum Rack
Design and Stability: When buying a drum rack, seek out one with a build that can support the weight of your entire kit without falling over. It should remain standing throughout your performance, regardless of your speed. Although it looks like stability comes with a bulkier set-up, you can keep a low profile and secure play. You can look for designs that occupy less space, even if you have several cymbals and toms.
Due to vibrations from the instruments, it is common for most traditional stands to move regardless of your playing style. You should seek models with fixtures that absorb these vibrations, ensuring you do not have to stop and reposition your equipment during a live performance. The size of its components will determine how quickly it will be to set up or dismantle.
Tubular steel seems like the choice material for the manufacture of the frame due to its strength. The anti-skid rubber feet absorb vibrations but may not be enough to keep the entire kit in place.
Customization: Depending on your drumset's size, you can opt for something basic or one that features main and side racks. Starting with a bare frame allows you the option of expansion as you acquire more instruments. It is the wise pick for low-income earners, as a full option may not be cost-effective. You get to purchase additional components whenever you need to add more toms, snare drums, or cymbals. Nobody wants to be restricted by a rack, as buying a new one each time you need to expand can be challenging.
Ease of Use: You would want a rack that is easy to set up and compatible with arms, extensions, and other add-ons from other brands. As you evolve your skills, it should be able to hold all your hardware without looking clumsy. Repositioning should also be possible when fully set up, to ensure that you play conveniently, regardless of the available space.
Price: As much as you may want something affordable, it should also provide value. Using drum racks are more cost-effective than individual stands. And finding one that can accommodate your entire drum set makes it worth every penny.
Drum Rack Expansion Mounts and Parts
Whether your rack features hex, curved, square, or round bars, it should allow for customization and expansion with clamps and mounting-arm options. If you decide to start with the standard rack option, here are other add-ons that you may consider as time goes on:
Tom Holder
With several instruments, the entire drumset can look clumsy, affecting your speed and performance. Consider acquiring a tom holder, which makes it possible to enhance the configuration to suit your needs. The more toms you can add allows for the development of new techniques as you play. There are several options from different brands that are durable and easy to use.
Multi-Clamps
As you develop new skills, you need more toms, sample pads, drums, and other instruments, hence the need for multi-clamps. These clamps make it possible to mount new accessories and add-ons without trouble. They are rotatable and adjustable, allowing for flexibility during expansion with accessories from different brands.
Electronic Mounting Clamp
As technology evolves, better ways of amplifying sound are being developed. You may require some electronic instruments during the music creation and production process. A suitable electronic mounting clamp ensures that your device remains securely in place, even as your drum rack endures all the use and abuse during a performance.
Cymbal Boom Arm
You can add new cymbals without having to acquire a new stand that may take up more space. With a cymbal boom arm, you can expand your rack to contain more instruments. It is usually lightweight and does not change the overall weight of the frame significantly.
Why Are Drum Racks Crucial for Drummers?
Drummers are often saddled with the burden of choosing between drum racks or stands. As individual frames have their advantages, they take up more space and make your entire kit look bulky. With a drum rack, you save money while your instruments are conveniently set up in one place for easy repositioning. Setting up and dismantling your equipment becomes less demanding, regardless of the size of the kit.
Imagine playing at big concerts with a broad audience; you would want to entertain them with your best instruments and special techniques. According to a research paper by performance experts, titled Performance Space and Spatial Performativity, "space is a fundamental concern of all performance practitioners." All artists try to make the best use of the available space while thrilling their audience.
A good rack would hold everything in place and in the right position regardless of the force you exert while hitting the percussion instruments. While playing gigs in local pubs or a small stage, you may want to stick to stands with a few drums. Every drummer should always remember that any suitable option should weigh less, offer stability, and take up little space.