You've decided to pick up the drum sticks? Good choice: drumming is fun, drumming is healthy, and drummers are a great bunch of people!
But first things first: what's the best beginner drum set? After all, this will cost you a few hundred dollars, so you might not want to engage in pure trial and error.
That's why I've distilled the essence of all individual beginner drum set reviews on Kickstart Your Drumming into this article.
I've kept it short for each set, but included links to the individual reviews in case you want to dig deeper. And please make sure to check out the buyer's guide at the end. This will tell you what to look for in a starter kit – and what to ignore.
So let's get to it…
If you decide to buy one of the products reviewed here, please consider going through the links on this site, because this will earn me a small commission – at absolutely (!) no extra cost to you.
I've poured my heart and lots of time into these reviews, and by using my links you help ensure that future readers will find this site still working.
Also, if you're looking to buy only the cheapest beginner drum kits, read this article too.
Best Beginner Drum Sets
Mendini MDS80 – The Cheapest Starter Kit On The Market
Cheapest useful practice kit on the market
Everything included to start playing (bass drum pedal, stool and sticks)
Decent drum sound
Available in 7 color options
Low-quality cymbals (can be replaced)
Doesn't look professional enough for the stage
Want to give it a listen before jumping into the overview?
The Mendini gives a completely decent drum sound. And you can't take that for granted at the price.
What is bad, are the cymbals. They are pretty thin and sound crappy. (If you want to know why this is normal, check out my in-depth Mendini review)
One more good thing though: you can choose from 7 color options. And I've experienced numerous times with my students that color does influence one's motivation to practice a lot.
Gammon 5 Piece Drum Set – The Best Selling Beginner Drum Set
Useful beginner practice kit
Everything included to start playing (pedal, stool and sticks)
Decent drum sound
Bestselling drum set on Amazon
Low-quality cymbals (can be replaced)
Doesn't look professional enough for the stage
Some buyers report broken hardware (my students haven't so far)
And the sound?…
As you can hear, the Gammon is very similar to the Mendini: the drums sound decent and that's surprising when considering the price.
The cymbals however are clearly low-quality. This is unfortunate but normal. Why? I'll tell you in my in-depth review of the Gammon drum set.
Pearl Roadshow – My Best Beginner Drum Set 2018
Based on Pearl's advanced production technologies
Best included cymbals I've seen so far
Looks good enough for the stage
Ready to play right out of the box (incl. pedal, stool and sticks)
Seriously, I couldn't find any
Obviously, Pearl's higher end kits involve better material (wood, loops etc.), but the Pearl Roadshow profits from Pearl's advanced production technologies. And out comes a sound that surpassed my expectations for a drum set that's so cheap:
I also think the Pearl Roadshow looks more professional than the Gammon or the Mendini, so that this is a drum set for practicing as well as for the stage. And audiences will judge you by your looks!
Plus: the cymbals are a tiny bit better than those on the Gammon and Mendini kits. That said, they are still stock cymbals and can't be compared with brand cymbals (which don't have to be all that expensive – see the cymbals section below).
The Pearl Roadshow is my best beginner drum set and will be a companion for a good few years of drumming!
And if you want to know why exactly, check out my full Pearl Roadshow review.
Pearl Export – The Best Selling Kit of All Time
Very good pedal included
Sturdy, long-lasting hardware
Widely recognized drum set + brand
Lacquer version looks very professional
Cymbals not included
Stock heads won't allow for full sound potential
In terms of design, sound and hardware this drum set is far more advanced than the Gammon and the Mendini. It's perfect for practicing and perfect for the stage. And with new heads it's even good for studio recording:
But it comes without cymbals (which is normal for advanced kits). So you'd have to spend some extra cash for a good budget pack of those. (See the cymbal section below to find out that they don't have to be expensive.)
Still, if you're an ambitious beginner willing to spend some money, this kit can take you a long way into your drumming career. See what John, who recently bought it, has to say about the Export.
The Export is also available in a beautiful lacquer finish. Then it's more glossy and has visible wood grains.
Looking for current deals on this kit? Still have a question or some doubts about it?
Find out if there are any in my full Pearl Export review.
Tama Imperialstar – The Fully Furnished Beginner Drum Kit
Snare drum is great!
Comes with double-braced hardware.
The bass drum pedal has a metal base.
Tama kits last long.
Great value for money.
Difficult to position toms.
Stock heads are not good.
The Tama Imperialstar comes complete with drums, cymbals and hardware and is a great kit for a beginner who is getting his first drum kit and wants to get everything he needs in one purchase.
The shells are made from poplar wood which means the drums make a bright and focused tone. The kit has a 14″ snare drum which sounds very impressive and the toms come in sizes 10″, 12″ and 16″ (as a floor tom) – as well as a 22″ kick drum.
The cymbals are part of the decent Meinl HCS series and include 14″ hihats, a 16″ crash cymbal, and a 20″ ride cymbal. As you have seen with the other kits above which mostly come with lower-quality stock cymbals – having a set of Meinl cymbals right out of the box is a serious plus.
I won't say much more and leave it to you to judge how this kit sounds:
---
What to Look For in a Best Beginner Drum Set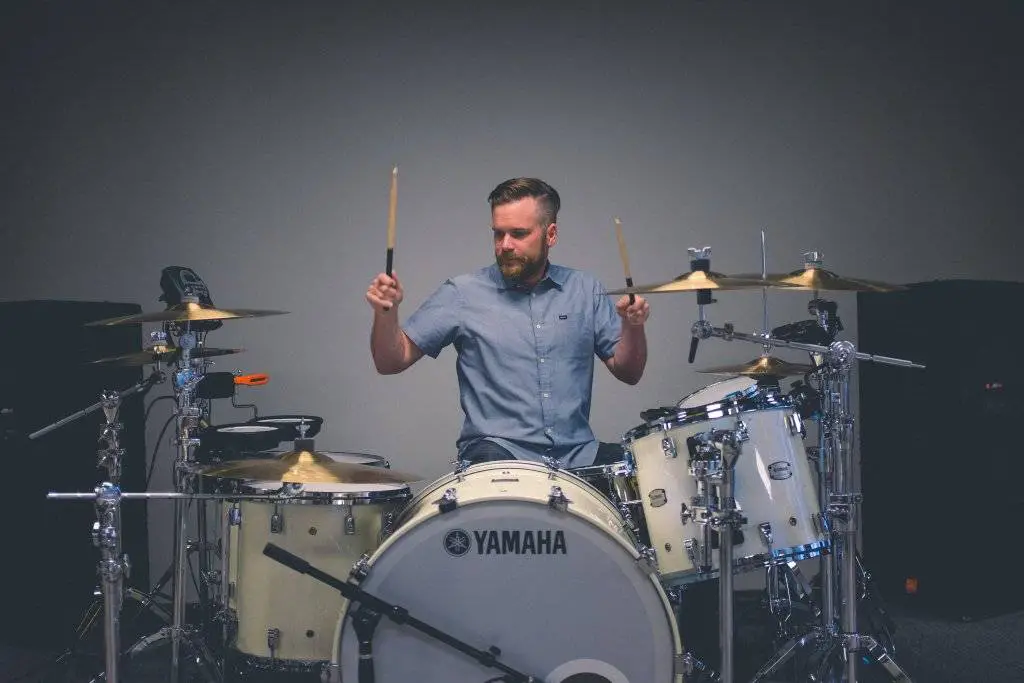 I've shown you the drum kits I highly recommend for beginners. But this might well not be enough for you. For I believe there never is THE best drum kit. A drum set can only be best relative to YOUR purpose and circumstances.
So let's quickly learn what's important when looking for a good starter drum kit:
Purpose
What do you want to do with your set? Practice, play live on stage or home record?
When making that decision don't only take into account the tomorrow. Think about the next 2-5 years of your drumming journey and where you might be by that time. For you can easily keep your first drum set for that long.
In case you're not even sure whether you'll stick with drumming, I recommend: go budget! That is, go for a practice kit (the Pearl Roadshow).
If you're dead set on home recording, I suggest you look at my electronic drum set reviews. Electronic kits make home recording way cheaper and easier.
Size
Again, I've shown you the best starter drum sets for adults. In terms of size, this means that anyone taller than 5ft will comfortably fit behind all the sets presented here.
If you're looking for a drum set for someone shorter than 5ft, can check out my best junior drum set review.
Setup
Possible setups of drum kits are limitless. Yet, there is one "regular setup" (below) which will enable you to play 95% of the songs you hear on the radio: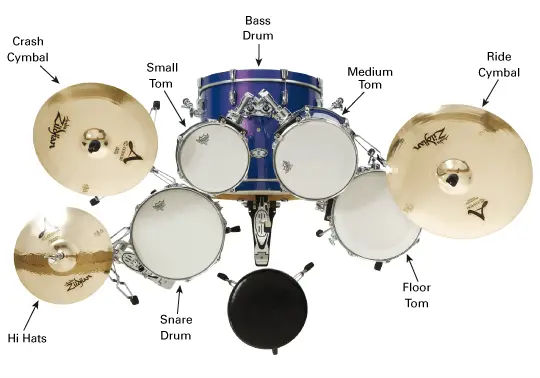 You won't need more until a good few years into your drumming journey – unless you're trying to show off.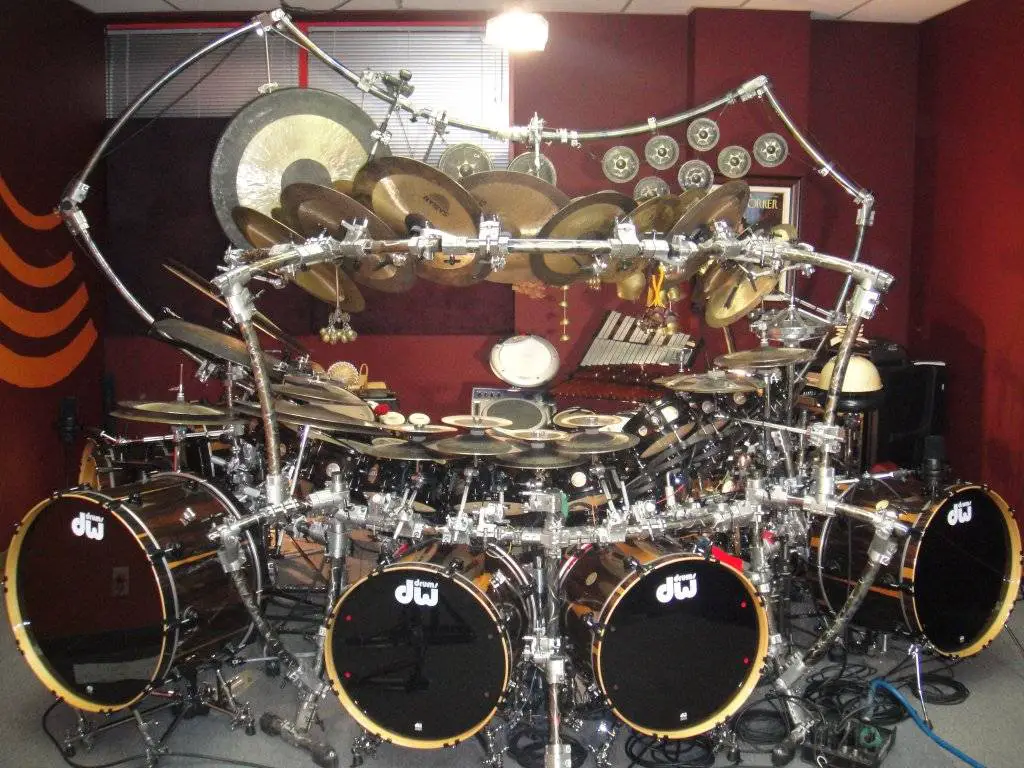 Cymbals
Cymbals are important – you'll play them more frequently than some of the drums. So it's good that all kits except the Pearl Export come with cymbals included.
However, they most of them come with only two cymbals each – a hi-hat and a crash cymbal. What all beginner drum kits, except for the Tama Imperialsta – are lacking is a ride cymbal: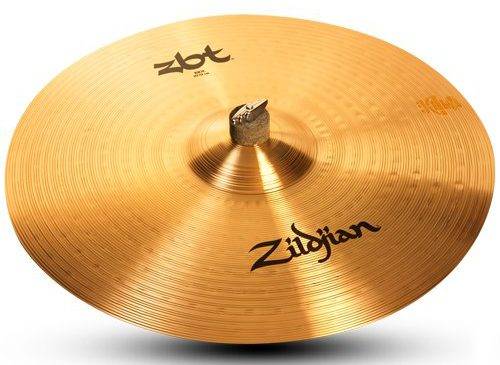 A ride cymbal is larger and thicker than a crash, and without it you'll be loosing out on the higher pitched cymbal sounds that accompany many guitar solos and choruses. So with only two cymbals you won't be able to play everything you hear on the radio exactly as it's played there.
I'm saying this only so you know. It is not crucial to add a ride cymbal now, but it will be probably happen sooner or later.
If you need help then, turn to my best budget cymbal review. (This article is about packs of 3 cymbals each, but the Ride cymbals can all be bought individually too.)
Drum Heads
There are dozens of variables which determine how good a drum set sounds. But the quality of the drum heads and tuning are the most important ones. As you can see in the video below, new heads and good tuning alone can make any drum set sound amazing:
And while you'll probably need to play around with tuning for a bit to get it right, you don't need to read whole books on it. Start with this tutorial, try to grasp how it basically works. Then just play around with your heads.
And speaking of heads: start with the ones that come with any of the drum kits above. With the right tuning, you can greatly improve their sound.
Only once that's not enough for you any more: buy new heads. Compared to the wonders they work, they aren't too expensive. And choosing them is easy too – at least with this guide of mine.
What You Can Ignore
Which wood? Shell sizes? Which loops? Which snare carpet?
These things do make differences in sound, but none of them are huge and none of them matter much to drum beginners. At worst, they will confuse you or cost you money.
Take care of your tuning first and ignore the rest for now.
Better invest your time and money in good drum instructors.
Also Read: Best Professional Drum Sets
Discounted Beginner Drum Kits
I know you would enjoy finding one of those kits above at a discounted price, wouldn't you?
If so, this guide on how to find discounted drum kits is for you.
Conclusion
You now know 4 good drum sets that cater to different purposes:
the Gammon or the Mendini if you're unsure whether to stick to drumming or if you're buying a set to mainly practice with
the Pearl Roadshow if you're in for the long run and don't want to swap kits after two years.
the Pearl Export if you're an ambitious beginner who wants to go for an advanced drum set at an unbeatable price.
I hope this best beginner drum set review helps you make your buying decision.
If not (or if you disagree with anything), let me know in the comments. I respond 100%!
Best of luck finding your new drum kit and lots of fun playing it!
PS
If this best beginner drum set review was helpful to you and if you decide on a beginner drum set to buy, please consider going through one of the links / buttons on this page. This way I receive a commission and you reward me for the time and care I put into writing these reviews. Please note that I have no incentive to favor any products, since I receive a commission no matter which drum kit you pick (if you do). You can read more about my review ethics in my affiliate disclosure.