Updated: November 10th, 2022
In 2019, Aeroband launched a crowdfunding campaign on Indiegogo to finance their air drum kit. The Aeroband PocketDrum was an immediate hit and has dominated the market despite several other companies also releasing various air-drum products.
The idea of using air drumsticks for playing silently and anywhere has had both fans and critics over the years, with some hailing it as a revolution for learning and others suggesting it doesn't live up to the real thing. Taking this feedback into consideration, in January 2021 Aeroband launched the PocketDrum II Pro.
We agree with critics that air drums, any air drums, don't feel like the real things and the only way to learn properly is to get behind a real set of drums. Since drums are not particularly quiet, cheap, or portable, though, the PocketDrum II Pro can fill an important gap in the market.
Investing in a set of drums is expensive if you aren't sure it's something you can commit to. While you might want to practice 24 hours a day, this is unrealistic for most players due to space and sound. The PocketDrum II Pro can be a great way to experiment with drums and get a feel for them before investing in your first drum kit. They can also be an auxiliary training tool so that you can work on your drumming in your bedroom when you wake up inspired at 3 a.m.
Want to know more? Read on for our complete 2022 review of the PocketDrum II Pro.
POCKETDRUM 2 PRO - Play and practice the drums anywhere you go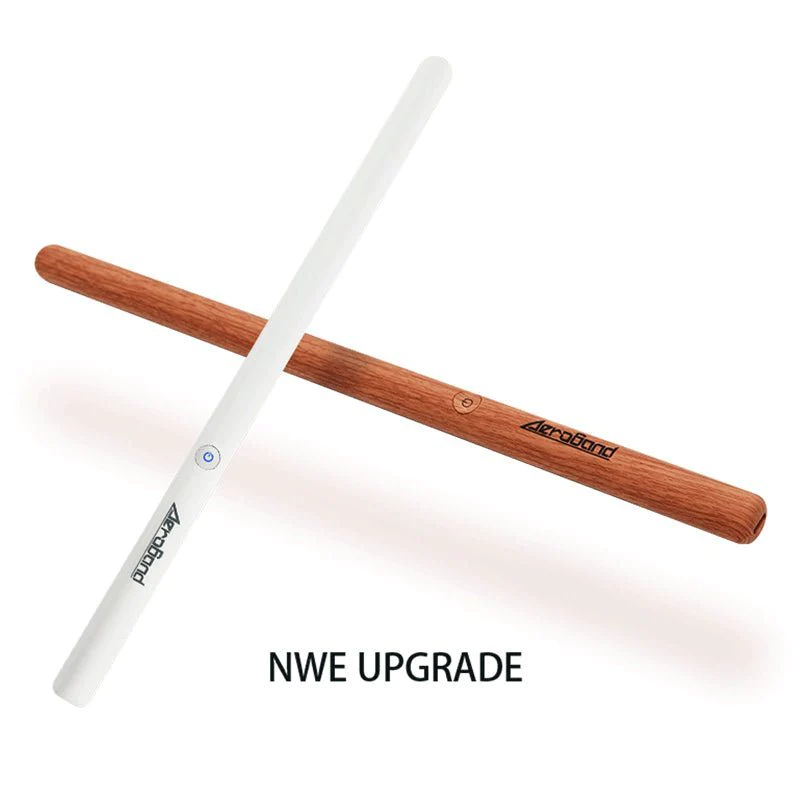 AeroBand
If you crave a customizable, portable drum kit that is super affordable, AeroBand's Pocketdrum 2 Pro is exactly what you need. Connect using bluetooth and jam freely or play along with the app!
FEATURES
Lightweight and portable - You can play whenever you want
Good Value for Money
Suitable for both Beginners and Professional Drummers
Bluetooth MIDI
AeroBand app is free to download
Overall Rating
Overall we give the PocketDrum II Pro 4 stars when it comes to air drum kits. These electronic air drumsticks are not a replacement for a real drum set, but of all the similar products on the market, they are by far the best.
The PocketDrum II Pro offers a full basic drumming experience and a lot of attention has been given to the sensors and feedback to make the drumming experience as real as possible. The kit also has an excellent battery life of more than twice as long as most of its competitors. They are a bit more expensive than similar products on the market, but in this case, you are paying for a higher quality product.
There are two main sets of users for this kit. The first group is learners who intend to use the PocketDrum in conjunction with a real kit for learning. The PocketDrum provides an alternative learning platform and also more opportunity to practice at "inconvenient times," such as between classes or late at night while the rest of the house is asleep.
The second group is made up of people who think they would like to learn to drum but aren't sure and are wary of investing in a big, expensive drum kit ahead of time. Spending some time playing with the PocketDrum can help you decide whether you really do want to invest the time, energy, and money to learn the drums.
Another potential user case is experienced drummers who also want something they can use at times when they can't make a racket. They might also want to use the sticks to experiment with different drum kit sounds they don't have access to, but we'd like to see PocketDrum develop more sound options and maybe some customization options to support this user group.
In a nutshell, if you want air drumsticks there is not a better option on the market than the PocketDrum II Pro.
Want to learn to drum? Find our online drumming lessons here.
Product Overview
The complete PocketDrum II Pro set comes with two drumsticks and two foot sensors, but you can also buy cheaper sets that do not include the foot sensors. The set also comes with a MIDI connector for outputting the audio from your drumsticks to headphones or speakers.
To use the sticks you will need to connect to either the Aeroband or GarageBand app, both of which are available on both iPhone and Android. You can connect your sticks to the app via Bluetooth 4.0. You can also connect both to your MIDI connector via Bluetooth, and then use the AUX OUT to connect to speakers or headphones.
Together, the drumsticks and foot sensors give you access to all the elements of a basic drum kit. With the sticks, you get:
1 snare drum
3 tom drums
1 crash cymbal
1 ride cymbal
1 hi-hat cymbal
The two foot sensors let you:
Control the bass drum
Control the hi-hat
You don't need a sensor pad or camera. The PocketDrum II Pro senses your movement in three dimensions so it knows where you are hitting to determine what you are playing. It has almost zero latency, so you will hear your playing in real time.
With the application, you can use the drumsticks in three different modes. There is a tutorial mode that lets you play along to the exercises for various tutorials; these are how you will learn where the drums should be in front of you. Then there is a game mode that makes learning some of the most important combinations more fun. Finally there is a free mode so that you can play along to any of the thousands of songs available in the apps.
The sticks give vibrational feedback to stimulate the bounceback you get when you hit drumsticks against real drums. Both the sticks and foot sensors take about two hours to charge, but will give you around 14 hours of play time in return. Charging is simple via USB.
Pros And Cons
What are the pros and cons to consider when purchasing the PocketDrum Pro II? We think you should consider the following.
Pros
Lets you practice the drums anytime and anywhere without the need for a dedicated space or worrying about disturbing others.
You can buy a kit that comes with everything you need, including drumsticks, foot sensors, and a MIDI connector for audio output.
The sensors and feedback mechanisms on the kit provide a fairly good experience that people who play real drums will be able to recognize and use, even if it does not feel exactly like the real thing.
The product is supported by a great application with a lot of associated content including tutorials, games, and thousands of popular songs.
The battery life is excellent and you can probably use the drumsticks for a few sessions before you need to charge. Charging is simple via USB.
They are much cheaper than electronic drum sets that come with pads that you need to hit. They offer a better experience than rollout pads, and use less space than fixed electronic sets.
Cons
While these are great for practice sessions, you will need a real drum kit as well to learn how to play.
They are more expensive than other electronic options, so you need to know that you will use them regularly to justify the purchase.
The kit cannot be programmed (yet) for left-handed drummers who like to use a reverse kit.
Review Of Elements
Sound And Zones
The PocketDrum II Pro offers eight different sound profiles that you can set up so you can play a rock, jazz, or classical drum adjustment depending on what type of music you are playing. Most beginners will probably have just one or two modes that they use all the time. More experienced players might use the sticks to experiment with different sounds for kits that they don't have access to regularly.
You will need to calibrate the sensors when you start using the kit, but the calibration tends to work well and stay stable once it is in place. It is best practice to recalibrate your sensors periodically, though, as your playing will likely change as you gain experience, and switching modes often can also affect it. Aeroband has not yet set up calibration for left handed players, but this is something they hope to tackle in the near future.
The vibrational feedback through the sticks is good. The sensors are capable of determining whether you are hitting light or heavy and give you appropriate feedback. Of course, it doesn't feel quite the same as hitting a real drum.
Foot Drum Sensor
The kick drum sensors feel just as good as the drumsticks when it comes to accuracy. They were adapted from older PocketGuitar technology and actually use more stable and developed technology than the drumsticks, but you can't get the same feedback on the hit with the foot sensors as you do with the sticks.
Latency
PocketDrum prides itself in having no latency between when you trigger and receive the drum sound, so it should sound like you are playing a real drum kit. They boast that their unique space-calculating algorithm is 99.9% faster than competitors. We can't be sure if that's true, but it certainly feels in sync while playing.
Battery Life
The PocketDrum II Pro offers excellent battery life. From just two hours of charge, you can get 14 hours or more of playing time. This is much better than competitors that usually offer 5-7 hours, and also probably means that they will outlive the smartphone that you connect to.
Pricing And Where To Buy
While the original Indiegogo campaign for the PocketDrum II Pro is now over, you can buy the kit directly from the Aeroband website. They are currently selling a version without the MIDI adapter for $139, and with the MIDI adapter for $179. Shipping is calculated at checkout. Choose your color from between Pure White or Too Real, which look more like authentic wood drumsticks.
You can also find the complete kit with drumsticks, foot sensors, and a MIDI connector on Amazon for less than $200 plus shipping. They aren't available on Prime, though, and you should expect delivery to take at least two weeks.
The PocketDrum II Pro is noticeably more expensive than some of its main competitors such as Aierson, but that is because the kit is of much better quality, as is reflected in the customer reviews. Customers complain that competitors have a short battery life and that the calibration of the sensors is not good. These both seem to be issues that Aeroband has cracked with their latest iteration of the product.
FAQs
I want to learn how to play drums. I'm a beginner with no experience. Is PocketDrum suitable for me?
You will never learn the drums without spending considerable time behind a real drum kit, but the PocketDrum can be a great auxiliary tool that can help you expand your training by letting you practice at times and places that would otherwise be impossible. It can also be a relatively cheap option if you are interested in the drums but want to try them before you invest in a kit. It can help you decide if you have an affinity for drumming first.
Is it possible to connect or cast PocketDrum to a TV?
The PocketDrum is not currently designed to connect to a TV, but you could connect to an Android- or Google-powered smart TV if you sideload the Aeroband or Garageband apps.
The Verdict
Electronic air drum kits have a place in the market as auxiliary tools that can help drummers practice more, as you can practice when you have time out and about and also at unsociable times when playing a real kit would disturb others. While they are a useful tool, they do not replace real drum kits when it comes to learning.
If you are looking for an air drum kit, the PocketDrum II Pro is probably the best on the market. The accuracy of the sensors and the amount of content available for the kit makes it an excellent investment.
Waiting for your PocketDrum II Pro to arrive? In the meantime, read our guide on how to practice drums without drumming.