Conga drums themselves are a single, barrel-shaped drum, originally made of wood but now mostly made of plexiglass, and covered with rawhide (or some other material for drumheads). The conga was inspired by African drums, but it evolved on its own in Cuba, making it a uniquely Cuban instrument. Despite the fact that conga drums are now played all over the world, they are inextricably linked to Cuban folklore and folk music. Until the 1930s, when Americans fell in love with Cuba, they were simply just a Cuban instrument. The fusion of Cuban and jazz music swept the United States off its feet.
Percussion is derived from the Latin verb percussion, which means "to pound" or "to hit" in a musical context, and the noun percussus, which means "to beat."The conga drum, also known as the tumbadora, is a single-headed drum from Cuba that is tall and narrow. Conga drum sets are divided into three categories: quinto (highest), tres dos or tres golpes (middle), and tumba or salidor (lowest). Many types of Latin music, including son (when performed by conjuntos), descarga, Afro-Cuban jazz, salsa, songo, merengue, and Latin rock, have adopted conga drum sets as a common instrument. 
Most modern conga drums have a screw-tensioned drumhead and a staved wooden or fiberglass shell. Except for traditional rumba and conga drum, where each drummer plays one conga drum set, conga drums have been played in sets of two to four since the 1950s. The fingertips and palms of the hands are used to play the conga drums.
From the bottom of the shell to the head, typical conga drums are about 75 centimetres (30 in) tall. The drums can be played from a seated position. The conga drum set can also be placed on a rack or stand so that the player can perform while standing.
Conga drums are not inexpensive. Even the budget versions would cost at least a few hundred dollars. Going too short, as with all instruments, can cost you in terms of build and, most importantly, sound quality. Depending on your needs and budget, this article will show you the six best congas to buy in 2021.
1. LPM198-PR LPMC Mini Tunable Puerto Rican Flag Wood Conga
(Best budget option)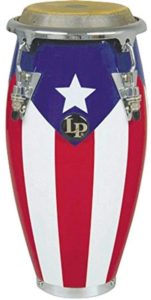 This artistic conga drum was designed by pure artistry. It has a proudly hand-painted Puerto Rican Flag on it, for artistic appeal. The conga drum was made for beginners, students, and professional musicians alike. Miniature Comfort Curve II rims are made of kiln-dried, environmentally friendly Siam Oak with chrome-plated durable hardware to ensure maximum stability. Due to rawhide heads being implemented, they assure for assistance in the development of a simple tone, which are loved by many. 
This conga drum can be played or shown with pride and as it is both attractive and musical. 
The conga drum price of the LPM198-PR LPMC Mini Tunable Puerto Rican Flag Wood Conga drum can be purchased on Amazon is only $59.99. The size of this conga drum is the smallest, in comparison to the other conga drum sets.
2. Latin Percussion City Series 
(For beginners, students, and professional musicians alike)
A Fantastic Conga Set for Both Beginners and Experts! The Latin Percussion City Series Conga Set with Stand and a Natural Gloss can be purchased for $349.99 on Amazon. The Latin Percussion City Series Wood Conga Set is an excellent instrument for beginners, students, and professional musicians alike. Each of the two 28″-high congas in the City Wood Conga Package is made of environmentally friendly Siam oak and features reliable, durable hardware, comfortable EZ Curve rims, robust tuning lugs, a tuning wrench, and natural rawhide heads. The 10″ and 11″ congas are kept in place by a height-adjustable double stand. True percussionists adore the sound and durability of these Latin Percussion congas. This conga drum set size consists of 28″ x 10″, 28″ x 11″. 
Tuning lugs are standard on all LP brand congas and are made of specially heat-treated, high-carbon steel with precision-cut threads for smooth tuning, strength, and durability. The sideplate's design is critical due to the immense amount of tension needed to tune a conga head. The upper part of the side plate is subjected to tremendous strain during the tuning process. As a result, LP brand side plates are wider at the top to spread head and rim stress over a greater surface area. This adds to the longevity of the product.
3. Toca Synergy 
(
Great mid-range Conga drums set)
Toca conga drums are dedicated to being environmentally aware. This funky conga drum price for the Toca 2300BB Synergy Wood 10″ & 11″ Conga Set with Double Stand is $330.71 on the bill's music site. Toca's conga drum sets are made from wood harvested from a plantation in Thailand, which is then lathed and handcrafted by local musicians. This resource, which is carefully controlled, is much less harmful to the environment than wood harvested from primary forests. Quality 2-ply Chinese maple shells, black powder-coated hardware, and natural rawhide heads distinguish 
Toca Synergy Conga drums. A durable double stand is included for standing action, which raises the drums off the ground and increases their resonance and sound. They stand 28″ tall and have 10″ and 11″ heads.These drums are much more costly than the previous two, but they are unquestionably designed for skilled use. Quality 2-ply pick wood shells, black powder-coated hardware, and natural rawhide heads make up the Synergy Bongo package. These bongos' silky tones and sophisticated appearance can help you get into the Latin percussion groove.Some of this conga drum sets features are as follows:
Finishes in a rich, warm tobacco color.

Natural rawhide heads 10″ and 11″ 28″ 2-ply wood shell construction

Hardware is powder coated in black.

Conga stand with two braces and two congas

Bongos that go together
4. Latin Percussion Aspire 
(Range of environmental and playing conditions)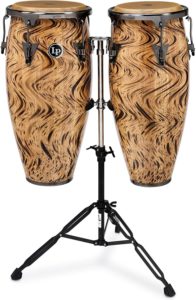 LP has been creating classic percussion instruments for over half a century, as well as patenting hundreds of innovations and innovative designs for musical instruments that meet the stringent requirements of skilled musicians. From modern salsa to classic rock, Latin Percussion instruments have been used in thousands of the world's most popular, chart-topping albums. Indeed, LP is such an integral part of so many musical genres that it's almost difficult to listen to a playlist or turn on the radio without hearing an LP instrument.
This conga drum price is $454.32 and can be found on Amazon. The Latin Percussion Aspire Wood Conga Set is an excellent instrument for beginners, teachers, and professional musicians alike. Each of the two 28″-high congas in the Aspire Wood Conga Set is made of environmentally friendly Siam oak and features reliable, durable hardware, comfortable EZ Curve rims, solid tuning lugs, a tuning wrench, and natural rawhide heads.The 10″ and 11″ conga drums are held in place by a height-adjustable double conga drum stand. These conga drums have a fantastic sound and are designed to last. The Aspire Wood Conga Drum Set will keep you entertained for hours!
Kiln (oven) dried wood is used in LP brand congas. What is the significance of this? LP can monitor the moisture content of the wood during the manufacturing process by using kiln dried wood. Wood extends and contracts long after it has been harvested. All fine wood instruments, like conga drum sets, need just the right amount of moisture content to keep them from cracking and breaking. Congas from Latin Percussion are used by the world's most challenging players in all seasons and climates, in every area of the globe. The use of kiln dried wood allows the conga to endure a range of environmental and playing conditions.
5. Meinl Percussion Headliner Series
(Superb quality high-end Conga drums)
From beginners to rock stars, this Meinl Headliner Series Conga Drum Sets get the party started. They provide excellent sound and value for money in the budget price range, and they have many features found in more costly, professional-level instruments. This Conga drum price goes for $367.26 on Amazon. These congas have 8mm tuning lugs, 2mm rounded rims, black powder coated hardware, and Meinl tuning brackets with an included tuning key, and are made with select buffalo-hide heads spread over Siam oak drums. All sets provide a height-adjustable double-braced tripod stand for sturdy support even during the most energetic solos. 
Siam oak drums are tough, resonant, and have a rich, melodic sound. They also look great onstage.The musical tone and longevity of hand-selected buffalo-hide heads are consistent. With the integrated Meinl tuning brackets, Meinl tuning lugs are solid and fully adjustable. The black powder-coated hardware is long-lasting and contrasts beautifully with the congas' finish. The conga drum set size 11″ & 12″ pair is a full-sized conga kit for beginners. They project well, have warm tones, are light in weight, and have features seen on professional congas. In the budget price category, they have excellent quality and value. This is a pair of congas that you'll want to carry around as your skills improve.
6. lotmusic Djembe African Drum Bongo Conga
(Perfect starter conga)
A djembe or jembe is a West African rope-tuned skin-covered goblet drum played with bare hands. The Bambara people of Mali claim that the djembe gets its name from the phrase "Anke djé, anke bé," which means "all gather together in peace" and describes the drum's meaning. The conga drum price for this special set can be found on Amazon for approximately $49.99.  Genuine Goatskin Drumhead by Hand – This Djembe has a great tonal range, ranging from a piercing slap tone to a deep resounding bass, thanks to the use of a goatskin drumhead. This majestic conga drum has lightweight dimensions. The body of our bongo conga drum is made of ABS resin, which is 1/3 lighter than traditional wooden drums. This size of Djembe is ideal for primary, grade school age, as a good starter drum, measuring 8.3″x11.2″ and weighing 860g.
Sound that is precise and consistent – To keep the djembe drum classic sounds with a warm tone, we use four-button lock ropesound. Those high-quality ropes that ensure the drum retains its pitch for a long time before having to be tuned. This conga drum set has patterned cotton linen. The djembes' bright color cotton linen pattern boosts performance enthusiasm, while decorative geometric color blocks offer the impression of a one-of-a-kind traditional element.The djembe is a flexible drum that can create a wide range of sounds. The drum is extremely loud, allowing it to be heard distinctly over a large percussion ensemble as a solo instrument.
Summary
Congas are staved, which means they're made out of narrow bits of wood or fiberglass. A barrel is the most common example, and here a small one with a drumhead uses screw tension and lugs to tune it. They are divided into three sizes, ranging from low to heavy. To ensure good sound and working hardware, the material used must, of course, be of high quality. It's a simple tool, but it takes a skilled builder to get it right. Unless you have a large budget, most student congas will be made from the same materials.Because of the ever-increasing interest in congas, we decided to compile a list of the five best congas on the market right now. This list has something for everyone, from budget–friendly, beginner's choice conga drum sets to high–end, professional's instruments.
With this list, we hope to have supported you in making your decision. There are plenty of good instruments on the market, but we've compiled a list of the best six conga drum sets available and we hope that it helps you on your quest to find the most suitable conga drum set  that best fits you. This conga drum list has something for everyone, whether you're a novice looking to get started, a casual hobbyist, or a seasoned pro looking to make a living playing congas.