Updated: August 22nd, 2022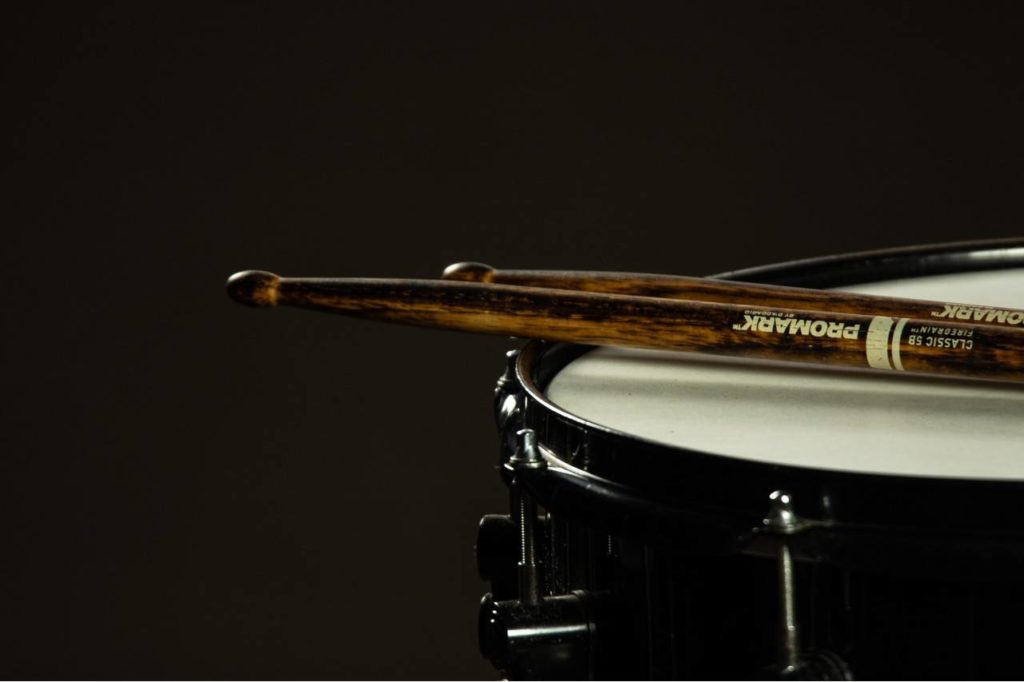 Every beginner drummer wants to know the answer to this question: what basic drum beats and drum rhythms should I learn? Which popular basic drum beats and drum rhythms will allow me to jam like a pro to my favorite songs? If you want to rock a stadium with drum rhythms or just start a local band with unique drum rhythms, it all begins with these basic drum beats. As a talented drummer, I've chosen the ten examples that I use the most often in my work. We'll start with the most popular drum rhythms backbeats (where the snare drum is played on beats 2 and 4). Then we'll move on to some of the more complex backbeats and drum grooves available, gradually increasing the range and complexity. You'll be well on your way to being a capable and flexible player if you can master these ten basic drum beats.
Any drummer who is serious about learning to play the drums and drum rhythms should expand their knowledge and proficiency in various drumming styles. Whether it's pop-rock styles, swing or shuffles, or Latin rhythms, learning a variety of styles is critical to being a successful drummer. Drumming styles refer to how modern and traditional rhythms are adapted to and formed on the drum set. Styles from various countries vary within a genre of music, and differences from player to player are often noticeable and appreciated. The following is a summary of drumming styles that drummers must be familiar with to perform almost any song with any group.
Pop-rock drumming techniques include some of the most well-known drumming styles. This category is unique in that it was created by combining several styles from the other categories on this list and adding them to pop songs. Whatever genres of music you enjoy, there's bound to be a beat for you in this comprehensive guide. Anything from hip-hop to the blues, jazz to metal, and anything in between will be covered. So, without further ado, let us begin!
Top 10 Common Basic Drum Beats
1. Train Beat
The train basic drum beat is a drumming style that sounds like an old steam engine chugging down the tracks. This basic drum beat can be played with a straight eighth note feel or with the eighths swinging like a shuffle. The majority of train beats fall somewhere in the straight-to-swing range. Willie Nelson's song "On the Road Again" has a train rhythm that is quite close to the beat notated below. Other songs with a train beat theme, such as Johnny Cash's "Folsom Prison Blues," use a variation on the ride pattern. Train beat drumming can be done by anyone on the snare, drum rims, a box, cymbals, or something else that sounds good for the album. It's a common beat in both modern and traditional country music, and it's simple to adapt to the needs of a song by vocalizing it around the toms, for example.
2. Four to the Floor
Instead of only playing the bass drum on beats 1 and 3, it is now played on all four beats. If you want to get into pop, funk, and disco drumming, this is THE groove to master. Stevie Wonder's "Superstition" is an essential track to listen to if you want to hear a perfect example of a four-to-the-floor beat. Hear how the drummer adds variation by improvising on the hi-hat cymbal and playing the bass drum on every beat, which is slightly more on the technical side. The steady pulse gives the music a rock-solid sound, which is exactly what we want as drummers! Working on your timing is, in reality, the most important aspect of being a great drummer.
3. Shuffle Groove
One of my personal favorites, and one I'm sure you're familiar with, is the shuffle groove. This drumbeat made for more experienced, laid-back drummers retains the same bass and snare rhythm as the previous grooves but employs a distinct and very brilliant cymbal style. A triplet rhythm is used in this cymbal pattern to produce a bouncing sensation known as a shuffle. How does it do this? A triplet is made up of three strings, but this track only plays two of them. Do you see how the two triplet notes played are close together, with a space in the middle of them? The rhythm is bouncy because of the busyness, followed by room, followed by busyness. Here's an example from real life. Listen to Stevie Ray Vaughan's popular blues song "Pride and Joy." Is there a bounce in the cymbal rhythm?
4. 16th Note Groove
If you like hip-hop, R&B, or classic rock, you'll enjoy the next drumbeat on our chart, which can be played by most drumming levels too. With four hi-hats played for every bass and snare rhythm, the 16th note groove is our busiest drum pattern yet. These 16th notes, also known as semiquavers, are much more difficult to play than 8th notes. But don't put down your sticks just yet. You should do it! You'll need to work on your muscle memory and endurance to play this beat. Drummers sometimes do this with a practice pad, which helps them to practice the basics of drumming without the use of a drum kit. When I'm not near a drum kit, I practice on a pad, which has helped me improve the technical ability to play some of my favorite grooves.
5. 12/8 Groove
While basic drum beats are often the loudest and most visible aspect of a track, truly great drummers can play with incredible subtlety and power. The 12/8 groove is one beat for which it is especially important to play dynamically (that is, to be able to play softly as well as loudly). This groove is a traditional accompaniment to ballads, slow rock songs, and blues tracks. The drummer gently holds time in these songs, allowing for intensely moving vocal and guitar performances. The drummer plays three hi-hats with every bass and snare beat in this groove. The groove gets its name from the fact that there are 12 eighth notes. Gary Moore, a personal favorite of experienced guitarists, is one artist known for using 12/8 grooves in his songs.
6. Motown Groove
Motown Records is a legendary record label that created much of the chart-topping music of the 1960s and 1970s. If you like Stevie Wonder, the Supremes, Marvin Gaye, or the Jackson Five, you'll enjoy the sound of Motown. One of the best drum beats to come out of the so-called Motown "hit factory" was one that fully reinvented the traditional 8th note groove, which a more advanced skill level can play. Rather than just playing the snare on beats 2 and 4, the traditional Motown groove includes a snare on every beat. This creates a driving rhythm that propels a song forward in a bouncy, cheerful manner. The iconic Motown drummer James Gadson demonstrates the standard Motown groove in the video below.
7. Bossa Nova
The bossa nova drumming style is the lightest and easiest Brazilian drumming style. It combines jazz harmonic and melodic approaches with samba rhythms. It is possible to play it with only a guitar, vocals, and pandeiro (Brazilian tambourine). It can also be adapted for the drum set and performed as part of a larger ensemble. The ride pattern in the illustration below is a straight, unaccented rhythm. It simulates the pandeiro's jingle timbre and can also be played with a brush on the snare or a light shaker. A clave rhythm is being played by the cross stick. With a minor rhythmic variation, this clave rhythm is similar to the Cuban clave. The variation on the bossa nova clave is limited, but fills and transitions to other drums are often followed by a simple variation.
The kick drum pattern is similar to the samba kick pattern in the next drumming style on this list, but don't make it too hard. Bossa nova is a lighter version of Brazilian rhythms. The kick drum does not imitate the surdo as it does in samba. It's the pandeiro's low notes.
8. Disco Groove
When it's time to dance, the disco groove is the way to go. This beat heavily employs a musical figure known as the 'offbeat.' Whereas most rhythms emphasize the beat (1, 2, 3, 4), the disco groove emphasizes the 8th notes between the beats and everyone could potentially play this. This offbeat feel induces an up and down motion, encouraging you to do your craziest dancing! In a disco track, the drummers use 'open' hi-hat cymbals on the offbeat, as seen in the image below. Normally, drummers use a foot pedal to keep their hi-hat cymbals together, but in disco, they open and close these cymbals regularly.
9. Jazz Ostinato
But wait a minute, I hear you say, when are you going to show me something complicated? As it happens, right now… As we near the end of our look at traditional drum beats, it's time to move on to some of the more complex grooves that drummers can master. Jazz is a musical style known for its degree of improvisation and freedom. The jazz ostinato is a swing rhythm that allows your band's musicians to improvise as much as possible. The ride cymbal is usually used for the jazz ostinato, with a soft bass drum on each beat. The bass drum is designed to be played softly so that you can "see" it rather than "hear" it.
10. Half-time Shuffle
This is possibly the most complicated drum rhythms on our list made for more advanced drummers but it's also one of the most enjoyable! The half-time shuffle is a well-known drum beat made popular by drummers such as Bernard Purdie, John Bonham, Phil Collins, and Jeff Porcaro. You've probably guessed that this drumbeat combines a shuffle and a half-time feel. The drummers in this groove fill in the gaps between the hi-hat notes with soft snare drum hits known as "ghost notes." Listen to this incredible Steely Dan hit, which features Bernard Purdie on drums. Can you hear the hushed snare drums in between the hi-hats? They are frequently very subtle, but they add texture and complexity to drum beats. The pros adore this style of play!
Summary
These are some of the most popular drumming styles that any drummer should be familiar with. While style has its own rhythms and feel, there are enough similarities between them to be able to transfer skills from one to the other. It's comforting to know that the above rhythms and variations can be altered indefinitely. Also, drum lessons, books and online courses will get you a long way, but start slowly and only pick up the pace when you know which notes go well together.