Updated: August 21st, 2022
Despite the joy that drummers derive in playing, they have the most massive and bulkiest equipment than other musicians. Mostly, you keep your drum sets in a room, probably your basement or garage, which you have turned into a drumming studio. When there is no need to move your equipment around, you may decide that a drum bag is unnecessary. However, if you live in a small apartment where a complete setup takes up all the space, drum bags and cases become necessary. 
Whether you are playing in a band or massive gigs, you need to carry your set from place to place. Even for practice or while relocating, you most definitely need to have carry bags and cases to protect your expensive hardware from any mishap. If your cymbals take a hit, that reduces the whole quality of your sounds. Users get to relax, knowing that their babies are in safe hands, as damages could be annoying, costing unbudgeted money and reducing playtime.
Getting quality drum bags and cases that suit your needs is not a challenge, especially if you know what and where to look. The crucial part involves doing your research and pinpointing your option out of the vast choices available. Some drum cases and bags choices are dependent on the model of drum set you have. There are more generic alternatives for carrying any type or brand of the drum set. 
As a guide, we compiled a list of the best drum bags and cases when in need of a secure means to carry your equipment.
Overview of the Best Drum Bags and Cases
Types of Drum Bags and Cases
Before you decide on either getting drum bags or cases, knowing the difference between them is vital.
Plastic (hard) drum cases
These containers feature polyethylene plastic or fiber outer shells to maintain their firmness. So a sudden damaging blow or fall does not affect the drums stored inside. Hard drum cases are one of the best and most protective models you can get for your drums. However, they can be heavy and sometimes may need extra paddings to ensure the drums do not slide, move, or get scratched when being transported. The cases are quite expensive, and some models are more durable than others.
Trap (road) cases
Unless you have a truck where you want to load your drums and a hefty individual to do the lifting, you need the trap case. Also known as the ATA road case, this is a multi-compartment option mostly used by professional drummers that allows you to store your drum heads, hardware, and accessories together in the same place. This drum case features integrated wheels for easy movement. The presence of secure latches and locking casters in the case can calm any disquiet about its effectiveness. It is excellent for storage as well as for space conservation and will keep your drum kit safe. Most times, however, you may need to have the case custom-made to fit your drum set model and size.
Drum (soft) bags
The bags are smaller, lighter, economical, flexible, and tight-fitting. These properties make them more preferable, especially for drummers that do not travel much. They feature thick nylon fabrics that secure the drums in position and are suitable for storing the drum sets around the house. Since these bags are collapsible, quick maneuvers into vehicles are possible as you move around from one gig or rehearsal to another.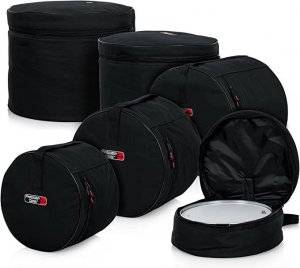 PROS
Well-known brand with high-quality products

Excellent protection

Affordable

10mm thick padding

600 Denier nylon covering
This 5-piece set comes well-equipped with the quality you need for your drum set irrespective of the model. Gator, as a brand, is popularly known for providing well-built carry bags and cases for different musical instruments at an average price. They help you store your kits safely, keeping them away from sight when not in use. 
The outer part of these Gator Protechtor bags features 600-Denier nylon, a strong nylon fabric that keeps the bags sturdy and durable. Inside the bags are linings with 10mm thick padding for impact absorption and protection of the sensitive equipment.
Comfortable, safe straps made of sturdy nylon and the compact collapsible design of the bag set makes it an easy and preferred choice for transport. The cases can be either sold separately or as a set, depending on your needs. They will keep your kit safe, regardless of adverse weather conditions that can affect it. You also get to avoid scratches and dents with the use of these bags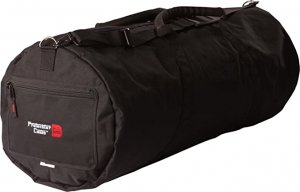 PROS
Sturdy 600-Denier nylon exterior

Adjustable and removable strap

Comes in different sizes

Interior is spacious
CONS
Not suitable for drums

Light padding
It is difficult but possible to get a drum case set that will fit your drum kit, the hardware, and all the needed accessories. They may not have enough space for your stands, microphones, cymbals, keys, and drumsticks. For these extras, the Gator brand offers carry bags of varying sizes. 
The hardware carry bag is one such option. It has enough storage space for you to fit in all your stands, including drums and cymbals. For easy carriage, the Gator hardware bag has a reinforced handle with a non-textured grip that makes it easy on your hands. 
If you prefer carrying it over your shoulders, an adjustable strap that is also removable is there to support the bag's weight. You may find that the interior padding is lighter than most drum set bags because stands are sturdier and less likely to get damaged.
Best Case for a Single Drum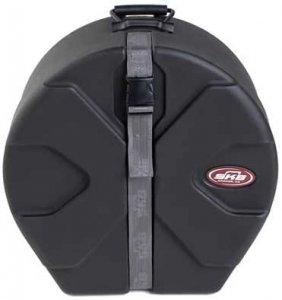 PROS
Roto-molded design

Wide and padded interior

Sturdy handle

Durable and robust, but lightweight

Stackable
CONS
Not waterproof

Not compact
The SKB is a reputable brand that manufactures different types of drum cases without compromising on quality. Among their products is this hard-shell Roto-molded D-shaped case suitable for your high-end tom. It weighs 40.5lb and is easy to work with due to the upright stand. 
The plastic case will house a 6 x 14-inches snare drum comfortably and have room for few accessories such as drumsticks, mics, and notebooks. You can buy other bags to carry the rest of your equipment. It gives your drum excellent protection when you are on the road and keeps it protected from dust when stored. 
Those traveling through rough terrains would find this model with a well-padded interior convenient. It has heavy-duty strap locks and handles with a 90-degree stop for portability.
Best Bag for a Single Drum
PROS
Rugged nylon exterior

Ideal for 18-inch frame drum

Two-year warranty

Lightweight with a practical design and finish

Well padded
CONS
Not completely waterproof
Meinl Percussion 18-Inch drum bag is made from heavy-duty nylon and protects your instruments when on the road. The nylon fabric keeps your drum free from dust during storage and prevents any damage in the event of an impact. It is designed to provide a cozy fit for an 18-inch drum but can carry other smaller accessories and drums if there is a need for that. 
Double-slide zipper closure keeps the drum secured and grants users quick access to the drum inside. The interior is protected from bad weather, well-lined, and padded for comfort. And there is a shoulder strap with a carrying grip for easy handling. The small back pocket on the drum bag is great for carrying extra tools or documents.
PROS
100% risk-free buy

Excellent quality

Affordable

Dust-proof
CONS
Not suitable for snare drums wider than 14-inch
This drum bag is constructed with reinforced oxford material and is an excellent choice for storing your 14-inch snare drums. It is a suitable option for those who would not use their equipment for a while or during trips. The oxford material is lightweight and very portable. 
A handle and shoulder straps offer you different ways of carrying the bag while guaranteeing safety and portability. The exterior of the carry bag features pockets where you can store the snare drum stand and drumsticks. The interior's sufficient padding protects the snare from destructive elements and keeps it from dents and scratches.
Key Considerations When Choosing Drum Bags and Cases
Compatibility: One of the most challenging issues drummers face regarding travel accessories is finding efficient ways to carry all their equipment. You may already have a unique combination of drums of different sizes and models, depending on your preference. But the right bags and cases for them are hard to find. Sometimes, the available models do not put your cymbals and stands into consideration. Hence, compatibility is crucial to ensure that you do not waste money on the wrong fit.
Material: You need to decide on the type of drum case you want based on your preferences and schedule. Soft drum bags are great if you do not often travel and want to store your drums at home. They feature strong nylon but offer limited protection, unlike the hard-shelled or road cases. The hard cases are made of hardened fiberboard or plastic and reinforced inside with soft padding. They are mostly designed to be weather and waterproof, thus protecting your drums adequately.
Extra features: Sometimes, you may need to store other drumming equipment apart from your drum sets. So, it is a good idea to look for drum bags and cases that can house them. These extra spaces can be in the form of dividers, partitions, or external storage pockets where you can easily slide in drum keys, microphones, cables, drum sticks, and other things you might need for your gig. If this is not possible, an extra hardware bag would be your only option.
Quality: Drum sets are relatively expensive and need to guarantee maximum protection against weather and sudden impact. The bags and cases should be of acceptable quality to make this a reality. They should be sturdy and durable, so you do not have to spend money again and again on them. Do not substitute actual drum bags with a gym or laptop bag as they are not designed with the right quality to suit your drum sets.
Size: You have to know your drums' dimensions to help determine the suitable size. If you do not already know, measure the shell's diameter and the drum's depth. The ideal size should have a little more space, so the drums fit correctly without applying force or pressure. 
Cost: Drum carriers vary from cheap to expensive. They house your drum sets, so you have to be selective when purchasing them. If the price is not an issue for you, go for the luxurious ones with a durable design. Otherwise, go for the quality ones you can get at an affordable price. Drum bags are mostly cheaper than cases and can last for a very long time.
Final Thought
Your drums' size and quality and the frequency of your travels all determine the actual bag or case you need to protect them. You might want to try out some DIY alternatives, but they do not guarantee the safety of your delicate equipment. Some affordable bags and cases can house your drum sets comfortably. The best models listed above are the best and offer you a convenient and secure way to store or transport your precious equipment.