When you are composing, demoing, or otherwise mixing music using a digital audio workstation (DAW), you want the best drum machine VST (virtual studio technology) plugin to provide you with underlying beats.
There are many different options on the market, and they can vary considerably when it comes to price point, the kinds of drum kits sampled, the array of preset samples, and how easy it is to customize presets and record your own unique beats.
In this article, we will look at the four best drum machine VSTs available in 2023 and what each of them has to offer. We've got premium VSTs designed for professional mixers, affordable and easy-to-use options for beginners, and dramatic VSTs with cinematic soundstage sounds! Also, read our complete buying guide to help you decide which option might be best for you.
Feature Comparison
IMAGE
PRODUCT
 

Top of the range drum kits sampled
Select libraries based on your needs
Fully customizable sound elements

Extensive sample library using seven kits
Different rooms offering different sound qualities
Tap search to find compatible rhythms

Three top range acoustic drum sets samples
Visual interface for laying down beats
Choose from 90 preset groove types

Range of traditional and explosive percussion sounds
Recorded on cinematic sound stage
More than 50 kits available
4 Best Drum Machine VSTs For 2023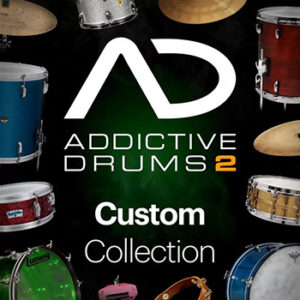 XLN Addictive Drums 2
XLN Addictive Drums is the industry standard when it comes to drum libraries and samplers and is the best choice for anyone looking to do serious, professional mixing. It is used by the world's leading composers. Of course, it also comes with a professional price tag attached! A starter kit might cost $150, while it is almost $1,000 to get the full kit.
PROS
Select libraries and pay only for what you need
Access sounds from best drum kits in the world
User-friendly interface
Total customization at your fingertips
CONS
Expensive compared to competitors
You will want to keep adding to your library, which can be expensive
Top-of-the-range drum kits sampled
Select libraries based on your needs
Fully customizable sound elements
The kit is user-friendly and works incredibly well whether you want to slot in pre-existing rock, pop, jazz, or electronic samples or compose your own on one of their kits. The package uses top-of-the-range drum kits lovingly recorded in top studios; for example, the acclaimed Fairfax Kit at the LA Studio formerly known as Sound City.
When looking for preset samples, filter by genre or search based on groove. For example, you can look at specific beats with the kick drum on 1, 2, and 4, in 4/4 time. There is a huge range from clean raw samples to highly processed mixes, and you can filter based on this factor when searching as well.
When making your own beats, choose one of their professional kits or customize your own. You can adjust the levels on all the individual drum elements independently, including the snare, kick, high-hat, and bass, and the sets were recorded with a microphone per element for fine adjustment. Since there are a lot of settings to fiddle with, it can be easy to lose track, but you can take a snapshot of your settings at any time and revert to those.
This VST does everything, whether you are looking for something just for demoing and songwriting or you want a valid alternative to a real drum kit to create unique and creative recordings.
Toontrack's EZdrummer 3
Toontrack's EZdrummer 3 is a relatively affordable drum VST and features seven of the best drum kits you will find anywhere, recorded by Grammy-winning mixing engineer Michael Ilbert at the Hansa Studios in Berlin. Get these crisp and professional sounds in a user-friendly package for less than $200.
PROS
Affordable for a quality library
Range of sounds available suitable for most music styles
Various options for discovering preset tracks
Flexibility for building your own tracks
CONS
Less extensive customization options that some competitors
Must purchase the expansion pack for electronic sounds
Extensive sample library using seven kits
Different rooms offering different sound qualities
Tap search to find compatible rhythms
The kits used to create the package include DW, Gretsch, and Yamaha vintage kits and modern Ludwig drum sets. You also get an auxiliary percussion library featuring instruments such as tambourines, finger snaps, hand claps, shakers, maracas, and more. If you want electronic sounds, you will need to purchase a separate expansion pack.
The kits have each been recorded in three different studios to give distinctively different sounds. There is the Bright Room for the bright reflective sound of marble walls, the Main Room for a spacious sound, and the Tight Room for a dry, transparent character.
There are thousands of preset rhythms that you can explore via browsing or filtering. You can also do a tap search, where you tap out your rhythm and the library will find compatible preset rhythms. You can record your own custom tracks over existing presets or from scratch, and there are many easy-to-use tools to finesse preset sounds.
This VST hits the sweet spot between functionality and usability, making it ideal for newbie mixers who want something they will grow into with experience.
Native Instruments Studio Drummer
The Native Instruments Studio Drummer VST is ideal for anyone looking for a way to produce an acoustic drum sound for their mixing. The samples are recorded on three premium kits, including the Pearl Masters Premium Maple Kit, Yamaha Maple Custom Absolute Kit, and Sonar SQN Drum System, all recorded at Telex Studio in Berlin. This VST is affordable, starting from around $150.
PROS
Affordable VST option
Complete package without expensive add-ons
Specific focus on acoustic drums
Highly usable visual interface
CONS
Fewer drum options than many competitors
More limited customization options on presets
Three top-range acoustic drum set samples
Visual interface for laying down beats
Choose from 90 preset groove types
Each kit has different kit modes for a different quality of sound. Choose the Stadium Kit for the sound of a premium recording studio, the Studio Kit for a more intimate studio sound, and the Garage Kit for a more aggressive and dirty sound.
There are thousands of preset grooves that you can choose from, which are organized into 11 different categories, including pop, funk, jazz, metal, and more. Use various parameters, including tightness, swing, and tempo, to make adjustments and achieve the exact sound that you are looking for.
While the presets are good, the majority of the interface is focused on producing your own beats from actual drum sounds. There is a highly graphic interface where you can easily click to add sounds and adjust on an individual level.
This VST is really designed for acoustic drummers who want to sample their own rhythms and appreciate the visual interface designed for experienced drummers.
Heavyocity Damage 2
The Heavyocity Damage 2 VST stands out as being the option used for creating dramatic tracks for things such as film trailers since their sound selection includes elements such as exploding cars and large objects dropped from great heights. The samples were fittingly recorded at Skywalker Sound on George Lucas's Skywalker Ranch. Packages start from $400.
PROS
Unique and dramatic sounds
Recorded on cinematic sound stage
Enormous library of presets available
Range of unusual instruments and sounds included in the pack
CONS
Relatively expensive compared to competitors
Complex controls take time to master
Range of traditional and explosive percussion sounds
Recorded on a cinematic sound stage
More than 50 kits available
Even when looking at the drums themselves, you will find big sounds, including orchestral, heavy rock, and ethnic drumming options. Lovers of beats will lose themselves in the dramatic sounds that they can create with ensembles of up to eight players.
There are also more than 26,500 samples on 58 kits to search and play with, and lots of customization options to get the sound you want. The controls can be quite complex, so newer users might find themselves limited to some of the simpler options. Fortunately, these still sound great.
Those looking to make big sounds with dramatic effects will find no better option, but beware; you will lose a lot of hours exploring this VST.
Drum Machine VST Buying Guide
Let's start with the basics. A VST works with your existing digital audio workstation (DAW), which is used for mixing and demoing music. A drum machine VST (virtual studio technology) is the plugin that introduces drum beats into your mixing. It is sometimes called a sampler because you can insert samples of drum beats into your music.
You can use a VST in two different ways. First, your VST will come with a library of sample beats, or presets, which you can insert into your music. You can use these "off the shelf" to add classic pop or jazz beats to a song demo, or heavily customize the presets to create a unique sound.
Secondly, you can use a VST to create your own sound in place of a traditional drum kit. It allows music makers to lay down beats without access to a traditional drum kit and can give you access to a wide range of kits that it would otherwise be impossible to manage in your home or studio.
There are advantages and disadvantages of mixing using a drum machine VST rather than recording a sample on a traditional drum kit.
Pros
Access to a wide variety of kits
Include additional percussion sounds from hand claps to car explosions
Create drum beats without necessarily knowing how to drum
Cons
If you aren't a drummer, you are limited to the samples available in your VST
Drum machine VSTs can be complicated if you aren't familiar with the instrument
It's just not as fun as the real thing!
Finding the right drum machine VST for you depends on what you are looking for, but consider the following.
Available Sample Library
For most people, the most important thing to consider is the sample library that comes with your VST.
If you are a jazz composer looking specifically for beats to accompany your music, you might want to choose a jazz-specific VST which will contain a wider range of presets for your specific genre. If you are an eclectic composer, you might want something with a more extensive and varied library.
If you are composing for film soundtracks or music worthy of bands like Queen, you might want a specialist VST with more dramatic sounds. If you intend to make your own rhythm rather than rely on presets, then other usability factors will be a priority over presets.
Check out our recommendation for the best recording device for recording your own drum kit.
Drum Kits Sampled
Another major differentiating factor between VSTs is the drum kits sampled. As a general rule, the more kits sampled and the better they are, the more you can expect to pay. Again, you get VSTs that aim for a broad and varied set of options, and others that will be more focused, such as the Native Instruments Studio Drummer VST which only uses classic acoustic drums.
Interface Usability
The whole point of a VST is that you can play and manipulate your music the way you want, but that means things can get complicated since you have dozens of individual editing options for each specific element of the drum kit being used. Things can get very complicated very fast.
If you are relatively new to this type of mixing, you might want to start with something with a low entry threshold, like the EZdrummer VST. If you are a professional looking for maximum customizability and control, you will want different options.
Price
Obviously, your budget will play a role. If you are just looking for a VST to lay down basic beats for your songwriting, you probably don't need the full $1,000 Addictive Drums 2 package, and you will want to go with selected packages or a different VST. If you are a professional composer creating film scores, you can justify investing in the more expensive Addictive Drums and Heavyocity Damage VSTs.
Did You Find Your Ideal VST?
We think our selection of the four top VSTs for 2023 includes something for everyone, whether you are a beginner just playing around or a professional looking for a comprehensive mixing kit. As with most things, the key to finding the right option is to identify your needs and then narrow your search to the products that meet them.
Not sure what to read next? Why not check out our guide to electronic drum sets?