Updated: August 21st, 2022
Practice makes perfect, and this little but essential pad is one of the best ways drummers, whether beginners or pro, can repetitively work on and perfect their drumming skills. It would be best if you had a drum pad to practice silently, improve your accuracy, and effectively develop your drumming skills those times when a real kit is neither available nor practical.
The drum pad is played conveniently by either mounting on a drum-stand or placing it on your laps. You can use a metronome to track your progress, and when you are at a loss on what to do with your practice pad, you could check online for drum rudiments.
Depending on your interest in drumming and your level of expertise, different grades of drum pads are available. However, we have ensured that the best drum pads designed for real drummers are reviewed below to make choosing the right one less confusing.
A Quick Look at Our 5 Best Drum Pads:
Evans Realfeel is an octagon-shaped practice pad with a sanded wooden rim designed to substitute an acoustic drum. It has a large playing surface and is two-sided, thereby offering you options on the type of practice you want to enjoy. One side features an odorless natural gum rubber with a dark gray fabric finish treated to resist wear and tear. The other side features a denser recycled rubber with no rebound, designed for a real quiet practice workout.
PROS
A high-quality silent practice pad
2-sided with good rebounds
Durable with a real feel
Sturdy design with an environmentally-friendly rubber material
Fits inside a standard 12-inch snare basket
CONS
Gum rubber surface quickly gathers dust
No drumsticks included
The pad has an adequate thickness, and the gum rubber's response to the drumsticks resembles what you would get from actual toms and snare. Its softness helps you keep your stick control and rudiment practices as noiseless as possible without disturbing the neighbors. Unfortunately, there is no hole to mount it, so you can either place it on the tabletop, carpet, your laps, or inside a standard snare basket during practice.
The flexibility saves you the cost of buying a stand. Though quite heavy, the pad is durable and portable enough to be transported from place to place.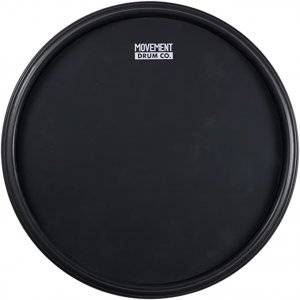 Perfect for concert and marching drummers, this unit is a 12-inch double-sided practice pad with a raised plastic rim construction. It is designed with four unique hitting surfaces that can be exchanged to enable you to practice different drumming skills without requiring another set of pads. The top surface is firm, features the conventional rubber surface, and replicates a snare drum's feel and rebound. At the bottom is a hard neoprene surface that replicates a tighter snare feel for drummers who want to develop their muscles and play quietly. Similar to the bottom, the conditioning (dampening) surface is quiet and has a low rebound. It can be inserted when you want better shock absorption and is useful for developing wrist control. The brush (laminated surface) insert features a material that looks like a marching snare drum's coated surface.
PROS
An elegant, well-made practice pad
Light and easy to carry around
Recommended for beginner and pro drummers
Four easy to change surfaces make it versatile
Rim adds extra sounds to the routine
The drum pad is light, weighing only about 5lbs, and a great gift for a drummer friend. It is a sturdy premium–quality product with a terrific visual appeal. The natural feel and the responsiveness of the pad make it worth the price. When dirty, the drum pad can be easily wiped clean with a wet towel or a baby wipe.
In case you want to practice more than the basics of drumming until you are ready for a real drum kit, or you want to improve your hand and foot technique, then this full practice pad may be your solution. DW Go Anywhere set is a 5-piece practice kit that enables you to learn different beats, taking your drumming skills to the next level. It is a very portable pad set-up with the whole drum pads mounted on a single stand and looking like a real drum set.
PROS
Replicates a real drum set

Sturdy with a good rebound

Portable and simple

Allows you to practice specific beats in the absence of a drum kit

Easy to assemble
CONS
No bass drum pedal

The stand may be sold separately
The Go Anywhere set comes with quality pads and can always be expanded with extra units to meet your needs and preferences. Its responsive rubber pads have a natural rebound and are similar to the snare, floor tom, tom, and cymbal. Two 10-inch units are positioned to emulate the floor tom and the snare drum while two 8-inch pads act as cymbal and mounted tom. 
There is no bass drum pedal included in the set, so you will have to purchase it separately. The practice drum kit can be folded away when not in use and is very versatile. It is entirely adjustable and has a fantastic build quality.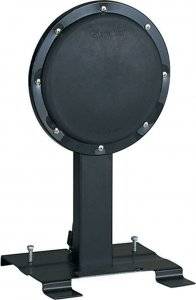 Unlike most drum pads that help you fine-tune your hand playing skills, the Gibraltar bass drum pad is designed to help you practice with your feet. It is a circular 10-inch practice pad with an air-channel design that gives it a good enough rebound like a real bass drum.
PROS
Great price

A stable and durable practice pad

Good rebound

Superior design and easy to assemble

Helps you practice your pedal control
The unit features high-density rubber, and so has much more bounce. Although it is not a silent practice pad, it does not produce sounds loud enough to disturb others. It is a very functional piece, making it ideal for practice at odd hours, such as nighttime.
With the Gibraltar drum pad, you can master your double bass and pedal techniques quietly and at a low cost. The practice pad can accommodate single and double bass pedals. It is also an excellent add-on for a dual bass drum set-up. Three large spurs provide stability and help secure the GBDP on carpeted surfaces, enabling it to withstand repetitive and forceful banging.
There are different features and specifications on this electronic drum pad, coupled with its very affordable pricing, making it impossible for us to keep it off. The Alesis Sample Pad Pro is a multi-pad drumming/percussion instrument for professional drummers with more than 200 pre-loaded individual drum, percussion, and cymbal sounds. You can also load your very own sounds into it and store up to 512 more audio files using a 32GB SD card. This option provides you with the tools you need to play a broader range of music genres.
PROS
Features 8 responsive dual-zone pads

Excellent connectivity through USB, Midi, TRS input and output

Affordable

Over 200 pre-loaded sounds with room for custom sounds

Can hold a 32GB SD card
CONS
So much crosstalk, but can be reduced by lowering sensitivity on the faulty pads

May require a firmware update routinely
With well-illuminated edges, the Sample Pad Pro is fun and easy to play at all times. It features eight thick rubber pads that can be expanded to include a kick pedal and a hi-hat. The different connectivity options allow you to synchronize external sounds with this drum pad, making it most suitable for studio and live show use. It is an excellent product that helps you replicate the sounds live, with better performance quality.
Key Considerations When Choosing a Practice Drum Pad
As a drummer, you need to continually perfect your skills or acquire better techniques to remain good at what you do. A drum pad is one of the ways to help you achieve this feat. But not every drum pad would do. Below are some factors you need to consider to make an informed decision on what drum pad is most suitable for your use.
Size: Practice drum pads are in sizes ranging from 6 to 12 inches. The size you choose to purchase depends on where you will need them more. If you practice at home, a 12-inch pad is most suitable. It can easily fit in a snare basket just like a real drum set, unlike the smaller sizes. However, it may be heavier and less portable to carry about.
Level of drumming: If you are a beginner drummer or are buying for a child, you may want to start with cheaper priced drum pads if the interest is being developed. However, you can start looking at the double-sided pads and those with more than two surfaces as you progress. They may be more pricey, but are worth every penny, and have better rebound and resemble the standard drum set.
Silent Performance:  One of the most important reasons people even consider drum pads is that standard drum sets are very noisy. You cannot practice on your drums all day long without annoying or infuriating your neighbors with the loud noise. Since not all drum pads are as noiseless as we want them to be, make sure you look for an almost quiet model, regardless of where you are practicing.
Sound Quality: Your drum pad should produce sounds and rebounds that feel like your real drums. Some models come with more than one surface, allowing you to experience different rhythms from units such as snares and toms. If you have money to spare, you can always buy a complete set of drum pads like the DW Go Anywhere kit.
Drum Pad Types
There are two main types of drum pads: the electronic and the practice drum pads. They are useful for learning the rudiments of drumming, building your technique, and improving your speed. It is usually in the form of a round rubber/mesh pad with a rebound that attempts to imitate a real drum. The rubber options are louder than the mesh alternative but produce similar sounds.
On the other hand, electronic drum pads can be used to practice and add some variety to your sounds. They come with different pre-loaded audio files, and you can always sync them up with apps and external devices for new sounds. They often feel quite realistic and are more often than not categorized as drum machines.
Researchers from Waseda University, Japan, believe that "additional practice after reaching a task performance plateau is important for the consolidation of a new internal model." And drum pads, which replicate drumheads, give you that option of continuous practice and convenience. You get to achieve your dreams of becoming one of the prolific drummers of all time quickly.
Final Thought
Practice drum pads are necessary when you have close neighbors or live with parents and partners since their design makes them much quieter than the acoustic option. These drum pads also help you practice your drumming techniques when you are on the go since it is impractical to move about with a standard drum set. As a professional drummer, you might want to learn new tricks on the pad before playing in front of an audience. Even if you own an acoustic or electronic drum set, these sampling pads can unlock new possibilities.