Updated: August 21st, 2022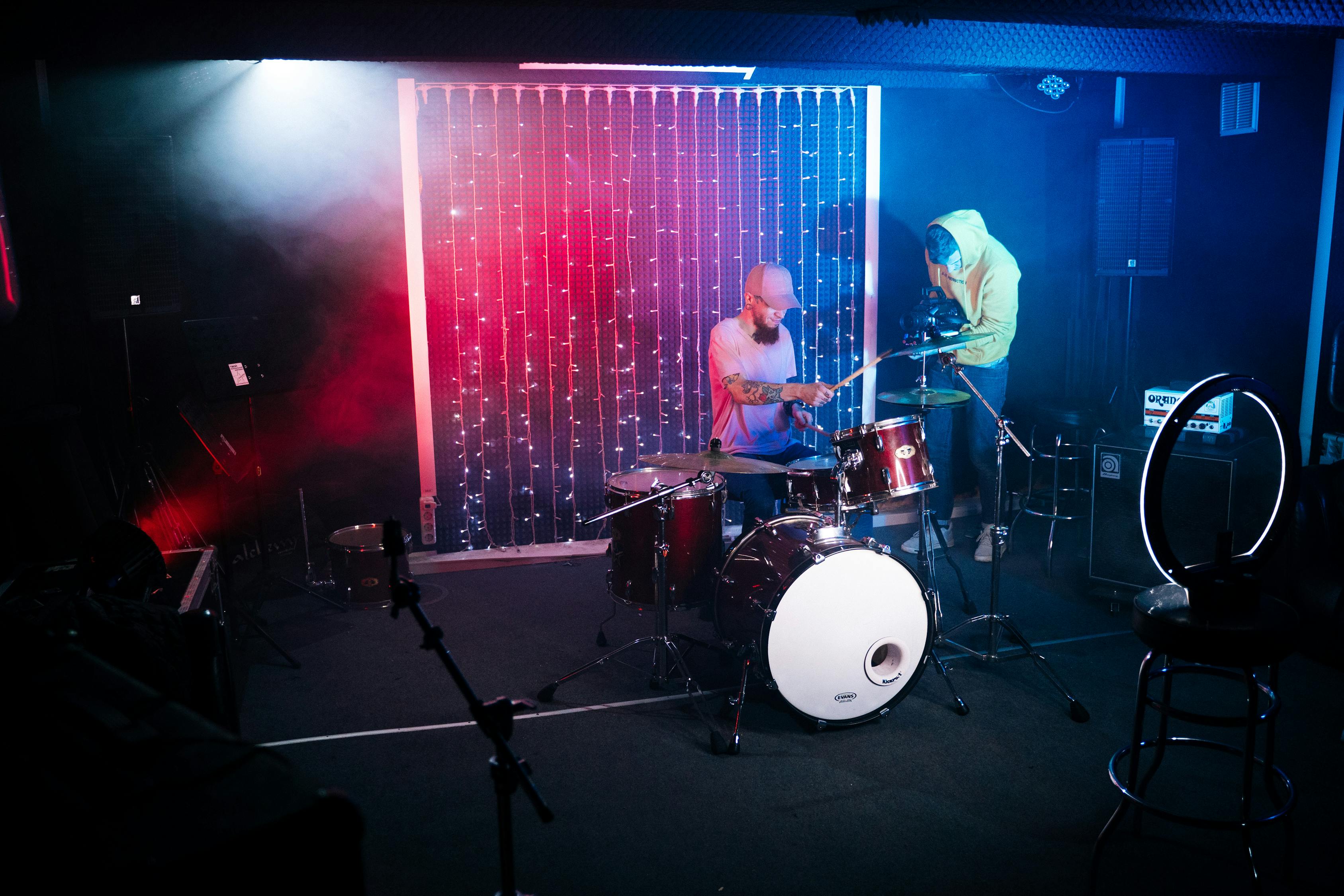 For most drummers out there, nothing is as frustrating as being told, "Your drums are too loud" when playing.
But what happens when the drums are too loud? First, the audience will not hear the singer; other musicians might have to amplify their instruments, or else the engineers will not be able to mix. That is why drums need to quiet down to avoid interfering with other mics. This scenario is where the role of a "Drum shield," also known as a drum cage, comes in. It is a physical barrier placed in front of the drum set to reduce the sound generated and solve other sound issues.
Since the shield's primary goal is to make sure that the sound is evenly distributed and not projected in one direction, sound engineers gain more control while mixing. The sounds generated from the drum kit bounce back to the drummer and blend into other microphones used on stage.
If your thoughts were, "Drum shields are cool but definitely for those with a big budget." It is time to put such thoughts aside. Of course, some models are expensive, but we have done our research and came up with the best drum shields that are available today.
The Top 5 Picks at a Glance
IMAGE
PRODUCT
 
VIEW PRICE

Best Total Coverage Model





Foldable 

Full coverage 

Transparent

VIEW LATEST PRICE →

Adhesive 

Reusable 

Compatible with different drums

VIEW LATEST PRICE →

Partial coverage 

Flexible and durable 

Multiple size options

VIEW LATEST PRICE →

Aesthetically pleasing 

Laser-cut edges 

Multi-color options

VIEW LATEST PRICE →

Versatile 

Affordable 

Leaves no residue

VIEW LATEST PRICE →
Best Rated Drum Shields Reviewed
1. Gibraltar Drum Shield
Best Total Coverage Model
Gibraltar Drum Shield is a full front drum shield used to tune down the sound of your drums during a recording session, so it does not interfere with the mix. All you have to do is to position it in front of your drum kit while playing.
The side panels come with mouse holes at the base, making it easy to run cables for mics or e-drums through the shield. Aside from that, these panels do not require any assembly, and they fit together with flexible hinges.
Just as it is easy to set up, it is equally easy to disassemble after use.
PROS
Tunes down the sound of drums during a recording session

Side panels have mouse holes to accommodate mics and other musical instruments

Easy to set up and disassemble after use

Lightweight and easy to reposition
CONS
Users complain that it does not come with instruction on how to assemble
2. Drum Dots Drum Set Sound Shield
Drum Dots sound shield is one of the best over-ring control products in the market currently. They are the only shields capable of reducing drum sounds without changing their natural tone. Whether you are doing a live performance, recording sessions, or practice, this model will always deliver the tone you need.
The shield comes in a pack of four, which are reusable, hence, long-lasting. No matter the kind of drum you are using, you will always get your desired rhythm. The shield is compatible with a bass drum, snare drum, rack ton, floor ton, hi-hat cymbal, and cowbell.
It always gives you superior performance in every situation.
PROS
Reduces over-ring without sacrificing the tone you love

Reusable and long-lasting

Compatible with different drums

Guarantees superior performance
CONS
It does not cover all parts of the drumі
3. Smokin Ace Cymbal Shield/Drum Shield
If you are always having issues with loud cymbals, get a cymbal shield today and say goodbye to those large panels. The guard reduces your cymbals' volume from traveling out on stage up to 40%. It is an alternative to a full drum shield.
This model is made of high-grade transparent plastic, lightweight, and can easily be moved around. The flexibility and compactness make it one of the best products of its kind. While recording, the cymbal shield cleans up your group's mix by tuning down high-end frequencies, so they do not travel into your vocal and surrounding microphones.
You can easily attach the shield to any cymbal stand or extension boom arm with the metal mount permanently attached to it. Different sizes are available, including large 14" x 28" for Cymbal 24", medium 12" x 26" for Cymbal 19", and small 10" x 24" for cymbal and hats 14". So, you can customize your drum set comfortably with the right one.
PROS
Lightweight, durable and flexible

Decreases cymbal volume up to 40%

Serves as an alternative to full drum shield

Available in different sizes
CONS
It only covers the cymbal.
4. The Quad Clear sound Baffles
Clear Sound Baffles are a lightweight, transparent acoustic shield that improves the live sound from loud instruments. If you are working with a low budget, this shield is an ideal option.
A lot of times, cymbals make the most noise. All you have to do is mount your Clearsound Baffles onto any standard cymbal stand. Since you are not covering your entire drum kit, the drummer can breathe at least.
Designed with premium polymer, Clear Sound Baffles is aesthetically pleasing and nearly invisible when in use. The shield is naturally deflecting and filters harsh frequency from vocal microphones.
PROS
Lightweight and durable

Improves live sound

Aesthetically pleasing

Gives room for the drummer to enjoy other performances on stage
CONS
It only covers the cymbal.
5. TruTones Drum Dampeners
These drum shields feature materials that can drastically reduce unwanted overtones. Each of the containers has up to four standard-sized dampeners and six micro size dampeners.
The shields are usable anywhere, whether during rehearsals in a small hall or a live performance in a large auditorium. They can also be moved around easily. If you are not satisfied with the sound you are getting, you can reposition the damper around the percussive surface to get the exact tone you want.
Top artists who have used these drum shields testify to its durability. You do not have to worry about having dirt on your drum. It helps maintain the original appearance and can easily be washed with mild soap and water.
PROS
They drastically reduce unwanted overtones.

Versatile and durable

Can easily be washed with soap and water

Leaves no residue
CONS
Users complained that the shield falls off quickly.
What are the types of drum shields?
Drum shields come in three different forms. They are;
Total coverage

Full front

Partial  
The total coverage drum shield
They are installed all around the drum kit to prevent unwanted sound from going out. It towers above the drummer and even has a roof; hence the set will be sealed. Manufacturers of these shields guarantee that there will be about 70% noise reduction.
Full front drum shields
These models are more prevalent. They are the most common type you will find when shopping for drum shields. While they cover only the front of the drum set, other areas stay open.
Drumming is a creative activity, and interruptions can hamper a drummer's performance. The noise reduction from this model is also significant.
Partial drum shields
Some of the partial models look like full front drum shields. The only difference is that height-wise, they are lower. Of course, the panels will reduce the noise from the drum components, but not all.
Even though the shield guarantees less noise reduction, it still has an advantage. Unlike other types restricting the drummer from viewing the stage, the partial drum shield enables them to have a better view. And while performance is ongoing, they can also communicate with other musicians.
Factors to consider when buying a drum shield
Size: When it comes to getting the best drum shield for your kit, size is very critical. You will not get the desired effect if you get a model that is too big or small.
The right drum shield should be able to fit perfectly around your set. Ideally, you should measure the set area before setting out to purchase one.
Also, the drum shield should have enough room to allow the drummer maneuver conveniently when playing. Otherwise, he/she will feel caged, and that can affect their performance and technique.
Design: Before purchasing a drum shield, find out the material used in its design. Quality matters! The right kind is made of acrylic materials. However, if you find a product designed with a different material, it is advisable to research appropriately before purchasing.
Price: People dread spending the little money they have without getting the desired results. So, please always stick to your budget. There are expensive drum shields, as well as affordable ones. Cymbal shields can serve you better and are less costly if that is what you need.
Why do you need a drum shield?
Drums produce loud sounds which always interfere with other lower musical instruments and vocals. Most times, it even drowns the voice of the singer. Will the audience ever enjoy such a performance? No doubt, a drum shield is useful to musicians out there. Complaints like "Your drum sound is too loud, overpowering other instruments, and interfering with the vocal mics" are avoidable. Below are reasons why you need a drum shield;
Isolate the drum sound without forfeiting visibility.

Drum shields come in different sizes with a lot of configurations. They feature high-quality acrylic panels, and their transparency enables drummers to watch the performance while playing too. Drummers get to interact with fans and other musicians during the performance while producing the desired sound.

Zero issues mixing sound.

Live mixing is one of the most challenging things to achieve when the drums are too loud. Thanks to the drum shield, audio engineers will have higher control while mixing. Due to the noise isolation and volume reduction, signals from each microphone will be cleaner. The engineers can comfortably compress each instrument's tone to achieve better mixes that the audience will enjoy.

A perfect tool for onstage performances.

Performances in places like recording studios, small-venue gig spaces, or pop music arenas, and live recording sessions require a drum shield. By tuning down drum sound, so it does not interfere with other instruments, musicians can hear themselves better and the audience.

Easily carried around. Drum shields are not bulky. You can take them with you while traveling or going on a tour. They are easily foldable and can fit in a carrying bag, like that from ClearSonic, for secure storage. The bag features a zippered opening and sewn-in padded lining to protect the panels of the shield when you are in transit.
How much noise does it control
No doubt, drum shields are designed to control noise to some level, but that does not mean they should eliminate the drum's sound. The amount of noise reduced depends on the thickness and type of drum shield material. 
You are probably looking to control a certain amount of noise, so make sure that your chosen shield can give you that. 
The downside to using a drum shield
Although drum shields come with a lot of benefits, they still have their demerits.
Imagine drummers playing without precision. When the drum is covered in an acrylic panel, the sound generated will keep bouncing around. In situations like this, drummers may hardly concentrate. 
Also, until they get used to playing inside the shield, drummers may continually feel awkward when performing, since they are separated from the rest of the crew.
Again, bear in mind that it takes time to set up and disassemble a drum shield. Although it does not seem like an issue in places where they are used permanently, what happens when you are there for a limited time? Another workload added.
Lastly, as much as drum shields are foldable, extra hands will be needed, depending on the size. 
Conclusion
Whether you are a beginner or an experienced drummer, the right information can help you make an informed decision before your next big performance. Please do not overlook any of the features and factors discussed, so you can choose the best shield that will suit your needs.