While it can take a while to get used to in-ear monitors, they can be a vital tool, especially when it comes to live performing. In this article, we will take you through how to set up and use in-ear monitors for drummers.
In-ear monitors help protect your ears from the loud noises onstage, and also let you tailor your input from the mixer so you can decide what you hear to better your performance. In-ear monitors are important for drummers because drums are loud, and when you are sitting behind them it is extremely difficult to hear the rest of the band. Since you are setting the rhythm, you need to be sure that the rest are following. Without in-ear monitors, this is extremely difficult.
If you are looking for the best in-ear monitors, check out our recommendations here.
What Are In-Ear Monitors?
In-ear monitors look like a pair of earplugs and they do two important things.
First, they cancel out the noise closest to you, which offers your ears a level of protection. For this reason, the kind of earbud in-ear monitors that you might see used at conferences don't work well for drummers. You will need a pair of molded plugs designed specially for your ears that can be used with an underlying monitoring system.
The second thing in-ear monitors do is let you tap into the master mixer output of the band, so you can hear what the audience is hearing or, if you need to isolate one instrument specifically, you can bring that into focus and push the rest into the background. This makes it easier to pick up on issues and make necessary adjustments for a better overall sound.
They are known in the business as IEMs (in-ear monitors), and are used both when performing and recording to give a better feel for the collective ultimate output of the band. It is worth noting that what you hear with your IEMs should be quieter than the noise on stage, and should also be more focused and detailed.
While IEMs are an extremely useful tool, they aren't for everyone. Some people find themselves feeling unwell as a result of the different pressure that the IEM-delivered sound can create between the inner and outer ear, but you won't know if they're right for you until you try them.
How To Set Up In-Ear Monitors For Drummers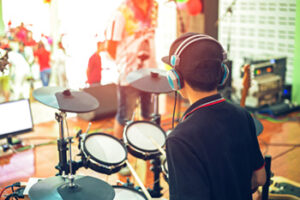 There are a few different ways to set up your in-ear monitors depending on whether you go for wired or wireless options. Drummers often choose wired as they are more affordable and you get better sound quality via a cable, and most drummers aren't moving around on stage that much during a show. Some people prefer wireless options, though, so we'll take a look at the different methods below.
Method 1 – Extension Cable
If you get yourself a fairly standard pair of wired IEMs, you will need to connect directly to the mixer via an extension cable. The cable should plug into the AUX/PHONE OUT outlet on the mixer and into the receiving plug on your IEMs, easy as that. The biggest challenge is finding a long enough extension cable.
Try this AmazonBasics six foot extension cable or this nylon braided extension cable from Syncwire.
Method 2 – Preamp
If you want more power to make adjustments to your output on the fly, you will want to connect a preamp between your IEMs and the mixer. This will allow you to make adjustments to what you hear separate from what is happening with the main mixer.
For the best balance of price and performance you will want something like this Trace Elliot ELF or this very affordable Moukey amp. If these don't give you the quality and control you are looking for, you can upgrade to a mini mixer like this option from Behringer.
Method 3 – Wireless
Most drummers don't bother with wireless IEMs since they sit in the same place for most of the show, but options exist if this is your personal preference. You will need to get a wireless wearable preamp, though, which tends to be much more expensive.
You will need to connect your IEMs to your mobile preamp, which will need to be tuned to the mixer at the same frequency as the base. The Xvive U4 is an excellent option. While you will have control options on the preamp, they will be less extensive than on a wired preamp. Sometimes, though, you'll be able to connect to a mobile app that gives you more fine control, like the Cross DJ app.
How To Control In-Ear Monitoring
Where you will be controlling your IEM input depends on your setup. You might be relying on the master amp, your own preamp, or a mobile app that works with your preamp. Which of these you have will dictate the level of control that you have. The master mixer has the most controls, but will deliver the same output to everyone connected. On some cheaper options you may only have control of overall volume and bass.
The best options give you basic mixing control. You should be able to adjust the volume or mute any channel, and adjust the bass and treble for each independently.
As a drummer, your principal concern will probably be dimming the noise of the drum kit, which is particularly loud from your position behind the leathers, and increasing the sound of the other instruments to ensure that you are all in time. Singers will be decreasing the sound of the band and highlighting their own voice, which singers often cannot hear above the sound of the band on stage.
FAQs
What is the purpose of in-ear monitors?
In-ear monitors allow you to hear the sound the band is producing from the stage better. They cancel out much of the stage noise and deliver sound from the mixer so you can hear the balance of the instruments as the audience hears it. This can be incredibly important; for example, singers usually cannot hear themselves onstage over the band.
Can you use in-ear monitors to listen to music?
You can use in-ear monitors in place of normal headphones to listen to music, but in-ear monitors can place pressure on your ears, and the molds also have limited lifespans, so they are best reserved for their specific function.
Why do singers wear in-ear monitors?
Singing on stage alongside the band, singers will not generally be able to hear themselves and they may push themselves to compete with the band. IEMs can help them hear how their microphone output is mixed with the rest of the band and how it sounds to the audience.
Are in-ear monitors worth it?
Every musician is different and has a personal preference, but most agree that in-ear monitors are worth it to improve performance and protect ears from damage.
Why are in-ear monitors so expensive?
In-ear monitors are much more expensive than regular earphones because they are noise canceling and isolate different sounds; plus, they should be individually molded to fit your ear.
Can you use Airpods as in-ear monitors?
While you can connect your Airpods to a preamp to hear sound from the mixer, they are not as effective at noise canceling as in-ear monitors. Your perception will probably still be greatly affected by the ambient noise coming from the surrounding stage.
Why do musicians take out their earpieces?
Since in-ear monitors are noise canceling, they block out much of the noise of the crowd. Musicians take them out sometimes to get a better feel for the energy and response of the crowd.
The Verdict
A good set of in-ear monitors can protect your ears from the damage caused by being constantly exposed to loud sounds, and can help you better monitor what the rest of the band is doing and how you sound to the audience. This is much easier and more effective than trying to divine this from your position onstage.
IEMs are easy to use, but the amount of control you have depends on what your setup is. As a general rule, the more money you spend, the more fine-tuned control you have.
How much control you need depends on you. Some people love to be able to isolate every detail, while others like to know what the audience is hearing and make sure the overall sound works. Either way, they are worth considering to protect your precious drumming ears!
Not sure what to read next? Why not check out our guide to metronomes for drummers?