In this article, you will find our top five recommendations for the best drum cases, plus our complete drum case buying guide.
We think that drums are the best instruments to play, but they are also the worst when it comes to storage and transport. They take up a lot of space, and there are a lot of different pieces to manage.
Plus, with drums, you need to know what you are doing! Most people have a basic idea of how to store and move guitars, but not everyone understands just how fragile drums are. Even though you hit them all day, that doesn't mean that bumps and scratches on the road can't do permanent damage to your kit.
If you have to take your drums in and out of storage for space reasons or if you travel your drums frequently for gigs, then you need a good set of drum cases to protect your kit. The important thing is finding something that balances protection, size, weight, and cost.
With those elements in mind, we have made a list of the five best drum cases you can get in 2022. We have compiled a list that includes drum bags, drum cases, and road cases. Not sure what the difference is? You'll find everything you need to know about drum cases in our complete buying guide.
Quick Product Links
5 Best Drum Cases
Check Price Online
When you are looking for serious protection for your drums, there are few better options than these hard plastic drum cases. They are stackable for storage and offer good protection when  traveling your kit.
Hard plastic drum cases
Five-piece standard set
Compression padding
Stackable
What we like: We like pretty much everything about these bags! They are for a standard size rock kit (and there are also jazz and other options available). But the cases use an overlapping, compression-padding design which means you can fit drums that are a bit bigger and a bit smaller, and they will still be snug in the case.
The exterior of the cases is made from high-impact polyethylene, which is also waterproof. They are durable enough that you can stack them, and they have a slightly curved base which stabilizes them so they don't fall over.
What we don't like: The only thing we really don't like about this drum case set is the price which is at around $600. This feels like a lot when you are paying it out, but it's also worth it to protect your precious kit. The set does come with a limited lifetime warranty, which helps justify the price.
Overall, we think that if you are happy to pay for the best possible protection for your drum kit, then these are the cases to get.
Check Price Online
If you are looking for a more affordable set of cases and you want to keep an eye on your kit while it is in transit, this five-piece padded bag set is affordable and of excellent quality.
Nylon drum bags
Five-piece standard set
Durable zips
10mm firm padding
What we like: This is another kit that is designed for your five-piece standard set, but the padding offers some flexibility if you want to squeeze in larger drums. What exactly do we mean by a standard set? That's a 22-inch kick, 16-inch tom, 14-inch snare, 13-inch tom, and 12-inch tom.
The exterior of the bags is made from 600 denier nylon with durable zips that wrap around the diameter for easy loading and unloading. Inside there is 10mm foam padding to keep your drums snug and protected.
What we don't like: The only downside with these bags is they can leave your drums at risk. When you are transporting your kit, you are careful with it even when it is in its case. But not everyone will treat your kit with the same respect. So if you have an expensive or unique kit, you might want to spend more.
But overall, if you are happy to use drum bags, these are the best ones that you will find on the market today.
Check Price Online
One of the things that frustrates many drummers is having so many pieces of kit to keep track of. If that is you, then you might love this multi-tom bag which lets you carry all of your toms in one long bag. You'll need to buy bags for the other bits of your kit separately.
Nylon drum bag
One piece for multiple toms
Padded dividers to protect drums
Wheels and handle for pulling
What we like: We love that you can put all of your toms in one long bag and that it offers the same level of protection as multiple single-drum bags.
The bag is 40 inches long and tapers in width from 16 to 20 inches from end to end. There are padded dividers to place between the drums to protect them from one another.
Use the straps on the top of the bag to ensure that the foam padding fits snugly around your drums, and you can also put other pieces of kit in the external pockets. There are wheels and a handle so you can pull the bag like a suitcase.
What we don't like: As with most drum bags, the main problem is that they don't offer the same protection as hard cases. And with a multi-tom bag, if someone is not treating it with care, all of your toms are at risk. But if you are transporting your drums, they can make it a lot easier to get from A to B.
Anyone who is sick of carrying around five or more cases to transport their kit will appreciate how they can consolidate with this bag.
Check Price Online
If your kit needs to travel by plane or truck, you just don't really know what will happen to it along the way. This Harmony Pro Audio Trunk Case offers maximum protection and keeps your kit in one place, so there is no chance of parts getting separated during transport.
Plywood travel case
Big enough for a standard drum kit
Foam-lined interior
Designed for travel
What we like: We love that if you do need to "send" your kit rather than have it under your watchful eye, you know that everything will stay together and safe. The plywood exterior is reinforced with chrome hardware, and the interior foam lining offers good protection. There are also foam dividers that help you organize your kit within the trunk.
The trunk is big enough for most full kits. While it is advertised as 44 by 22 by 27 inches, that is on the outside, and it is a little less spacious inside. In the interior, you get 41 ½ by 19 ½ by 19 ½ inches, which is still plenty of room.
What we don't like: Like all durable music cases, this one is quite pricey, so this is one to buy when you need it rather than just because it looks cool (which it does). Also, the lid is not removable and just openable, which can be a little annoying when loading and unloading your kit.
Nevertheless, if you are looking for the best travel trunk for your drum kit, you won't find many options better than this one.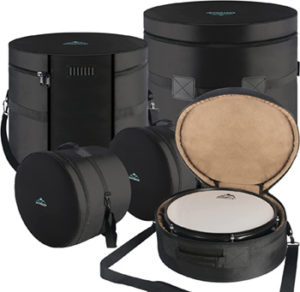 Check Price Online
This padded case set from EastRock is new on the market, but it really stands out for its quality. We think that this is set to become a very popular piece of kit in the near future.
Nylon drum bags
Five-piece standard set
Waterproof material
Hand and shoulder straps
What we like: This kit is the ideal size for a standard set, but the padding does have enough give if you want to squeeze in a slightly larger drum. The kit is made from durable suede that has been waterproofed.
The interior uses 15mm of protection with 10mm of pearl cotton and 4mm of sponge. It is designed with both hand and shoulder straps, the latter of which is not standard with drum kits but definitely helps make them much more transportable.
What we don't like: We like everything about this design when it comes to bags (as opposed to hard cases). Even the price is good. But because they are relatively new on the market, they have not been tried and tested by as many drummers as other options. We always appreciate that assurance to know whether they will live up to expectations.
But if you are looking for an affordable drum bag set, then this one is probably worth the risk!
Drum Case Buying Guide
The first thing to consider when selecting the right drum cases for you are the different types available. While there is lots of variation out there, they generally fall into three classes, and they are generally appropriate for different purposes.
Drum Bags
These are soft, padded drum bags that tend to be your cheapest option but also offer the least protection. They aren't really appropriate for home storage because they aren't stackable. But they are a good option for gigging drummers, especially if you transport your kit yourself and therefore you know that you are going to load and unload them carefully.
These are made from durable nylon with foam padding.
Drum Cases
These are hard cases for your individual drums. They offer great protection, but they also tend to be quite pricey! However, if you need to store your drums at home, the fact that they are stackable is very important. Also, if the band is loading and unloading equipment together and you know that other people will be "throwing" your drums around, these offer excellent protection.
These are made from hard plastic with foam padding.
Road Cases
These are single, hard chest cases with enough space for all your drums. These are important if you need to send your kit to other places. It keeps everything together so that it doesn't get lost and offers maximum protection. They can also be used for home storage, but most people don't just because they are expensive!
These cases are usually made from plywood with foam padding inside. They will come with wheels and a pull handle.
Looking to upgrade to a professional drum kit for gigging? Read our guide to professional drums here.
Deciding which one of these types of cases to get depends on what you are doing with your drums. Are you storing or traveling? If your kit is traveling, how is it being moved, and how much power do you have over how well they are treated?
Another question is cost. How much you want to spend on cases to protect your drums will almost certainly depend on how much your kit cost and how expensive it would be to replace any part that was damaged.
That being said, just because a kit isn't expensive doesn't mean that it isn't valuable. As well as sentimental value, if you have special pieces that contribute to your unique sound, sometimes they can be hard to replace.
But if that is the case, you can choose a cheaper complete kit case set and then invest in more expensive individual cases for any special pieces that you might have.
Complete kit sets tend to be your cheapest option. They will almost always be designed to fit a standard kit, though some good suppliers have multiple size options for common swap-outs. If you have a drum that is a little bit bigger or smaller than standard, the padding means that they can usually fit snugly within the bag anyway. Look at comments from other buyers to get confirmation on this since it is one of the things most mentioned in reviews.
Traveling with your drum kit for the first time and need a reminder of how to set it up? Read our drum kit set-up guide.
FAQs
How do you measure a drum for a case?
Drums are traditionally measured by the diameter and the depth of the shell in inches. Remember, if you have a 10-inch tom, it is the drum that is 10-inches, but with the shell, it will be a little larger. But rest assured, when a case is indicated for a certain size, it does mean the size of the drum.
Foam padding usually means that there is a bit of give in the case, so it can take a drum with a wider brim. You can often even squeeze a drum that is an inch wider into a case.
How long do drum heads last?
How long your drum heads will last, of course, depends on how often you use them. For most hobby drummers, you can change your heads every six months. But professional drummers tend to change them more often and apply new heads before any recordings.
The Verdict
Drummers have always had the hardest time when it comes to storing and transporting their kit. Investing in smartly designed storage and travel cases can make a big difference in a drummer's life!
You will have to choose between padded drum bags, hard drum cases, and a drum travel trunk depending on what you need. If you want to store at home, you need hard cases or a trunk since soft bags aren't stackable. But if you are moving your kit yourself and caring for it on the road, then the padded bags are a great and affordable option.
If you are trusting someone else to throw your kit around, hard storage is a must! Trunks are more expensive than cases, but they have the advantage of ensuring that your kit doesn't get separated.
Once you know what you want, it is relatively easy to find the right solution on our list of recommendations.
Do you have any top tips for storing and moving drum kits? Share them with the community in the comments section below.