Every drummer needs a cool drummer t-shirt that basically sums up that drumming is who they are! It's part of their personality. You can buy the perfect drummer t-shirt for yourself, or it makes a great gift since it's thoughtful and something they will actually use.
Looking for a great drummer t-shirt for someone this year? We have chosen our favorite options from Amazon, which you can have delivered now. Most come in a variety of colors, sizes, and styles for men, women, and kids, though you can't really go wrong with classic black when it comes to the perfect drumming t-shirt.
Can't find something you like on our list? You can always design and print your own, so we'll also share tips on how to create your own drummer t-shirt.
20+ Best Drumming T-Shirts For 2022
This t-shirt is great for a drummer who has their kit set up in the basement (to contain the noise) and likes to spend a lot of time down there. Maybe they have a habit of saying that they are going to the basement whenever they need to blow off a little steam.
The drummer sets the tempo for the band, so this t-shirt is ideal for passionate drummers who like to be in charge in every aspect of their lives. There are definitely some alphas out there who could use this shirt!
This is a more artistic t-shirt with a sketch-style retro drum set on top of a background of red, yellow, and green, which also happen to be the colors of reggae. Drummers who also enjoy some Jamaican beats will love this top.
Drummers who love rock and metal will identify with this t-shirt, which has a silhouette making the sign of the horns with two drumsticks in hand. The background is made up of understated colored lines for a cool look.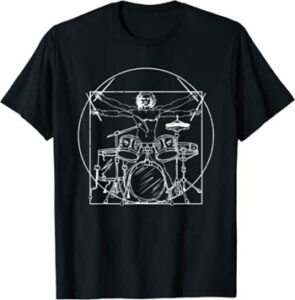 Da Vinci's Vitruvian Man drawing is one of the most recognizable images across the world, and it has been adapted to many different passions. This t-shirt adapts him to the drummer, placing the image behind a sketch of a drum set. Perfect for an evolving drummer.
For those for whom drumming is life, their heart beats to the rhythm of their leathers. This t-shirt celebrates that with the drums sitting in the middle of a heartbeat reading as if powering the rhythm of the soul.
Drummers tend to like making a lot of noise! This t-shirt is perfect for the percussionist that loves to destroy silence and bring the beats at any time of the day and night.
If you have a drummer who is also proud to be an American, they will love this t-shirt which features a greyscale print of the American flag with two of the lines replaced by drumsticks. Both patriotic and noisy.
This is the perfect t-shirt for a drummer who never seems to be listening because they are too busy thinking about drumming or tapping out drum beats on whatever surface is available. That, or they have permanently damaged their hearing through excessive drumming!
Every drummer goes through a stage when they don't want to do anything else and they spend almost all of their time drumming. This is a great t-shirt for these drummers who just eat, sleep, and drum all day long.
Drummers who are also fans of reggae beats will love this t-shirt, which features a classic drawing of a drum kit printed in the red, yellow, and green of reggae, on a black t-shirt. They will feel like this t-shirt really embodies them.
Do you know a Christian drummer, who is maybe part of a Christian or church band? Get them this t-shirt that reflects the way they like to use their skills as part of their faith.
There are lots of shirt designs that play on the idea of evolution to show early ancestors of man evolving playing on a particular theme. This one shows the evolution to the ultimate drummer. What man was meant to be!
Does your drummer love the water, or play so fast that they look like they have multiple arms? This octopus drumming t-shirt is cool and fun.
Do you know an older drummer who still rocks out with the young guys, and is even better thanks to his years of experience? Get him this t-shirt, which is a reminder to never underestimate an old man with a drum set!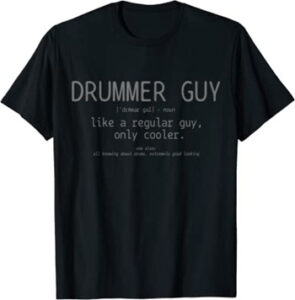 This is the perfect t-shirt for an understated drummer. It provides the definition of a "Drummer Guy" – he's "like a regular guy, only cooler." He'll definitely appreciate the compliment and the subtle design.
Most drummers will also have a passion for Animal, the drumming puppet from the muppets. He is the kind of rocker that all young drummers want to be. They will love this Animal muppet t-shirt with serious metal vibes.
Do you know a girl drummer who makes some seriously good beats? Celebrate her breaking what is still a relatively masculine mold with this "never underestimate a girl with drums" print t-shirt.
Paradiddles are the basic drumming rhythms that drummers learn first and practice a lot to get very fast using both hands. If you live with a learning drummer, you know this beat! This cool drumming t-shirt shows paradiddle variations repeating infinitely!
This t-shirt takes a classic sexist statement and turns it on its head. He's not talking about a girl, but about his drum kit! Perfect for the guy who only has eyes for his drums.
Is drumming in their DNA? This t-shirt shows a fingerprint with a drum kit in the design. It suggests that they were born to drum!
Do you know someone who is learning the drums later in life? Or have they been drumming forever and have no intention of stopping? Get them this t-shirt: "Yes I do have a retirement plan. I plan on playing the drums."
Is your drummer fanatical in their dedication to the DW drum brand? Everyone has a favorite. This DW t-shirt celebrates the brand and links it up with Animal, everyone's favorite Muppet drummer.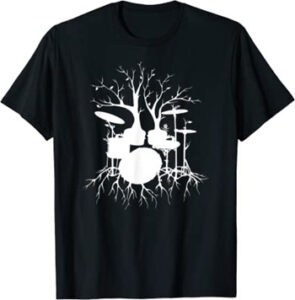 This t-shirt shows a drum kit with roots and branches like a tree. This could mean various things to different people. Music is life, a connection with nature, or an affinity with Norse religion with a reference to Yggdrasil, the world tree.
This t-shirt shows the design from an original drum set patent application. It is for super drum geeks who know their drum lore as well as how to hit the leather.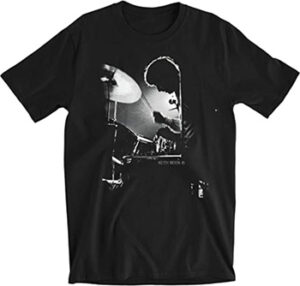 Is your drummer a fan of Keith Moon, the famous drummer from The Who? They will love this t-shirt that features a photo of Moon in action.
Not everyone likes overstated, in-your-face designs. More minimalist drummers will appreciate this t-shirt with a line design and a drum kit silhouette.
How To Create Your Own Drummer T-Shirt
Do you have a specific drummer t-shirt design in mind? Why settle for something generic when you can make your own? You can hand-draw a design, use a photo, or create a design using a free tool like Canva and then have it printed on a t-shirt. There are various companies out there that will do this.
Depending on the quality of the t-shirt you choose (hoodies and ladies' cuts tend to be more expensive), the number of colors you use in your design, and whether you print on only one side or front and back, you can expect to pay $20-$30 for a single t-shirt. That might seem expensive, but there's a lot of setup involved to do your print. This is why you start getting major discounts as you print multiple copies of the same t-shirt. This is a great option if you are printing for a band or planning on selling.
If you want to do it yourself at home but don't plan on buying a lot of expensive equipment, you can also do transfer printing. The process is pretty simple, but you will need to buy some special t-shirt transfer paper and have access to a good-quality printer.
Simply print your design onto the transfer paper, remembering that you will need to invert the design so that it appears correctly when transferred. Then place the design on your t-shirt, with something like a pillowcase on top. Iron over the top of the design for about one minute (or as long as the paper says).
If you are interested in screen printing multiple t-shirts, you will need to invest in more equipment. You can get a feel for the basics with this YouTube video from I Like To Make Stuff.
FAQs
What should a drummer wear?
Drummers need to wear clothes that are comfortable and allow freedom of movement, and shoes that will protect their feet while hitting the pedals. You will find our guide to the best drummer shoes here, but the "uniform" of most professional drummers is jeans and a t-shirt so the t-shirt better be cool.
What is the best fabric for t-shirts?
Cotton continues to be the best fabric for t-shirts, with maybe a little bit of polyester for stretch. Wool, linen, and other natural fibers are also good choices. You can judge the quality of a t-shirt by touching the fabric. It should feel soft; if it feels plasticky or artificial, this is a sign to go for another option.
What should I get my drummer for Christmas?
A t-shirt is a great Christmas present for a drummer because you can find a great one without necessarily needing to know anything about drums or their specific drumming habits. Anything for their kit will require you to do some research or ask them specifically what they need. Stick to basics like earplugs, a drumstick holder, of something cool like a wearable vibrating metronome.
Why are t-shirts called t-shirts?
The T in t-shirt refers to the shape of the garment, with the arms protruding from the torso of the garment, making a T-shape.
Is screen printing or heat transfer better for t-shirts?
Heat transfer provides a better-quality image, but if the heat transfer is not done correctly the image can start to peel pretty quickly. Screen printing is much more cost-effective for large print runs of the same design, but the image can be grainy and you are more limited when it comes to the colors of the design.
The Verdict
Every drummer needs a cool drummer t-shirt, and they make the perfect gift for someone who is obsessed with drumming! We've chosen our favorite options that are currently available on Amazon and shared them with you, but if you have a special design in mind you can also get it printed or print your own at home.
You can find other ideas for the best gifts for drummers here.