Updated: August 28th, 2022
Sure, gleaming guitars and ornate amp cabinets are flashy, but many of the best drums often add the flair to the stage. 'Who played what' is an article covering the greatest drummers of all time and the drums set they used to play. Some of the best drummers have customized their kits to produce a sound unique to their community while also expressing personal interests, as their playing skill is the cornerstone of a successful band. Using a custom bass drum head to show the band's insignia is both an artistic expression and a promotional technique.
A list of the ten of the greatest drummers of all time has been compiled, each of whom brought a unique twist to their setup when contributing to the evolution of music.
1. KEITH MOON
During his 17-year tenure behind the sticks, Keith Moon, a famous classic rock drummer with a wild and complex personality, was persistent in pushing the limits of his instrument. Over the course of his career, he played on many Premier kits with ever-changing configurations. From 1965 to his death in 1978, here's a look back at some of the kits he used with 'The Who'. Roger Daltrey, guitarist and singer Pete Townshend, bass guitarist and singer John Entwistle, and the famous drummer Keith Moon comprised the band's classic lineup. Keith Moon has played a variety of drum kits throughout his career. Although he was best known for his work with Premier, he also used Ludwig, Slingerland, Trixon, and even the acrylic Zickos on occasion. 
Keith Moon's first "real" drum kit was a Premier 55 Outfit with a 20″ bass drum, a 12″ tom, and a 16″ floor tom that he bought in 1961 in Blue Pearl finish. Keith Moon, ever in search of excess, added more concert toms to his already overflowing kit in 1973, as well as two massive 30″ and 36″ gongs behind him. Two 22″ bass drums, two 16″ and 18″ floor toms on his right, a "22″ timbale on his left, three 14″ toms, and four concert toms (without reso heads) at 13″, 14″, 15″, and 16″ made up his entire kit. 
2. RINGO STARR
Sir Richard Starkey is one of the best drummers of all time. Born 7 July 1940, better known by his stage name Ringo Starr, is an English blues and rock guitarist, singer, songwriter, and actor best known for being the famous drummer for the Beatles in the 1960s. Ringo's basic, but iconic Oyster Black Pearl Ludwig kit influenced drummers for decades and helped 'The Beatles' become one of the most famous bands on the planet. Starr has always been proud to wear the American flag on his bass head, with the drum's logo tucked above the band's prominent emblem.
Ringo used a Premier Mahogany Duroplastic drum kit during The Beatles' first recording sessions. A 8″ x 12″ Tom, 16″ x 16″ Floor Tom, 14″ x 20″ Bass Drum, 4″ x 14″ Snare Drum, and three cymbals were included. Ringo last used his Premier kit during the show's rehearsals, and then switched to his new Ludwig kit for the performance. It included an 8 x 12″ Tom, a 14″ x 14″ Floor Tom, a 14″ x 20″ Bass Drum, a 5.5″ x 14″ Snare Drum, COB rims, and three cymbals.
3. JOHN BONHAM
John Henry Bonham (May 31, 1948 – September 25, 1980) was an English guitarist and songwriter best known for his hard rock work as the famous drummer for Led Zeppelin. He is known as one of the greatest and most influential rock drummers in history for his speed, strength, quick bass drumming, distinctive tone, and feel for the groove. While Bonham's early Ludwig kits with Led Zeppelin were simple, his distinct, hard-hitting style inspired drummers all over the world and tried to recreate the same rock sound at home. Bonham's stainless steel kit at the end of his career, though still colorful, made for an even louder sound on stage.
Bonham began playing the drums at the age of five. At the age of ten, he received a snare drum, and at the age of fifteen, he received a full drum kit. He was a member of many local bands while in school and afterward, eventually joining two separate bands with Robert Plant. The Ludwig name would become synonymous with Bonham's preferred drum brand. A 22″x14″ bass drum, 13″x9″ rack tom, 16″x16″ floor tom, and a 14″x5″ Supraphonic 400 metal-shell snare drum were most likely part of the Ludwig Super Classic Green Sparkle kit Bonham used at the time.The Ludwig rail consolette was used to position the rack tom on the bass drum, and a L-arm cymbal holder was used for the ride cymbal.
4. NEIL PEART
The Rush's famous drummer took advantage of his engulfing set up as a canvas. Neil Ellwood Peart ( September 12, 1952 – January 7, 2020) was a Progressive rock Canadian singer, songwriter, and author who was best known for being the best drumm
er and primary lyricist for the rock band Rush. Peart used Slingerland, Tama, Ludwig, and Drum Workshop drums in order of Rush. Peart also used Zildjian A-series and Wuhan china cymbals until the early 2000s, when he moved to Sabian's Paragon line, which he designed himself. Peart used an intricate 360-degree drum kit in concert beginning in 1984 on the Grace Under Pressure Tour, which rotated as he performed various parts of the song. Peart started integrating Roland V-Drums and continued to use samplers with his existing set of acoustic percussion in the early 2000s, mainly incorporating
Roland V-Drums and continuing to use samplers with his existing set of acoustic percussion. With his songs, he extended his digitally sampled catalog of both conventional and exotic sounds. Peart also collaborated with Pro-Mark to create his own signature series drumsticks, the Promark PW747W, Neil Peart Signature drumsticks, which are made of Japanese white oak. Peart used a new DW package for the 2010–11 Time Machine Tour, which featured copper-plated hardware and time machine designs to match the tour's steampunk themes. Clock imagery was also used to match Paragon cymbals.
5. TRAVIS BARKER
Travis Landon Barker is an indie, Alternative American musician, songwriter, and record producer who was born on November 14, 1975. He is the famous drummer for the Blink-182 rock band. Barker has also collaborated with hip hop artists on several occasions, is a member of the rap rock band Transplants, formed the rock bands +44 and Box Car Racer, and most recently joined Antemasque and Goldfinger. Orange County Drums and Percussion, Drum Workshop hardware and pedals, Zildjian cymbals and drumsticks, and Remo drumheads are among Barker's latest endorsements. The "Big Ripper Popular" model was released in 2015, following a partnership with the BMX company SE Bikes.Like most famous drummers, performs with a custom acoustic drum kit. When he is not performing on stage, he is known for filming, training, and mixing beats with Roland V-Drums.
Barker's kits have been used in hip-hop and rap side projects in addition to Blink-182. His most well-known kit is a custom Orange County Drum and Percussion set with Zildjian cymbals that he's used to pay homage to his vast collection of Cadillacs with a hood ornament as part of the drum head's decor. Travis also owns a cocktail kit, which is a form of portable drum kit that incorporates the sounds of the bass drum and snare drum. He uses it often during practice. A 14″ main snare drum and a 10″ side snare drum are necessary. He often uses various sections of his hip hop collaborations. He normally chooses a 13-inch main snare as his main snare. A 12″ rack om and a 16″ floor tom round out his OCDP drum set.
6. STEVEN ADLER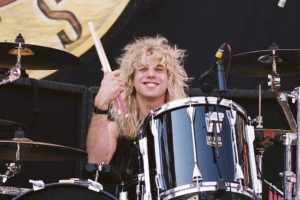 Steven Adler is an American musician who was born Michael Coletti on January 22, 1965. He is best known for his time as one of the greatest drummers of all time and co-songwriter for the hard rock band Guns N' Roses, with whom he gained worldwide fame in the late 1980s. Adler was the drummer for the band Adler's Appetite in the 2000s, and since 2012, he has been the drummer for the band Adler. He announced in early 2017 that he had no plans to continue with the band and that the band has now disbanded, citing his disinterest in playing at poorly attended concerts as the reason.
On eBay, Steven Adler's three-piece 1988 Tama Rockstar drum kit was for sale in 2019. This ultra-rare piece of rock memorabilia is identified as being in pristine condition, comes with the original heads, and is listed for $125,000. His soultone set consists of the following pieces:
19″ Extreme Ride

18″ Latin Crash

18″ Custom Brilliant RA Crash

17″ Custom Brilliant Crash

16″ Custom Crash

7″ Custom Brilliant RA Splash

17″ Vintage Old School 1964 China

8″ Extreme Splash

14″ Latin Hi Hat Pair
7. CARTER BEAUFORD
Carter Anthony Beauford (born November 2, 1958) is a founding member of Dave Matthews Band and an American drummer and Black/Death Metal percussionist. He's known for his ambidextrous and open-handed drumming styles, as well as his ability to adapt to a range of genres. Since the 2008 Summer Tour, Beauford has used a Yamaha Drums Recording Custom drum kit, a Ludwig Alex Van Halen Signature Rosewood 6.5×14" snare drum, Zildjian cymbals, Remo drumheads, Vic Firth sticks and mallets, Yamaha and Drum Workshop hardware, including a Yamaha Hex-Rack.
Instead of conventional drum gloves, he wears FootJoy golf gloves. Beauford was a Pro-Mark stick endorser before Vic Firth, and he also had his own Pro-Mark Carter Beauford signature drumstick. Beauford has previously used several Jeff Ocheltree and Ron Dunnett custom metal snares, the most popular of which was a bright purple with gold hardware that he used for the better part of the 2000s. The Dunnetts were replaced by a prototype silver Yamaha metal snare around the 2006/7 tour season, as reported by BeaufordBuddy.com. Carter's next Signature Snare is expected to be released soon. The Yamaha Signature "Carter Beauford" Snare Drum is currently a concept and will not be available for purchase.
8. PHIL COLLINS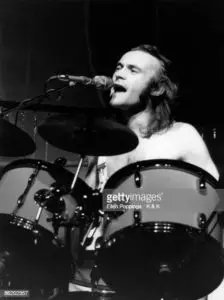 Collins' recording studio experiments culminated in an unintentionally groundbreaking sound that helped brand eighties music with hits like In the Air Tonight. Collin's signature sound was derived from a Roland CR-78 drum machine, as he's used Pearl, Premier, and most recently Gretsch drum kits during his career. Philip David Charles Collins LVO (born 30 January 1951) is an English Adult Contemporary guitarist, singer, songwriter, and record producer best known for his work with Genesis and as a solo artist. In his solo career, Collins had three UK number one singles and seven US number one singles between 1982 and 1990. Phil Collins uses a variety of drum kits (Gretsch, Pearl, and Premier) depending on the situation. He uses a Gretsch kit on tour with Genesis, Robert Plant, and on his own tours, which he is actually supporting. 
9. MEG WHITE
Megan Martha White (born December 10, 1974) is an American musician and singer best known for being the drummer for the White Stripes, a Detroit rock band. In 1997, she began her musical career by playing on the drums of future White Stripes bandmate Jack White on a whim. Meg White, who named her Ludwig kit after the peppermint candy, used the pattern in her Ludwig kit until The White Stripes broke up in 2011. White's drumming technique has gained praise from some of the best in the industry, despite underlying criticism about her simplistic style.Her untrained and minimalist drumming style inspires many. 
White started with a Ludwig Classic Maple kit with a red and white peppermint swirl on the toms and bass drum's resonant heads. The bass drum head construction was changed to a button on the Icky Thump tour. The design was changed to an image of White's hand holding the apple from the Get Behind Me Satan cover while recording From the Basement: The White Stripes. She also wore a pair of Paiste 14″ Signature Medium Hi-Hats, a 19″ Signature Power Crash, and a 22″ 2002 Ride starting in 2006.
Meg also employed Remo and Ludwig drumheads, as well as a variety of percussion instruments and Vater drumsticks. The Rock and Roll Hall of Fame's "Women Who Rock" exhibition featured White's Pearl Export bass drum—complete with original peppermint-painted bass drum she used with the band's first show—and the Pearly Queen outfit she wore in the photos for the Icky Thump album.
10. GINGER BAKER
Ginger Baker is one of the best drummers and has worked with Eric Clapton in the bands Cream and Blind Faith. Ginger Baker was one of the first drummers to record extended solos with two kick drums. Because of his use of matched grip, syncopation, African rhythms, and ride cymbals, he was more of a bebop and jazz drummer. Peter Edward "Ginger" Baker was an English drummer and co-founder of the rock band Cream (19 August 1939 – 6 October 2019). For a style that melded jazz and African rhythms and pioneered both jazz fusion and world music in the 1960s and 1970s, he was dubbed "rock's first superstar drummer." 
Baker rose to prominence as a member of Blues Incorporated and the Graham Bond Organization, both of which featured bassist Jack Bruce, with whom Baker had a tumultuous relationship. Baker and Bruce formed Cream with guitarist Eric Clapton in 1966, and the band achieved international success but only lasted until 1968. Drum Workshop created Baker's most recent kit. Until the late 1990s, he used Ludwig Drums. All of his cymbals were made by Zildjian, including the 22-inch rivet ride cymbal and 14-inch hi-hats he used on Cream's final two tours in 1968.
Summary
The list of influential drummers and their sets could go on and on, but this is a good place to start. There has been a lot of influence and change in the drumming community, from the early days of Ginger Baker to more recent names. Many of these drummers were influenced by the sounds of the artists who came before them. Check out our Drum Sets and get started today if you're feeling inspired and ready to create your own notoriously amazing drum set!