When you are playing the guitar, you might want something to make the beat, and when you are playing bongos, you might want something to add an extra layer above your beats. But how can you do that when your hands are full? A good foot tambourine can be an excellent option.
Foot tambourines are affordable and easy to use, and they add subtle but distinctive musical texture. It is an ideal tool for live performers who need to deliver more than is possible with just one instrument.
In this article, we'll share our picks for the best foot tambourines available in 2022. There are options to play on your toe, your heel, and even incorporate into your drum kit if you want. We've also put together a complete buying guide to help you decide on the right instrument for you.
Foot Tambourine Quick Links
5 Best Foot Tambourines
Meinl is one of the best known brands in the percussion industry, so it should be no surprise to see one of their options at the top of this list.
Toe tambourine
2.4 ounces/4 inches by 2.75 inches
Hardwood and stainless steel
This foot tambourine is designed to be worn on the toes. The frame is a two-inch tall hardwood construction with a four-inch diameter. The four jingles are made from stainless steel. The elastic strap is sturdy and won't lose its strength after lots of use.
The instrument is highly affordable and comes with a two-year warranty. Made in Thailand, it produces a strong sound for such a small instrument. The individual jingles are enclosed by the frame for better durability.
Pros
Affordable
Quality construction
Powerful sound
Cons
Not comfortable enough for bare feet
Meinl is a quality brand, and you won't be disappointed with this basic foot tambourine that produces a big sound.
Musfunny is a lesser known brand, but this affordable foot tambourine stands out in the market.
Toe tambourine
2.6 ounces/10 cm by 4 cm by 6 cm
ABS plastic and nickel-plated metal
This is a basic toe tambourine with exposed jingles made from nickel-plated stainless steel. The frame is ABS plastic and has a 10 cm diameter, 4 cm depth, and 6 cm height. It stays on with a quality elastic nylon strap.
You can wear this on your foot or slide it over your hand or arm if you want to do something a bit different.
Pros
Affordable
Good size
Multiple potential uses
Cons
Inferior quality material to other options
If you want something affordable that you can use in a variety of different ways, then this basic option is a good choice.
If you want a foot tambourine to play with your cajon drum, pay just a little bit extra for this open jingle cajon tambourine.
Toe tambourine
3.87 ounces/4.25 by 2.5 by 1.5 inches
Rubber wood and stainless steel
If you want a specific cajon side with a brighter sound than some options, this open jingle toe tambourine is an excellent option.
The tambourine body is made from durable rubber wood held in place with a nylon elastic strap. The five exposed jingles are made from durable stainless steel. This is one of the better quality options on the market.
Pros
Affordable
High-quality construction and material
Two-year warranty included
Cons
Some players find the sound too loud
If you want a tinier sound or prefer exposed jingles, then this Meinl option is the best option on the market.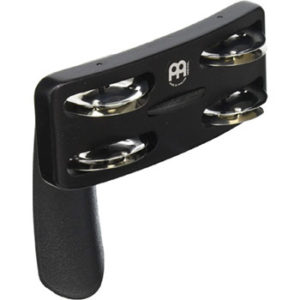 If you prefer a foot tambourine that you can play by tapping your heel, then this is the Meinl for you.
Heel tambourine
3.17 ounces/5.7 inch holder, 4 by 4 by 6 inch tambourine head
Hardwood and stainless steel
The tambourine head has four pairs of stainless steel jingles and is mounted on a 5.7-inch durable hardwood heel stand that is made with a shoe horn design for comfort and easy insertion.
Pros
Affordable
Rare heel design
High-quality material
Cons
Need tight shoes to keep the tambourine in the "sweet spot"
If you prefer to tap your heel rather than your toe when you are playing, Meinl offers one of the few quality heel tambourines on the market.
As a bonus instrument, this is a great option if you play a full drum kit and you want to add a tambourine.
Tambo pedal
Hand jingle tambourine
Use with drum kit
This is a high-quality open tambourine without a drum head that can be played alone. It comes with a tambo pedal that allows you to integrate this instrument into your drum kit and play it alongside your skins.
Made in the United States, you can adjust the spring tension to make the instrument ideal for your playing style.
Pros
Integrates with a full drum kit
Quality hand tambourine that can be played separately
Use the pedal for various instruments
Cons
Tambourine can be louder than some percussionists desire
If you want to add the jingle jangle of a tambourine to your complete drum set, you'll struggle to find a better option than this.
Foot Tambourine Buying Guide
Inexperienced musicians can often mistake the tambourine for a basic instrument, but it is actually one of the oldest instruments; it was invented in ancient Egypt and the Middle East. Since then, it has become popular around the world in folk music from Europe to Brazil.
The foot tambourine is a modern version of the instrument, inspired by things like castanets that are used by Spanish dancers. It is a popular instrument with acoustic solo performers and buskers who need to tap out a beat while playing another instrument.
The foot tambourine does not have the drum head of a traditional tambourine, and you are left to tap out the beat with your foot. But it has the jingles that mark a beat and also create a tingling, rustling sound that adds character and texture to music.
What are the main things to consider when choosing the right foot tambourine for you?
How Do You Want To Play Your Tambourine?
Do you prefer to tap your toe or your heel when you are playing? Or do you want something that you can play as part of your drum kit? There are options for all these situations. Think about your playing style and then decide on your preference.
If you haven't played a foot tambourine before, a toe tambourine is often the best place to start when you are playing another instrument. Most players say that this is easier for them.
What Material Is The Tambourine Made Of?
There is no question that something with a hardwood frame and stainless steel metal jingles will last longer and produce a better sound than something made from plastic and nickel-plated metal.
The better the material, the more expensive, but the few dollars difference means that it's not hard to get something better.
The strap should be made of durable nylon that won't lose its elasticity and shape as you use your instrument.
How Much Does It Weigh?
You might be surprised how tired your ankle and calf can get when tapping your toes for a long music session. The heavier the tambourine, the more tired you will get! Ideally look for something that weighs less than three ounces for your comfort.
Bear in mind that you will need to wear shoes with a toe tambourine to keep it in place. Also, it can be painful to wear with bare feet as the frame can dig into your skin.
Read our guide to the best drumming shoes here.
Do You Want Exposed Or Covered Jingles?
You will find options with exposed or covered jingles, and you might think that the latter would produce a duller sound, but this is not always the case. Covered jingles also hit against the frame and can produce a louder sound.
The choice is often a stylistic one, but exposed jingles also tend to produce a more tiny sound if you are looking for that specifically.
Looking for a cajon drum? Read our guide to the best cajon drums here.
FAQs
What is a foot tambourine?
A foot tambourine is a miniature tambourine without a drum head that you can attach to your foot and play by tapping your foot or heel. It is often used by solo acoustic performers to deliver a beat alongside their stringed instrument.
What are the different types of tambourine?
There are agreed to be seven different types of tambourines.
Single-row tambourine — just one row of zills (single jingles)
Double-row tambourines — pairs of jingles for a louder sound
Timbrel — ancient Hebrew design
Tar — tambourine drum with Turkish or Arabic roots
Pandeiro — Brazilian wood tambourine with a single drum head
Hi-hat tambourine — headless tambourine used in a drum kit
Foot tambourine — played on the foot
Do tambourines have pitch?
Tambourines can have different pitches based on the metal of the jingles. Generally speaking, silver jingles give a high pitch, copper a medium pitch, and bronze a low pitch. Stainless steel jingles will offer a high pitch and nickel metal a lower pitch.
Can you play a standard tambourine with your foot?
You can play a headless tambourine with your foot. Slip your foot through the hole until it is in the middle of your foot. You can then jingle the tambourine by tapping your toes. This is generally difficult to do standing up, so is best done while sitting.
What is a tambourine that only has jingles called?
A tambourine that only has jingles is called a headless tambourine as opposed to a traditional tambourine that has a head that you can hit with your hand. They are both considered percussion instruments.
What are the four instrument families?
The four instrument families are considered woodwind, brass, percussion, and strings. Tambourines are considered percussion instruments.
The Verdict
A foot tambourine can make a great addition to an acoustic or solo act, adding a tingly percussive beat to your musical expression. They are particularly popular with solo buskers and those who play a cajon box drum and want to add in a cymbal effect.
It is not hard to find a good foot tambourine at an affordable cost. There are options to wear on your toe or heel, and there are even tambourines that you can incorporate into your drum kit and play with a foot pedal if you prefer.
Read our complete buying guide to figure out exactly what you need, and then check out our recommendations for the best foot tambourine you can buy today.