Updated: August 23rd, 2022
If you think your child has an inner rock star to release and is interested in drumming, it can be challenging to find them a kit that is good enough for them to take it seriously, but affordable if they decide not to continue, or need to upgrade to a more professional set.
If you are looking for an affordable but decent quality drum kit for kids aged three to eight, then consider the Music Alley Kids Drum Kit. It is a classic three piece kit used when teaching young kids, and is good enough quality that it will last until they outgrow it.
Read on for our complete review of this nifty little kit for kids.
Product Rating
We're awarding the Music Alley Kids Drum Kit 4 stars as an affordable kit for kids aged 3-8 years. It ticks all the boxes in terms of what they need when it comes to size, configuration, and quality. It also comes at an affordable price that means you won't feel the pinch if they decide drumming is not for them, or progress quickly and need a more sophisticated kit to continue to develop.
Music Alley Kids Drum Set Review
Pros & Cons
Pros
Highly affordable
A standard setup for young learners
Easy to assemble
Includes all the necessary pieces
Cons
Only includes one set of sticks
They may grow out of it quickly
Product Analysis
This three-piece drum set for kids is a completely scaled-down kit appropriate for kids around 3-8 years old, in terms of its size. Compared to similar kits, it is a highly affordable option that will let you test how interested your child is in nurturing their inner rock star.
It includes a bass drum, snare drum, and tom drum, so they can get a feel for the different drums and the type of noise that they make without the complication of the two extra toms. It also has just one cymbal for them to work with. This is a standard beginners setup and ideal if they are taking classes.
Just because the kit is scaled down for kids to manage doesn't mean that it is a toy. It is made from real wood and metal and has tuneable skins. The bass pedal functions perfectly for them to start developing the coordination that they need to become a premium drummer.
This is a full kit, with everything down to the sticks and the chair (also known as a throne), so you shouldn't need to buy anything extra to get your kid ready to disturb everyone in the neighborhood with their fun. Bear in mind, however, that while this kit is of pretty good quality and shouldn't fall apart before they outgrow it, the same cannot be said of the sticks. If they are keen on the instrument and continue to play regularly, expect to buy new sticks on a fairly regular basis.
It should take less than an hour to set up; the instructions could be a bit clearer, but anyone with a basic understanding of drums should be able to work it out.
While this kit is ideal for learning kids aged three to eight, you can expect them to grow out of it pretty quickly in terms of both size and skill. If they find they have a passion for the drums it won't be many years before you need to upgrade to a more sophisticated kit, but that is why the affordable price tag is another great feature of this product.
Product Specifications
Bass drum – 14 inches
Snare drum – 8 inches
Tom drum – 8 inches
Cymbal – 10 inches
Bass drum pedal
Drum throne
Drum sticks
Where To Buy
You can get the Music Alley 3-Piece Kids Drum Set on Amazon today for less than $100 and have it at your door tomorrow with Prime delivery. There is also a free returns policy with the kit, and monthly payment options if that interests you.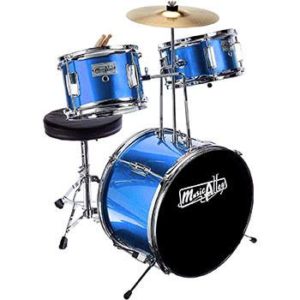 This model is available in blue, black, and occasionally red, so you can choose the color that your kid loves the most!
Amazon customers are very happy with the kit, with more than 2,500 buyers scoring the kit an average of 4.5 stars; however, they do consistently note that the kit is only really appropriate for kids up to 7 years of age, after which point they really will need a bigger set.
How To Set Up Your Drum Kit
This kit comes with everything you need, so you should be able to get it set up within an hour without much trouble.
Always start with the bass drum, as this is the central piece of the setup. Start with the three connectors on the base pointing upwards, as this is where you will attach the stands for the other parts of the kit. The other two attachments that are visible should be at the front, as these will be the supporting legs that stop the drum from moving around when used with the foot pedal.
To connect the skin to the bass drum, put the hoop that will hold the skin in place on the ground. Then line up the skin on the top of the drum, and then lay the drum on top of the hoop with everything in line. This will let you add the bottom skin to the bottom of the drum and then add the second hoop. Make sure that the extended piece sits at the bottom of the drum opposite and in line with the connection at the top.
Use the nuts and washers included, using the long screws to connect the hoops and secure the skins in place. Use the drum key to tighten everything and make sure it is secure.
Add the legs to the bass drum, and then insert the arms in the holes on top. There are screws to tighten all these pieces and keep them secure.
The other drums should already be in one piece, and there are plugs that you can screw directly into the stands. For the cymbal, you will need to unscrew the top and place the single cymbal between the two washers, and tighten.
Attach the beater to the drum pedal. There is a top hole to place the beater and then tighten it up with the screw. Set the bass drum on top of the pedal and secure the two with the screw provided. This will probably already be in the pedal, so you will need to remove it, place the drum, and reattach the screw.
The drum stool should open like a tripod, and then you can place the bar into the stand. The padded seat should then screw onto the top.
Once that's done, you are ready to go!
You can find our complete guide for setting up a drum kit here.
Benefits Of Drumming For Young Kids
Besides living out your rock star dreams through your kids, there are lots of great reasons to get your toddler or young child on the skins.
It will develop their motor skills as they coordinate their various limbs in tempo with the beat.
It is a great form of physical exercise, especially for the arms and core.
Taking classes and participating in junior bands are a great opportunity to develop social and cooperative skills.
Learning any musical instrument can help academic development, particularly in relation to mathematics.
Beating out a rhythm can be a great form of stress release – and yes, toddlers get stressed too!
It is a great way to develop self-expression and ways to communicate.
Learning new things helps kids realize their ability to learn and develop a growth mindset.
Find all our recommendations for the best drum kits for juniors here.
FAQs
Are junior drum kits smaller?
Yes, junior drum kits are smaller in size and ideal for children ten years of age or younger. Built around a 14-inch bass drum, as opposed to the larger 22-inch bass, they will be able to reach the pedals and cymbals.
How much does a junior drum set cost?
You can usually expect to pay around $300 for a junior kit, but more affordable options like this one are also available.
The Verdict
If you are looking for a starter drum kit for kids aged three to seven or eight, you'll be very happy with this kids' kit from Music Alley. This is a highly affordable kit of good enough quality that they can make a serious start, but it is cheap enough that you won't feel too distressed if they give up on the art, or need to upgrade to a better set quickly.
Do you have experience finding a starter drum kit for kids? Share your thoughts and suggestions in the comments section below.