Roland released their TD-27KV electronic drum kit as the new flagship option in their mid-range collection in 2020. Since then it has been a market leader, outstripping the competition by incorporating some of the best top-end features from its premium models into this more affordable kit.
It is definitely at the higher end of the price spectrum when it comes to mid-range options, so in this review we will deep dive into what to expect from the Roland TD-27KV and explain exactly why it is worth the extra pennies.
This is a great kit option for drummers who are expanding their expertise with electronic drums because it offers an excellent quality baseline kit that can be upgraded as you refine exactly what you are looking for in a professional electronic drum kit.
Product Rating
I'm awarding the Roland TD-27KV four stars out of five. It is one of the best and most realistic electronic drum kits that we have played. This goes for the size and layout of the kit, the sound playback samples, and the responsiveness of the kit sensors, especially with the snare and the hi-hat.
The kit loses points because it pitches itself as mid-range, but the price tag is bordering on the top end. This pushes out many players looking for mid-range, while professional drummers looking for a top-end kit may upgrade to a slightly more expensive offering from Roland, such as the TD-50.
Review
Kit Configuration
1 x Drum Sound Module TD-27
1 x Snare PD-140DS
3 x Tom PDX-100
1 x Hi-Hat VH-10
1 x Crash CY-12C
1 x Crash CY-13R
1 x Ride CY-18DR
1 x Kick KD-10
Drum Stand MDS-STD2
Product Analysis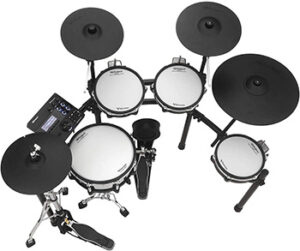 First and foremost, the Roland TD-27 is a full six-piece kit, and it is well-proportioned to feel like a real drum kit. While many electronic kits give you small pads and a reduced frame to save on space, the TD-27KV has a 14-inch snare and 10-inch toms with responsive multi-ply mesh heads. You also get a 12-inch hi-hat and 12-inch and 13-inch crash cymbals, all set in a well-spaced frame. This makes this kit more for serious drummers looking for a well-proportioned kit for digital recording and practice.
Roland is marketing the TD-27 as their mid-range electronic drum kit, but it outstrips its market competitors. The main high-end features that set this kit apart are the snare pad, which at 14 inches by 4.3 inches feels more like a real drum than a pad, and the CY-18DR ride cymbal. Previously, these were only available on Roland's premium kits.
These elements are better than standard mid-range electronic drum pads because they use Roland's special digital sensor technology that uses positional sensors to complement standard zone sensors. This means fewer missed triggers and missed beats.
You also get a lot of options for using your snare with a wide selection of virtual heads, plus muffling and tuning options. The main downside is just how much time you could waste playing around with all the settings.
The sound module that powers the kit is also a step up from earlier Roland releases, such as the TD-17 and TD-25. Not only does the module have a sleek minimalist look, but it also comes with a variety of impressive features such as Prosmatic Sound Modelling, which processes raw samples to create realistic reproductions, and PureAcoustic Ambience Technology for controlling virtual mic placement and provides an abundance of options. You can also import your own music samples via SD card or Bluetooth, and there is a 28-channel USB audio interface.
There is also a lot of room for this kit to grow. Once the kit is all set up, you have four extra trigger inputs and a spare footswitch input, so you can upgrade with new pieces of kit over time.
Product Pros And Cons
Pros
Full-size kit that feels like an acoustic set
Excellent sensors for minimal missed triggers and lost beats
Sophisticated sound module enables flexibility and personalization
Expandable kit that can accommodate upgrades
Cons
The extensive features mean a steep learning curve
An expensive piece of kit!
Overall Verdict
This Roland kit starts with one of its more affordable, basic kits as its base, then swaps out some of the most important elements for high-end options that have been tried and tested with their premium models. This means a new and improved snare drum, an upgraded hi-hat, and a superior sound module that offers more flexibility and better sound quality.
Of course, you would expect to pay more for these premium features, but it is a big step up in price from the TD-17KV-SV, which retails for around $1,500. This will probably satisfy most drummers that are looking for a mid-range kit; however, it's much cheaper than Roland's premium kits, like their VAD500 series, which sell from $4,000 and up.
The question then becomes, "Who is this kit for?" It is probably a good match for serious drummers accustomed to playing on an acoustic kit who want to start working with electronic drums to record their own music. Thanks to the upgraded snare and hi-hat, the kit is good enough for recording, and there is plenty to warp your head around with all the features available through the sound module. The individual elements of the kit can also be upgraded as you develop your work further and have specific needs.
We aren't the only people recommending this kit! The Roland TD-27KV has 4.3 stars on Amazon (from 28 reviews), and wherever you look online you will see this kit getting mostly four and five-star reviews from customers and experts alike.
Where To Buy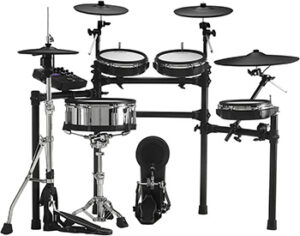 The most convenient place to buy your Roland TD-27KV is on Amazon. A number of suppliers are offering great prices and swift delivery, so you can be playing in no time for less than $3,000.
The Roland kit is also available on Sweetwater, where monthly financing options are available. The site is also offering affordable bundles if you are looking for additional pieces and accessories. Customers there are giving the set five-star reviews.
Looking for an entry-level kit? Check out the Roland TD-1DMK, which starts from around $500. If you're in search of a premium kit, upgrade to something in the Roland VAD500 series.
Read our review of the Roland TD-1KV here.
Read our review of the Roland TD-25KV here.
Read our review of the Roland TD-30KV here.
FAQs
Which is better, Roland or Alesis?
Often when it comes to the best brand, the choice of "best" comes down to personal preference. Alesis kits tend to prioritize affordability and give you the best possible kit for an accessible price. Roland is a bit more about quality. While they will use more affordable elements for their entry-level kits, they are more about making essential upgrades to improve the kit, which also inevitably pushes up the price.
Are Roland drums any good?
When looking for electronic drums that feel like playing an acoustic drum set, Roland kits are among the best on the market. They produce full-size kits with larger drum pads that feel more like the real thing, and with all-mesh-heads that are sensitive and give great feedback. They come with excellent sample sounds and you have lots of options for personalizing your kit and sound.
How long do Roland electronic drum kits last?
If you choose a mid-range or premium Roland electronic drum kit, you can expect the kit to last several years if cared for properly. Their drum pad heads are mesh heads made by Remo, and their frames are built to last. The technology on your Roland will probably become dated before you wear out the kit.
Are Roland drums quiet?
The mesh heads used on Roland drums are pretty quiet when compared with other options on the market. Of course, whenever you hit anything with sticks you can expect it to make a little noise, so consider where you put your kit and take basic soundproofing steps such as putting thick curtains over windows to avoid disturbing others.
Do We Recommend The Roland TD-27KV?
The short answer is yes! This drum kit is one of the best electronic kits that we have seen for less than $3,000 and offers an authentic drumming experience and lots of powerful tools to develop your own tunes.
The big question mark is who is this kit for? The price will push those looking for entry-level or mid-range options toward cheaper models, while many serious drummers will prefer some of Roland's higher-end models.
This kit is right at the sweet spot between mid-range and premium that will work for a specific type of drummer, but the balance point between cost and quality that it hits may be niche.
You can find more reviews of the best electronic drum kits on the market here.